Sugar Free BBQ Sauce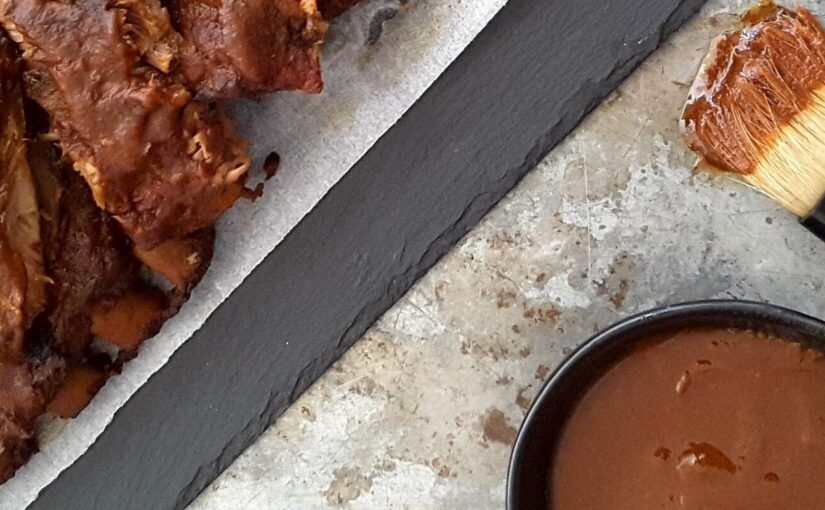 You can make your own homemade sugar free BBQ sauce in absolutely no time at all. The taste of his simple to make sauce is so much better than any store bought sauce and is going to come in handy for any low carb meat lovers. This recipe means you can enjoy your sauce without an added preservatives or sugar. Use it to baste your meat, dip in your wings or to use on your bunless burgers. My favorite use for sugar free BBQ sauce is to baste it on spice rubbed pork ribs that have been slowly cooked in the oven. OMG…that would have to be my favorite meal.
WHAT SUGAR FREE TOMATO SAUCE SHOULD I USE
If you follow this link for Sugar Free Tomato Sauce/Ketchup, it is perfect to use in this recipe. Alternatively you can use a store bought sauce in it's place. If you don't have access to sugar free tomato sauce/ketchup, you could also use equal amounts of passata or tinned tomato that has been processed smooth. Note that using passata or tinned tomato will result in a blander sauce so you may want to tweak the spices a little to taste. Try the sauce before you go doing any tweaking though as it may suit your tastes.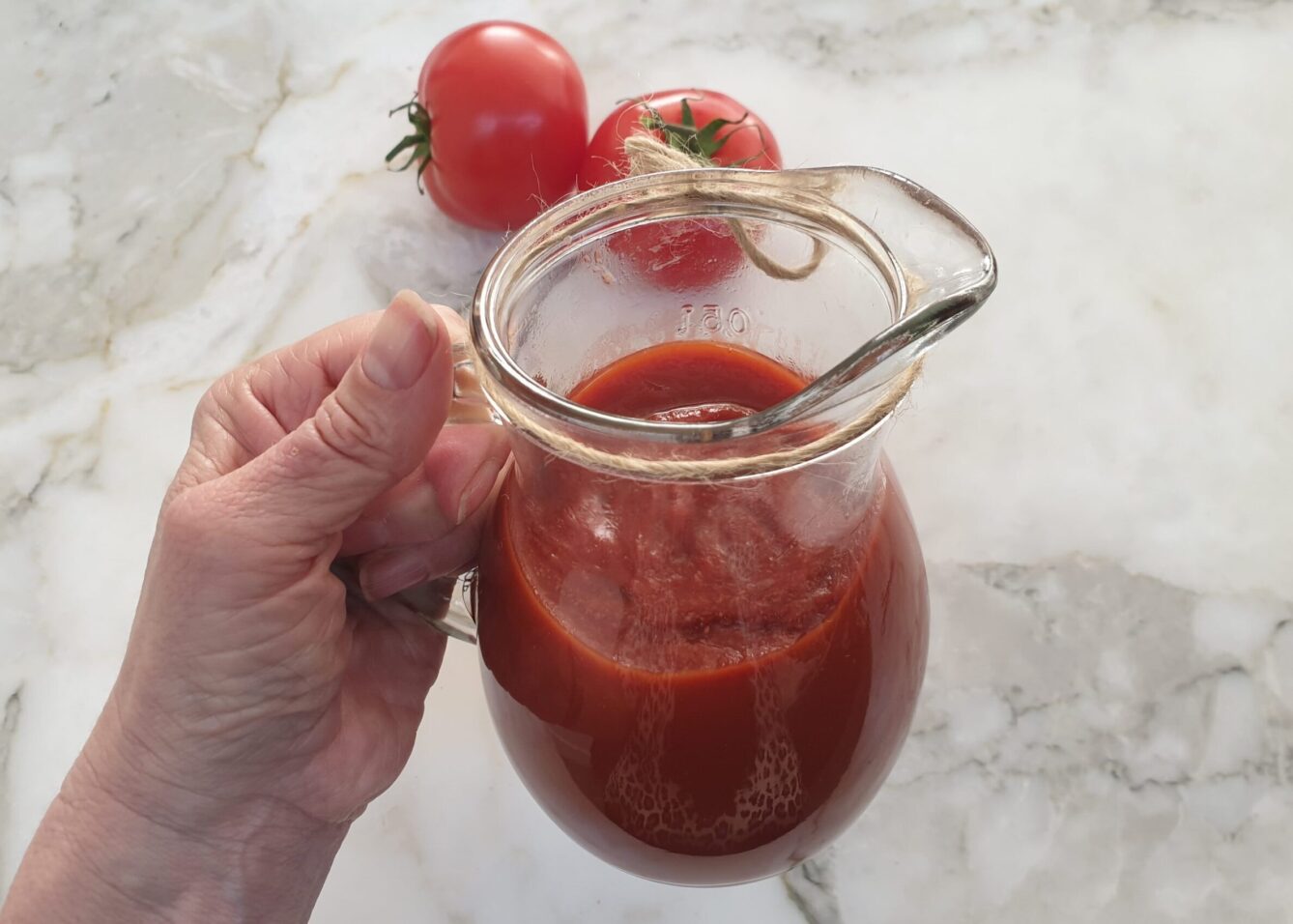 DOES HOMEMADE SUGAR FREE BBQ SAUCE HAVE CARBS?
As tomatoes contain natural sugar and they feature in this recipe, if you eat a lot of them you could be pushing your carb limit. BBQ sauce therefore is always going to be a little higher in carbs because of the tomato content. Because this is a condiment though and served on the side, you will be hard pressed to consume a high amount of carbs. If you had 1 tablespoon or 1 serve of this delicious sauce, it contains less than 1 net carb. This is a lot less than the amount you would consume by using a store bought sugar laden brand and also a lot healthier minus the sugar and additives.
HOW TO STORE YOUR SUGAR FREE BBQ SAUCE
Because this sauce is cooked off and vinegar is used, it helps your sauce to last longer. If you blitz it and use it fresh, it may not last quite so long in the fridge. Sauce should remain fresh in an airtight jar in the fridge for about two weeks. The recipe also freezes really well, so make it in batches to defrost for another time.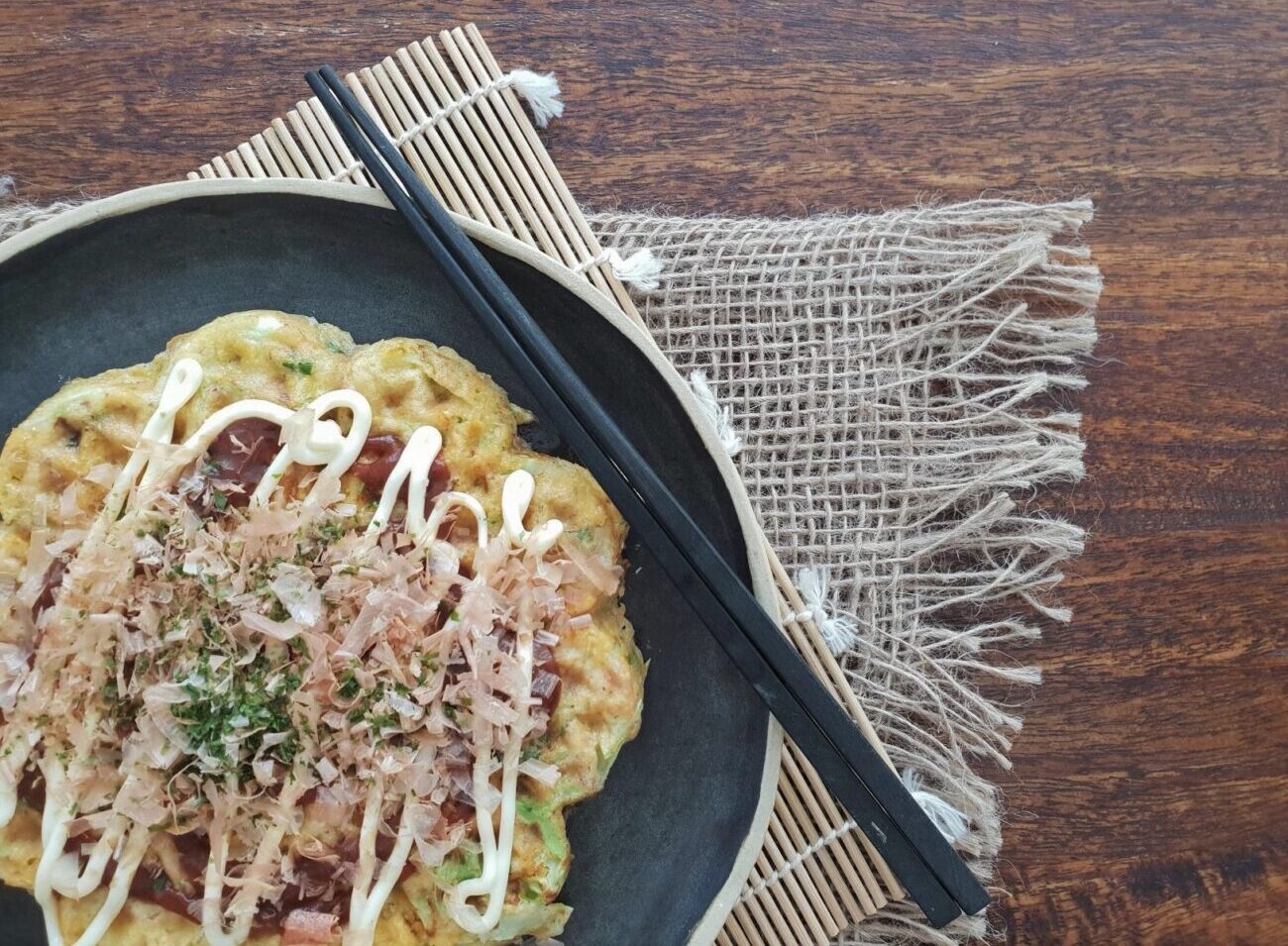 SERVING SUGAR FREE TOMATO SAUCE
For some fabulous serving ideas, use this sauce in the following recipes-
One of my favorite ways to use Sugar Free BBQ Sauce is to top Okonomiyaki, a Japanese savory pancake made from cabbage and egg. If you have never tried this classic easy to make Japanese dish, then now is the time to give them a try. There are 2 recipes featured on this site for these pancakes. The first one is more traditional and is pan fried, while the second recipe is for a chaffle. Both recipes are absolutely superb and recreate a very similar pancake, so dont think too hard over which recipe you select to make. That is unless you dont have a waffle iron. Keto Okonomiyaki Chaffle
Okonomiyaki Japanese Savory Pancake
Keto Zucchini Bacon Chaffle
Keto Chinese Breakfast Pancake
Low Carb Fat Head Sausage Rolls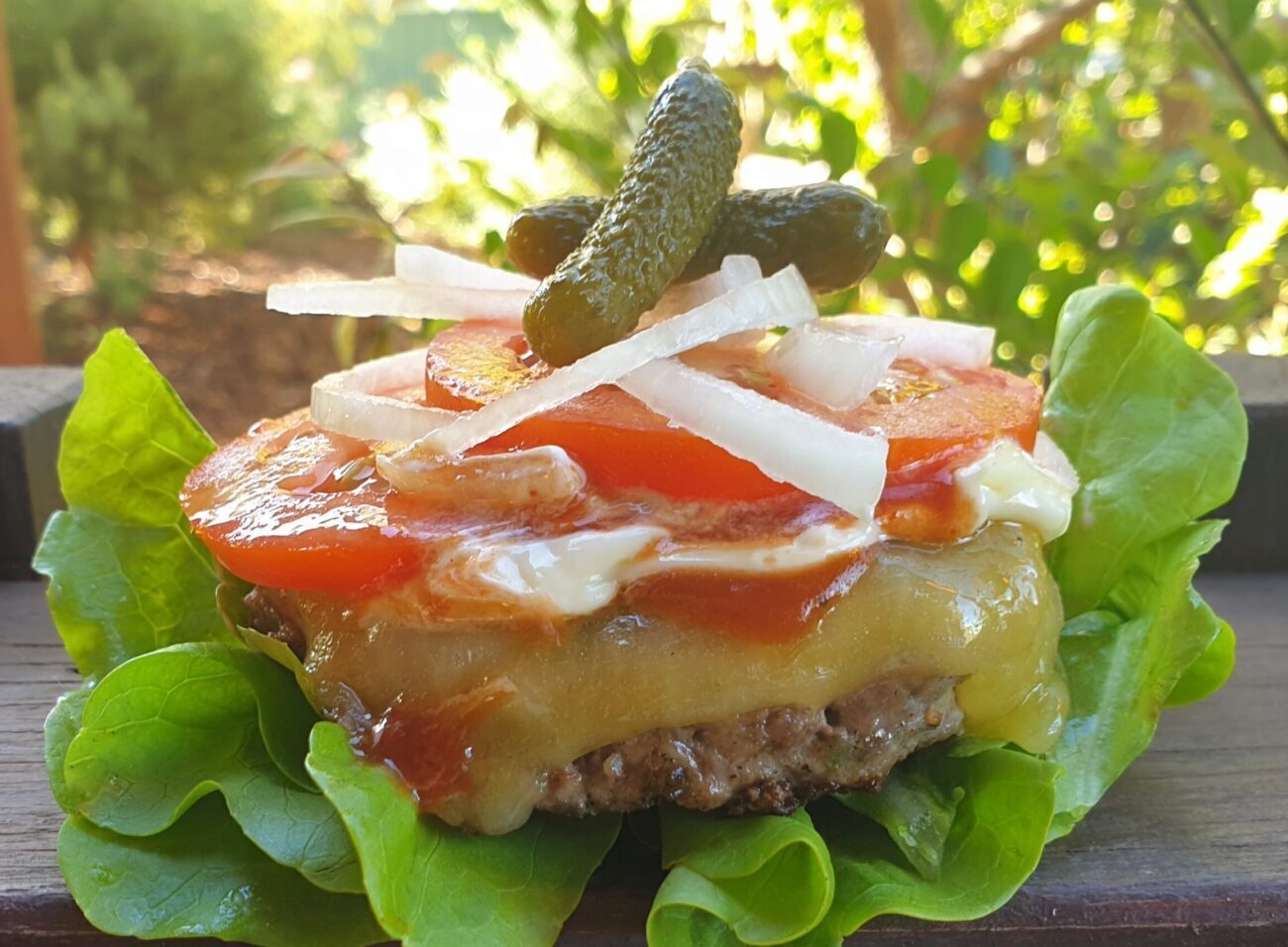 Another of my favorite  ways to use this recipe is to make Bunless Burgers. Make sure you check out this quick and easy recipe for the burgers featured. These taste superb topped with Sugar Free Tomato Sauce/Ketchup, Mayonnaise and of course, this recipe for Sugar Free BBQ Sauce.
Enjoy!!
Kxx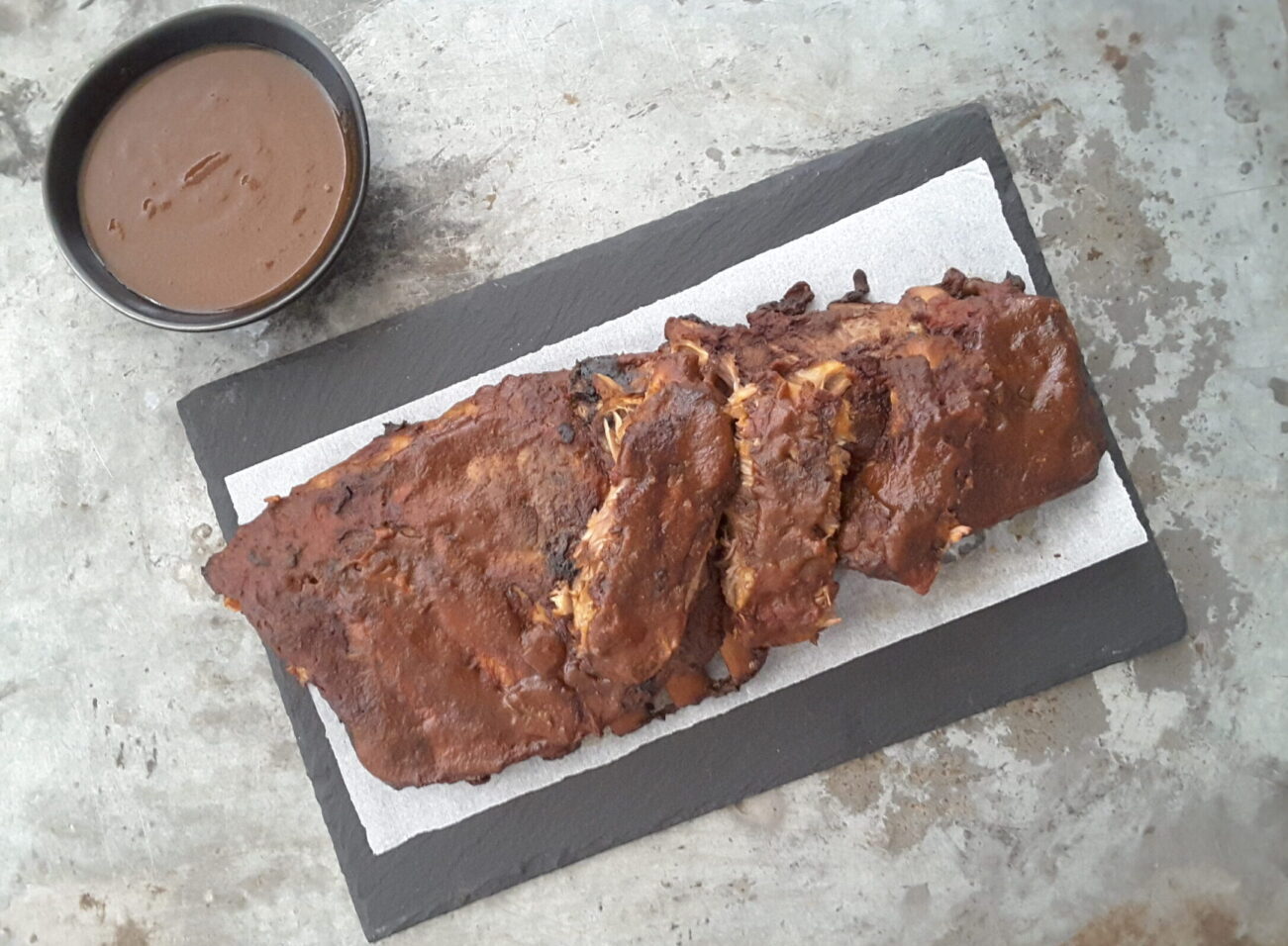 Ingredients
1

cup

sugar free tomato sauce

2

tablespoons

tomato paste

1½

tablespoons

apple cider vinegar or vinegar

1

tablespoon

Worcestershire sauce

4

teaspoons

monk fruit

or alternative sweetener, coconut sugar or sugar

1

teaspoon

onion powder

½

teaspoon

garlic powder

½

teaspoon

mustard powder

½

teaspoon

smoked paprika

or ½ teaspoon liquid smoke

¼-½

teaspoons

cayenne powder

½

teaspoon

salt

or to taste

Pepper to taste
Instructions
Whisk all ingredients together. To thicken sauce, heat in a small saucepan on a low heat for about 20 minutes.

Store in an airtight container in the fridge for about 2 weeks. Suitable for freezing.
Recipe Notes
If you don't have the time you can just blitz this sauce and not cook it. The sauce won't be quite as rich and thick. 
If you don't have Sugar Free Tomato Sauce, switch for tomato passata. but note that the recipe won't be quite as rich as it would be by using tomato sauce.
As the recipe doesn't use any emulsifiers, it may separates slightly.  Just whisk it slightly to bring it back together. 
Nutritional Information
Serving:
1
serve
|
Calories:
14
kcal
|
Carbohydrates:
1
g
|
Protein:
1
g
|
Fiber:
1
g
Note that we calculate our own nutritional values so they may not be precise. Calculate your own if desired. Carb values exclude sugar alcohols such as Erythritol, as they generally have no impact on blood sugar levels. 50% of the carbs from Xylitol is added to nutritional values. This is consistent with industry practice.
Do you want to receive more recipes like this one? Subscribe to our newsletter now!