Low Carb Homemade Sausage Rolls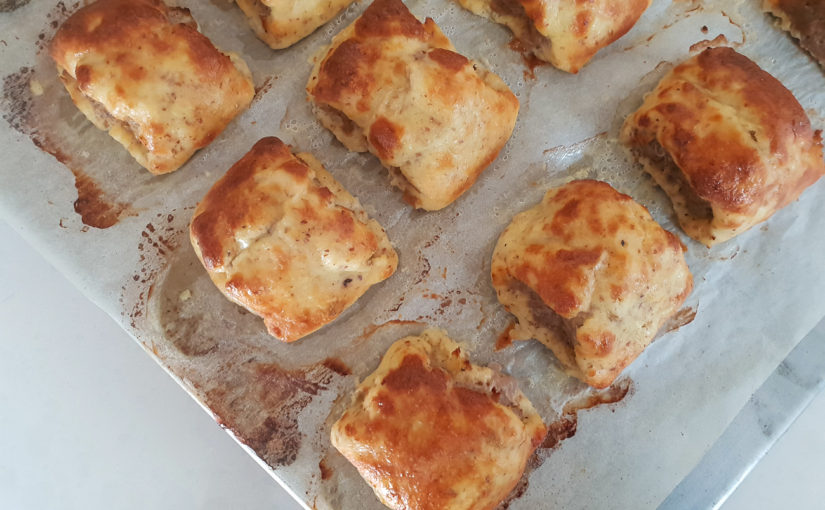 Low Carb Homemade Sausage Rolls
Low Carb Homemade Sausage Rolls are possible and so easy to make, especially with a good fat head dough recipe. You are going to love this recipe for delicious Low Carb Homemade Sausage Rolls. These are absolutely perfect to serve for lunch or a snack. For a more substantial meal, serve with your favorite vegetables on the side.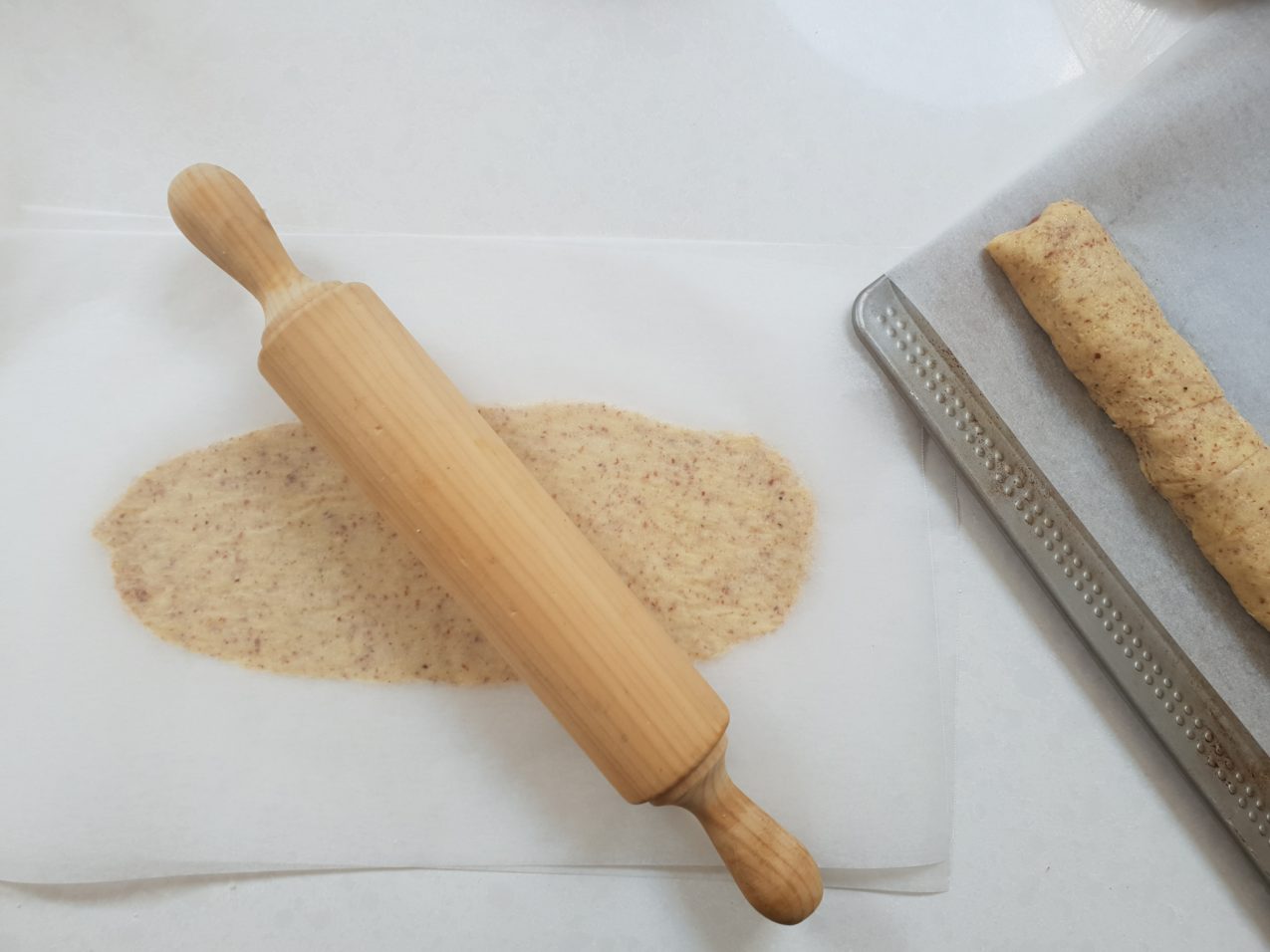 Fat Head Dough
If you have never heard of fat head dough, it is a low carb dough that was developed to make pizza and was created by Tom Naughton's nephew. Tom Naughton directed and starred in the 2009 film 'Fat Head.' Fat head dough was named in honour of his Fat Head Movie. Generally it is made with mozzarella cheese, cream cheese, almond flour and eggs but there are many variations around. Hmmmm…dough made from cheese can't be good can it?? Fat Head Dough actually makes a surprisingly great dough or pizza base and it enables us to create recipes like this delicious one.
Homemade Pork Filling
Rather than use a sausage mince in these sausage rolls, pork mince is used along with some simple flavorings to create a delicious healthy filling. Feel free to play around with the flavorings that you add. Try adding mixed herbs, fennel and sage for variation. You can also try using sauce variations, such as tomato paste or sugar free BBQ sauce in place of the sugar free tomato sauce/ketchup.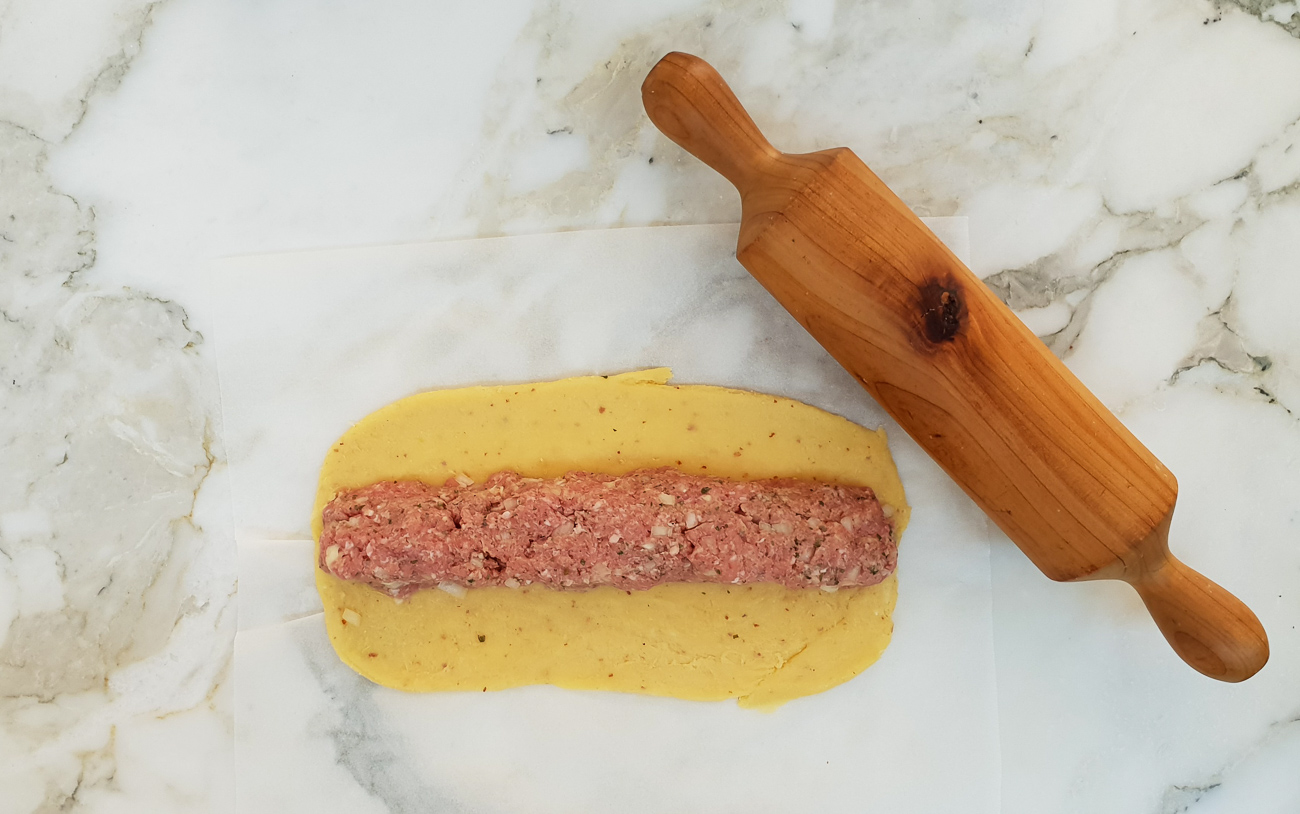 Alternative Fillings
If you don't want to make your own filling, try using low carb sausages and remove the casing before rolling them up in the pastry. Just make sure you check the ingredients in the sausages to make sure they don't have any unwanted additives or fillers added. Make sure you try the recommended recipe first though if you can. Making the pork filling literally takes minutes and is really easy to make.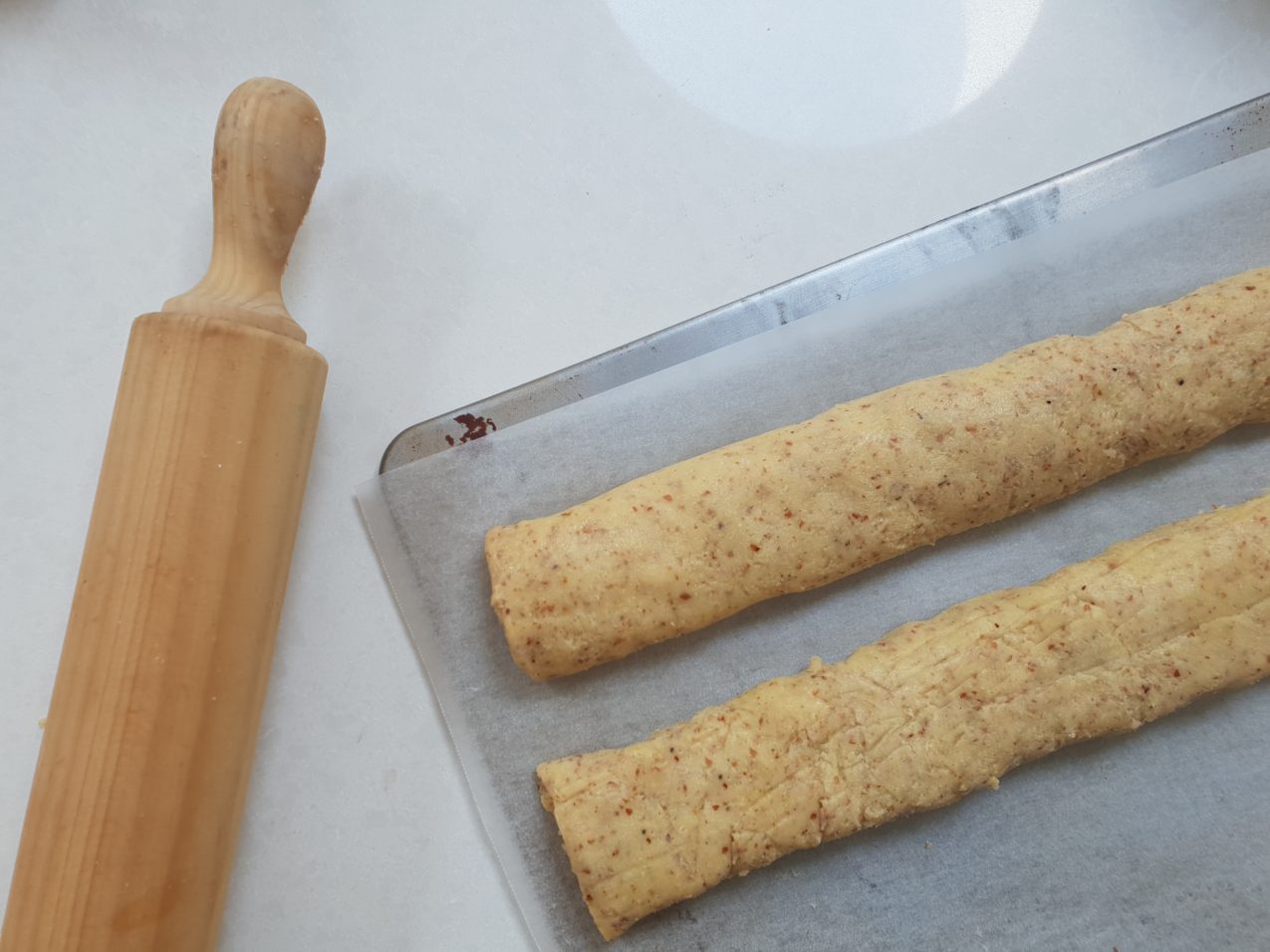 Baking Tips
If lots of juice comes out the meat, these can go a bit soft on the bottom. Using low fat minced/ground meat can help with this issue. If I find it has happened, simply flip once cooked and bake upside down for a further 3-5 minutes. Make sure your oven is hot so the bases cook as quickly as possible.
Should you find that your sausage rolls are cooking too quickly or slowly, make adjustments to the temperature, as all ovens are different.
Storing and Freezing
Allow these to cool a little to firm up before serving. Keep in the fridge for about 3 days and either reheat or enjoy cold. They also freeze quite well so you can enjoy them at a later date.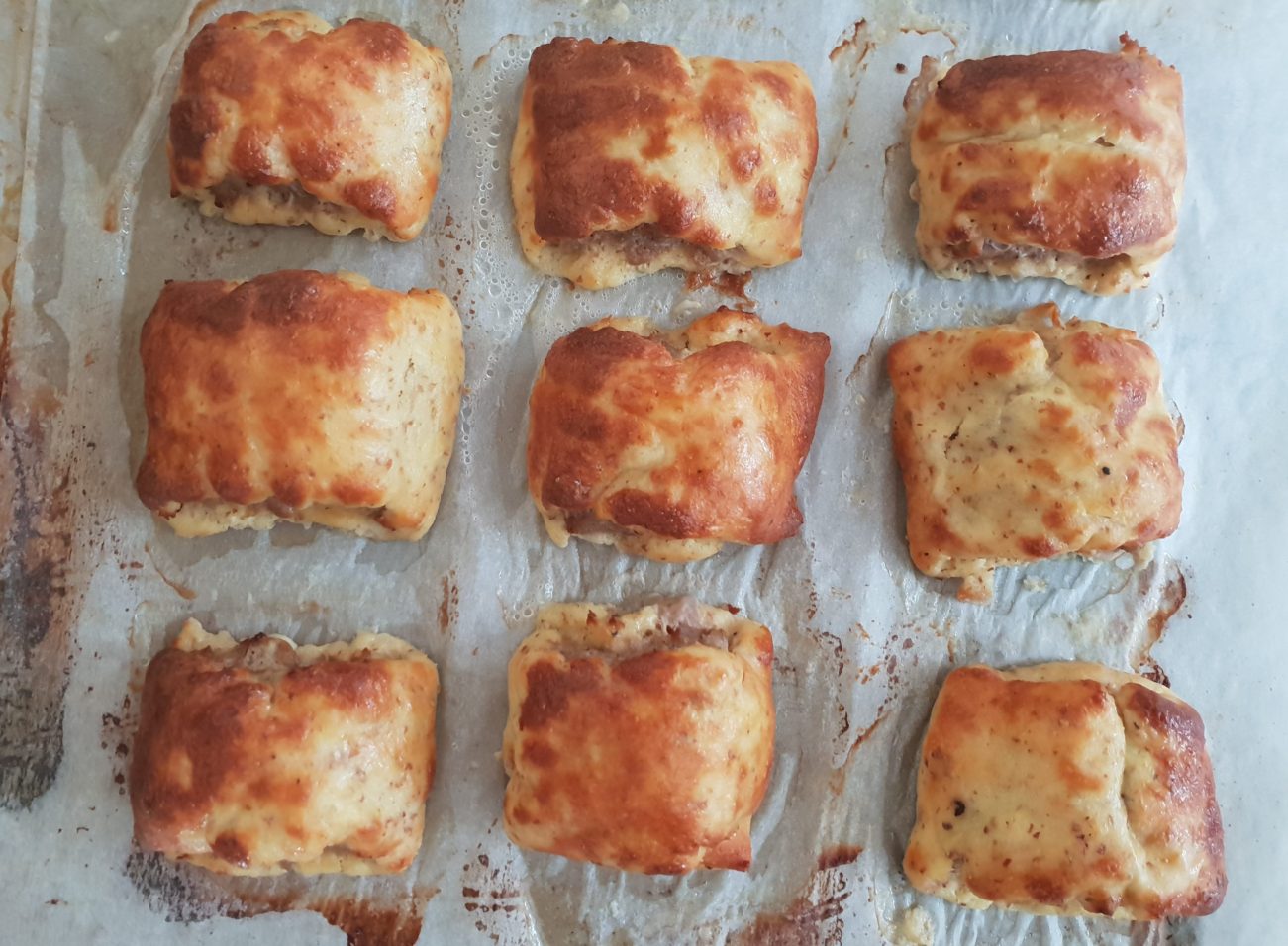 Ingredients
Pork Filling
500

gms

/1.1 lb minced/ground pork

2

teaspoons

garlic minced

1

teaspoon

parsley flakes dried

1

teaspoon

dried dill or sage flakes

or 1 tablespoon freshly chopped

2

tablespoons

almond meal/almond flour

1

small

onion very finely chopped

Salt and pepper to taste

1

teaspoon

Dijon mustard

2

tablespoons

sugar free tomato sauce

ketchup or tomato paste/sugar free BBQ sauce
Pastry recipe
3

tablespoons

cream cheese

or butter

200

grams

/2 cups mozzarella cheese

100

grams

/1 cup almond meal/almond flour

Salt to taste

2

small

eggs

An additional beaten egg for brushing onto the dough to brown

optional
Instructions
Combine the mince filling ingredients and divide into 2 portions. Set aside while you make the pastry.

For the pastry, zap the cheeses in the microwave until melted and runny. This generally takes between 1-2 minutes. Zap for 1 minute then check it every 15 seconds. Stir in almond meal, salt and pepper until combined. Add the eggs and mix until the dough comes together.

Knead the dough a little on a bench until it is pliable. Use a dusting of additional almond meal if the dough is too sticky. If the dough stiffens up too much you can always microwave it slightly to make it more pliable.

Divide the dough into 2 portions. Roll each portion out between 2 sheets of quality baking paper to approx 30 cm/12 " wide x 15cm/6 " deep. Trim the edges of the rolled out pastry for clean edges and do some patching if need be to square the pastry shape off. Once again microwave for a few seconds to make more pliable if required.

Roll and shape ½ of the pork mince mixture along the centre of each length of dough. Shape and smooth off the pork mixture using your hands. Using the baking paper, fold the dough over the rolled pork from one side and press around the pork mince. Repeat this on the other side and use your hands to shape the rolls nicely and press down slightly on the seam. Cut each roll length into 8-9 sausage rolls.

Place each sausage roll seam side down on a baking tray with space in between. Brush with beaten egg to brown.

Bake at 190 C/ 375 F for about 20- 25 minutes or until browned and cooked through.

Allow to cool slightly so pastry firms up.
Recipe Notes
Top with sesame seeds or poppy seeds for variation.
Sugar Free BBQ Sauce or tomato paste can be used to replace the Sugar Free Tomato Sauce.
Switch herbs for mixed herbs or fennel or experiment with what you have on hand.
Omit the fresh onion and use 1 table spoon of onion powder if desired. Garlic powder can also be switched for 1/2 teaspoon garlic powder.
You can use regular or low fat mince/ground pork for the recipe. Less juice will be released if you use low fat mince, so it is preferred.
Use regular or low fat mozzarella cheese
If you want a pastry that is less mealy looking (like pictured) use almond flour or blanched almond meal such as Lucky brand available in Australia. The almond meal I used in the pictured recipe has the brown husky part of the nut in it, which gives it a mealy look.
Nutritional Information
Serving:
1
serve of 16
|
Calories:
180
kcal
|
Carbohydrates:
1
g
|
Protein:
11
g
|
Fat:
14
g
|
Fiber:
1
g
Note that we calculate our own nutritional values so they may not be precise. Calculate your own if desired. Carb values exclude sugar alcohols such as Erythritol, as they generally have no impact on blood sugar levels. 50% of the carbs from Xylitol is added to nutritional values. This is consistent with industry practice.
Do you want to receive more recipes like this one? Subscribe to our newsletter now!