Keto Chinese Breakfast Chaffle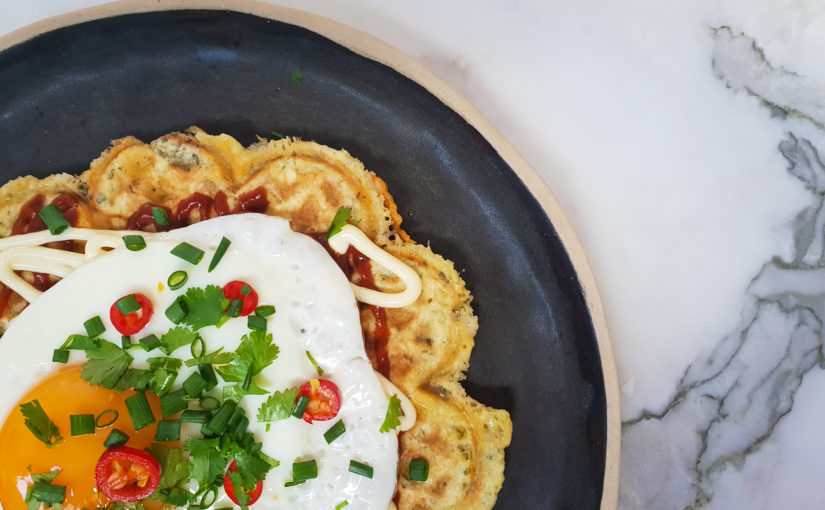 Keto Chinese Breakfast Chaffle
This simple to make recipe for a Keto Chinese Breakfast Chaffle recipe is a delicious version of a savory pancake that is famous in China. If you have never experienced a Jian Bing, you are in for a real treat. I was lucky to live for a number of years in Beijing and this is one of my favorite street foods and could be found on every corner. I have recently heard that the majority of the jian bing operators have been shut down now which is a shame. I have no doubt though that this wonderful recipe will survive.
You'll love this chaffle version of a Jian Bing, as it's really quick and easy to make, which means you can have breakfast or a simple meal ready in just minutes. While the recipe serves 1 person but these are so quick to make that it will take no time to make more serves. The beauty of a chaffle is that anyone can make them and and they are actually quite fun to make. Note that you can make 1 large chaffle or 2 mini chaffles with this recipe so it will suit a standard or a mini waffle maker.
Recipe Video
Check out this video to see just how easy these are to make. Make sure you subscribe to my youTube channel if you want to see more videos like this one.
What is Jian Bing?
Jianbing is a traditional Chinese street food similar to crepes. It is a type of bing (crepe) generally eaten for breakfast and is hailed as being one of China's most popular street breakfasts. Jianbing traditionally feautres flour and eggs, and they can be topped with different fillings and sauces. Anything from ham or bacon, mustard pickles, spring onions, coriander and a chili or hoisin sauce can be used, depending on your personal preference.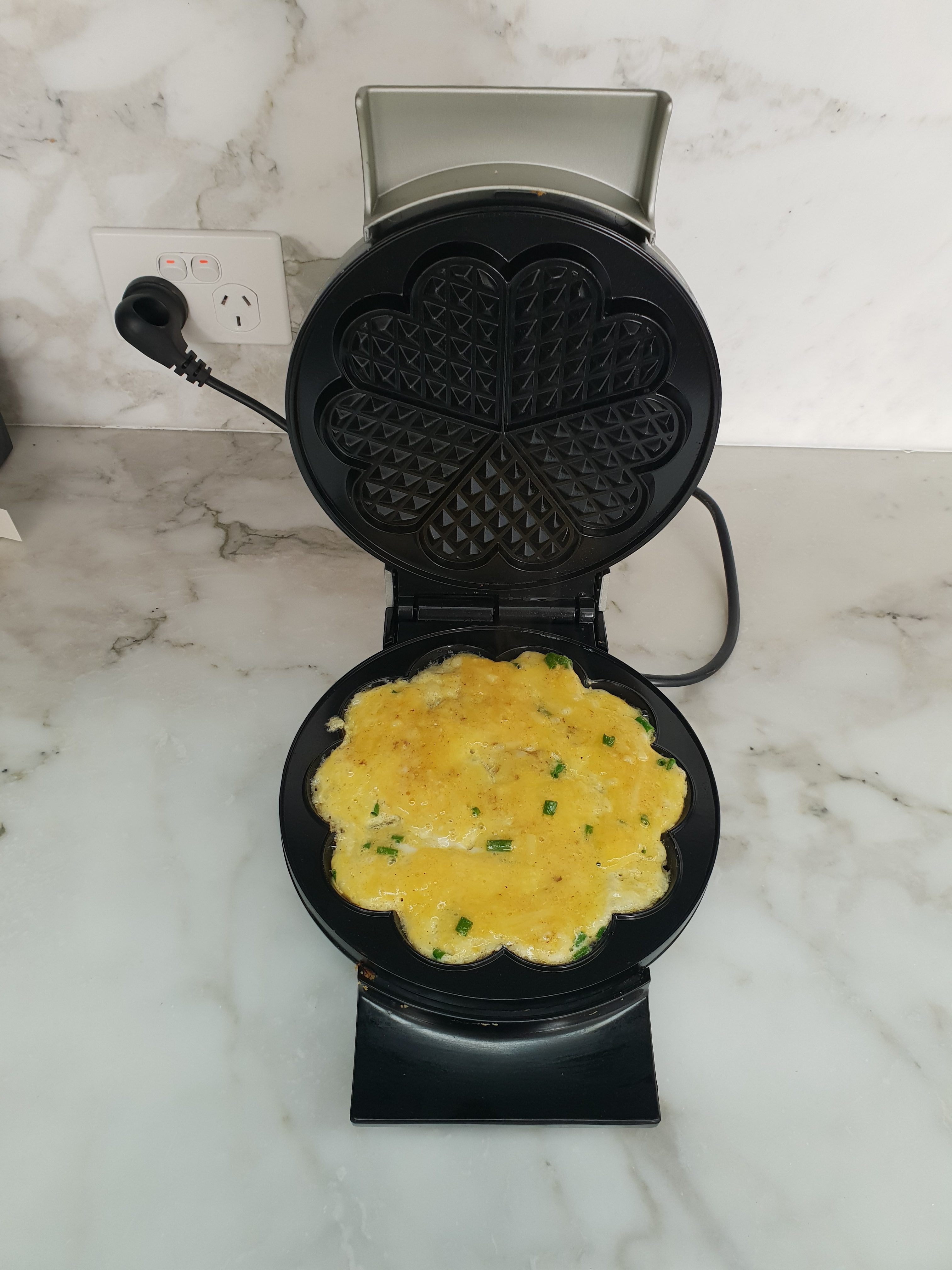 How To Serve A Keto Chinese Breakfast Chaffle
Try serving with a fried egg on top, and drizzled with sugar free mayonnaise and a sugar free BBQ sauce. BBQ sauce is the perfect replacement for sugar laden Hoisin sauce and it works brilliantly with this recipe. Top your Chinese breakfast chaffle with some fresh chili (or chili sauce)  freshly chopped coriander/cilantro and some freshly chopped spring onions/scallions. You could serve it with your eggs of choice- poached, fried or scrambled and a side serve of bacon would go really well.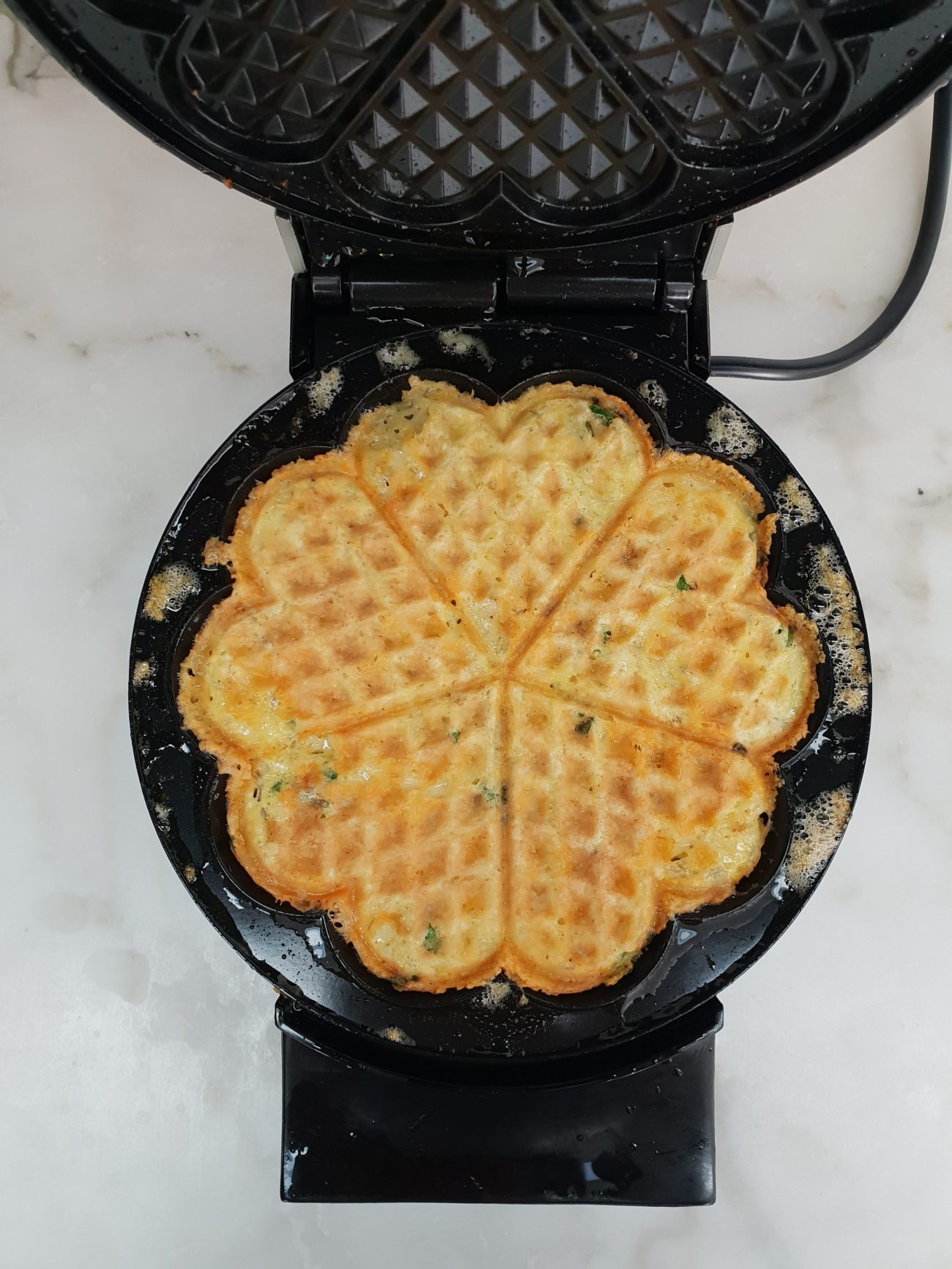 Waffle Irons/makers
I've had quite a bit of experience with different waffle irons, including both larger Belgian style waffle irons and the smaller square chaffle sized waffle irons. Here in Australia we have been limited with chaffle irons on the market so I ended up with one from Target. While it makes great chaffles because the melted cheese makes them pretty much no fail, if you make regular waffles however, it can take a long time to cook and they don't brown well.
The secret to making great waffles/chaffles is to make sure you have a quality waffle maker and to cook them reasonably quickly at a slightly higher temperature. My waffle maker of preference is the Breville Creations Waffle Maker that I bought on Amazon- see the link for details. I love that you can vary the temperature on this waffle iron, which makes it really versatile for cooking waffles and chaffles.
There was a big difference between the waffles/chaffles that came out of the Breville waffle maker versus what came out the Target brand waffle maker. If you have a waffle maker that cooks slowly then I recommend that you leave the waffles/chaffle cooking until they brown. This may take quite a long time but these waffles/chaffle need to be slightly brown on the outside to help them hold together. This is one of the joys associated with cooking without gluten, but the real joy in making these delicious Keto Chinese Breakfast Chaffles is in the eating.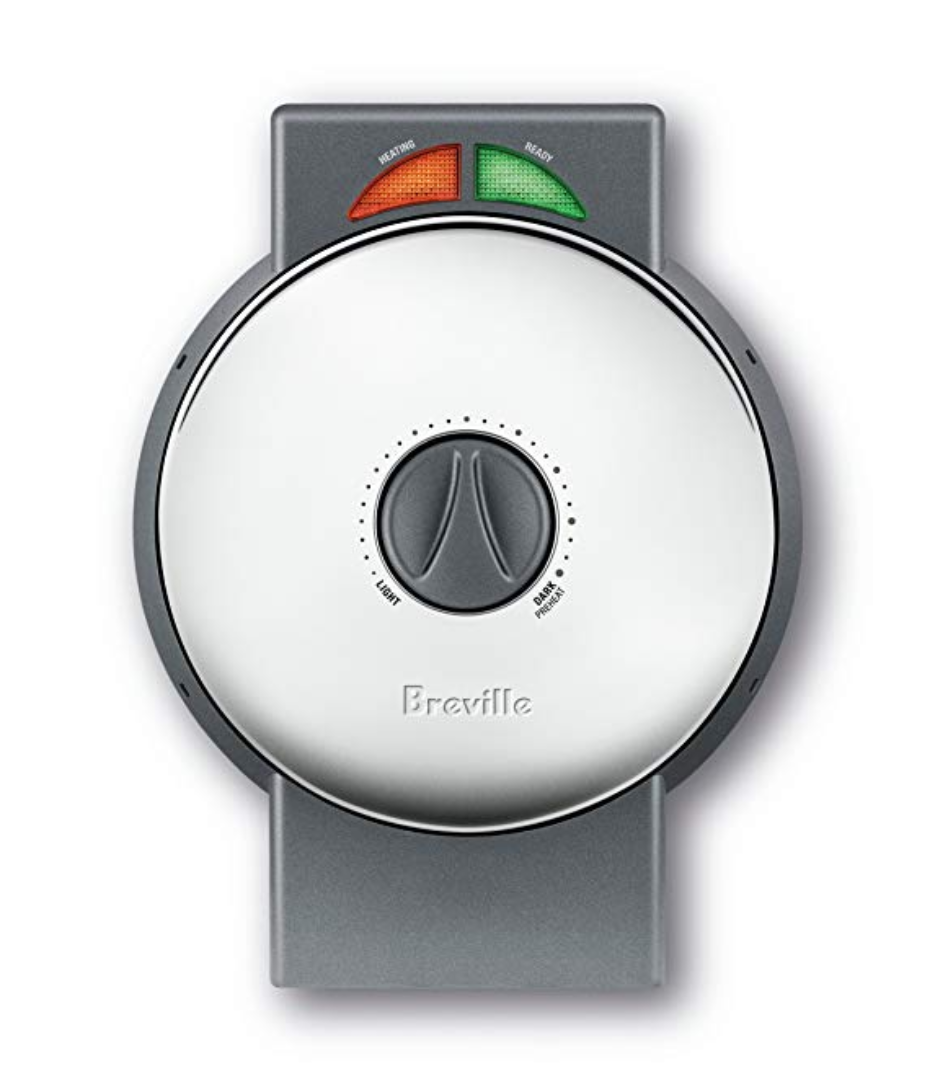 Make sure you try the suggested toppings on this delicious chaffle, as they really compliment the dish. If you have never tried it before, now is the time to be a little adventurous. Although I'm a bit of a traditionalist when it comes to topping this dish, you could vary how you serve these delicious chaffles by adding any topping that you like, such as salad and vegetables.
If you loved this recipe, you might also want to check out this fabulous recipe for a Low Carb Okonomiyaki Chaffle. It's a fabulous easy to make recipe that you can serve for any meal of the day, just like this recipe. There's also a fabulous recipe for Keto Waffles that are perfect for breakfast or a delicious dessert. Make good use of your waffle/chaffle iron, as they are great for making fast and easy meals that taste great with little effort.
Enjoy!
Karen x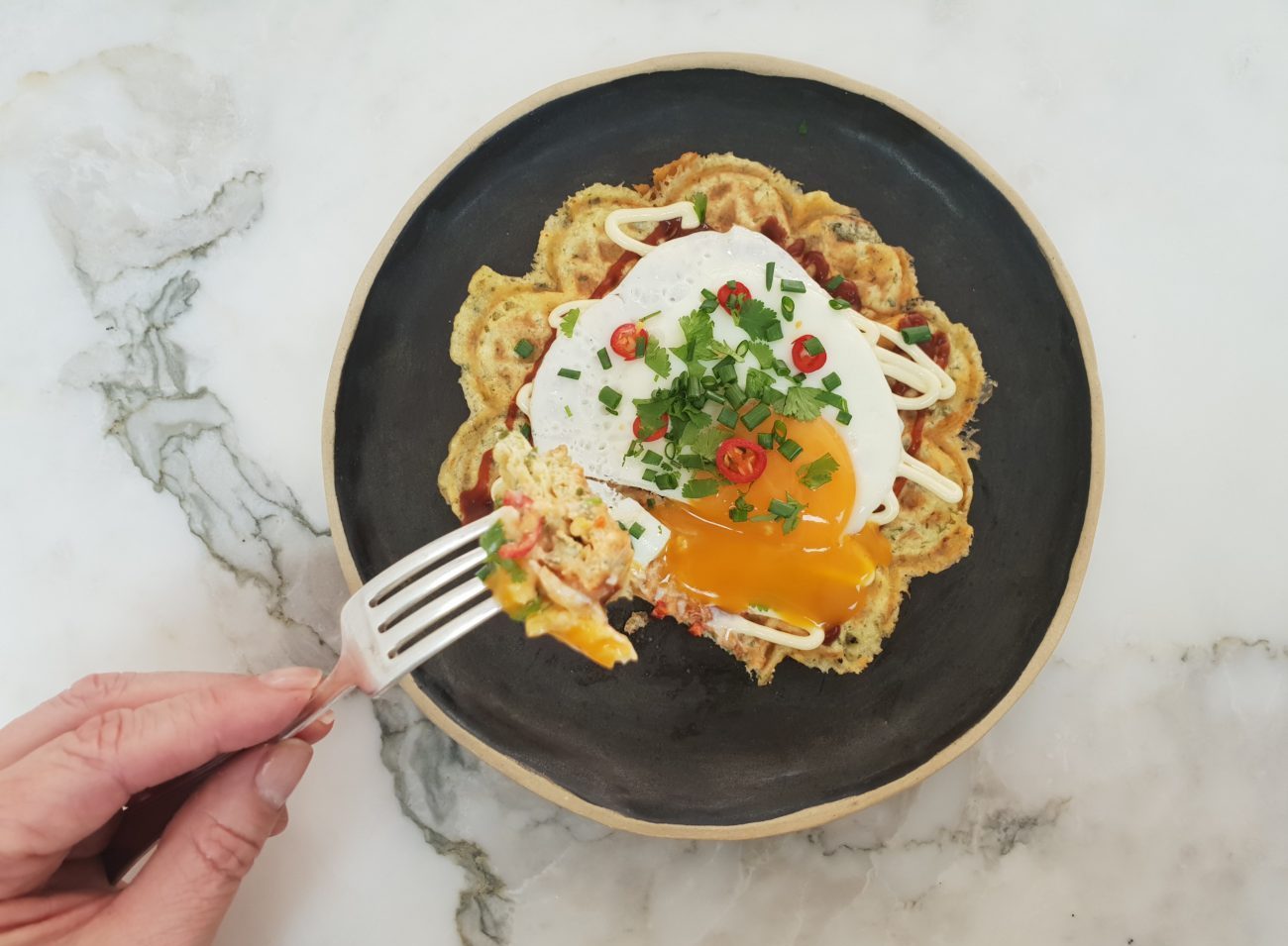 Ingredients
Savory Pancake Mix
1

extra large egg

2

cup

shredded/grated tasty cheese

2

tablespoons

spring onions/scallions sliced thinly-the fleshy part and green tops

1.5

teaspoons

coconut flour

or 2 tablespoons almond flour/almond meal

Salt and pepper to taste
Topping Ingredients
1

fried egg

Mayonnaise

or Japanese Kewpie mayonnaise/sugar free mayonnaise of choice

Fresh chopped coriander/cilantro leaves

Finely sliced scallions/spring onions

Fresh chopped chilli or chilli sauce to taste

optional
Instructions
Preheat your waffle maker and mix all of the ingredients for the chaffle together in a small bowl.

Pour the chaffle ingredients into the waffle pan and gently spread out to cover the base.

Cook until the chaffle is cooked through and has browned. Remove gently onto a serving dish.
To Serve
Serve hot topped with a pan fried egg. For a more traditional topping, drizzle with sugar free BBQ sauce and sugar free mayonnaise. Fresh chopped chilli or chilli sauce is optional. Garnish with chopped coriander leaves and chopped spring onions/scallions.

Try topped with salad, vegetables, sliced radishes or daikon, etc.
Recipe Notes
If you want this recipe to be more waffle like, you could add 1/4 teaspoon of baking powder and you will get more rise out of the chaffle
Nutritional Information
Serving:
1
pancake without topping
|
Calories:
655
kcal
|
Carbohydrates:
5
g
|
Protein:
36
g
|
Fat:
43
g
|
Fiber:
1
g
Note that we calculate our own nutritional values so they may not be precise. Calculate your own if desired. Carb values exclude sugar alcohols such as Erythritol, as they generally have no impact on blood sugar levels. 50% of the carbs from Xylitol is added to nutritional values. This is consistent with industry practice.
Do you want to receive more recipes like this one? Subscribe to our newsletter now!