Low Carb Slow Cooker Syrian Lamb and Eggplant Tagine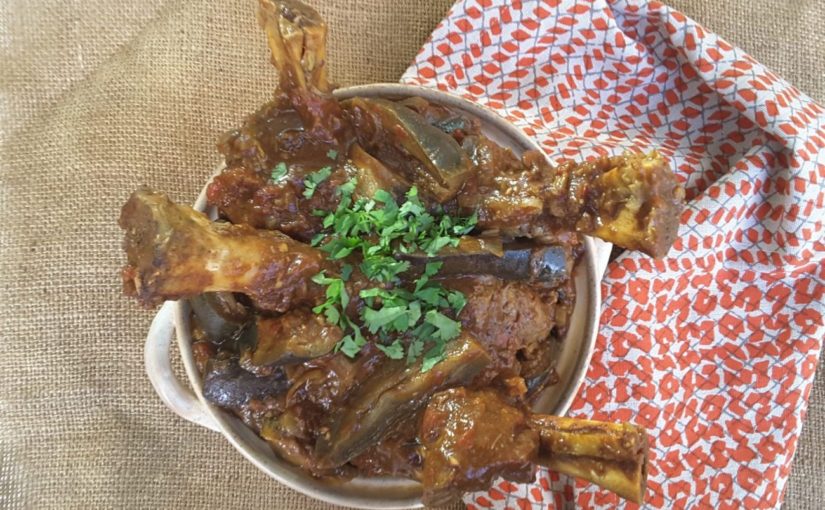 Low Carb Slow Cooker Syrian Lamb and Eggplant Tagine
Lamb is one of my favourite meats and this recipe for Low Carb Slow Cooker Syrian Lamb and Eggplant Tagine is absolutely delicious. A scrumptious blend of Middle Eastern spices such as coriander, cumin, turmeric and cinnamon, along with lamb and eggplant create this melt in your mouth slow cooked sensation. The eggplant takes on a slightly sweet flavour in this dish, removing the necessity to use high carb fruits such as apricots and prunes to impart sweetness. You can make this with lamb shanks or with diced lamb, or try it with lamb shoulder or lamb leg. Note that a lab leg will require longer cooking times.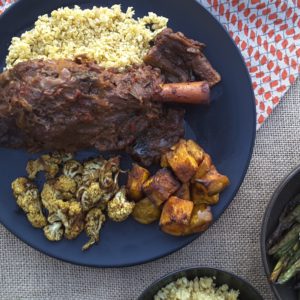 This dish goes really well with sides such as Low Carb Cauliflower Cous Cous,  Low Carb Oven Roasted Cauliflower,  Oven Roasted Green Beans with Harissa and Oven Roasted Moroccan Pumpkin. Another favorite way to serve this is to simply boil or stream green beans and serve them with butter and cracked black pepper. Simple but delicious.
This recipe serves 4 but if you only need 2 serves then you can freeze the leftovers for another day or simply eat it within a couple of days of making. I like to maximise using my slow cooker to save on energy so always try to cook as much as I can at one time. You can cook this recipe on low,  medium or high, or using a combination of temperature settings,  ie., 2 hrs on high and 3 hours on medium. Just remember that all slow cookers are different so you may need to adjust your cooking time to suit your cooker.
I hope you find the time to create a little Moroccan feast using this and some of my other Moroccan themed recipes. Cooking this dish with some of those vegetable dishes has probably been one of the highlights of all of my low carb cooking and eating….. it is that good.
Kxx
Low Carb Slow Cooker Lamb and Eggplant Tagine
Serves 4
Cooking time - minimum of 4 hours

Ingredients
4 lamb shanks or 800 gms diced lamb (lamb shoulder or lamb leg can be used as well)
400 gms/14 oz diced tinned tomato sugar free
2 medium onions halved and thinly sliced
3 tspns minced garlic
2 tspns ground cumin
1 tspn minced ginger
1 tspn ground coriander
1 tspn ground turmeric
1 tspn ground paprika
1 heaped tspn cinnamon
1 Tbspn Balsamic vinegar
2 lemon slices
1/4 tspn nutmeg
1/4 tspn cayenne-or to taste... spicy!!
A pinch cloves
A pinch of saffron crushed and steeped in a little water for 30 minutes- optional
1 large or 2 small eggplant cut into chunky fingers
2 Tbspns golden monkfruit granulated sweetener or sweetener substitute.
Salt and pepper to taste.

1. Turn the slow cooker onto high.
2. Sprinkle the spices over both sides of lamb shanks.
3. Add the sliced onions and 2 slices of lemon
4. Add the tinned tomato, vegetable stock ands sweetener and stir till mixed.
Season with salt and pepper.
5. Cook for 2-3 hours before adding the eggplant fingers and coating in the sauce. Add the saffron water and continue to cook on high for approximately another hour, or 2 or until cooked and tender.

To serve, sprinkle with fresh chopped coriander or parsley.

Various Cooking Times
Cook on medium for approximately 6 hours or on low for approximately 8 hours. Add the eggplant around 3/4 of the way through cooking.
If you forget to add the eggplant or add it too late to cook properly, simply zap it in the microwave for about 5- 10 minutes to precook it before adding to the slow cooker. It does need to sit in the juices for as long as possible to soak in the flavours though.
If you use a leg of lamb, you may need to cook for a bit longer, depending on how large the leg is.

Note that I've tried to make this without using any sweetener bit it just doesn't taste like a Tagine should. I used Monk fruit but you could use Stevia or your preferred sweetener. Use your own preferred sweetener and adjust to taste.

A KETohh Creation
www.ketohh.com