Low Carb Cauliflower Cous Cous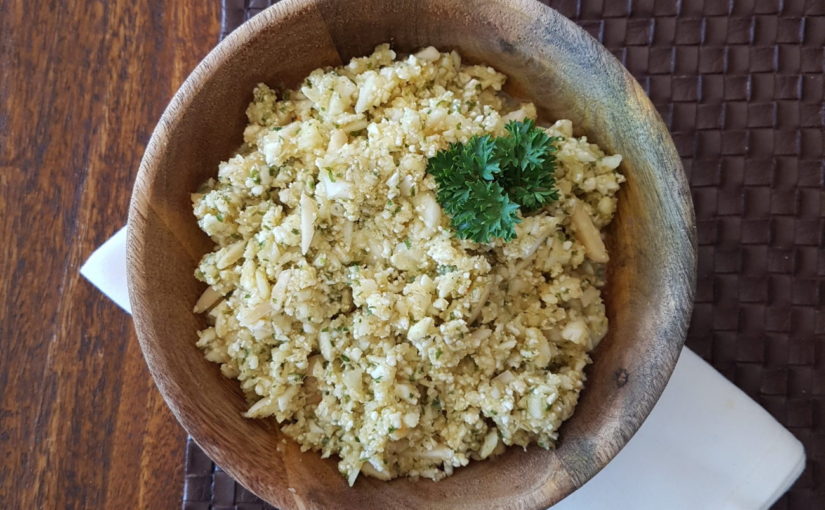 Low Carb Cauliflower Cous Cous
Low Carb Cauliflower Cous Cous. Who needs Cous Cous when you can eat Caulicous? My favorite master of disguise vegetable, the humble cauliflower, stars again in this simple and easy to make dish. Use it as a side dish, a vegetable or a salad to go with meat, chicken fish or Middle Eastern food. I love that this dish is also low in carbs and gluten free……tick.
This really simple dish is quick to prepare with a few ingredients. Make sure you have some Moroccan Spice at hand and either rice some cauliflower or buy some already riced from the supermarket. I like to only just cook the cauliflower as I like my cous cous to have a bit of texture, just like the original dish. 2 minutes of cooking is more than enough time for my tastes, but if you want it cooked a bit more, feel free to.
How To Serve Low Carb Cauliflower Cous Cous
Make sure you season this dish really well with salt and pepper and parsley, and add a liberal amount of EVOO- extra virgin olive oil. I love eating this Low Carb Cauliflower Cous Cous with many of the Moroccan Style recipes that feature on this blog. As you can see, I really do love my Moroccan food and many recipes have already been shared on this website. Serve this Low Carb Cauliflower Cous Cous with the wonderfully aromatic Low Carb Syrian Chicken, along with some of the side dishes such as Oven Roasted Moroccan Pumpkin and the delicious Oven Roasted Green Beans with Harissa.
Make sure you follow this really simple recipe to make your own Moroccan Spice Mix so you won't ever run out again. You are never going to buy it again once you've made it. It's such lovely aromatic spice mix, I am certain you will love it.
Enjoy!
Karen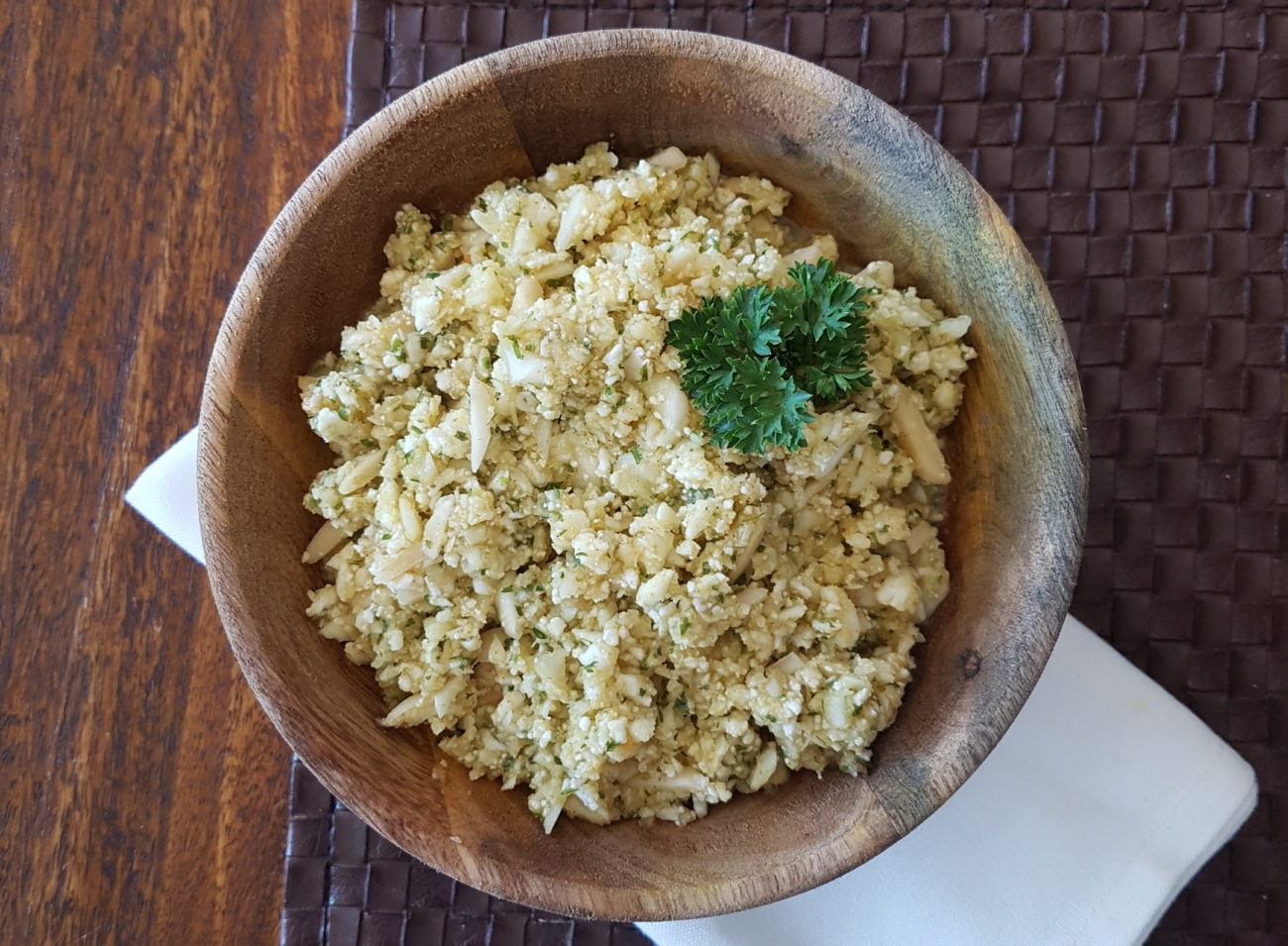 Ingredients
4

cups

riced cauliflower

¼

cup

almond slivers or pine-nuts

2

teaspoons

Moroccan Spice Mix

4

tablespoons

EVOO- extra virgin olive oil

2

tablespoons

fresh chopped parsley

Juice of half a lemon or to taste

Salt and Pepper to taste
Instructions
Cook riced cauliflower in the microwave for approximately 2 minutes (or leave raw if you wish to.) Fluff with a fork and leave to cool for a few minutes. Alternatively lightly pan fry, oven roast or steam, ensuring rice is just lightly cooked.

Add the olive oil, Moroccan Spice Mix, parsley, lemon juice and almonds and fluff with a fork.

Season with salt and pepper and serve.
Serving Suggestions
Serve Low Carb Cauliflower Cous Cous with any dish that calls for Cous Cous or use it as a rice substitute.

Low Carb Cauliflower Cous Cous goes very well with Moroccan or middle eastern themed dishes or simply use it as a side serve of vegetable or a salad.

Serve it warm or cool.
Variations
Add some spinach leaves, cherry tomatoes and some finely chopped onion and you have a delicious simple salad.

Toss in some cooked chicken with the salad as well and you have a complete meal.
Nutritional Information
Serving:
1
serve
|
Calories:
137
kcal
|
Carbohydrates:
6.6
g
|
Protein:
3.9
g
|
Fat:
5.8
g
|
Fiber:
4.6
g
Note that we calculate our own nutritional values so they may not be precise. Calculate your own if desired. Carb values exclude sugar alcohols such as Erythritol, as they generally have no impact on blood sugar levels. 50% of the carbs from Xylitol is added to nutritional values. This is consistent with industry practice.
Do you want to receive more recipes like this one? Subscribe to our newsletter now!