Low Carb Syrian Chicken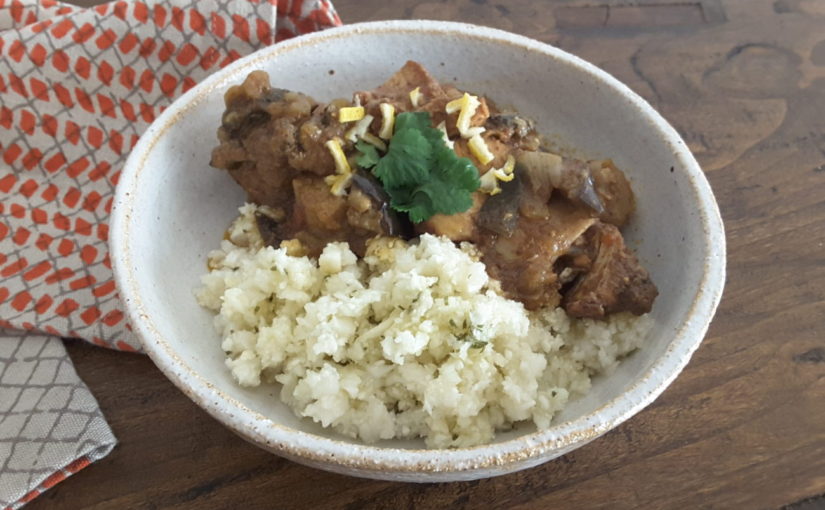 Low Carb Syrian Chicken is a delicious aromatic dish that is quick to prepare with simple ingredients. It's ideal for a family meal but equally at home served at a dinner party. This recipe was inspired by one of my favourite recipes by Karen Martini's classic, 'Syrian Chicken.' I have removed all forms of sugar, including the fruit from the recipe and have replaced it with eggplant. I also add about 1 tablespoon of low carb sweetener, either Lokanto Monkfruit or Stevia with Erythritol (I also like to use 'Sugarless' brand Stevia Organic.) You can use any alternative sweetener or omit it all together. The eggplant soaks up the sweetness and imparts a delicious flavour to this dish.
I like to use Monkfruit where I can in recipes but I do find that Monkfruit sweeteners are expensive in Australia so I try to buy mine whenever I place an order with iherb. Here is the link to Lokanto Monkfruit if you are interested. I also like to buy the golden version as well. Please note that I gain no commercial benefit from this suggestion.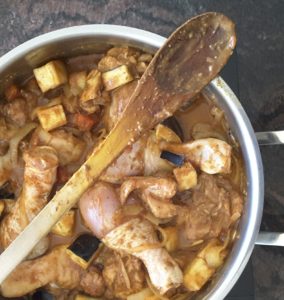 I love to serve Low Carb Syrian Chicken with Cous Cous or Caulicous Low Carb Cous Cous made from Cauliflower and a simple salad. It would also be delicious served with some of the Moroccan style vegetable dishes I have shared recently such as Oven Roasted Moroccan Cauliflower, Oven Roasted Harissa Green Beans and Oven Roasted Moroccan Pumpkin. I also love to serve this with pickled lemons if I have them at hand.
The ingredients list is fairly simple and most of you will probably have the spice ingredients in your pantry already. If you don't have any saffron threads, you can omit them. I have run out and am waiting on delivery of some at the moment so I didn't use any in the recipe displayed this time. I do suggest that you try to add it if you can though. There is a reason that saffron is so expensive, and that's because it does impart a beautiful flavour to dishes.
I often double this recipe so that I can either freeze the left overs or use them for another meal. I then get to use a whole tin of tomatoes in the recipe as well which is convenient. I like to use a mix of boned chicken and thigh fillets for this dish. If you are only using thigh fillets, you could cut the amount down to about 800 gms/28 oz, or about 8 thigh fillets but there is no need to adjust any other part of the recipe.
I would love to hear your feedback on this recipe as it is one of my favourites.
Enjoy Kxx
LOW CARB SYRIAN CHICKEN
Serves 4-6

Ingredients
I kg (2.2oz) mixed chicken pieces, thighs, drumsticks, thigh fillets or a whole chicken cut into 8 pieces
3 measured tspns ground cumin
3 measured tspns ground cinnamon
1 tspn ground turmeric
1 tspn cracked black pepper
2-3 Tbspns EVOO- extra virgin olive oil
2 brown onions thinly sliced
4 tspns fresh minced ginger
4 tspns crushed garlic
¼ tspn cayenne powder *spice warning-adjust for level of spice
200 gms/8 oz tinned tomatoes sugar free
1 large eggplant chopped into chunky cubes
2 pinches saffron threads pounded in a mortar and pestle and soaked in a tablespoon of hot water- optional
The juice and zest of 1/2 a lemon
1 tbspn sweetener- Monkfruit/Erythritol or of choice
¼ cup chicken or vegetable stock
Chopped coriander leaves to serve-optional
Method
1. Heat the olive oil in a large pan over medium heat. Add the onions and saute till translucent.
2. Add the ginger and garlic and saute for 1-2 minutes taking care not to brown.
3. Add the chicken pieces and sprinkle the cumin, cinnamon, cayenne pepper and turmeric over the chicken, tossing the chicken so that the pieces are evenly covered with spices. Turn the heat up and saute the chicken for about 3-5 minutes. There is no need to brown the chicken, just partially cook it. Add more oil if required and turn down the heat if it starts to burn the spices.
4. Add the salt and pepper, sweetener, tinned tomatoes and egg plant and mix through thoroughly. Add the stock and allow the dish to slowly simmer for approximately 40 minutes.
5. Add the lemon juice and zest, and the steeped saffron and allow to simmer for a further 10 minutes or until the chicken is tender and cooked through.
6. Just prior to serving, sprinkle with chopped coriander.
Serving Suggestion
Delicious served with Cous Cous ( Cauliflower Cous Cous for low carbers) and also goes really well with the Moroccan vegetable recipes you will find on my blog such as
Oven Roasted Pumpkin
,
Green Beans with Harissa
and
Oven Roasted Cauliflower.
A KETohh Creation
www.ketohh.com