Crunchy Pork Crackling Recipe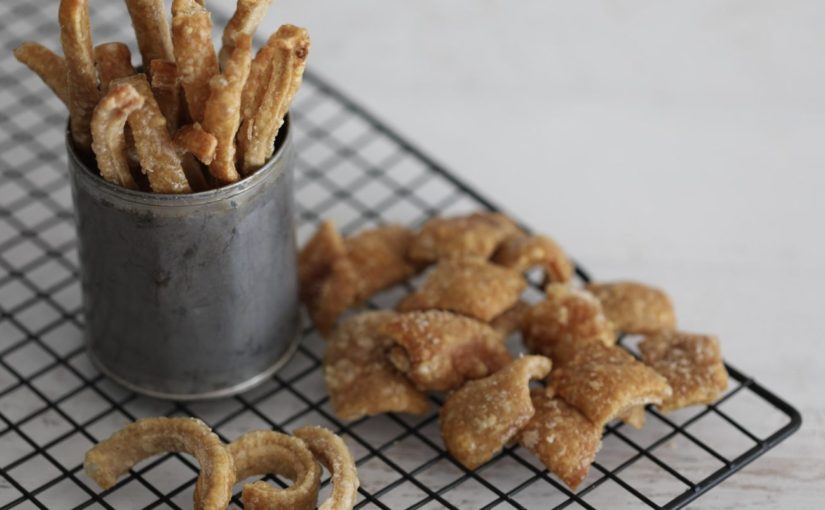 Crunchy Pork Crackling Recipe
How do you manage to cook pork crackling so it is crunchy? It sounds easy enough, but many people have problems trying to get the recipe just right. This delicious Crunchy Pork Crackling Recipe is really easy to make and is a no fail recipe. The only problem with this recipe is trying not to eat it all too quickly, as it is very moreish and hard to stop at one.
If you ever follow this recipe and it is getting towards the end of cooking time and your crackle isn't crunchy enough, simply turn up the heat to about 200 C/ 392 F and continue to cook till you get your crunchy rind. Do watch it if you turn the temperature up as it can overcook quickly. I don't find this necessary every time I bake these but sometimes it is necessary. Generally, you only need to do it for about 5 minutes.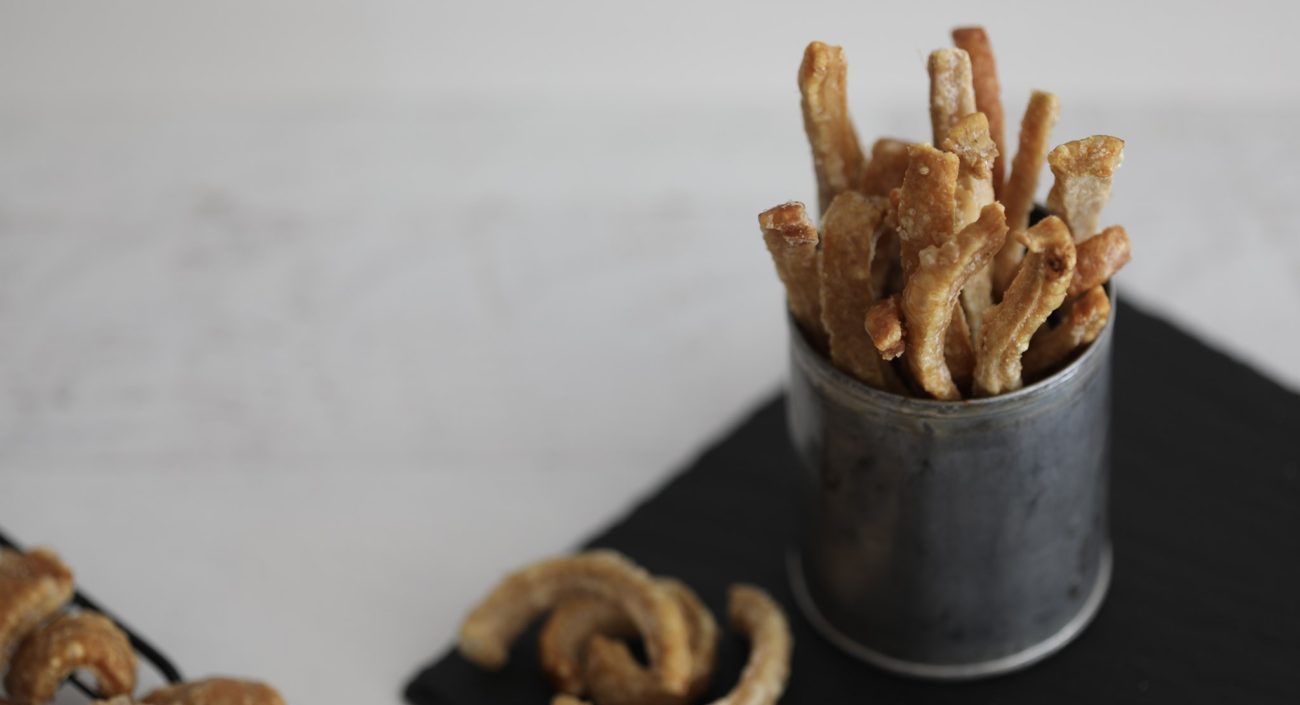 I generally buy my pork rind from either the supermarket or the butcher, and it is becoming a lot more common so you can get it prepackaged now. The amount of fat can vary on the rind, but generally if it is up to about 1.5cms/ 1/2 inch thick, then there is no need to trim any excess fat off the rind. If there are any bits of meat or really chunky parts though, I would trim it.
This recipe raises the pork rind up off the tray by using a rack or a tray with holes in it, over the top of another tray, and the rendered fat underneath can be collected and stored for later use, such as using for baked vegetables etc. I generally cook about 300-400 gms/10-14 oz of rind each time, but if you wish to cook more, then please do. Just try to make sure that you don't layer the pork rinds on top of each other, either as a slab or when they have been cut up or they won't cook properly. If you cook larger quantities then you may have to cook them off in batches so they will fit in your oven and on your trays.
Pork crackle will not last a long time in storage, which generally isn't a problem for me as it disappears pretty quickly in my house. I store it in an airtight container in the pantry, with some paper towel on the bottom to absorb any moisture. Generally it will only last for up to 5 days, so there really isn't any benefit to making a huge amount of this at one time.
Kx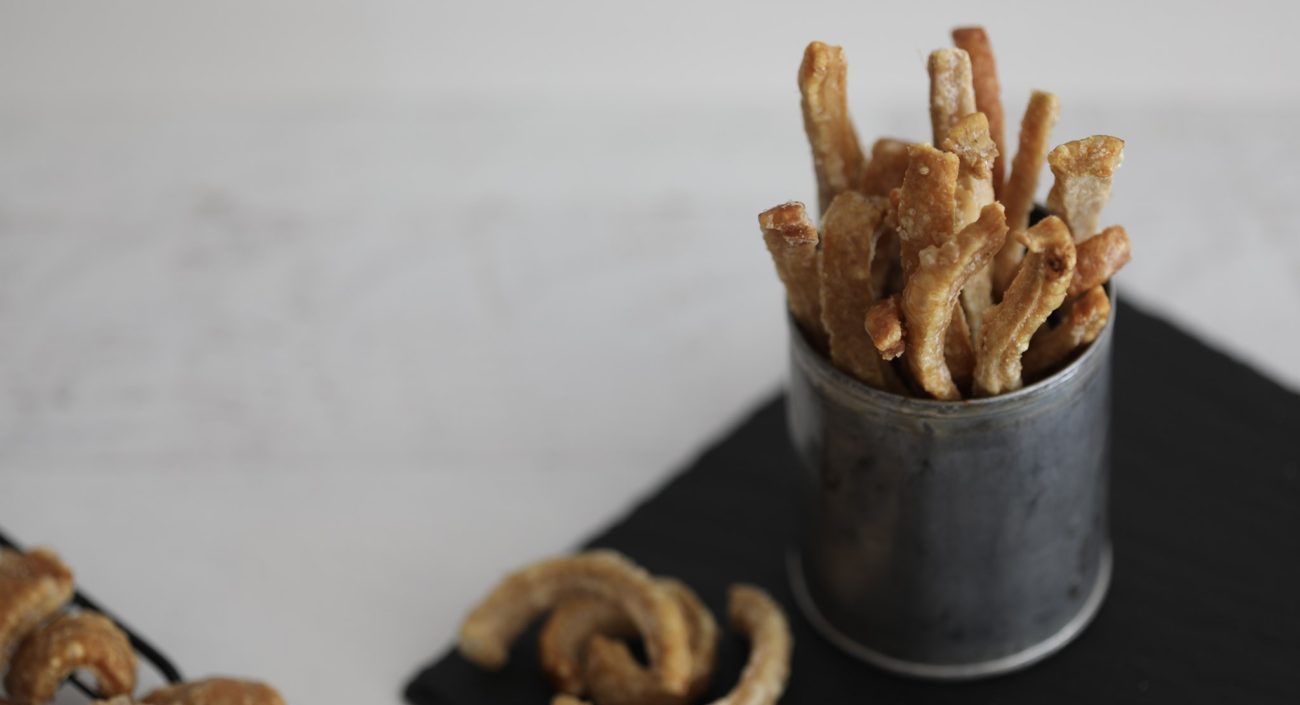 Servings:
1
15 gm/.5 oz serve
Ingredients
Desired amount of Pork Rind-remembering that there is a lot of shrinkage.

salt to taste
Instructions
Preheat oven to 195 C/375 F Fan Forced.

Wash and dry your pork rind if desired. Trim off the stamps if you don't want to eat them.

Lay your rind on a rack, or tray with holes in it elevated above another collection tray beneath (to catch the excess rendered fat.) Don't allow the pork rind to overlap. Sprinkle generously with salt and cook in the hot oven for 8 minutes, to soften the rind.

Remove rind from oven and allow it to cool enough so you can touch it. Using quality kitchen scissors, cut your rind into your desired shape. I personally love to make pork crackle straws, and cutting the rind this way makes it very easy to do. The softened rind should be easy to cut through.

Place your cut rind back onto the baking rack or tray with holes in it, above the collection tray, and arrange so the pieces aren't touching each other. Sprinkle it again with some salt.

Return the tray to the oven and continue baking at the same temperature for another 30- 40 minutes or till cooked as desired.

If your crackle is not crunchy enough, turn the heat up on the oven to 200 C/392 F and continue to cook until the crackle is crunchy. Generally this takes no longer than another 5 minutes. Watch during this time to make sure it doesn't over cook.
Recipe Notes
Store your crackle in an airtight container for up to 5 days, using kitchen toweling to line the container to soak up any potential moisture.
You can trim any ink stamps off your rind before baking if you wish to. I simply cut them out when I am cutting up the rind with scissors.
You can use other seasonings, such as this delicious home made BBQ Seasoning Mix to sprinkle on your rind prior to baking.
Nutritional Information
Serving:
1
14 gm serve
|
Calories:
80
kcal
|
Carbohydrates:
1
g
|
Protein:
6
g
|
Fat:
6
g
Note that we calculate our own nutritional values so they may not be precise. Calculate your own if desired. Carb values exclude sugar alcohols such as Erythritol, as they generally have no impact on blood sugar levels. 50% of the carbs from Xylitol is added to nutritional values. This is consistent with industry practice.
Do you want to receive more recipes like this one? Subscribe to our newsletter now!