Dukkah Crusted Salmon with Pumpkin, Feta and Bean Salad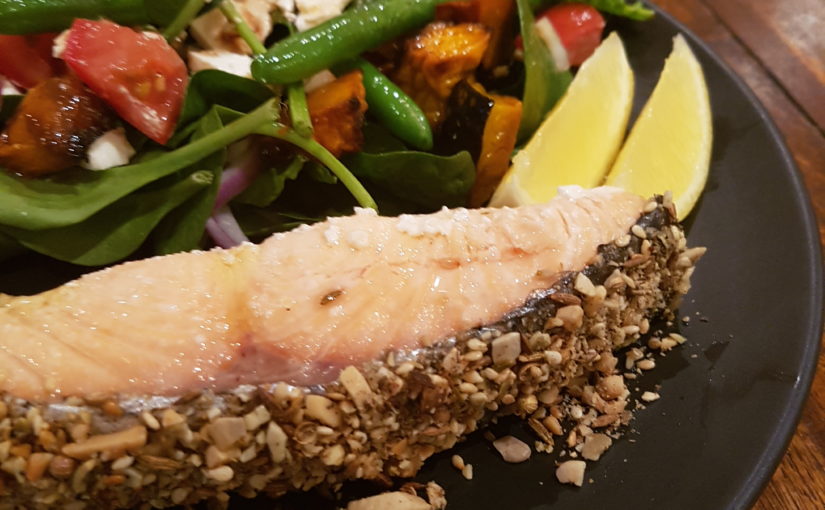 Dukkah Crusted Salmon with Pumpkin, Feta and Bean Salad
Dukkah Crusted Salmon with Pumpkin, Feta and Bean Salad recipe is really simple to make and the flavors are amazing. You can make the salad and the salmon dish separately and serve them with other foods, so it's actually a very versatile recipe as well. Try the salad with BBQ'd meat, chicken and fish and even tastes great on its own as a vegetarian option. Equally, the salmon could also be served with hot vegetables, making it an ideal dish for all year round.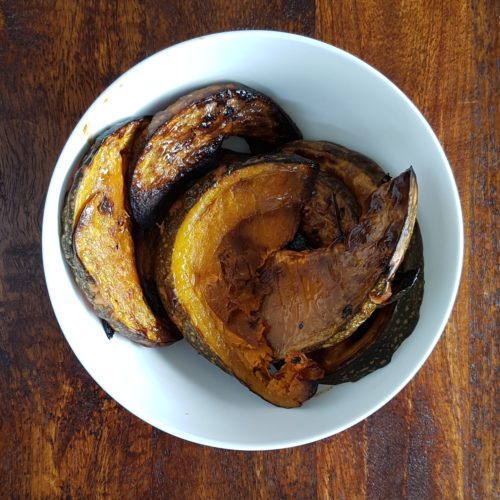 What Pumpkin Should You Use?
Kent/Japanese/kabocha pumpkin/squash is a lot lower in carbs than the sweeter varieties such as butternut pumpkin. You also get the added advantage of being able to eat the skin if it is baked. When I bake pumpkin, I try to use a whole pumpkin, skin and all at the one time. There is often cooked kabocha/Kent pumpkin in my fridge, so it is ready to use in dishes such as this, which is really convenient.
More Pumpkin Recipes
Sometimes I'll cook half the pumpkin in cubes and the other half in thin wedges, both of which could be used in this dish as well as many other dishes. It always gets eaten so I never have a problem with wasting it….. caramelised kabocha/pumpkin tastes divine. If you are looking for some other ways to use this, try the delicious recipe for Lamb Pop and Haloumi Salad as well as the Moroccan Pumpkin Dip Recipe.
If you are in ketosis and eating minimal carbs, watch your intake of kabocha/pumpkin as well as the balsamic vinegar in this dish. Feel free to increase the amount that you use if carbs aren't an issue for you. Don't be afraid to eat the skin on kent/kabocha pumpkin, especially when it has been oven roasted. It tastes delicious and is a great source of fibre.
If you have the time, I highly recommend you make your own Dukkah. It's simple to make and tastes divine. Dukkah can be quite expensive to buy as well so you will save money. You can also tweak this recipe as you like it, ie add more or less chili, add fennel seeds etc. Check out the recipe here, as I think you are going to love it- Dukkah.
I hope you enjoy this recipe if you find the time to make it.
Kxx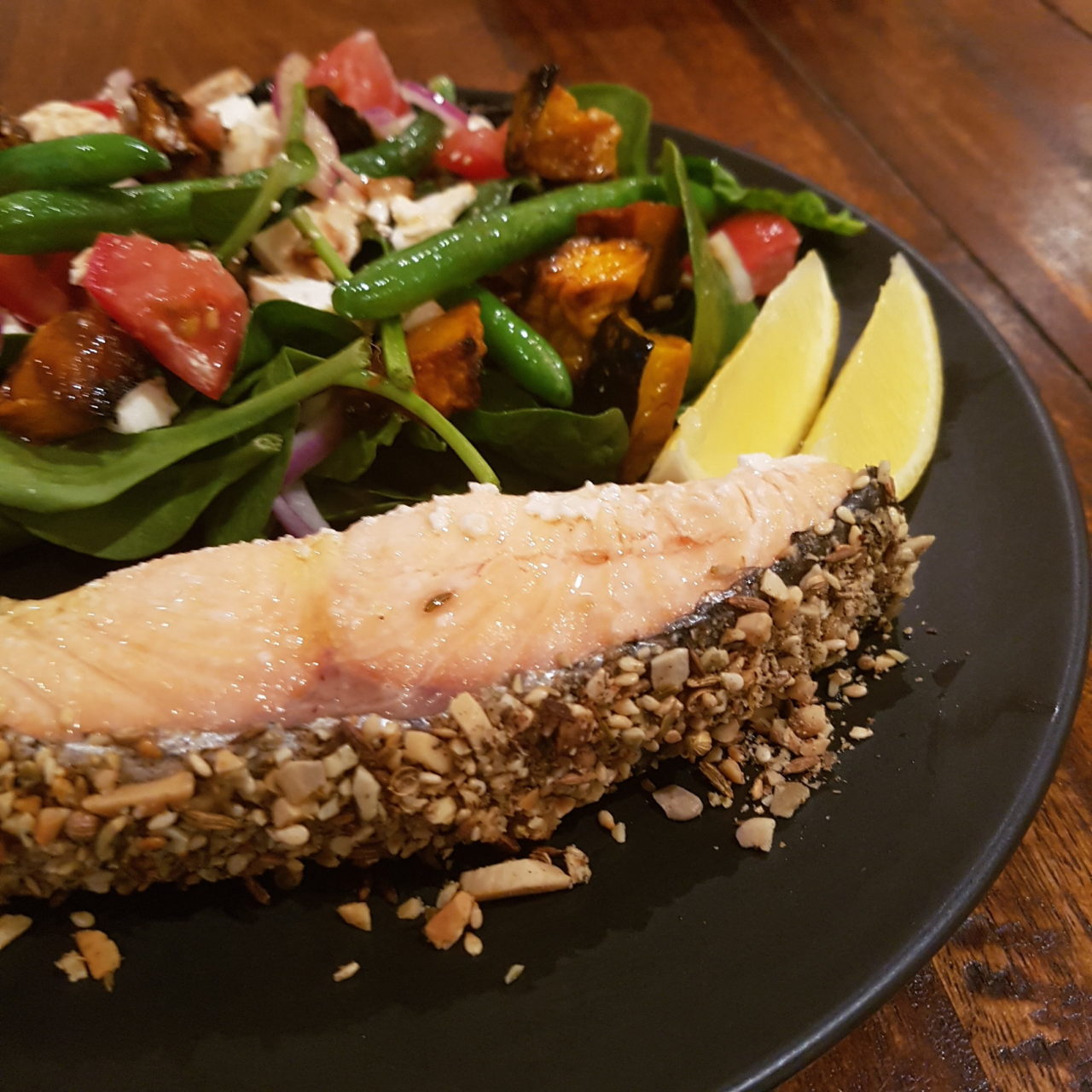 Ingredients
4 Salmon Fillets
2

tablespoons

Dukkah

– see recipe or use store bought

EVOO- Extra Virgin Olive Oil to brush on baking paper and skin

200

gms

Mixed Salad Leaf

200

gms

fresh green beans

200

gms

cherry tomato halved

2

cups

oven baked diced Japanese/Kent Pumpkin/Kabocha skin on

½

red onion finely sliced

100

gms

feta cheese crumbled- Danish style or a hard feta

4

teaspoons

pine nuts
Dressing
2

Tbspns EVOO for dressing

A dash of Balsamic vinegar/red wine vinegar/ or a squeeze of lemon juice
Instructions
To bake the pumpkin-brush with EVOO and bake in a very hot oven until it caramelizes, turning part way through cooking for even cooking- for approximately 25- 30 minutes. Allow it to cool partially

Cook beans by plunging into boiling water for 2-3 minutes. Drain and rinse under cold water until cool

Brush a little EVOO onto a piece of baking paper. Brush the salmon skin with EVOO and season with salt and pepper.

Press the salmon skin into the Dukkah so it coats the skin. Place the salmon skin up on the baking paper. Spoon any excess Dukkah onto the skin.

Bake salmon for 7-10 mins or until cooked as you prefer.

Assemble the salad leaves on 4 plates and divide the remaining salad items, pumpkin, beans and feta amongst the plates (reducing or removing the pumpkin for any serious low carbers and increasing the serve for carb lovers if you wish. )

Sprinkle a teaspoon of pine nuts on top of each individual salad and drizzle with EVOO and a ldash of balsamic vinegar.

Serve the Salmon on the side of the salad.
Recipe Notes
Use sweet potato in place of pumpkin.
Try sprinkling some Moroccan seasoning on pumpkin prior to baking.
Nutritional Information
Serving:
1
serve
|
Calories:
453
kcal
|
Carbohydrates:
14.4
g
|
Protein:
2.4
g
|
Fat:
26.8
g
|
Fiber:
3.3
g
Note that we calculate our own nutritional values so they may not be precise. Calculate your own if desired. Carb values exclude sugar alcohols such as Erythritol, as they generally have no impact on blood sugar levels. 50% of the carbs from Xylitol is added to nutritional values. This is consistent with industry practice.
Do you want to receive more recipes like this one? Subscribe to our newsletter now!