Dukkah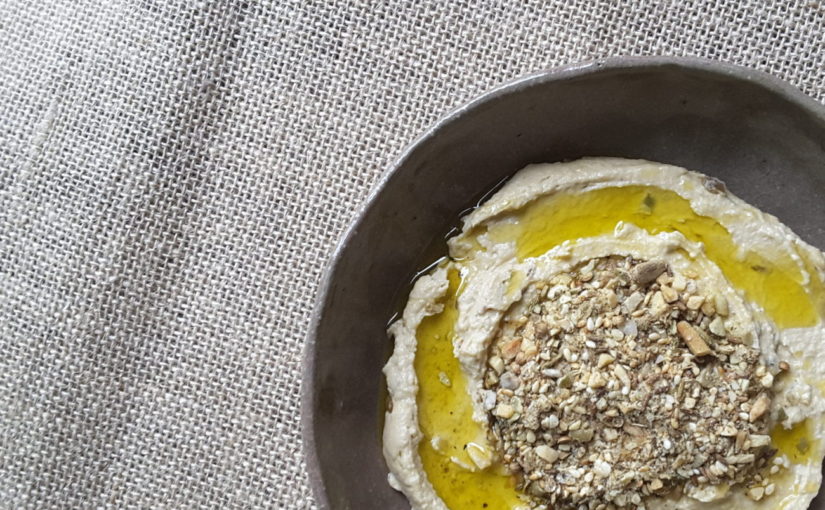 Dukkah is an Egyptian dish comprising of a mix of roasted nuts, spices and seeds which work together to create a nutty, crunchy aromatic blend. It is traditionally eaten simply by dipping bread into olive oil and then into the Dukkah mixture but it can be used in so many more ways to create simple but wonderful tasting food.
The basic recipe is a very traditional way to make Dukkhah and tastes fantastic but I have also added a recipe variation using sunflower seeds and pepita seeds, just to boost the nutritional value of this dish, that you may like to try.  The flavors and textures go really well together.
SERVING SUGGESTIONS
My favorite way to use Dukkah is to drizzle some EVOO (extra virgin olive oil) on either Low Carb Zucchini Hummus or even with regular hummus, and sprinkle (well…lavish) Dukkah on top. The flavors go so well together. I also love it sprinkled on eggs for breakfast or use it to roll peeled boiled eggs in. It just sticks to the egg and they look fantastic served on a plate and served simply just with fresh bread or a low carb bread/flatbread option.
Try Dukkah with fresh sourdough or a Turkish bread with EVOO. For a low carb option, try this recipe for Cauliflower Flat Bread. There are also a couple of other wrap recipes that are brilliant, such as this Easy Flat Bread Wrap Recipe, which is also a nut free and egg free recipe, and there is also this delicious Low Carb Healthy Flat Bread Wrap. Flat bread dipped in oil and then in the Dukkah goes so well together.
Sprinkle Dukkah on baked vegetables, especially pumpkin and cauliflower- it's delicious!! Use it on lamb, fish and chicken as either a crust or sprinkled on afterwards. One of the simplest recipes you can make is to buy salmon fillets, rub oil on the fillets and top it with Dukkah. Bake it in the oven and serve it with a simple salad.
Dukkah goes so well with pumpkin. Try oven roasting Kent or Japanese pumpkin/kabocha, add some fresh greens, crumbled feta, cherry tomatoes and drizzle with a little EVOO. Sprinkle with Dukkah and you have a delicious salad…try it served with lamb cutlets. If you do manage to make this recipe then I highly recommend you try it on the Moroccan Kabocha Dip that I have posted previously. Trust me…pumpkin and Dukkah go so well!!!!
I hope you enjoy this recipe. It makes around 2 ½ cups of Dukkah. If you find that you won't use it all, it does make a wonderful gift when served in a lovely jar.
Karen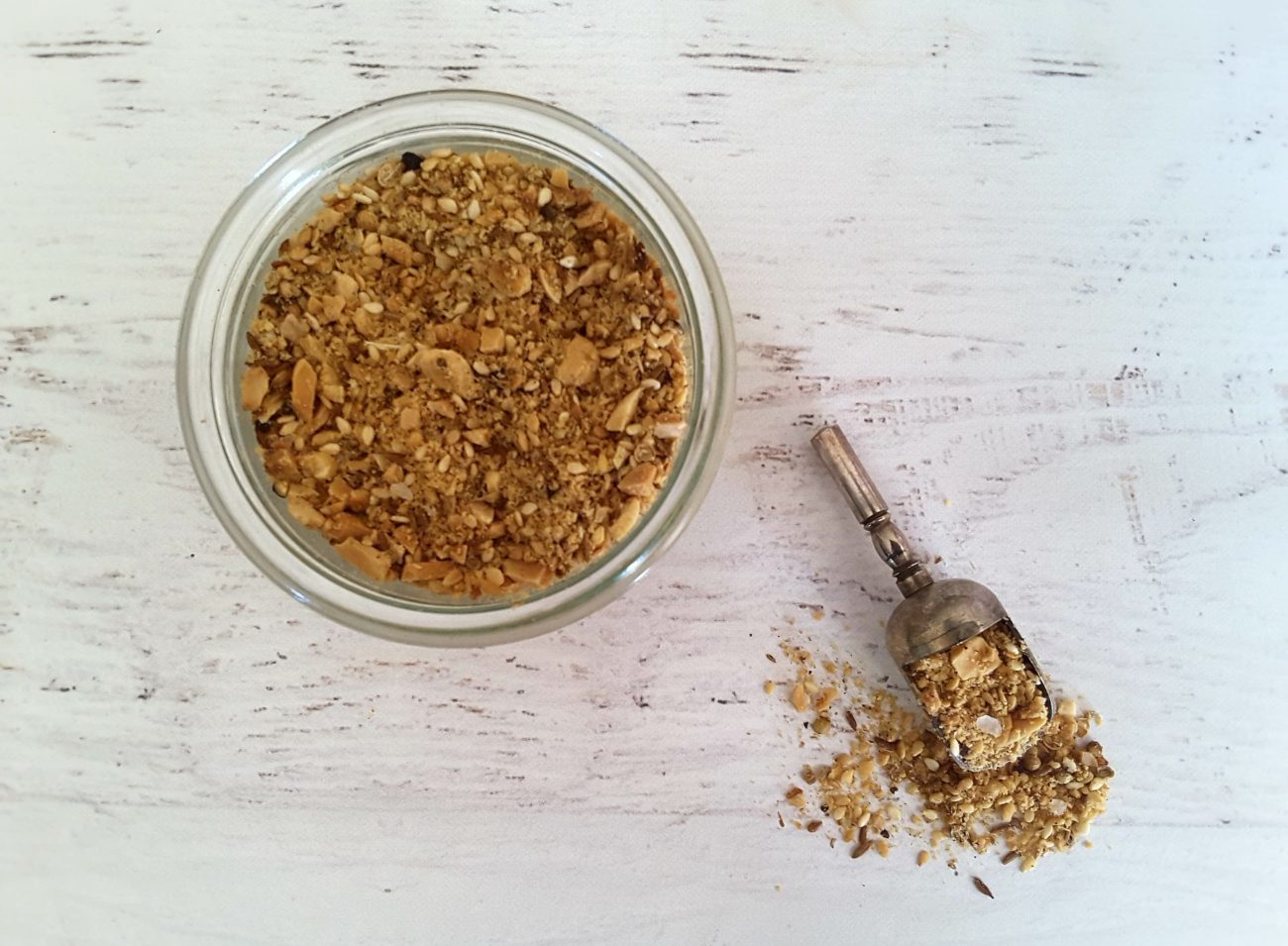 Ingredients
2

cups

almonds and/or a mix of hazelnuts, pistachio, macadamias or pine nuts

⅓

cup

sesame seeds

2 ½

tablespoons

cumin seeds

2 ½

tablespoons

coriander seeds

1

tablespoon

dried oregano

1

tablespoon

fennel seeds-optional

¼

teaspoon

mild paprika

1 ½

teaspoons

artisan or sea salt flakes

1 ½

teaspoons

cracked black pepper
Instructions
Pre-heat the oven to approximately 180 C/360 F fan forced. Toast the nuts for approximately 5 minutes, taking care not to brown them too much. Rub the skin off hazelnuts after baking if you use them in your mix. Pulse the nuts in a food processor until coarsely chopped.

Heat a frying pan on the stove top on medium heat and toast the sesame seeds for a couple of minutes. Add them to the nut mixture. Add the cumin, coriander and fennel seeds to the frying pan and toast over a medium heat for a few minutes taking care not to brown too quickly nor too much, until the spices become aromatic.

Using a mortar and pestle, pound the toasted spices until crushed. Add the spices and remaining flavorings to the nut mix, and blend well.
Variations
Healthy option (pictured)- Add 1/3 cup sunflower seeds and 1/3 cup pepita seeds in place of 2/3 of a cup of nuts. Toast them with the nuts and pulse them in a food processor when pulsing the nuts. Note that almonds were used in the Dukkah pictured.

Cut back on or don't use any fennel if you want to add different herbs and spices for variation, only because it has such a distinctive aniseed taste.

Try adding 1 tspn of either sumac, thyme, red pepper flakes, or mint or for a spicy Dukkah, add ¼ tspn cayenne powder (take care as can be very spicy) or ½ to 1 tspn chilli powder/flakes.

Store in an airtight container at room temperature.
Nutritional Information
Serving:
1
of 30 serves
|
Calories:
62
kcal
|
Carbohydrates:
2.5
g
|
Protein:
2.5
g
|
Fat:
4.9
g
|
Fiber:
1.3
g
Note that we calculate our own nutritional values so they may not be precise. Calculate your own if desired. Carb values exclude sugar alcohols such as Erythritol, as they generally have no impact on blood sugar levels. 50% of the carbs from Xylitol is added to nutritional values. This is consistent with industry practice.
Do you want to receive more recipes like this one? Subscribe to our newsletter now!