Low Carb Rocky Road Christmas Tree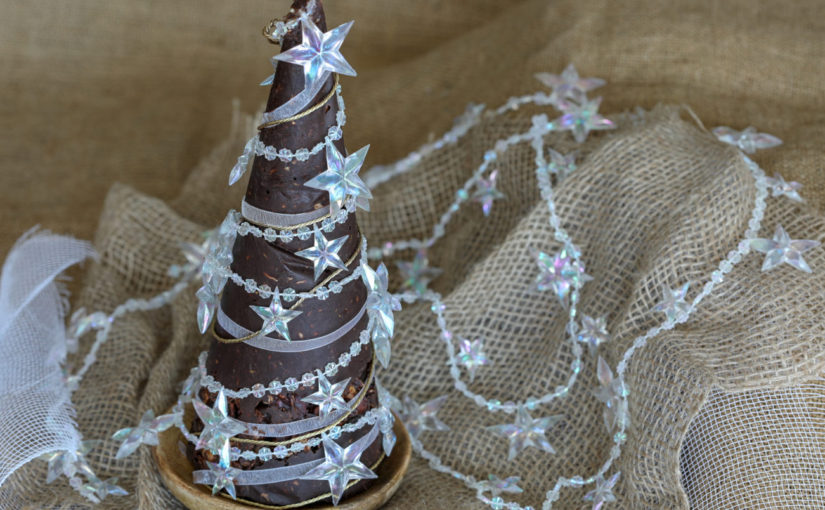 Low Carb Rocky Road Christmas Tree
This delicious Low Carb Rocky Road Christmas Tree recipe makes a wonderful reasonably healthy but still decadent chocolate treat. These are wonderful to use as a feature on Christmas day around your house or on your table. They also make amazing gifts that the receivers are going to love.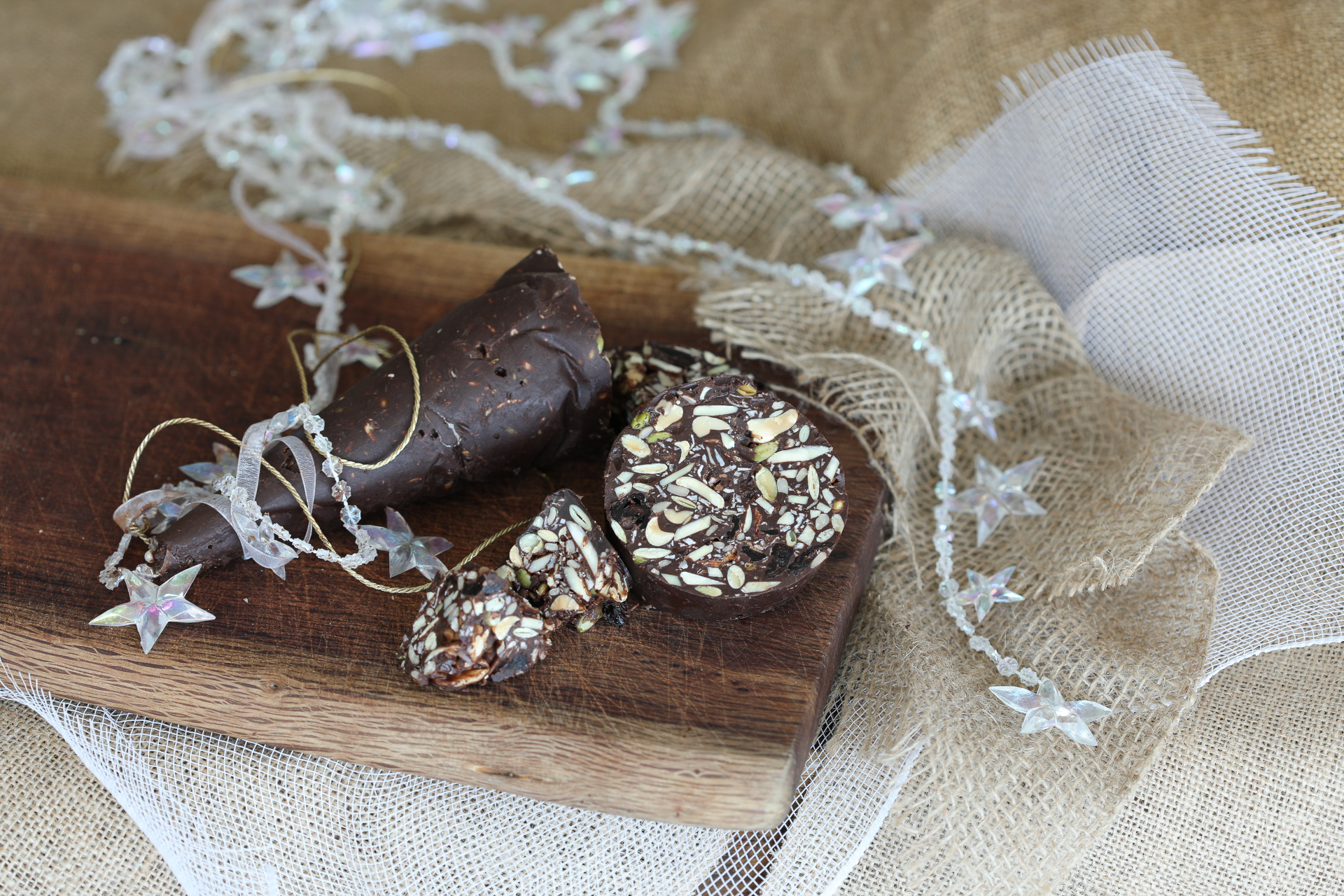 Modify to Suit Your Tastes
Quick and easy to make, you can easily modify this Low Carb Christmas Tree Rocky Road Recipe to suit your own tastes or make use of ingredients that you have on hand. I have tried to bulk this recipe up as much as I can with nuts and seeds so that there is less dark chocolate used and therefore less carbs and sugar consumed. You can add pecans, macadamias, pistachio and hazelnuts as alternatives, or in addition to some of the ingredients in the recipe.
You could add some dried raspberries or strawberries to this recipe, but do take care with the amount that you add, as dried berries can add up in sugar and in carbs. What looks like a small amount of dried fruit can end up being a large serving, as it shrivels down to nothing when dried and it might not look like you are adding much at all. Read the packet if you bought them to work out how many carbs and sugars are in them. If you made your own dried berries then you should have a good idea as to what constitutes a whole or half of a strawberry.
The dried cranberries are delicious in this recipe but you will struggle to find any that haven't been sweetened with apple juice, so make sure you read the ingredients list on anything you buy so you know what you are getting.
Creating Your Cone
Try to use dark chocolate a minimum of 70% couverture in this Low Carb Rocky Road recipe so that you are minimizing the amount of carbs and the sugar in this recipe. If you can work your way up to about 80% couverture for an even healthier option that would be even better. It certainly pays to compare the different chocolate that you find in the store so that you know how many carbs and how much sugar is in each block. They can vary by quite a lot. Note that if you don't like the taste of dark chocolate and are cutting back on sugar and carbs, you are going to end up liking it. Trust me! It's a treat and when it's been 'watered' down with other ingredients like it has in this recipe, you won't really notice the slightly bitter taste of the chocolate. You are going to be simply enjoying eating a delicious piece of Low Carb Rocky Road Christmas Tree.
For a similar low sugar, low carb, chocolate treat, check out the recipe for Sugar Free No Bake Chocolate Slice, which for any Australian or English readers, is very similar to the classic Hedgehog Slice. It's pretty amazing tasting as well and is reasonably healthy. I love to use it as the perfect healthy switch for processed chocolate biscuits and you can of course just make a conventional Low Carb Rocky Road like this one.
Note that this recipe will create one large or 2 smaller trees. If you want to create 1 smaller tree, simply reduce the recipe by half. You can also use this recipe to create a simple slab of healthy rocky road. Have fun decorating your tree! I always have so much fun doing this.
If you are after some other recipes that would be ideal for gifting for Christmas, check out these recipes. There are also lots of other recipes, such as bliss balls and chocolate slices etc that would be ideal, so have a browse through the recipes on this blog.
Some Christmas Gifting Recipe Ideas from KETohh
Low Carb Dukkah
From scratch spice mixes- BBQ, Mexican and Moroccan
Sugar Free Harissa Paste
Low Carb Macadamia Vanilla Cookies
Low Carb Ginger Spice Cookies
Mexican Salsa Picante
Low Carb Rocky Road
Healthy Almond Crackers or Almond Seed Crackers
Low Carb Raspberry Dark Chocolate Chia Balls
Low Carb Dark Chocolate Raspberry Cheesecake Balls
Low Carb Chocolate Hazelnut Balls aka Ferrero Rocher Balls
Wasabi Almonds
Tamari Almonds
There are so many options here that anyone trying to cut back on their carbs and sugar would love to receive but don't limit them to your low carb friends, as they would be ideal for anyone as a gift.
Kxx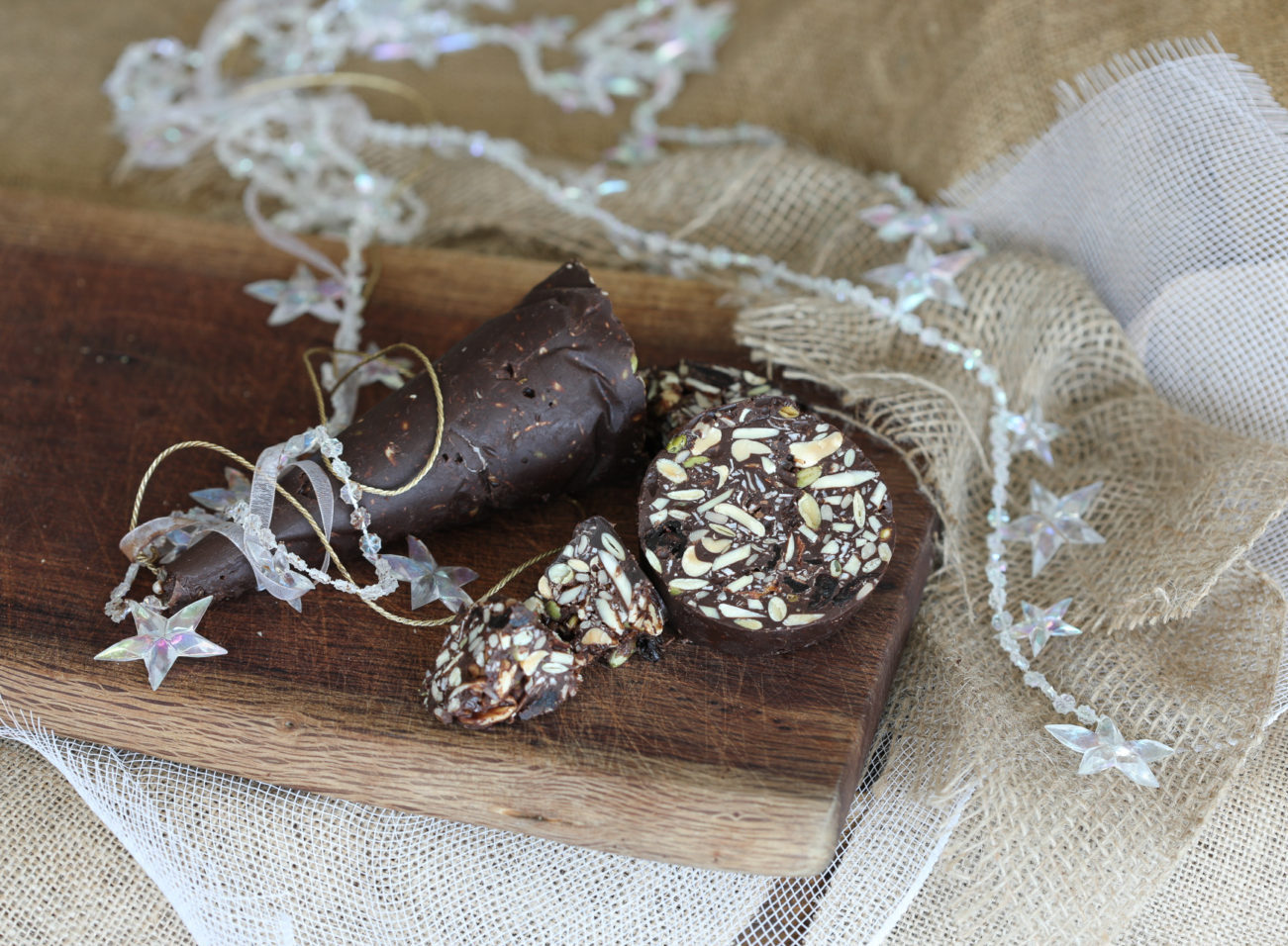 Ingredients
400

gms

/14 oz dark chocolate 70% couverture or more

2/3

cup

unsalted peanuts or your favorite nuts/nut mix

1/3

cup

pumpkin seeds

1/3

cup

sunflower seeds

1/2

cup

desiccated coconut/coconut flakes unsweetened

2

tablespoons

dried cranberries unsweetened or dried berries
Instructions
Melt the chocolate in the microwave in bursts, stirring well in between bursts. Add all other ingredients and stir until combined.

Create your cone shaped mold by taping a large piece of baking paper onto a large piece of cardboard like a cereal box that is approximately 60 -70 cm wide/23-27 " and about 40 cm/15 " deep. Create a slight fold along the bottom edge on the mid line, ensuring the baking paper is sitting along the bottom edge as well. Create a tight cone starting from the mid line in the shape you desire. It could be short and squat or long and narrow. Ensure the pointy end of the cone is sealed off tight by twisting the cone. You can add some tape over the pointy end to prevent any chocolate dripping from the mold. Find a container, vase or jar that will hold your cone pointy side down, without touching the base of the container.

Slowly spoon some of the chocolate mix into the mold, tapping it down so that it goes down to the very ends of the pointy part of the cone. Spoon mix in carefully ensuring it is touching the baking paper, not the cardboard.

Add the remainder of the chocolate mix and tap gently on the top of the mixture to make sure it fills the cone entirely without gaps. Spoon the top of the mixture off so that is level.

Allow the tree to set, either on the bench or in the fridge. Do not unwrap the cone until the chocolate has set hard.

Once set, remove the cardboard and paper. Don't decorate until it has set properly.

Decorate your tree.

Store in fridge or in a cool place.
Decorating suggestions
Drizzle with white and dark chocolate.

Decorate the tree with edible treats.

Use ribbons and beading to decorate the tree.

Use chocolate to glue a star on top of the tree.

Place on a base and wrap in cellophane paper, decorating in a Christmas theme for gift giving.
Recipe Notes
Note that you can make 1 large tree or 2 smaller trees from this mix. The total weight of 1 tree will be approximately 675 gms/23.8 oz. Simply make smaller cones to make smaller trees. They look great when graduated in height.
Optional low carb additions- almonds, macadamias, pistachio, goji berries, dried blueberries, dried raspberries or dried strawberries
Nutritional Information
Serving:
1
serve
|
Calories:
72
kcal
|
Carbohydrates:
3
g
|
Protein:
2
g
|
Fat:
6
g
|
Fiber:
2
g
Note that we calculate our own nutritional values so they may not be precise. Calculate your own if desired. Carb values exclude sugar alcohols such as Erythritol, as they generally have no impact on blood sugar levels. 50% of the carbs from Xylitol is added to nutritional values. This is consistent with industry practice.
Do you want to receive more recipes like this one? Subscribe to our newsletter now!