Low Carb White Christmas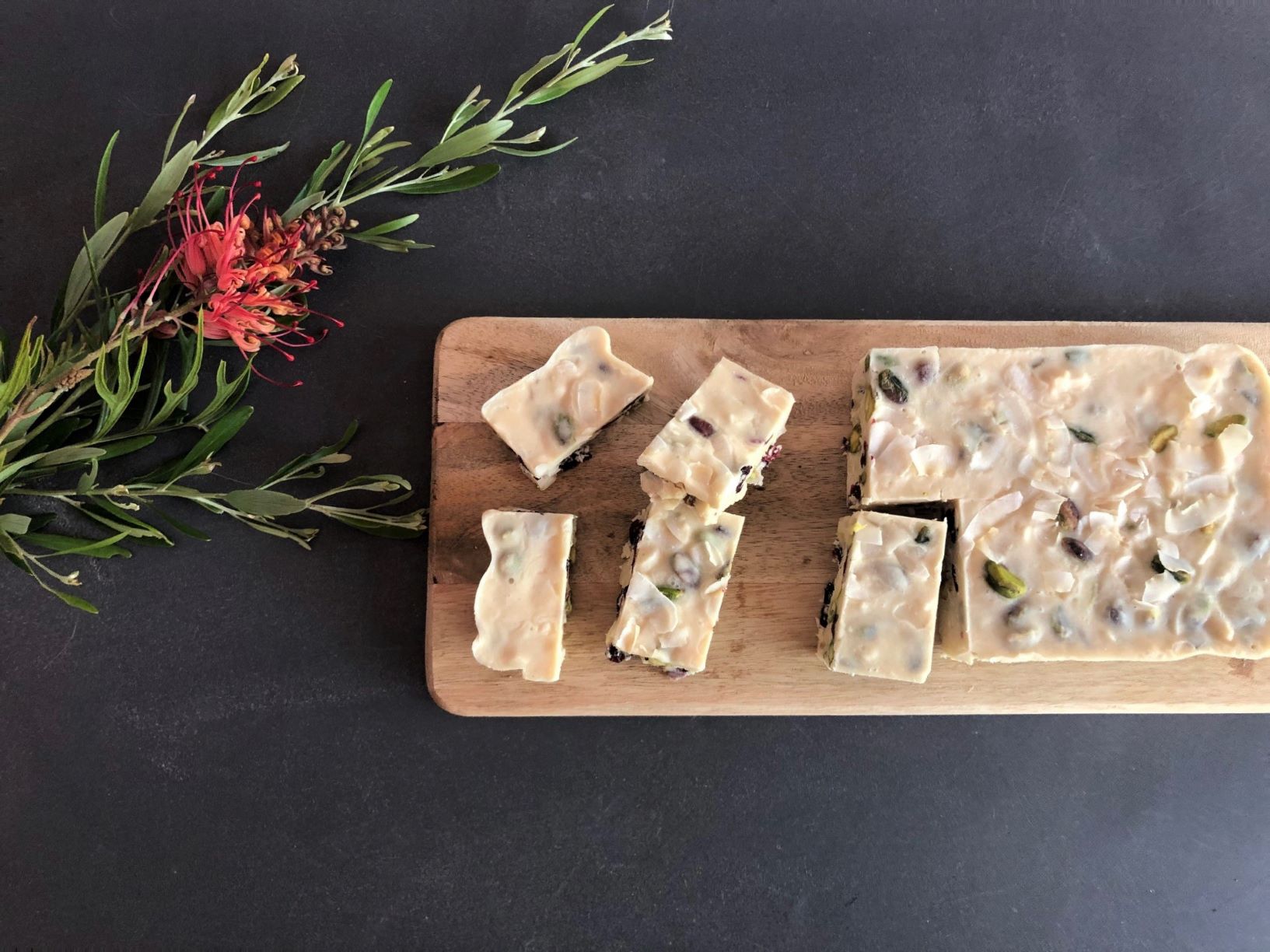 Can you remember the taste of White Christmas from when you were younger? It certainly wasn't a favorite of mine. as I found copha to be overwhelming in flavor. For those of you who don't know what Copha is, it's hydrogenated coconut oil and features in Australian recipes such as White Christmas and Chocolate Crackles. When you taste this delicious version of Low Carb White Christmas, you are going to be blown away by the taste. Coconut butter and coconut oil combined, create a more pure and healthy coconut flavor that tastes absolutely divine.
It has been a real hit in out house with lots of taste testers sampling it. I had a batch of this made up for Christmas but it has already been devoured so will have to make up a fresh batch. While I like to make this in a slab and slice it up, you can also use a silicon mold and create individual serves, or healthy little 'fat bombs'.
Variations
Feel free to customise this to your own taste or to use what you have in the pantry. While I love the taste of the Sugar Free Dried Cranberries  you could also use Sugar Free Dried Blueberries or freeze dried fruit such as strawberries. Almonds would also go really well in this recipe if you don't have pistachio.
While the recipe also features vanilla WPI (protein powder) you could omit this but will need to add more sweetener as the WPI adds sweetness to the recipe. I'd recommend using a powdered sweetener to keep the texture smooth. The coconut stevia drops are used to add additional coconut flavor and not  sweetness, so if you don't have any simply omit from the recipe.
Edible Gifts
While I love to make a batch of Low Carb White Christmas to have on hand in the fridge, they would be perfect for gifting as well. I know I would love to receive a batch of these. If you are looking for other edible gift ideas, you might find some inspiration from some of these recipes.
Sugar Free Cranberry Almond Biscotti
Low Carb Shortbread Cookies
Ginger Spice Cookies
Dukkah
From scratch spice mixes including BBQ, Mexican and Moroccan
Harissa Paste
Rocky Road Christmas Tree
Low Carb Rocky Road
Raspberry Dark Chocolate Chia Balls
Dark Chocolate Raspberry Cheesecake Balls
Chocolate Hazelnut Balls aka Ferrero Rocher Balls
Wasabi Almonds
Tamari Almonds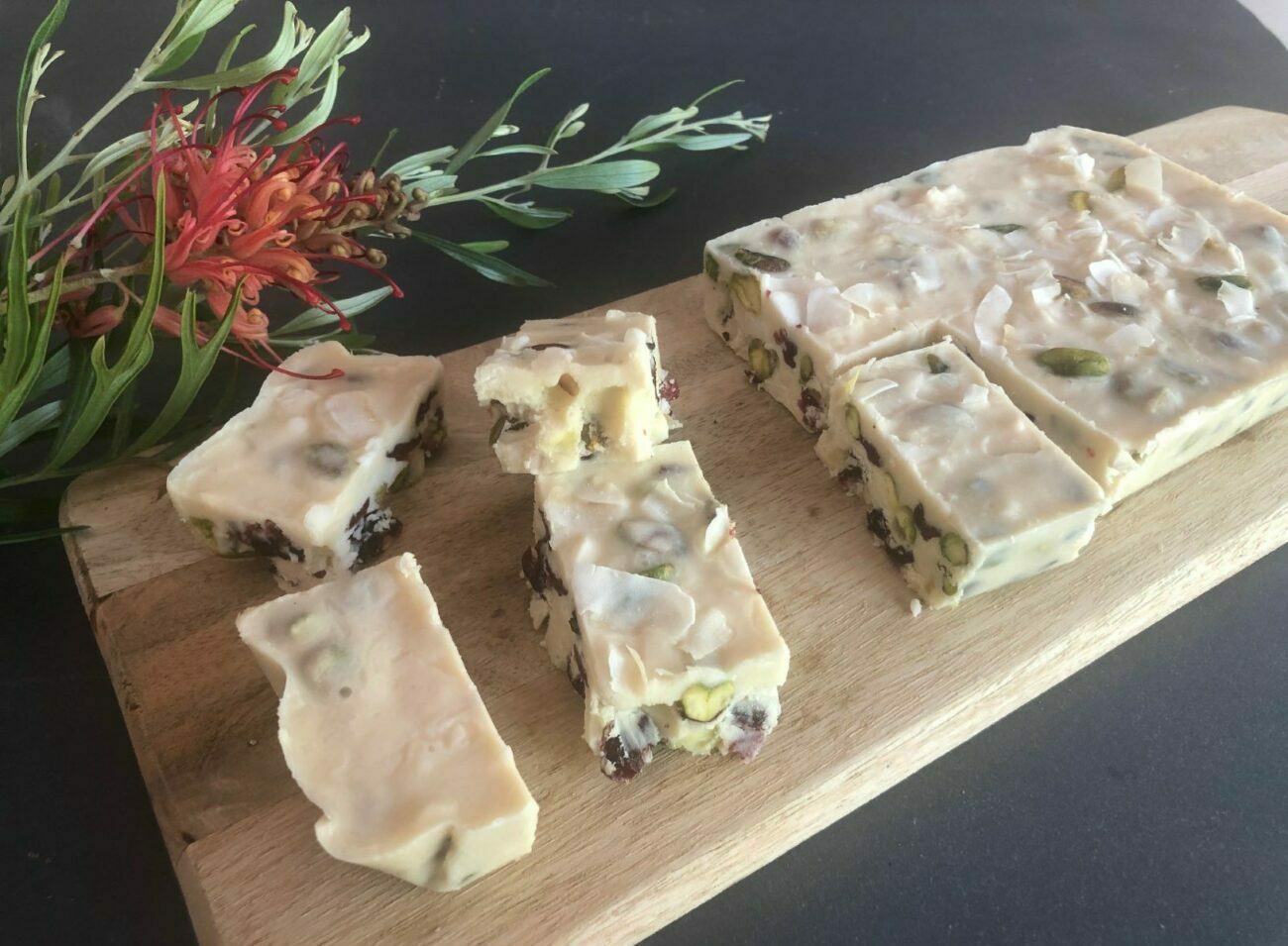 Instructions
Melt the coconut butter and oil together until just melted in the microwave or on the stove top.

Add the coconut Stevia drops, vanilla extract and protein powder and stir well to combine. You may need to use electric beaters to combine well if there are lumps.

Fold through the remaining ingredients until combined and pour into a large loaf pan approximately 9 x 5"/22 x 12cm lined with baking paper.

Smooth out the top of the slice and refrigerate until it sets. Slice with a sharp knife into approximately 25 pieces. Store in the fridge and serve cold as the slice will soften at room temperature.
Recipe Notes
Use dried or freeze dried low carb fruit of choice such as strawberries and blueberries.
Almonds, sunflower seeds and coconut can also be used in this recipe.
If you don't have the coconut drops, simply omit. They are added for the coconut flavor and not additional sweetness.
Add 1/2 cup of powdered sweetener in lieue of the protein powder if desired. Add it at the same time as instructed for the protein powder.
I source my coconut butter from iherb. 
Nutritional Information
Serving:
1
serve
|
Calories:
132
kcal
|
Carbohydrates:
3
g
|
Protein:
0.9
g
|
Fat:
13
g
|
Fiber:
1
g
Note that we calculate our own nutritional values so they may not be precise. Calculate your own if desired. Carb values exclude sugar alcohols such as Erythritol, as they generally have no impact on blood sugar levels. 50% of the carbs from Xylitol is added to nutritional values. This is consistent with industry practice.
Do you want to receive more recipes like this one? Subscribe to our newsletter now!