Low Carb Zucchini Hummus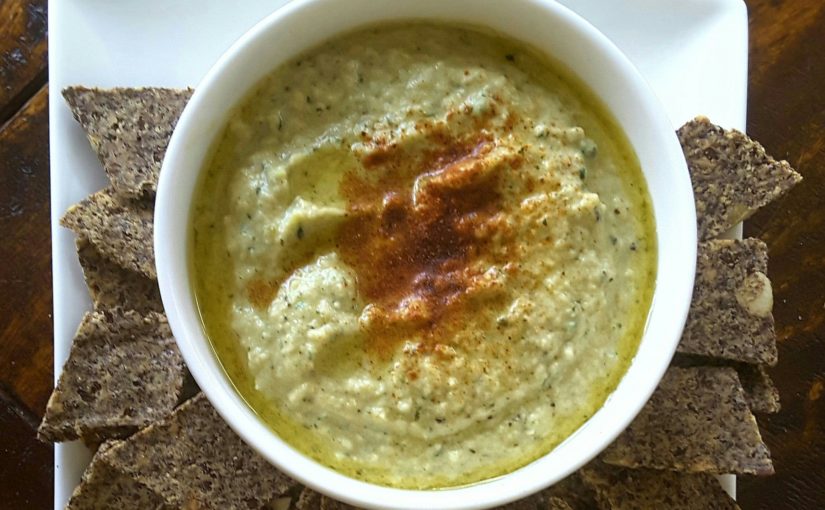 Low Carb Zucchini Hummus is a healthy, low carb dish that tastes amazing and is so simple to make. Keep some in your fridge for when you are tempted to reach for a not so healthy snack. My favorite way to eat this is with some of my Seed Crackers, Cauliflower Flatbread or with fresh, low carb vegetable crudites such as celery. It also goes really slathered on Seed Bread with fresh slices of tomato and cracked black pepper. Try it served drizzled with extra virgin olive oil (EVOO) and then sprinkled with Dukkah. It really tastes amazing served this way.  If you want to have a go at making your own recipe, this Dukkah recipe is really simple to make
Impart A Slight Smoked Flavor
I saute the zucchini to get a bit of a smoky flavor happening. You could simply cook the zucchinis in a very hot oven to achieve the same result or cook them on the BBQ. This recipe will taste great made with eggplant but I would cook the eggplant through till well cooked as it isn't as watery and easy to cook as zucchini is.
Tahini
A couple of tips about buying tahini. You can buy hulled and unhulled tahini. I recommend that you buy one that is unhulled so that you get the full nutritional value out eating sesame seeds but if you cannot source it then eating hulled will be fine, it is just a little lacking in nutrients. Try to buy a raw tahini if you can again for nutritional reasons so that any heat applied doesn't destroy any nutrients. Tahini is a good source of calcium and protein. It contains both omega-3 and omega-6 oils, amino acids, vitamin B6, fibre, copper, manganese, calcium, thiamine, and antioxidants.
Another delicious hummus recipe is Low Carb Eggplant Hummus, it is a bit stronger in flavor than this zucchini based hummus but is delicious.
Kxx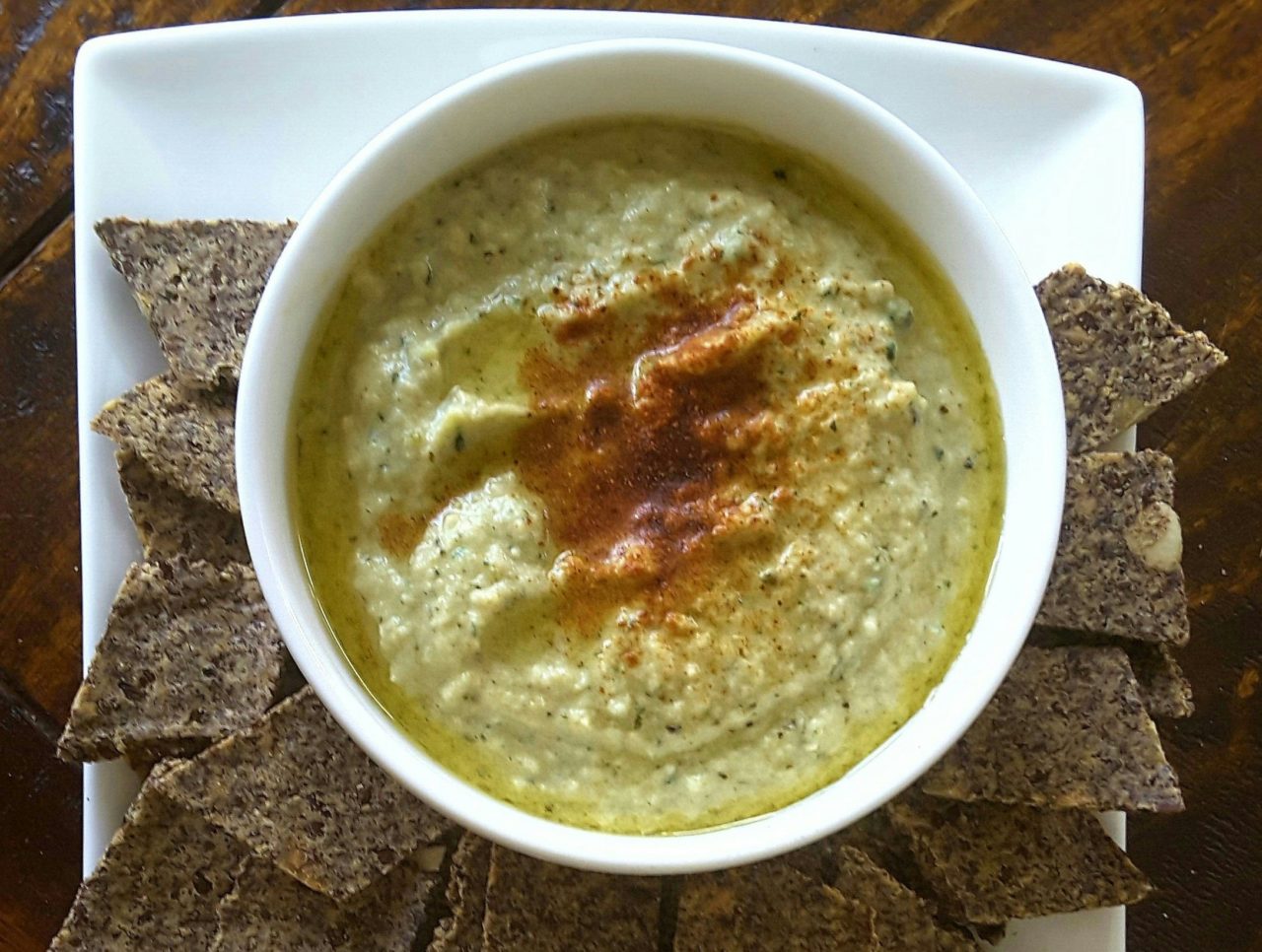 Ingredients
1

large zucchini

70

gms

unhulled tahini

1-2

garlic cloves to taste

Juice of 1-2 lemons to taste

1

teaspoon

tspn ground cumin

Drizzle of olive oil to garnish

Ground paprika to garnish
Instructions
Slice the zucchini into chunky fingers.Saute the zucchini skin side down only, taking care not to burn it. You don't want to cook the flesh but just soften and lightly brown the skin. Allow the zucchini to cool slightly.

Add the zucchini, tahini, cumin, garlic and lemon juice and process in a food processor until well blended.

Season with salt and pepper.
To Serve
Drizzle with some EVOO (extra virgin olive oil) and sprinkle with paprika or Dukkah. Serve with low carb vegetable crudites such as celery, cucumber and red capsicum. Use in any recipe calling for traditional hummus.

Spread on Low Carb Seed Loaf with tomatoes, seasoned with salt and pepper. It's also delicious eaten with any of the low carb cracker recipes on this site. Search for crackers in the search bar.
Variations
Replace ½ cup of zucchini with ½ cup raw red capsicum and process till fully blended.

Replace zucchini with char grilled eggplant or use lightly cooked cauliflower in place of the zucchini, processing until well combined.

You can use raw zucchini to make this as well if you want to but you will miss out on the slightly smoky taste you get when you brown the zucchini skin.
Recipe Notes
If the hummus is too thick use a little extra virgin olive oil to thin it out. If you are after more subtle flavors simply reduce the garlic and the lemon juice. Store in the fridge till ready to serve.
Nutritional Information
Serving:
1
serve
|
Calories:
48
kcal
|
Carbohydrates:
2
g
|
Protein:
2.1
g
|
Fat:
4.8
g
|
Fiber:
1.5
g
Note that we calculate our own nutritional values so they may not be precise. Calculate your own if desired. Carb values exclude sugar alcohols such as Erythritol, as they generally have no impact on blood sugar levels. 50% of the carbs from Xylitol is added to nutritional values. This is consistent with industry practice.
Do you want to receive more recipes like this one? Subscribe to our newsletter now!