Low Carb Seed Loaf
One of the difficult things about going low carb and reducing your intake of processed foods and sugars is eliminating bread from your diet. I have been tweaking this seed loaf recipe for quite a while now trying to find a bread substitute that I enjoy eating and that is fairly easy to cook. Now I am not going to kid you that this is anything like the bread you have probably been including in your diet (coming from a household where I am the dedicated sourdough baker and my family are bread snobs) unless you are used to eating heavier European style rye and seed breads. I also class this as a seed loaf, not seed bread because it doesn't behave like conventional bread does. This loaf doesn't wrap around fillings so you may find it easier sometimes to eat it with a knife and fork with some hard to handle fillings. This doesn't detract from the taste of this Low Carb Seed Loaf at all though.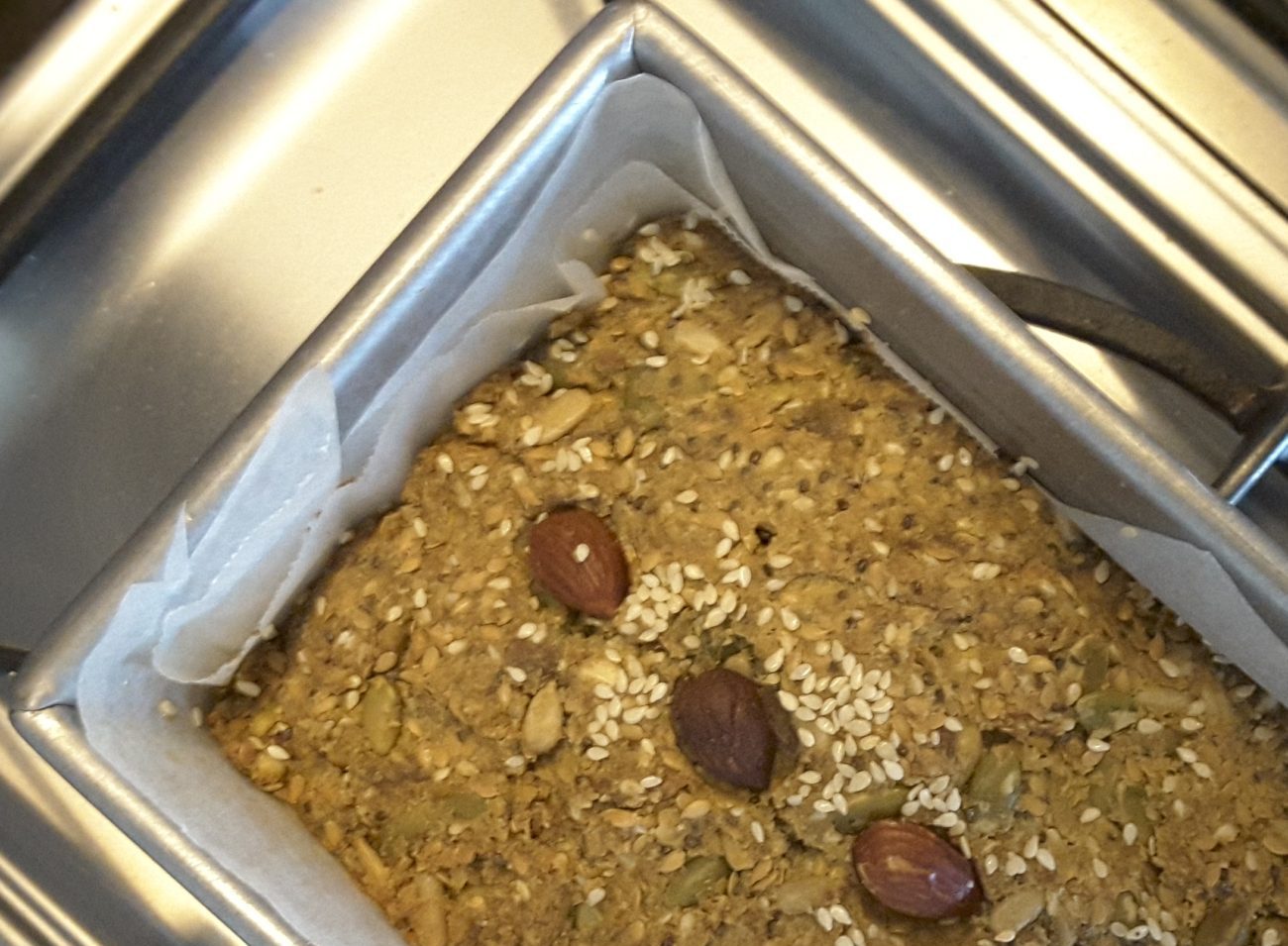 This loaf is gluten free, sugar free, preservative free and very low in carbohydrates and because of these advantages, it can never rise like a loaf baked with gluten flour. This loaf is so healthy for you though, with an abundance of those healthy Omega-3 fats and so much fibre that it pretty much negates the amount of carbs it has in it. It is very filling and makes a very nutritious and tasty glutenous bread substitute.
How To Serve Low Carb Seed Loaf
I hope you enjoy eating this as much as I do and that you find a place for it in your diet. One of my favorite ways to eat it is for breakfast with avocado and a poached egg. Feta (or goats cheese) with tomato, lots of cracked black pepper and drizzled in olive oil is great as well. Try topping it with this recipe for Low Carb Zucchini Hummus and tomato with lots of cracked pepper also tastes amazing. Try it as a BLT (bacon, lettuce and tomato) with mayonnaise and you won't even realise you are missing conventional bread.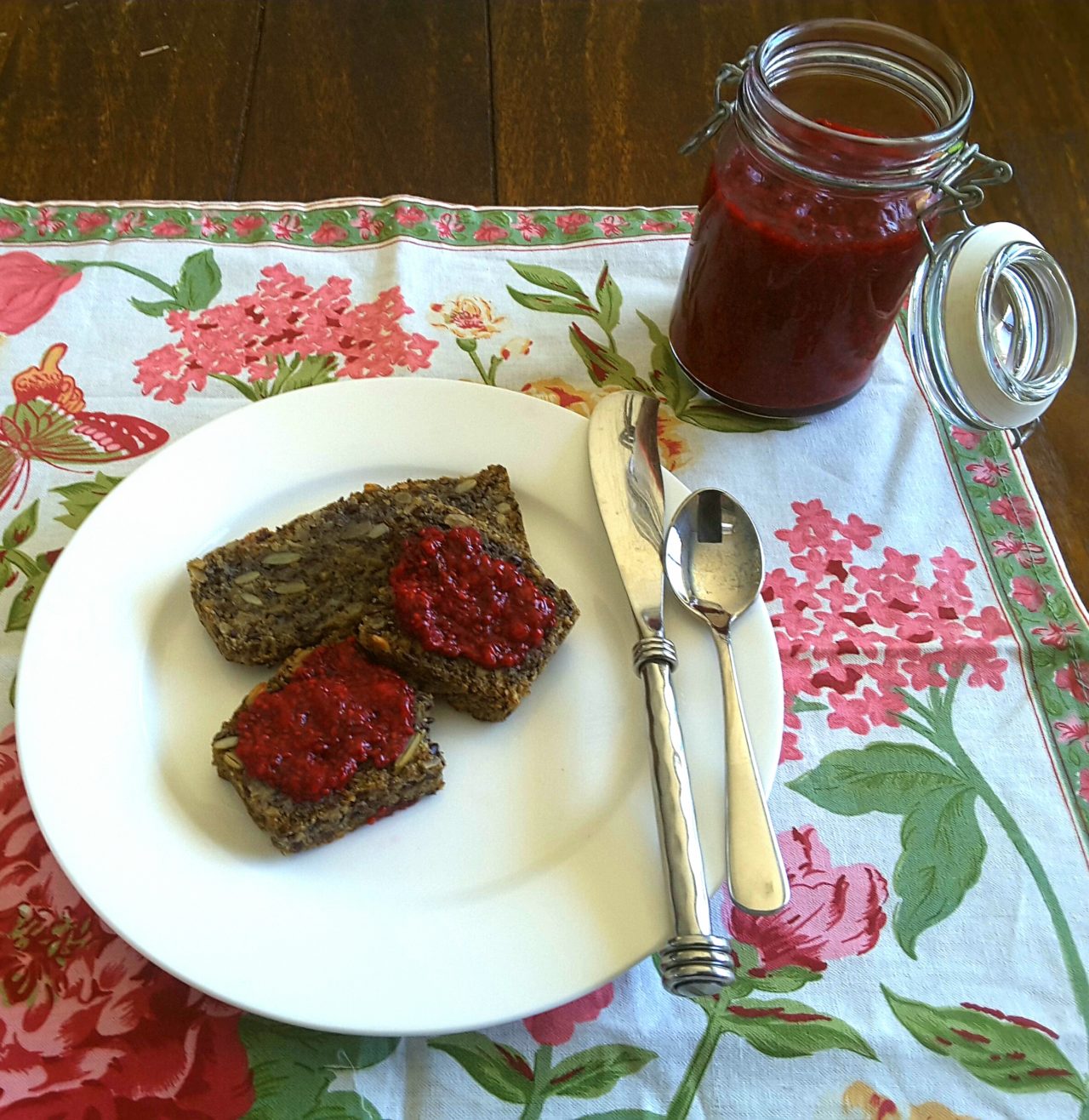 The raspberry jam on the toast in the picture on the right is actually a Sugar Free Raspberry Chia Jam Spread which goes really well with this loaf. Not only is it the simplest jam spread recipe you will ever find but it also tastes amazing.  You won't believe that you aren't eating the best quality gourmet jam that you could buy. No pectin, no sugar, no preservatives and plenty of real fruit. It tastes divine and I highly recommend that you try it. There is also a Strawberry Chia Jam Spread recipe that is lovely as well.
More Low Carb Bread Options
Have you tried my other low carb bread recipe, Healthy Low Carb Bread. It's a little less seedy than this one and is probably a little more robust and the taste is a little more like a regular loaf of grain bread ….but so much healthier. I alternate between making both of these loaves of bread, as I enjoy both but you may end up preferring one over the other. I suggest you make them both and see what you think of each recipe.  While both recipes are healthy, this one probably packs more of a nutritional punch because it doesn't have the almond meal/flour bulking it out and so has more seeds in it.
If you are after an instant bake bread recipe, you could also check out this great recipe for a 90 Second Muffin Recipe. It literally takes 90 seconds to make. I often make one for breakfast to have eggs on, or toast one of them for a ham and cheese toasty.
Enjoy your baking!
Karen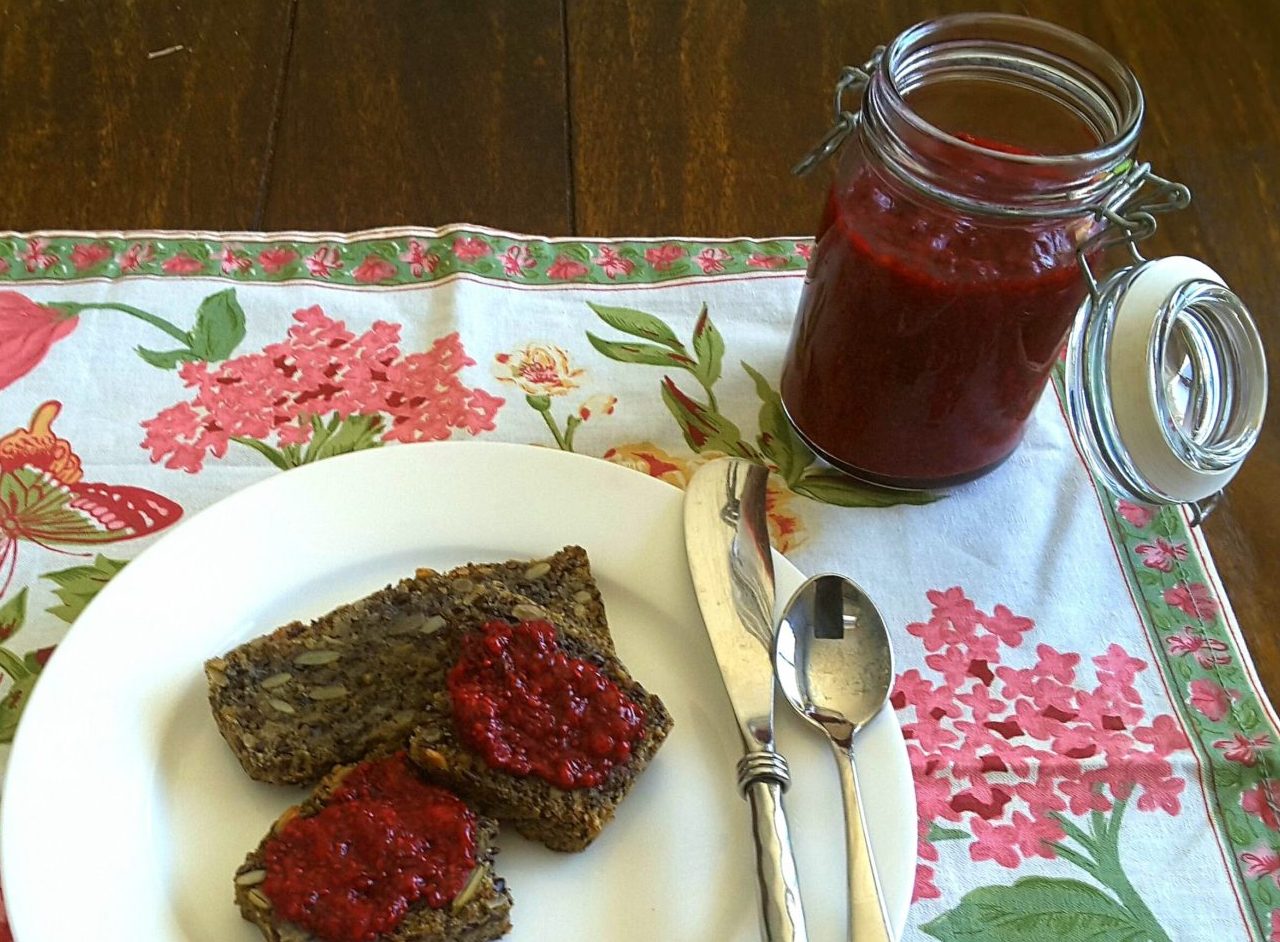 Instructions
Combine all of the dry ingredients in a bowl.

Add the eggs, water and EVOO. Mix till combined.

Spoon the mixture into a prepared loaf tin and smooth top off.

Bake at 170 C/340 F for 40-45 minutes or until browned slightly and a skewer inserted into the centre pulls out clean.

Leave the loaf to cool in the loaf tin. Wrap in cling wrap and store in the fridge in an airtight container for up to 5 days or freeze into slices in an airtight bag and defrost as required.
Variations
Golden flax seeds will give you a more subtle flavor than regular flax seed.

Switch pepita or sunflower seeds for hulled hemp seeds/hemp hearts.
Serving Suggestions
Tastes great as a toasted sandwich with your favorite filling such as BLT, ham, cheese and tomato etc.

Serve for breakfast with fillings such as eggs, avocado, tomato and feta cheese etc.

Slather with butter and Sugar Free Raspberry or Strawberry Chia spread.

Use on a savory platter to go with cheese, pate and dips.
Recipe Notes
This is a delicate loaf unlike a normal loaf of bread so I recommend slicing it when cool straight from the fridge using a sharp knife. It tastes great toasted, just handle it gently.
Nutritional Information
Serving:
1
slice
|
Calories:
100
kcal
|
Carbohydrates:
1
g
Note that we calculate our own nutritional values so they may not be precise. Calculate your own if desired. Carb values exclude sugar alcohols such as Erythritol, as they generally have no impact on blood sugar levels. 50% of the carbs from Xylitol is added to nutritional values. This is consistent with industry practice.
Do you want to receive more recipes like this one? Subscribe to our newsletter now!