Healthy Low Carb Bread Recipe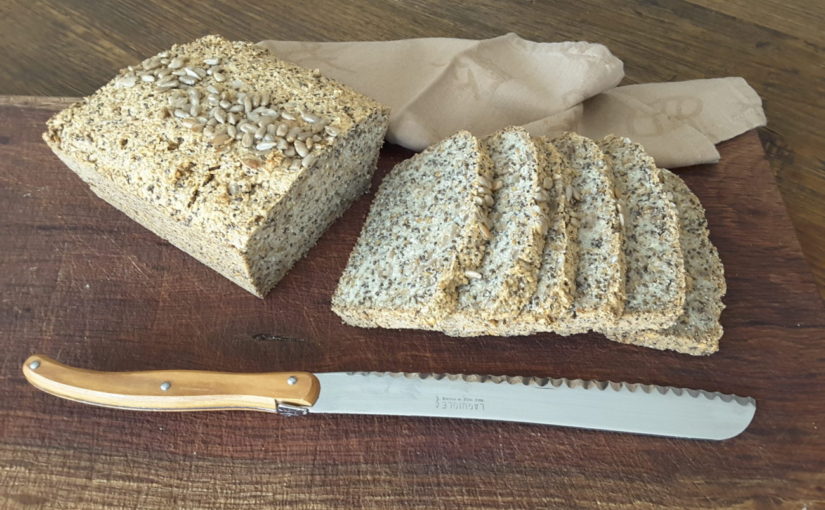 Healthy Low Carb Bread Recipe
Healthy Low Carb Bread Recipe
Life without bread is probably one of the more difficult things to contend with on a LCHF, low carb or keto diet. Bread is the perfect 'no effort' meal option, particularly for breakfast and lunch as it doesn't take much effort to throw a sandwich together. I have a delicious recipe for a Low Carb Seed Loaf, which is a perfect bread option for many occasions but I wanted to come up with a loaf that was a little more bread like, as the seed bread is a bit more like a European/German loaf and is pretty much all nuts and seeds. I've added almond meal/flour and some additional psyllium husks and played around with my seed bread loaf recipe to come up with this delicious healthy low carb bread recipe.
This loaf is a little like a conventional wholemeal grain loaf of bread but without any of the gluten and is very low carbs. It's extremely high in fibre, so a wonderful food for clearing out your system, and has the benefits of my 2 favorite seeds, linseed/flaxseed and chia seed. So it's effectively full of antioxidants, is great for increasing your HDL (good) cholesterol levels and it doesn't have the eggy taste that many low carb loaves have. Add in the benefits of the olive oil,and you have a loaf of bread that not only tastes great but is also a fantastic healthy food to include in your diet. The psyllium and chia seeds help bind this recipe together so it is a pretty robust loaf of low carb bread as well.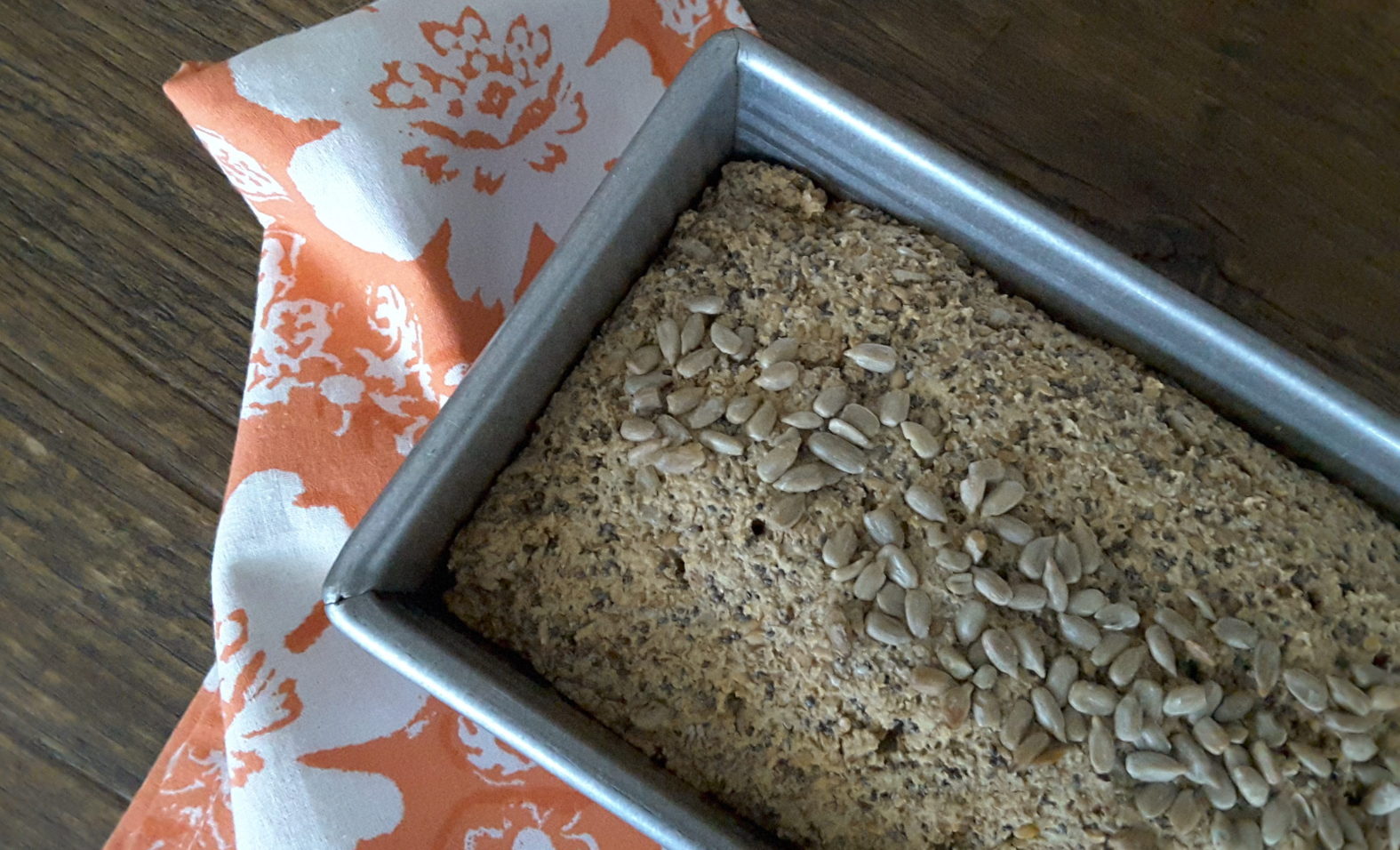 I just want to stress that this loaf is gluten free so is never going to be really aerated, soft and doughy like a loaf of bread that has gluten in it, so make sure your expectations are realistic. The end result tastes quite like a loaf of multi grain bread (without the grain) and is perfect for sandwiches, toasties or to eat with cheese and pate etc. Just make sure you treat it with a bit more care than a conventional loaf of bread, as without gluten to hold it together, it is a little more delicate.
This bread does toast well and is great for ham and cheese toasties cooked in a frying pan or in toaster sandwich bags like these bags from Boska. These are brilliant for cooking ham and cheese toasties in your toaster, and they keep your toaster clean at the same time. Note that you can source these bags cheaply online and sometimes stores such as Aldi or discount stores have them as well at times.
This bread tastes divine fresh with butter and some  Sugar Free Raspberry Chia Jam or Sugar Free Strawberry Chia Jam spread on it for a simple breakfast. Equally it's great served smeared with avocado and fresh tomato or poached eggs. Probably my all time favorite way to eat this is with feta cheese and freshly sliced tomato with lots of freshly ground black peppercorns and a drizzle of EVOO- extra virgin olive oil….delicious!
I like to slice this bread and freeze it in portions in airtight freezer bags so that I have this low carb bread on hand when I want it. A healthy lunch is on hand at all times so there's no excuses for bad food decisions. If you are after a delicious instant recipe for Low Carb English Muffins instead of bread, make sure you check out this recipe for 90 Second Low Carb English Muffins. They are really easy to make and cook in about 90 seconds. They are perfect to serve with eggs, as hamburgers or as a bagel replacement. Wait until you see how easy it is to make this recipe.
Happy baking!
Kxx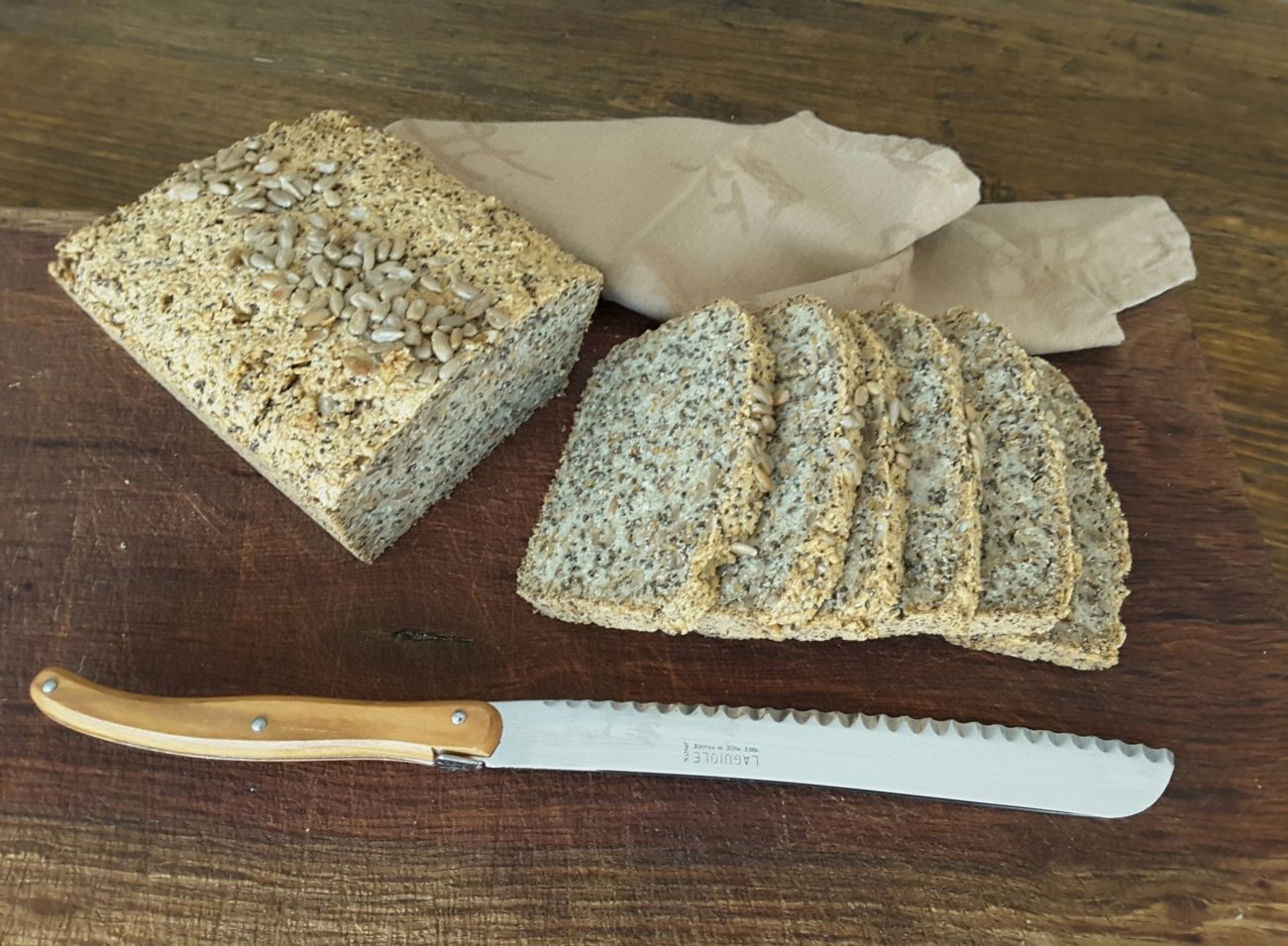 Ingredients
2

cups

almond flour/almond meal

¼

cup

coconut flour

½

cup

psyillium husks

½

cup

golden linseed/flaxseed- conventional linseed is fine as well.

½

cup

chia seeds

3

tablespoons

sunflower seeds

4

large eggs

1

cup

water

¼

cup

EVOO-a light flavored Extra Virgin Olive Oil

1

tablespoon

ACV- apple cider vinegar

1 ½

teaspoons

salt

1

teaspoon

baking powder

½

teaspoons

baking soda
Instructions
It's very important to preheat the oven to 170 C/340 F Fan Forced
Mix all dry ingredients in a large bowl, ensuring it is well combined.

Beat the eggs on high for approximately 3 minutes, add the EVOO, the ACV, and the water to the eggs, and pour over the dry mix. Mix till well combined.

Pour the mix into a greased loaf pan approximate size 5" x 9"/ 12 cm x 23cm. Level out the top of the loaf. Garnish with seeds of choice such as chia, linseed, sesame seeds or sunflower seeds.

Bake in the oven for 45- 50 minutes or until a skewer comes out clean from the centre of the loaf.

Remove the loaf from the pan straight away so that it doesn't become too moist on the inside. Cool on a cooling rack.
Recipe Notes
Once you have mixed the loaf, bake it straight away. If you let the mixture sit, the chia seeds and coconut flour will absorb moisture and you may end up with a dry loaf. This will not happen if it is cooked straight away.
You can switch the sunflower seeds for hulled hemp seed or pumpkin seeds.
To store, wrap in cling wrap and store in the fridge for up to 5 days or freeze in portions or slices, in airtight bags for use at a later date.
Nutritional Information
Serving:
1
slice
|
Calories:
156
kcal
|
Carbohydrates:
3
g
|
Protein:
5.8
g
|
Fat:
12
g
|
Fiber:
6.3
g
Note that we calculate our own nutritional values so they may not be precise. Calculate your own if desired. Carb values exclude sugar alcohols such as Erythritol, as they generally have no impact on blood sugar levels. 50% of the carbs from Xylitol is added to nutritional values. This is consistent with industry practice.
Do you want to receive more recipes like this one? Subscribe to our newsletter now!