Low Carb Cauliflower Soup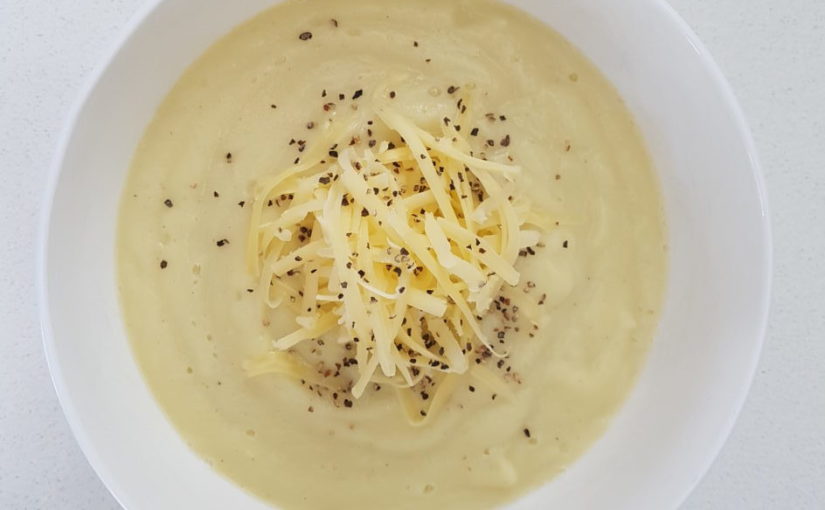 Low Carb Cauliflower Soup
Low Carb Cauliflower Soup. This recipe is one of those really easy, simple to make recipes that you can just make with a blind fold on. It requires only a few simple ingredients to make and the end result is a darn fine soup. I often switch the cauliflower for broccoli with this recipe and reduce the amount of stock when I do that, to create an equally delicious broccoli soup. Try serving this with a Flourless Cheese and Chive Muffin on the side for a delicious combination. You could also serve this with a slice of  this Healthy Low Carb Bread.
Creamy and delicious and so easy to make, this is a family favorite in my house.  This is the dish that gets requested by family members who have been travelling and are looking forward to a home cooked meal, or if they aren't feeling well. Because it is so easy to make, it is also perfect for when you have unexpected guests drop in, and they always love it. I'm not going to tell them how simple it is to make.
What Stock Should You Use
I often use a processed stock to make this, such as Vegeta if I don't have any fresh chicken or vegetable stock to use. To use Vegeta stock powder I simply add 3 heaped teaspoons to 4 cups of water to create the stock for this recipe. If you can make your own stock then that would be the best option, but don't feel guilty over buying stock or stock powder if it makes life easier for you.
Easy Chicken Stock
Boil chicken bones, leftover BBQ chicken carcass and/or offcuts, along with vegetables (optional) such as onions, celery etc, plus any herbs and spices you'd like to add, and boil for approximately 1-2 hours. Strain when cool and store in the fridge for up to 1 week, or freeze for use at a later date. You can also freeze carcasses, etc., so you can make stock at a later date rather than just discard it.
Simple Vegetable Stock
You can brown off any vegetables you wish to use before adding water or you can simply throw your vegetables/vegetable discards, herbs and spices in with water in a suitable sized pan, and let it simmer away for about 1 hour. Strain when cool and store in fridge for up to 1 week or freeze.
More Delicious Low Carb Soup Recipes
If you are after a couple of other delicious low carb soup options, check out these recipes for Low Carb Dutch Meatball Soup, and the creamy, aromatic Low Carb Moroccan Pumpkin Soup Recipe. Chicken Zoodle Soup is always a favorite as well.
Mmmm….this feels like home to me! It must be good.
Kxx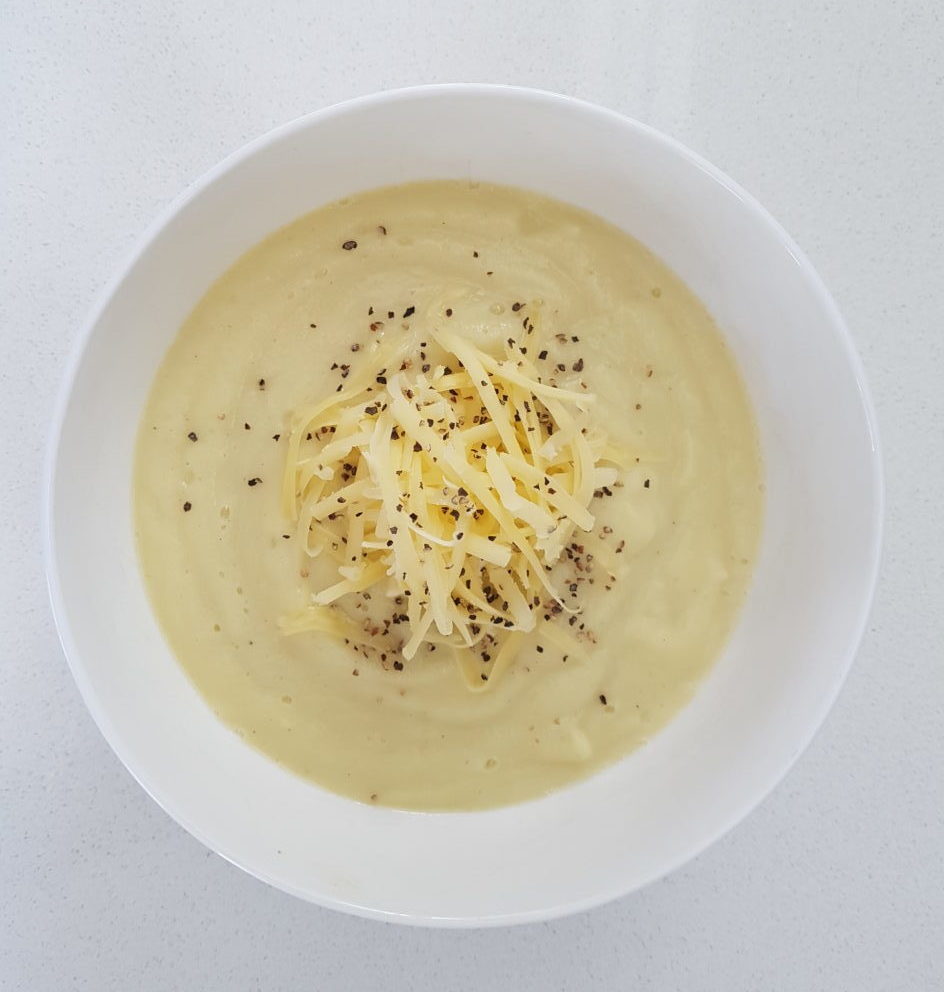 Ingredients
1

large

Cauliflower roughly chopped

1

medium

onion roughly chopped

6

cups

chicken or vegetable stock

2

teaspoons

minced garlic

1/2 to 1

cup

/3.5-7 oz heavy/pure cream

or to taste
Instructions
Place cauliflower, onion, stock and garlic into a pot and bring to the boil. Simmer, with lid on for approximately 30 minutes until the cauliflower is soft.

Season with salt and pepper.

Blitz till smooth using a stick. Blend in the cream.
To Serve
Add a dollop of sour cream or Greek yogurt.




Sprinkle a little of your favourite grated cheese on top and add some cracked black pepper or chives to finish.
Nutritional Information
Serving:
1
serve
|
Calories:
165
kcal
|
Carbohydrates:
8
g
|
Protein:
3
g
|
Fat:
14
g
|
Fiber:
3
g
Note that we calculate our own nutritional values so they may not be precise. Calculate your own if desired. Carb values exclude sugar alcohols such as Erythritol, as they generally have no impact on blood sugar levels. 50% of the carbs from Xylitol is added to nutritional values. This is consistent with industry practice.
Do you want to receive more recipes like this one? Subscribe to our newsletter now!