Moroccan Pumpkin Soup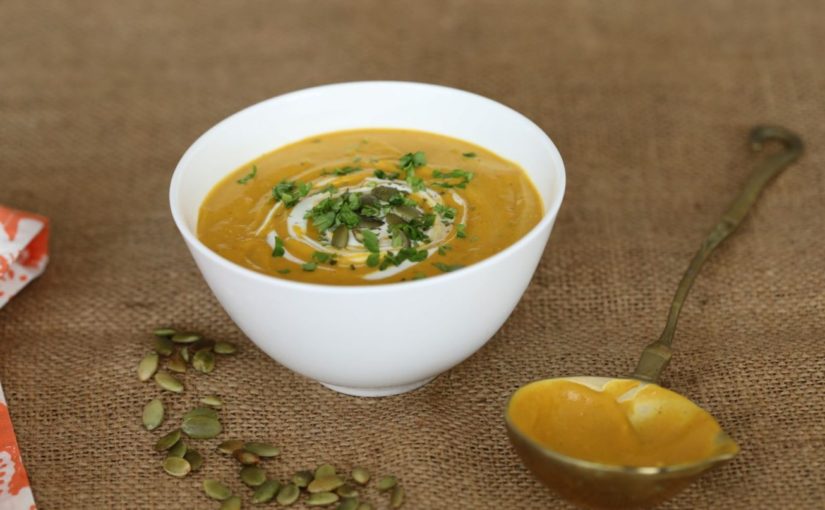 This delicious Moroccan Pumpkin Soup recipe is quick to make from simple ingredients and tastes divine. You simply can't go wrong when you combine the flavors of pumpkin with Moroccan Spice Mix. Make sure you make your own spice mix from scratch as it's really simple to do and helps make give this dish it's delicious Moroccan flavor.
To make this soup, simply  throw all of the ingredients for this recipe into a pot and boil till soft, puree the soup and add some yogurt and voila….dinner is ready. Make sure you use Kent/Japanese or Kabocha pumpkin, which are simply different names for the same vegetable, as it is lower in carbs than other pumpkin. Butternut pumpkin is very sweet and quite high in carbs so avoid if watching your carbs. If you don't have any yogurt to add to the soup after pureeing, you could use sour cream or pouring cream in it's place. It won't impact on the flavor at all.
This recipe is ideal for anyone generally trying to reduce the carbs and sugar in their life. It's a great recipe for diabetics, celiacs, those with gluten intolerance, and for anyone following a low carb, keto or lchf way of eating.
Make sure you check out my other soup recipes which are equally delicious. Low Carb Dutch Meatball Soup is always a favorite in my house and I love the simplicity of Low Carb Cauliflower Soup, which for such little effort is an absolutely delicious soup. There is also a great recipe for Creamy Mushroom Soup which is a great recipe for a simple night at home but suitable for a dinner party dish as well.
If you enjoyed the taste of this flavor combination as much as I do, then I suggest you also check out these recipes that combine Moroccan spice mix with pumpkin. Low Carb Moroccan Pumpkin Dip and the simple to make but delicious Oven Roasted Moroccan Pumpkin.  Can you tell I get just a little excited over the combination of these flavors?
I hope you love this as much as I do.
Kxx
Moroccan Pumpkin Soup
Serves 6

Ingredients
1 kg/2.2 ozs peeled kent/Japanese or kabocha pumpkin/squash
4 1/2 cups vegetable or chicken stock
1 cup of Greek yoghurt/cream or sour cream- to add after pureeing soup
1 onion peeled and quartered
1 Tbspn Moroccan spice
4 tspns minced garlic
I tspn cumin powder
1/2 tspn coriander powder
1 tspn salt or to taste
Pumpkin seeds and fresh chopped coriander or parsley for garnish

Method
Place all ingredients aside from the yogurt/sourcream/cream, in a large saucepan and simmer till pumpkin and onion are soft. This should take around 35- 40 minutes
Using a stick blender, blitz the soup until it is smooth and lump free.
Add the yogurt/sour cream or cream and blitz again till smooth and blended.

To serve
Garnish with a drizzle of yogurt or sourcream, a few pumpkin seeds and chopped coriander or parsley.

A KETohh creation
www.ketohh.com