Low Carb Dutch Meatball Soup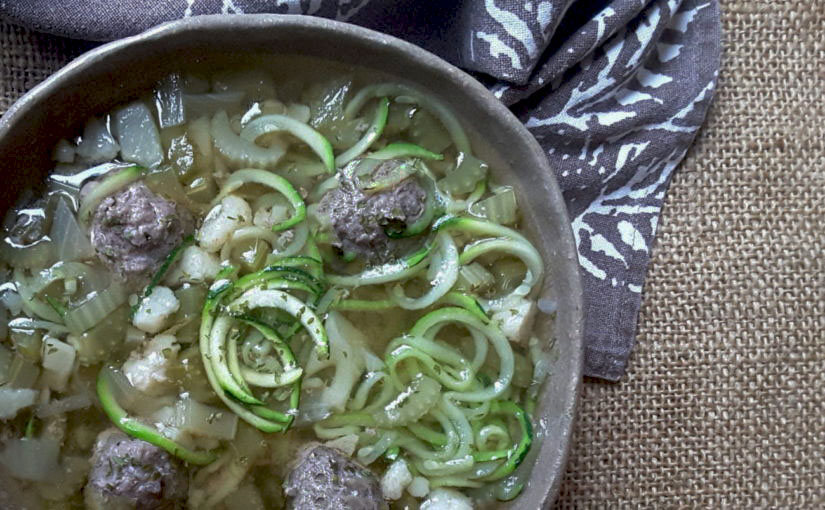 Low Carb Dutch Meatball Soup
Inspired by my late but dear Tante Sjaan?
This delicious recipe for Low Carb Dutch Meatball Soup takes me back to my childhood. My dad's sister, Tante Sjaan used to make this and it was a favorite of mine. I was always amazed at how great this tasted as Tante Sjaan couldn't actually taste things.
Who doesn't love meatballs? It was always a competition to see who ended up with the most meatballs when we ate this.
You can make this soup thick and hearty or thin it out by simply adding some more stock and/or water, or less vegetables. I like to make my own stock to use in recipes like this but I will leave that up to you. I also use Vegeta as a back up if ever I need some stock and don't have anything else at hand. There is nothing wrong with buying stock if you need to. There are some healthier options available in supermarkets now which is fantastic.
You can add other low carb vegetables to keep it low carb, or carb it up by adding potato, carrot and peas, which were in the original recipe. Vermicelli is also used in the original recipe instead of the zoodles.  When I make this recipe, I start off with one pot and then divide it into 2. I then keep one pot low carb and add vermicelli, peas and carrots to the regular pot.
STOCK RECIPES
Beef Stock
You can simply brown off bones/ meat off cuts and vegetables (optional) such as onion, celery tops etc., for about 45 minutes in the oven at about 180 C/350 F. You can add bay leaves, peppercorns, herbs etc if you wish to as well. Add bones etc., to a suitable sized pan filled with water and bring to the boil. Simmer for around 2-3 hours. Strain when cool and store in the fridge for up to 1 week, or freeze.
If you have any large bones leftover from a roast or baking, you can also boil them up to make stock out of them, or freeze to use for making stock at a later date. If they have been browned previously in cooking, it isn't necessary to brown them off again as per the instructions above. You can simply boil them and add any vegetables or herbs that you wish to add.
Chicken Stock 
Boil chicken bones, leftover BBQ chicken carcass and/or offcuts, along with vegetables (optional) such as onions, celery etc, plus any herbs and spices you'd like to add, and boil for approximately 1-2 hours. Strain when cool and store in the fridge for up to 1 week, or freeze for use at a later date. You can also freeze carcasses, etc., so you can make stock at a later date rather than just discard it.
Vegetable Stock
You can brown off any vegetables you wish to use before adding water or you can simply throw your vegetables/vegetable discards, herbs and spices in with water in a suitable sized pan, and let it simmer away for about 1 hour. Strain when cool and store in fridge for up to 1 week or freeze.
So there you have some simple stock recipes to help you out should you wish to make your own stock. If you are looking for a couple of other great low carb soup options, make sure you check out the recipe for Healthy Chicken Zoodle Soup as well as the delicious and simple to make Cauliflower Soup recipe.
If you find the time to make this soup, I hope you end up with the most meatballs.
Kxx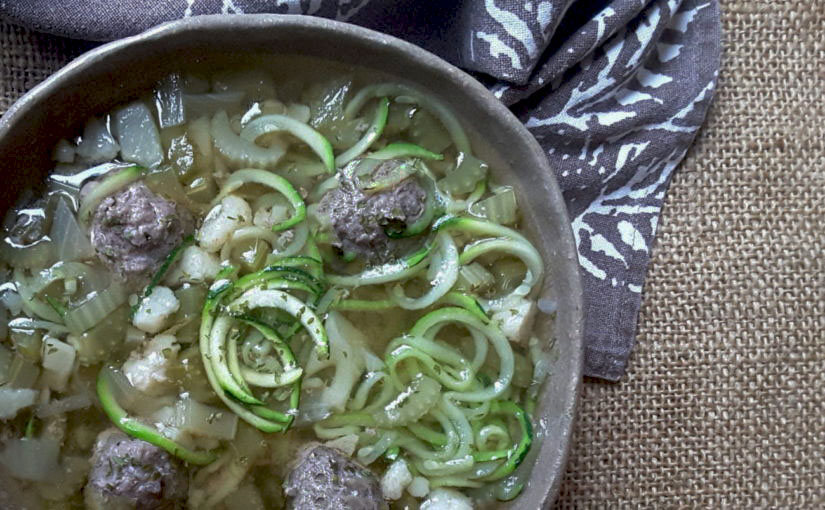 Ingredients
6

cups

beef/chicken or vegetable stock

1/4

celery or about 6 stalks

finely diced, include the celery head if you have it

1/4

cauliflower diced/chopped into very small florets

1

onion finely chopped

1

large zucchini zoodled/spiralised
Meatball Mix
500

gms

/17.67 oz minced beef

or meat of choice

1

tablespoon

fresh/dried chopped parsley

1

egg

Salt and pepper to taste
Instructions
Place the vegetables (aside from the zucchini) and stock in a large pot and bring to the boil.

Simmer for approximately 30-45 minutes.

Mean while, season the minced meat with salt, pepper and parsley. Add the egg and mix till well combined. If the mix is a little too runny, add 1- 2 tablespoons of almond flour or almond meal-this is not necessary for all minced/ground meat, but some are wetter in consistency than others.

Turn the soup down to an extremely gentle simmer and form small meatballs, dropping very gently into the soup.

Allow to cook without stirring for approximately 10 -15 minutes until the meatballs firm up. If the soup is bubbling, your meat balls will fall apart.

Continue to cook for another 15 minutes on gentle heat.

Add the zoodles a couple of minutes prior to serving so they are still 'al dente' and noodle like.
Variations
I sometimes add 1 tablespoon of chia seed powder (grind your own) to the minced beef, especially if it is a bit wet, at the same time I add the egg and seasoning. Allow to sit for 10 minutes prior to forming meatballs. The trick is to ensure the soup is simmering as low as you can to stop the meatballs falling apart when you drop them in the soup.

For carb lovers, you can simply add peas and carrots with the vegetables, and some vermicelli. Ensure that the vermicelli is added before the meatballs are added allow to simmer gently till cooked, then add the meatballs.
Nutritional Information
Serving:
1
serve
|
Calories:
182
kcal
|
Carbohydrates:
5.9
g
|
Protein:
26.3
g
|
Fat:
6.1
g
|
Fiber:
2.6
g
Note that we calculate our own nutritional values so they may not be precise. Calculate your own if desired. Carb values exclude sugar alcohols such as Erythritol, as they generally have no impact on blood sugar levels. 50% of the carbs from Xylitol is added to nutritional values. This is consistent with industry practice.
Do you want to receive more recipes like this one? Subscribe to our newsletter now!