Cooking with Zucchini Noodles or Zoodles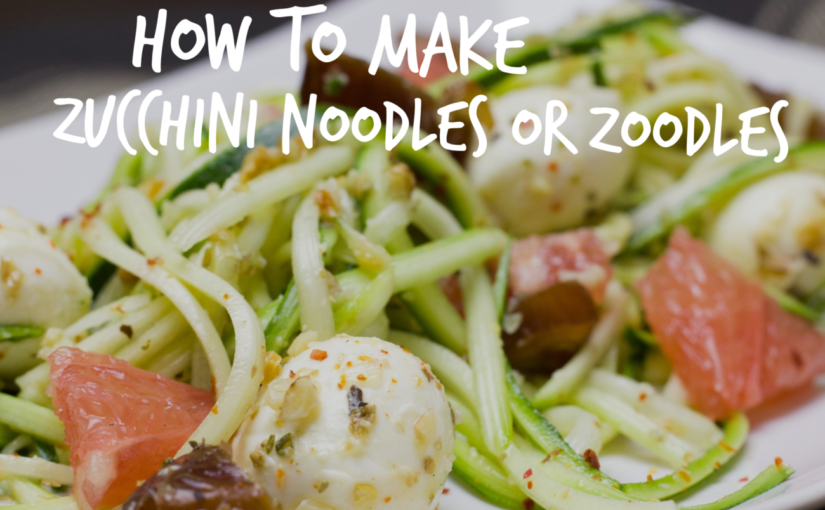 Cooking with Zucchini Noodles or Zoodles
Cooking with Zucchini Noodles or Zoodles  
I hope this article helps you with cooking with zucchini noodles or zoodles.  Zucchini, just like cauliflower, is a low carber's best friend. It's a very versatile vegetable and can be used in everything from cakes through to pasta dishes. If you are new to low carb eating then you might not be familiar with Zoodles, which are long thin lengths of zucchini that mimic spaghetti or noodles. Depending on how you create your zoodles, they can be long and straight or they can be much more spirally be referred to as a spiralized dish. They also hold up on their own as salads and other dishes. They are then often referred to as Spiralised Recipes.
Zoodles can be used in salads, as a pasta substitute with any of your favorite pasta dishes, as a noodle replacement, and it can also be a fancy way to serve zucchini as a side dish or to create fritters and low carb hash browns. A zoodle dish can be as simple as tossing some homemade or store brought pesto through your zoodles and serving with some grated Parmesan cheese and a sprinkling of pine-nuts ,through to slightly more complex dishes such as Low Carb Zoodle Pad Thai and Asian Zoodle Beef Salad
SO HOW DO YOU MAKE ZOODLES?
Hand Held Cutters- Julienne Peeler or Hand Held Spiral Cutter
These small gadgets are fantastic for creating zucchini noodles or ribbons. They take up no space and if you are only cooking for one or 2, or if space is an issue, then these could be ideal for you. I purchased both of these for around $5 and they are money well spent. The Julienne Peeler actually comes in different widths as well which can be really handy. The Julienne Peeler creates long straight zoodles. The Hand Held Spiral Cutter creates a large, spiral, wide ribboned zoodle. Both of these are quick and easy to clean up and take up no space in the cupboard.
Twisting Hand Held Gadgets
I have struggled to find one of these gadgets that works really well. The dark green Twisting Spiraliser on the bottom left was absolutely useless, as the design used to grip the vegetables doesn't actually work. All you end up with is a big mess and a lot of wasted vegetables. It was quite expensive to buy and mine ultimately ended up in the bin.
The light green, hour glass looking Twisting Zoodle Maker, pictured on the top right actually works quite well but it can be a little difficult to twist when you get down near the end of the vegetable. I've tried forks to twist the zucchini or to hold it still while twisting the actual spiralizer, but it just doesn't work very well near the base of the vegetable. You end up wasting a fair amount of the vegetable and have to either hand cut it, bin it or find some other use for it. That aside, this is still quite a good gadget to have and creates noodles relatively quickly.
Mandolines
A mandoline can create great zoodles quite quickly. They create long strips of straight zoodles. There is a bit of waste at the end, when it gets too difficult to cut the small amount of zucchini left in the grip, and it can be a bit messy. Clean up is a little longer than with most of the other gadgets. You do have to consider storage as well if you are interested in buying one.
Spiraliser or Zoodle Machine.
These larger spiralizer machines are a great item to have if you are serious about your zucchini noodle making. These create spirals of zucchini.They are fast and generally are designed really well to minimize waste . There are even electric spiralizers available now which I have never used but look like they would be easy to use. Some of these contraptions are also strong enough to be able to spiralize harder vegetables such as carrot and sweet potato. You can spend as little or as much as you want to on these products. I purchased one from K-Mart for around $15 and it is well worth the money spent on it. These do take up a bit of space in the cupboard though if space is an issue for you and cleaning up can take a bit longer.
COOKING WITH ZOODLES
Zoodles can either be raw, slightly cooked, steamed, pan fried or sautéed, or they can be softened simply by pouring a little hot water over them for a couple of minutes and then pouring the water off. To prepare your zucchini, simply wash them well and trim the ends. Keep the skin on as it helps keep the zoodles intact and you also get the benefit of the added nutrients.
Raw noodles obviously require no cooking especially if you are using them in salads and other cold dishes. I rarely cook any of my zoodles as my preference is for either raw or slightly cooked zoodles, as I like to retain that firm 'al dente' texture. I sometimes quickly blanch zoodles by pouring hot water over them for 1-2 minutes to soften them slightly and then run them under cold water and drain well to prevent further cooking. I have found this method of blanching suitable for some cold zoodle dishes that I make, where I don't want that raw zucchini taste. You can also use the microwave to do this by cooking for about 1 minute on medium to high and then blanching the zoodles in cold water and draining well.
I have tried boiling my zoodles but have ended up with a soggy mess so do not recommend doing that at all. Zucchini's have too much water in them for this to be successful. If I have a hot pasta sauce, I will sometimes toss through the cold zoodles and just let the sauce heat them up. If they don't get hot enough for your liking by doing this, simply continue to heat the sauce and zoodles either in the microwave or on the stove top for a few minutes, or until they are cooked as you like them.You can also microwave your zoodles for between 1-2 minutes prior to serving and simply add your hot sauce on top of the zoodles.
Another nice way to cook your zoodles is on the stove top using a frying pan. Using a mid to high heat setting, add a splash of oil or butter to the pan and add your zoodles. Turn the zoodles frequently to prevent burning and cook them to your liking, seasoning with salt and pepper to your taste when cooked. I recommend cooking for between 1 and 3 minutes so you retain some firmness in the zoodles. Again, I like firm zoodles so my preference is to cook for only 1 minute. If you are using zoodles in a soup or ramen dish then I would add the zoodles a few minutes prior to serving so that your zoodles don't become mush. Wait until you try the recipe for Ramen Zoodle dish and the Dutch Meatball Soup recipe, both of which use zoodles in them. They are really delicious and I think you will be really surprised at just how good these replica noodles can taste.. I will also be posting a Pad Thai recipe that uses zoodles as a base which is delicious as well.
If you haven't tried the zoodle recipes I have already posted on this blog, then I highly recommend you try them. Check out Zoodles and Meatballs, as well as the really simple Prawn and Parmesan Zoodles dish. There's a fabulous Dutch Meatball and Zoodle Soup recipe which tastes amazing. I have lots of other zoodle recipes just waiting for me to find the time to add them but I will keep you posted when they are added to the blog. In the meantime, simply sub zoodles for pasta in any pasta dishes that you love to make if you want to make them low carb. If you need some inspiration for a really simple but great tasting Sugar Free Tomato Marinara Sauce that is ideal as the base for so many wonderful pasta recipes, check out the link. This recipe includes some really simple suggestions on how to vary the basic sauce with a few simple added ingredients, such as Seafood Marinara, an Arabiatta sauce as well as Puttanesca Sauce.
Enjoy your zoodles!
Karen