Sugar Free Tomato Pasta Marinara Sauce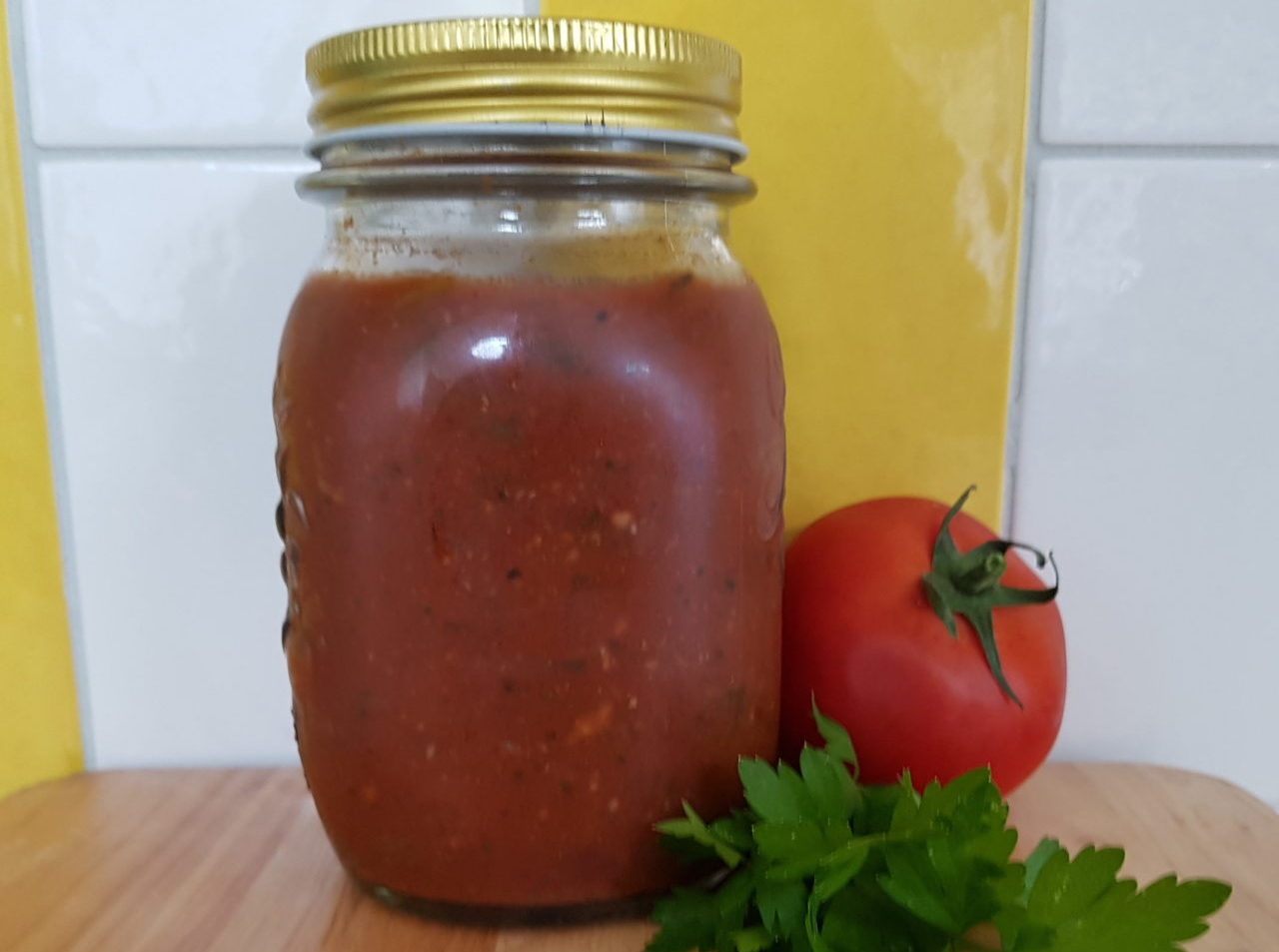 Sugar Free Tomato Pasta Marinara Sauce
Home made Sugar Free Tomato Pasta Marinara Sauce recipe is made out of simple ingredients that you usually have at hand, and it is so easy to make. Flavors are so much better then any store bought pasta sauce and it has no preservatives, additives or sugars added. Use it for a simple pasta sauce or as a base for many other delicious pasta and main meal recipes.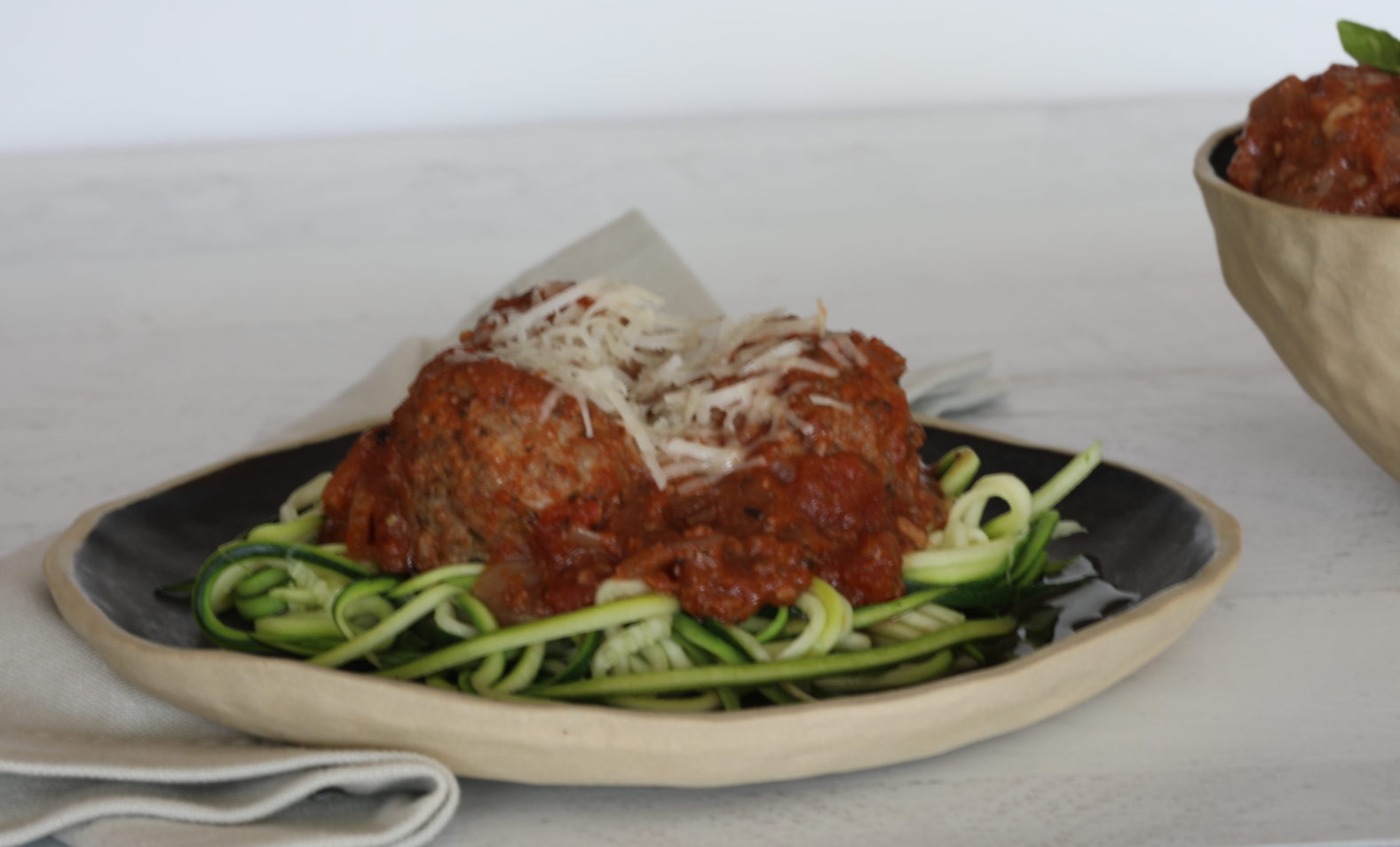 HOW TO SERVE SUGAR FREE TOMATO PASTA MARINARA SAUCE
A few of my absolute favorite go to recipes for this Marinara based sauce are Spaghetti Bolognese, Low Carb Italian Baked Meatballs ,Low Carb Zoodles and Meatballs , and Chicken Parmigiana. Being such a versatile recipe, there really are so many ways you could use it.
Many people think that Marinara Sauce means it's a seafood sauce. Marinara does not become seafood marinara until seafood is added to it, and is actually a simple tomato based sauce. Because of this it's perfect to use as a base for pizzas and is also fantastic when used in in this recipes such as Eggplant Parmigiana. Make sure you also heck out the recipe below for some really simple ways to vary this sauce. Add a few additional ingredients and it's easy to turn this sauce into a Puttanesca or Arabiatta sauce.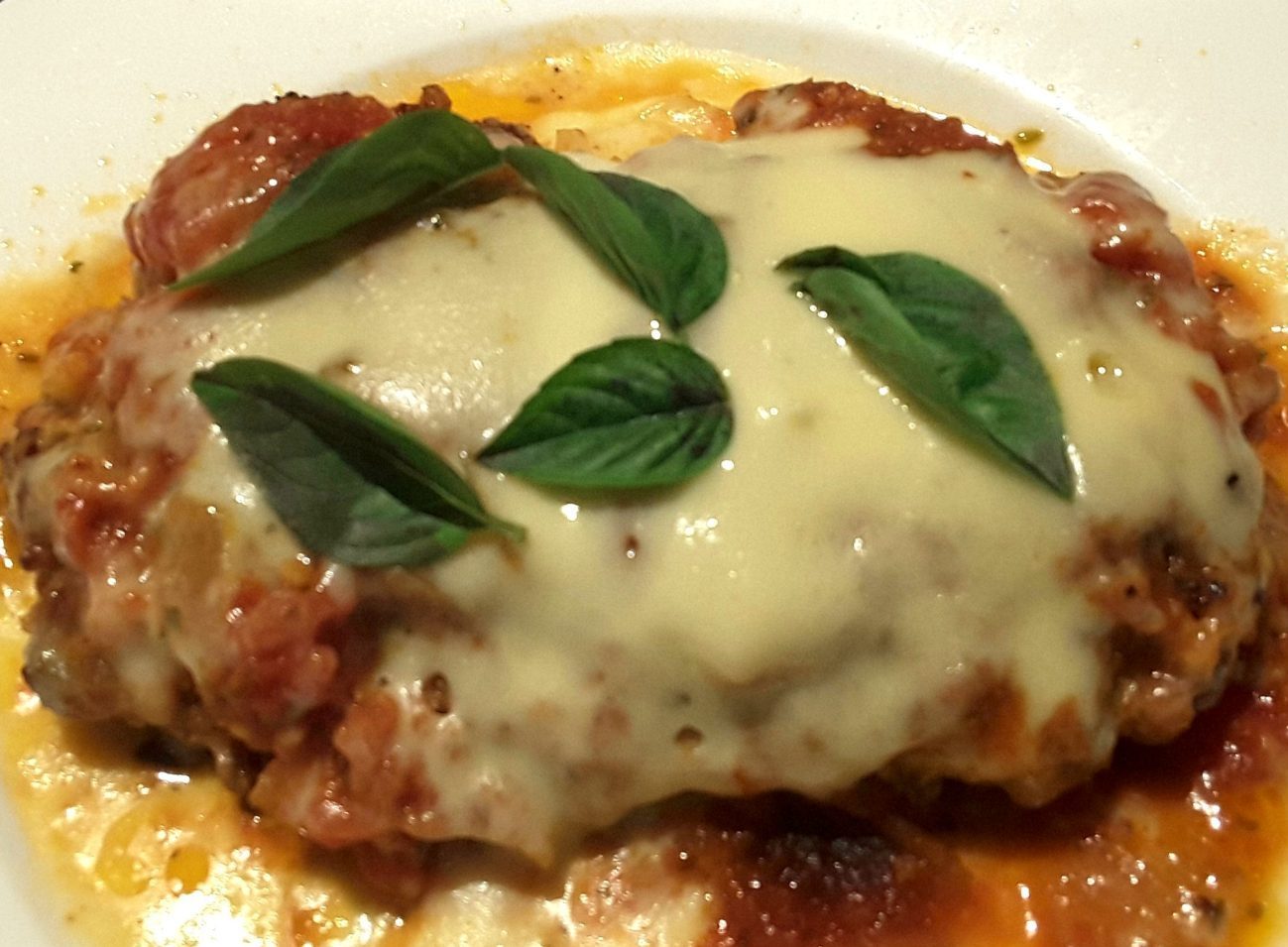 CLEAN OUT THE FRIDGE DAY
Marinara Sauce is often made in my house on "clean out the fridge day". I add all of the vegetables that I didn't get around to eating during the week that are suitable to using in the sauce. Come the end of the week and I always seem to have capsicum, mushrooms, eggplant and zucchini left in my fridge. I hate wasting food, so it's fortunate that these vegetables go really well in this sauce.
Use this sauce fresh or freeze it into portions for convenience. Serve it as an instant vegetarian pasta sauce or add some meat to it, and you have a delicious meal. Try it as the base for Low Carb Eggplant Lasagna for one of my favorite ways to use it. These are nutritious, easy to make meals, that can be thrown together in a little time, which is why I love this recipe.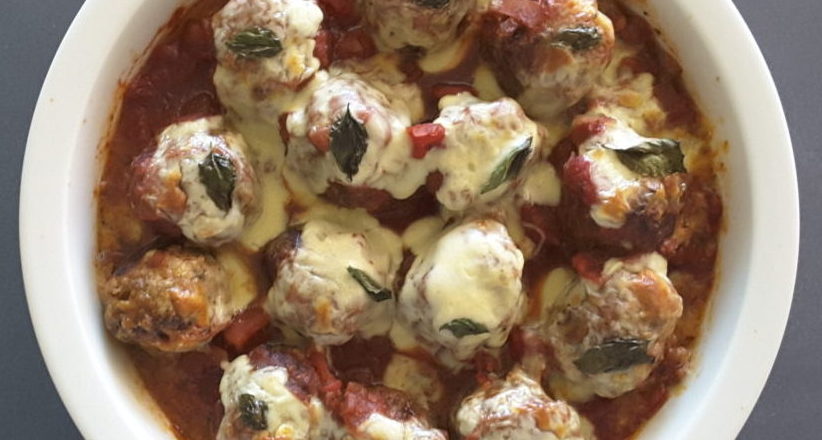 TIPS FOR MAKING SUGAR FREE TOMATO PASTA MARINARA SAUCE
Any wine that is past its use by date is put in a small plastic bottle in the freezer in my house. Don't stress about forgetting to defrost the wine in cooking, as wine defrosts really quickly. Just squeeze the frozen wine out of the bottle straight from the freezer and it generally sludges out. Some use ice trays to do this but I find a small bottle much easier to store and more practical. Even though you can use either red or white wine in this recipe, my favorite is red wine. As red wine cooks off, it imparts a delicious flavor and amazing aroma. My family love the taste of this made with red wine and they let me know when I haven't used it.
Tinned tomatoes are so easy to use for this recipe out of convenience, but make sure they are sugar free. Fresh tomatoes can be used as well. Sometimes I use half tinned and half fresh tomatoes. Some don't like to use the pulp from fresh tomatoes as it thins the sauce out. I hate waste, so use them, and simply simmer the sauce for longer to thicken it up.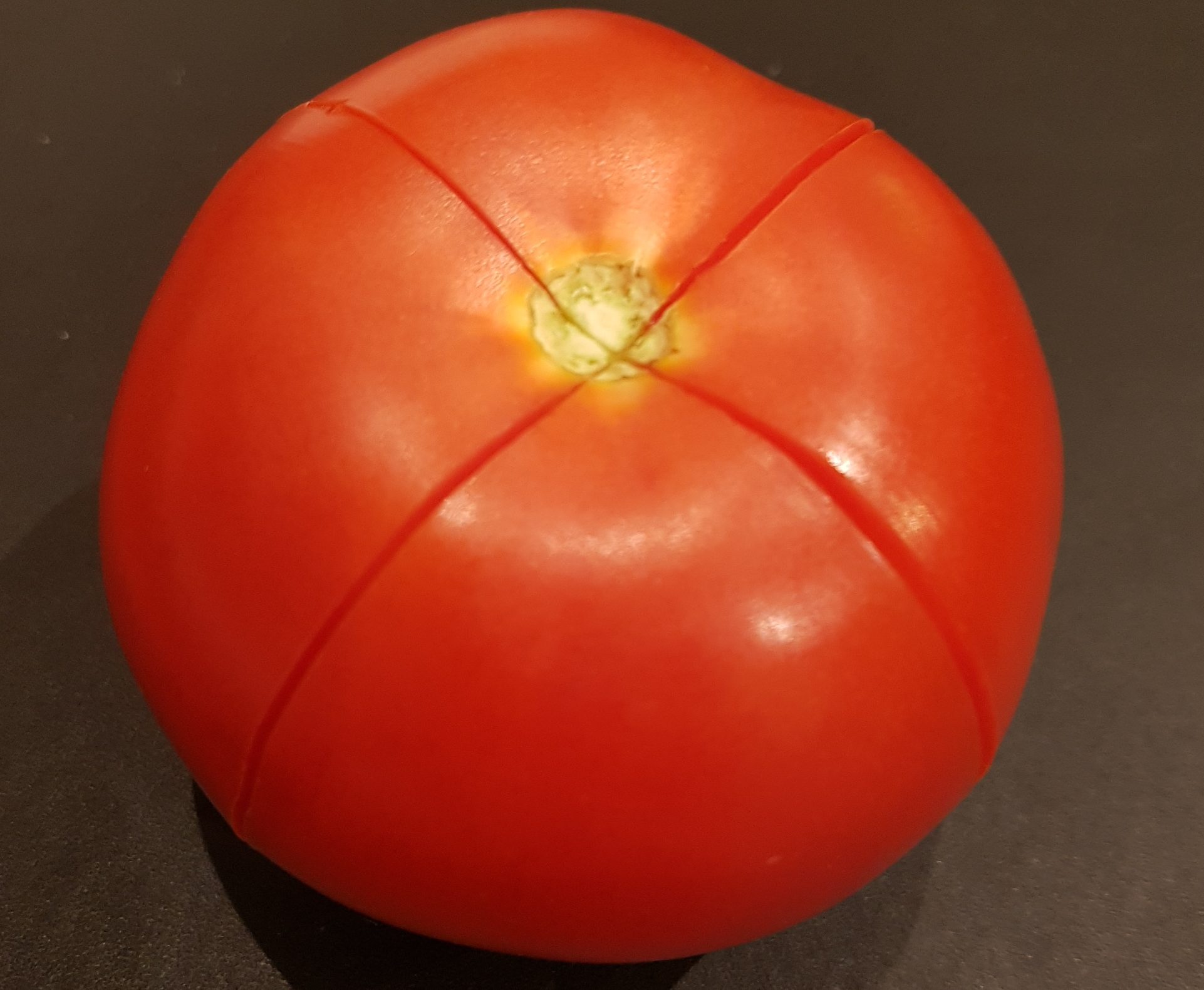 HOW TO REMOVE THE SKIN FROM TOMATO
Should you ever want to use fresh tomatoes without the skin; there is a really easy way to remove the skin. Simply slice into the skin with a knife, breaking the entire surface but not going in too deep. Make 4 segments or quarters from the navel (do tomatoes have a navel??) like a large orange segment. Drop the tomato into boiling water for approximately 30 seconds. Plunge it into ice cold water and you should be able to peel the skin off easily. Sometimes you have to repeat this for less ripe tomatoes, as the skin can be tougher. Generally I tend to use overripe tomatoes in sauces like this anyway, so it's generally not a problem. For more details on how to cut the tomato have a look at the photo I've attached above.
I hope you come up with some delicious ways to use this sauce, and I hope the carb lovers and the low carbers alike in your house, enjoy these recipes. The thing I love about pasta sauce is that zucchini zoodles are so easy to make, so that when my family eat their traditional pasta, no one ever has to miss out. When you have a lovely, simple to make tomato sauce like this on hand, dinner can be as simple as stirring some of the sauce through some hot zoodles, and topping with some freshly grated Parmesan cheese. Pan fry some minced beef and add some of the sauce for a slightly more substantial pasta sauce, that is really easy to throw together.
Karen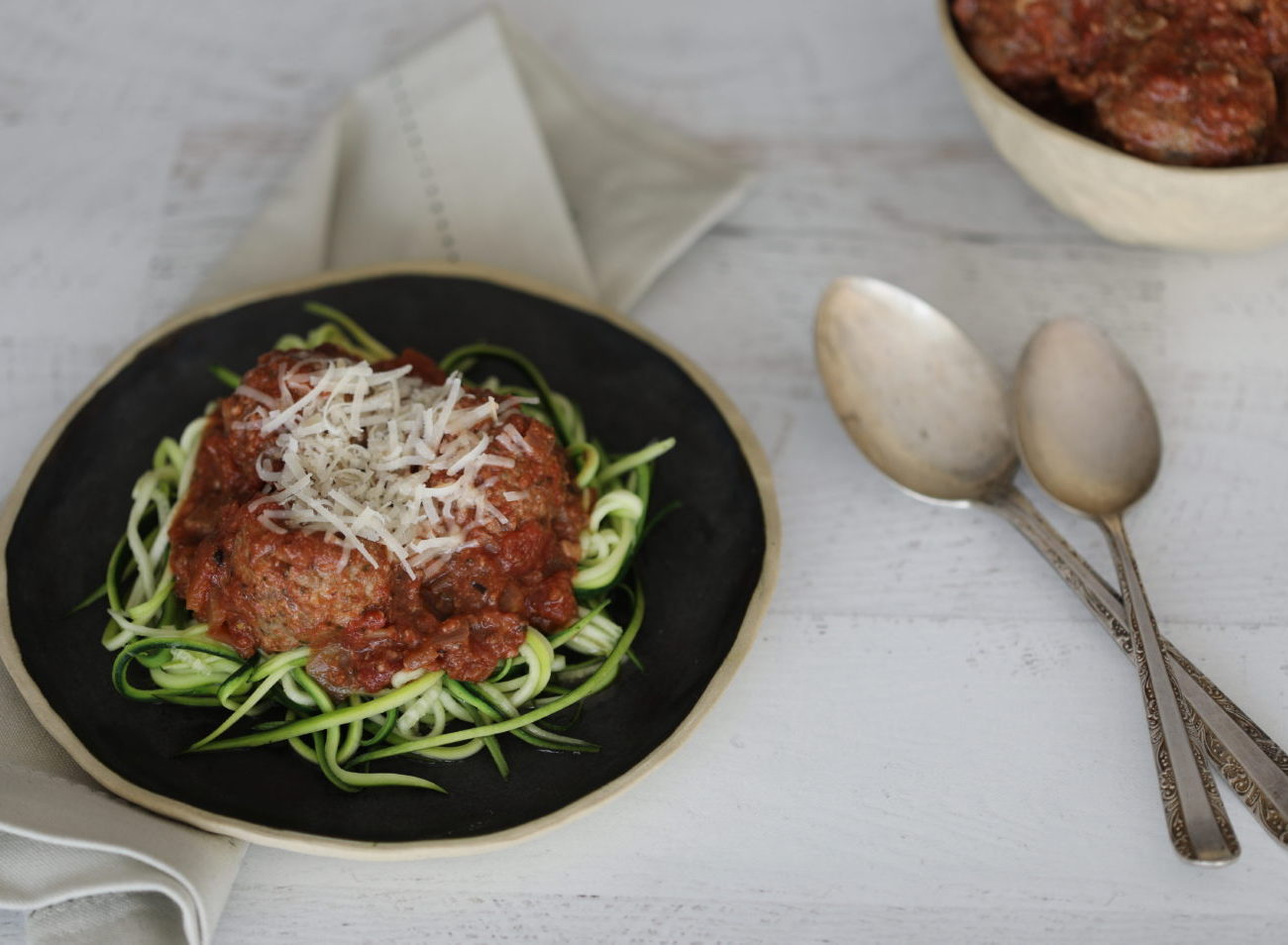 Ingredients
2

tablespoons

extra virgin olive oil - EVOO

800

gms

tin diced tomatoes sugar free

½

cup

dry red wine

1

brown onion finely chopped

4

cloves

garlic minced

2

tablespoons

parsley chopped

2

teaspoons

oregano and/or 1 teaspoon thyme-optional

salt and pepper to taste
Instructions
Brown off the onion and garlic in a large sauce pan in EVOO until translucent.

Add the tomatoes, wine and herbs and simmer for 30-40 minutes until sauce thickens.

Season with salt and pepper.
Variations
Use white wine or 2 Tbspns vinegar instead of the red wine if you prefer.


Use fresh tomatoes but double amount specified for canned. Cook for about 1 ½ to 2 hours to thicken. Use the whole tomato including pulp but not the skin.


Freeze to have on hand an instant vegan/vegetarian based pasta/ lasagna base or simply add browned minced meat for a very simple Spaghetti Bolognese.

Use a stick blender to blend sauce and create passata.


Multiply the recipe by 2 or 3 times and freeze to save time and energy.

Pasta Dish Inspiration
Add sliced pan fried chorizo, salami or bacon for a simple pasta sauce and top with fresh grated Parmesan or mozzarella cheese.


Make clean out your fridge pasta sauce, and add rocket, mushrooms, eggplant, peppers/capsicum and zucchini etc and simmer for 40-60 minutes.


Spaghetti and Meatballs- add cooked meatballs for an easy spaghetti or zoodles and meatball sauce. Simply simmer meatballs in sauce till heated through. Top with fresh basil and fresh Parmesan cheese and serve with pasta ,zoodles or mashed potato.


Seafood Marinara- add any seafood such as prawns, fish, mussels or calamari and simmer for 5-10 minutes.


Arabiatta Sauce- add 2-4 chopped red chilies or 1-2 tspns dried chili and 1 Tbspn sugar free tomato paste. Top with fresh grated Parmesan.


Puttanesca Sauce- add 1-2 small chopped chilies, 2 Tbspns capers, 1/2 cup chopped Kalamata olives and 4-6 anchovies chopped. Top with fresh grated Parmesan.

Recipe Notes
Ideal for vegan, vegetarian, seafood or a meat based pasta sauce. Keep up to 4 days in the fridge. Ideal for freezing.
Nutritional Information
Serving:
6
serves
|
Calories:
531
kcal
|
Carbohydrates:
40.6
g
|
Protein:
11.5
g
|
Fat:
28.3
g
|
Fiber:
3
g
Note that we calculate our own nutritional values so they may not be precise. Calculate your own if desired. Carb values exclude sugar alcohols such as Erythritol, as they generally have no impact on blood sugar levels. 50% of the carbs from Xylitol is added to nutritional values. This is consistent with industry practice.
Do you want to receive more recipes like this one? Subscribe to our newsletter now!