Eggplant Parmigiana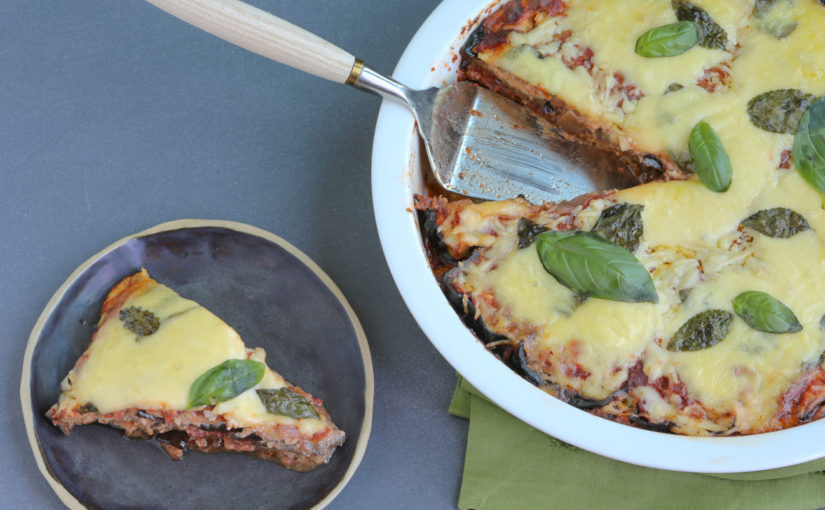 I am a bit of an expert when it comes to eating eggplant parmigiana as it my one of my favorite low carb dishes that features in many Italian restaurants in Italy. Whenever I'm in Italy, I eat it a lot, and it's amazing how the recipe varies in each restaurant, let alone each region. This recipe for Eggplant Parmigiana is sugar free, low carb and gluten free, but there is no compromise at all on flavor. Layers of oven roasted eggplant is combined with ricotta, Parmesan and mozzarella cheese to create a delicious rich and creamy flavored dish combined with a wonderfully rich tomato 'Marinara' sauce.
The ricotta used in this dish has eggs added to it, which serves to set the ricotta, a little like a Bechamel (white) sauce. It helps to set the dish a little more firmly but also adds wonderful creamy flavors. This is very similar to how I create the white sauce in the recipes for Eggplant Lasagna and the delicious Greek Moussaka. It's funny, because even before changing my eating habits to low carb, I often made white sauce this way for these dishes out of pure laziness. It's certainly a lot quicker beating an egg into ricotta and cream, than it is to create a Bechamel sauce from a roux. The end result is fantastic and no one would ever guess that it wasn't a proper white sauce.
You can buy your Marinara sauce for this recipe but it is really easy to make. I like to make up a batch or 2 of this delicious Sugar Free Marinara Pasta Sauce recipe, which I use in this recipe, as well as many other recipes that feature on this website. I store it in the freezer in single recipe sized zip lock bags, and it makes throwing a dish like this together really simple.
A lot of recipes still ask you to salt your eggplant. There is simply no need to salt your eggplant if you don't wish to, and it will save you time. Apparently it is done to remove the bitterness from the eggplant, I cook with eggplant at least 3 times a week, and never salt my eggplant. I have never tasted any bitterness in any of my dishes, ever! If you still want to salt your eggplant, please do so.
Serve this dish simply on it's own, sprinkled with a little freshly grated Parmesan cheese and fresh basil, or add a side serve of salad or vegetables to create a lovely, substantial meal.
Buon Appetito!
Kx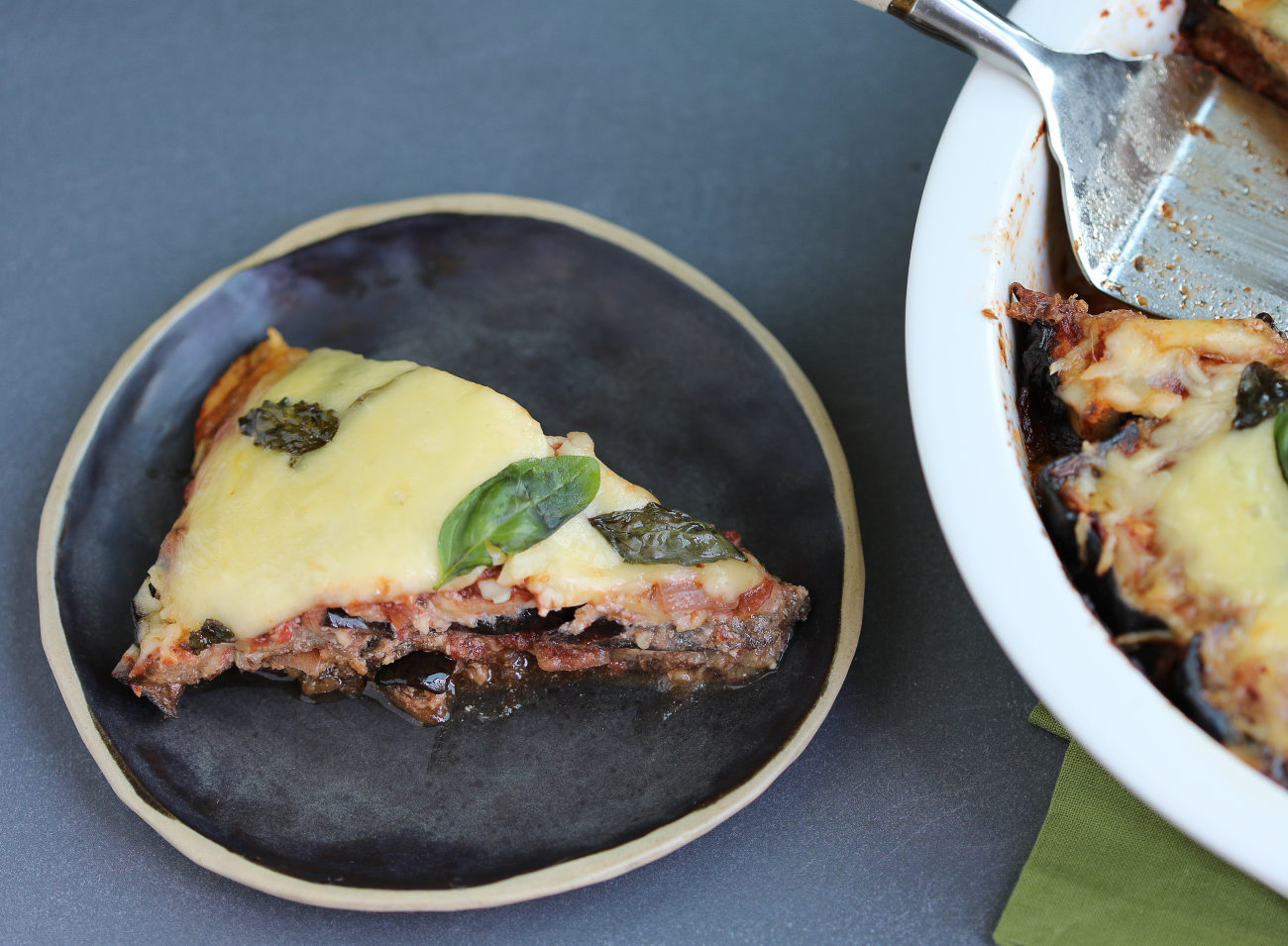 Ingredients
Ingredients
3-4

large eggplant- about 1kg/35 oz

1

cup

mozzarella cheese grated

1/2

cup

Parmesan cheese fresh grated

200-250

ms

smooth ricotta cheese

2

eggs

2

tablespoons

cream

100

gms

buffalo mozzarella for topping

sliced into rounds

1/2

cup

basil leaves torn
For the Marinara Sauce
800

gm

tin diced tomato sugar free

2

onions diced

4

teaspoons

garlic minced

1/4

cup

red wine or 2 tablespoons vinegar

2

tablespoons

tomato paste sugar free

1

tablespoon

Extra Virgin Olive Oil- EVOO

2

teaspoons

oregano chopped dried or fresh

2

teaspoons

parsley chopped dried or fresh

1

teaspoon

salt or to taste

pepper to taste
Instructions
Slice eggplant into rounds about 1-1.5 cms thick/1/2 inch thick. Rub with EVOO and bake on baking paper in a hot oven for about 20-30 minutes. Turn the eggplant part way through cooking. Allow to cool slightly for handling.

While eggplant is cooking, make marinara sauce by heating 1 tablespoon of the oil in a medium saucepan, and sauteing the onion till translucent. Add the garlic, tomato, parsley and dried oregano, wine or vinegar and simmer for about 20-30 minutes. Add the salt and season with pepper.

Mix the ricotta cheese with the 2 eggs and the cream and season with salt and pepper. Add 3/4 cup of grated mozzarella and 1/4 cup of the Parmesan cheese to the ricotta mix.

Assemble the dish by spooning a small amount of sauce in the base of a large baking dish about 20 x 30 cm/ 8" x 12" or a large flan dish. Divide the eggplant into approximately 2 halves and lay a single layer of half of the eggplant rounds very close together on top of the sauce. Spoon half of the ricotta mix on top of the eggplant and spread out evenly to cover the whole dish. Spoon half of the marinara sauce on top of the ricotta mix and scatter with torn basil leaves.

Create another layer repeating the process beginning with the remaining half of the eggplant, then add the remaining half of the ricotta mix and the remainder of the marinara sauce, and finally scatter with torn basil leaves.

Sprinkle the top of the dish with the remaining 1/4 cup of grated mozzarella cheese and 1/4 cup Parmesan cheese, and then arrange slices of buffalo mozzarella around the dish.

Bake in the oven for 30 minutes at 160 C/320 F Fan Forced. If the cheese starts to brown and/or harden at all during cooking, cover with foil and continue cooking.

Allow dish to sit for 10 minutes prior to serving.

To serve, garnish with fresh basil leaves.

Recipe Notes
You can use store bought marinara sauce or a tomato based sauce instead of making your own sauce, just make sure it is sugar free. You can also use premade marinara sauce from this recipe for Sugar Free Tomato Pasta Marinara Sauce
I have allowed for variation in the ricotta portion as you may as well use the whole container if it is a different size to what's specified.
You can make this dish without using ricotta cheese and eggs if you wish to. Simply sprinkle the marinara sauce layer with half of the grated mozzarella and half of the Parmesan cheese instead.
Nutritional Information
Serving:
1
serve
|
Calories:
201
kcal
|
Carbohydrates:
11.9
g
|
Protein:
11.5
g
|
Fat:
11.3
g
|
Fiber:
3.8
g
Note that we calculate our own nutritional values so they may not be precise. Calculate your own if desired. Carb values exclude sugar alcohols such as Erythritol, as they generally have no impact on blood sugar levels. 50% of the carbs from Xylitol is added to nutritional values. This is consistent with industry practice.
Do you want to receive more recipes like this one? Subscribe to our newsletter now!