Low Carb Sunflower Seed Risotto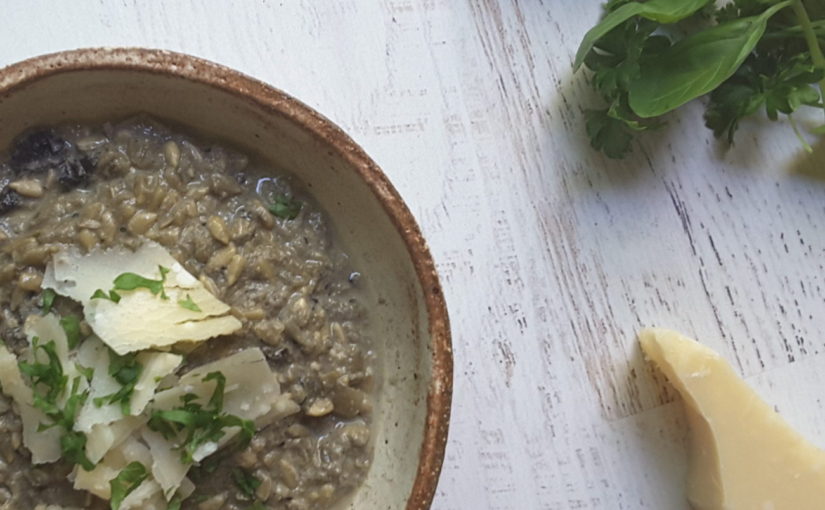 Low Carb Sunflower Seed Risotto
Have you been missing eating risotto because you are trying to cut back on your rice intake? Perhaps you are simply looking for an risotto alternative that doesn't use Arborio rice? You are going to love this recipe for Low Carb Sunflower Seed Risotto. I've simply switched the rice for sunflower seeds, which have been soaked overnight, and the dish tastes amazing. The pumpkin seeds soften slightly but they still bring a perfect "al dente" ish feel to this dish.
Risotto is one of my favorite Italian dishes, especially when served with mushrooms. Simmered with a little white wine, garlic and some fresh herbs such as basil, this dish actually tastes like risotto. Fresh grated Parmesan cheese will add the creaminess that every risotto dish requires and ties in beautifully with the flavors.
How To Serve Low Carb Mushroom Sunflower Seed Risotto
Serve Low Carb Sunflower Seed Risotto as a main meal with a salad on the side, or use it as a side dish. You could also present it molded into a timbale or a small bowl/dish, and turn it out onto a plate as a feature. Make sure you serve it topped with fresh grated Parmesan cheese and freshly chopped parsley or basil, for the perfect finish.
My personal favorite way to serve this dish is with a simple side salad of rocket. Top with some steamed, pan fried or boiled asparagus and freshly grated Parmesan cheese. Dress with a dash of Balsamic vinegar and some EVOO-Extra Virgin Olive Oil, and you have a delicious and nutritious dish. It truly is a sensational meal.
Using sunflower seeds in this recipe gives you some fantastic added nutritional value. They are known to help assist in fighting inflammation, heart disease and type 2 diabetes, so don't feel guilty eating them. They are quite high in calories so you won't want to eat too many of them too often though. If you are keen to read more on the benefits of sunflower seeds, check out this article on Healthline.
More Delicious Italian Low Carb Recipes
If you are after some more fantastic low carb Italian recipes, you can do a search on this site for Italian, and all of the Italian style dishes will come up. There are some terrific recipes, such as Eggplant Parmigiana, Low Carb Baked Italian Meatballs, Zoodles and Meatball along with Eggplant Lasagna, just to name a few.
I hope you enjoy this recipe as much as I do.
Kxx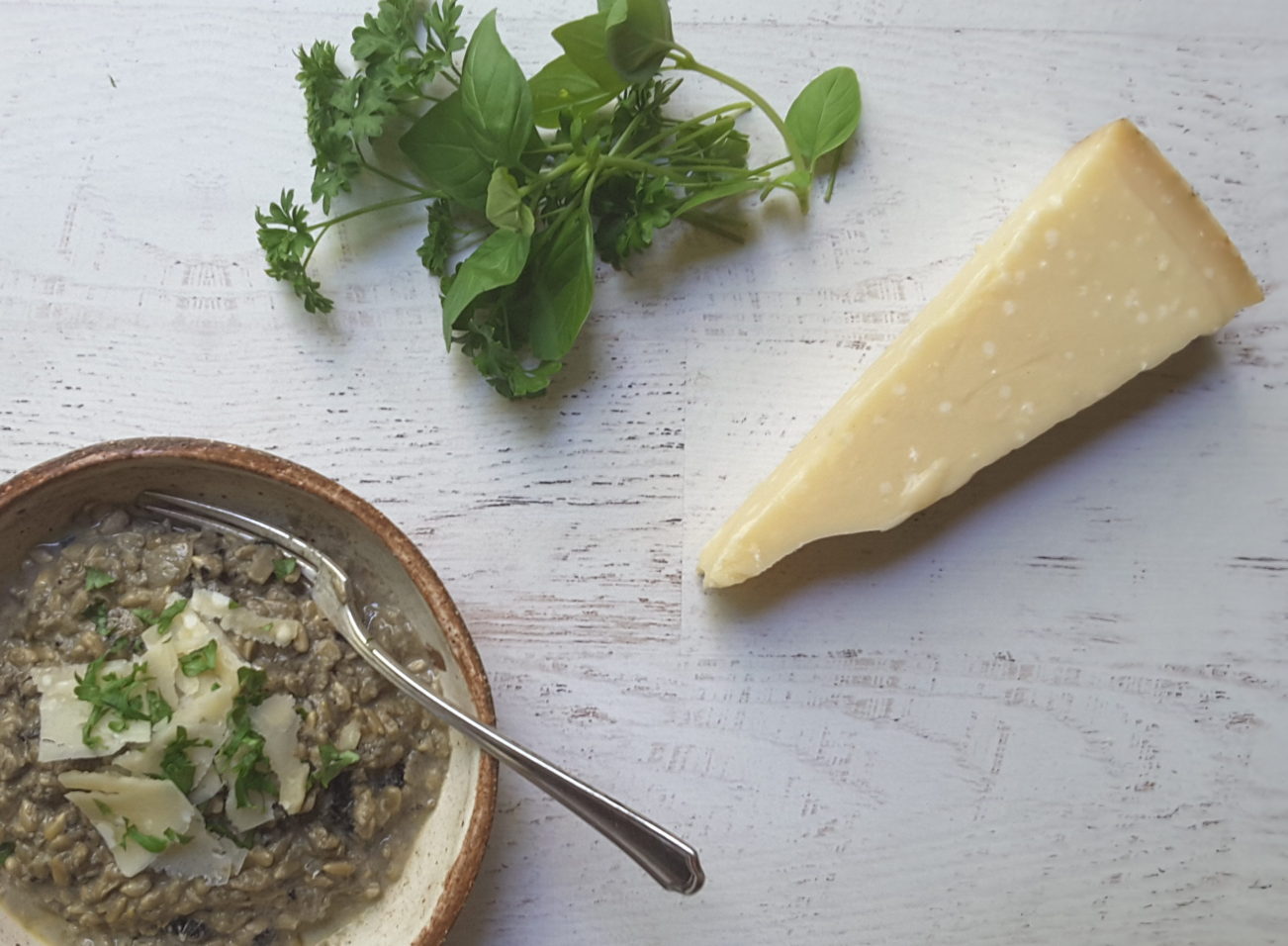 Ingredients
2 1/2

cups

sunflower seeds

2

cups

chicken/vegetable stock

2

tablespoons

EVOO-extra virgin olive oil

2

tablespoons

butter

1

small

onion

3

teaspoons

minced garlic

250

gms

brown field mushrooms, thinly sliced

1/2

cup

fresh basil leaves torn

2

tablespoons

chopped fresh parsley

3/4

cup

dry white wine

or to taste

2

tablespoons

chopped almonds/almond meal or pine nuts

3/4

cup

Parmesan cheese freshly grated

salt and pepper to taste
To Serve
Freshly grated Parmesan Cheese

Chopped parsley or basil leaves
Instructions
Soak Sunflower Seeds Overnight
Soak the sunflower seeds in the fridge overnight in 2 cups of chicken or vegetable stock.
Make The Risotto
Remove 1/2 cup of sunflower seeds from the soaked seeds and blitz in a food processor with an additional 1/2 cup stock or water.

Heat the oil and the butter in a medium saucepan and saute the onion and the garlic till soft and transluscent. Add the mushrooms and cook till soft.

Add the basil leaves, parsley and cook till soft. Stir through the soaked sunflower seeds in the chicken stock and mix till well combined.

Add the wine and simmer till the sauce reduces by about 1/3. Turn the heat down and fold through the blitzed sunflower seeds. Continue cooking until the sauce thickens and reduces, for approximately 20-30 minutes.

Stir through the pine nuts or almonds and the Parmesan cheese, stirring till well blended and serve.
To Serve
Serve topped with freshly grated Parmesan cheese and freshly chopped parsley or basil.
Recipe Notes
To adjust the liquid levels- cook for longer to reduce and thicken. To thin out simply add a little more stock.
Nutritional Information
Serving:
1
serve
|
Calories:
573
kcal
|
Carbohydrates:
10
g
|
Protein:
18
g
|
Fat:
48
g
|
Fiber:
7
g
Note that we calculate our own nutritional values so they may not be precise. Calculate your own if desired. Carb values exclude sugar alcohols such as Erythritol, as they generally have no impact on blood sugar levels. 50% of the carbs from Xylitol is added to nutritional values. This is consistent with industry practice.
Do you want to receive more recipes like this one? Subscribe to our newsletter now!