Low Carb Baked Italian Meatballs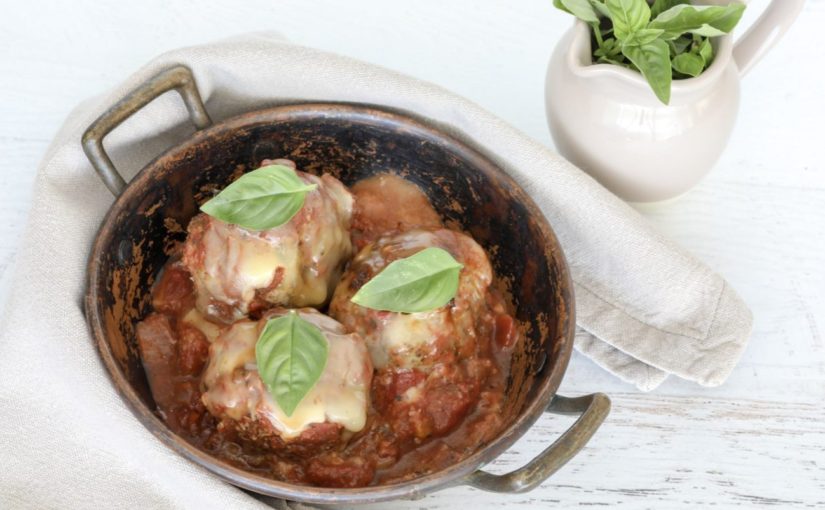 Low Carb Baked Italian Meatballs
Who doesn't like meatballs?
Simple to make delicious Low Carb Baked Italian Meatballs are sure to become a favorite in your house. Serve these simply as they come, as an appetizer or part of a tapas meal, or serve them with a side serve of mash and some greens for a simple to make, healthy meal. These also taste amazing served with some pasta or zucchini noodles, for a lovely low carb version of Spaghetti and Meatballs. If you want to follow the recipe for Low Carb Zoodles and Meatballs, simply follow this link.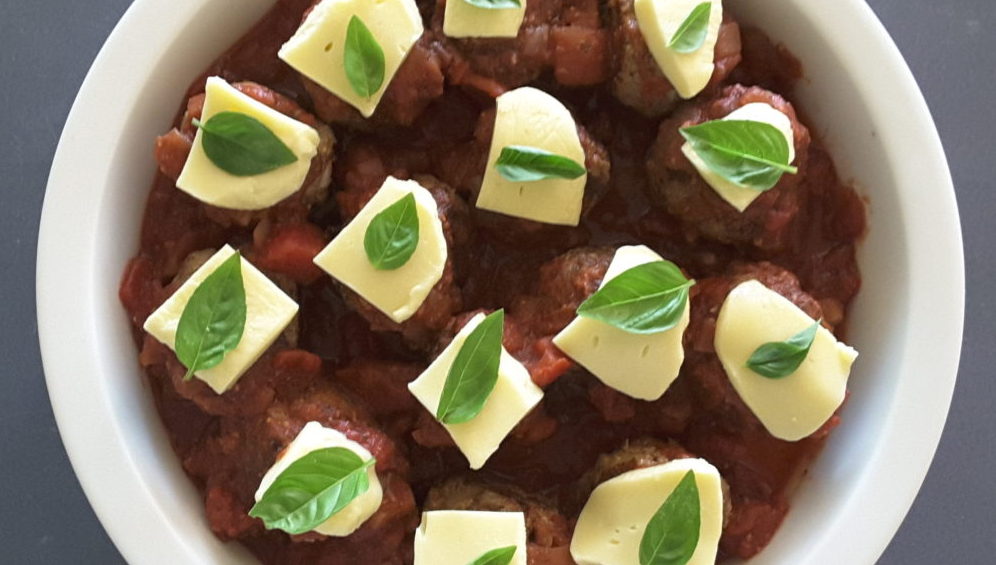 Variations
Feel free to use your ground/minced meat of choice for this recipe such as Beef, Veal or Pork. You could also use chicken or turkey, or you can use a mix of ground/minced meats. Traditionally meatballs would have been made with a mix of pork and beef, and that is actually my favorite mix to use.
Try adding a cube of mozzarella cheese in the centre of the meatballs if you love cheesier meatballs. I always like to use Buffalo Mozzarella if I am going to do this, as it is easier to cut and to shape the meat around the cube of cheese.
Meatballs are an ideal food for anyone trying to reduce their carb intake. It is really simple to switch traditional breadcrumbs for a low carb alternative in most meatball recipes. My favorite alternative to breadcrumbs is almond meal/ flour. It doesn't impact on the texture of the meatballs and it also doesn't impact on the flavor either. If you have an allergy to nuts or are trying to avoid them, you could also add a 1/2 a tablespoon of coconut flour to thicken your mixture. Some like to use psyllium, but I don't like the rubbery texture of the finished meatballs when psyllium has been used.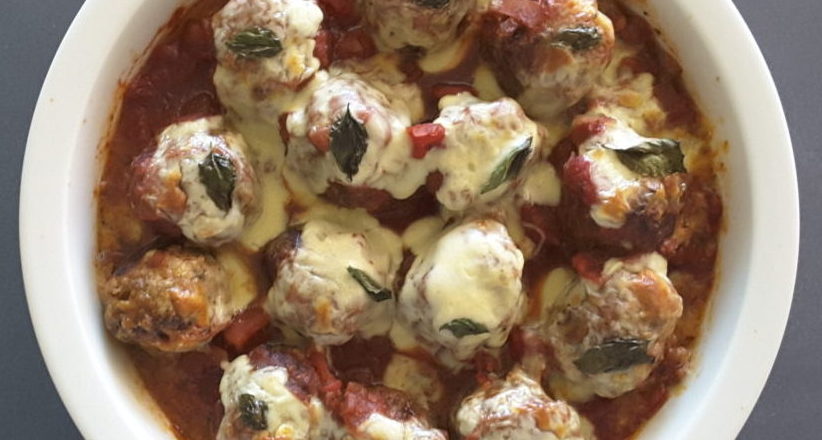 I like to make up double the mix of meatballs in this recipe and store them in the fridge or freezer for another meal option. I also like to make the Marinara Sauce in bulk as I use it in so many dishes, such as Eggplant Parmigiana, Low Carb Lasagna, Eggplant Pizzas and Chicken Parmigiana. It lasts about 4 days in the fridge but freezes really well. Note also that marinara does not mean seafood sauce but is just a rich tomato based Italian sauce.
How To Serve Low Carb Italian Baked Meatballs
For a really simple way to serve this dish with zucchini noodles as a more substantial dish, firstly spoon some marinara sauce into your baking dish as per the recipe below. Spiralize 3 medium zucchini, and create little nests to place underneath each meatball. Place a meat ball on top of each nest, cover in sauce and top with mozzarella and a slice of basil. Bake in a medium oven for about 15 minutes, or until heated through, and serve. Simply delicious!
I hope you enjoy this recipe as much as I do.
Kxx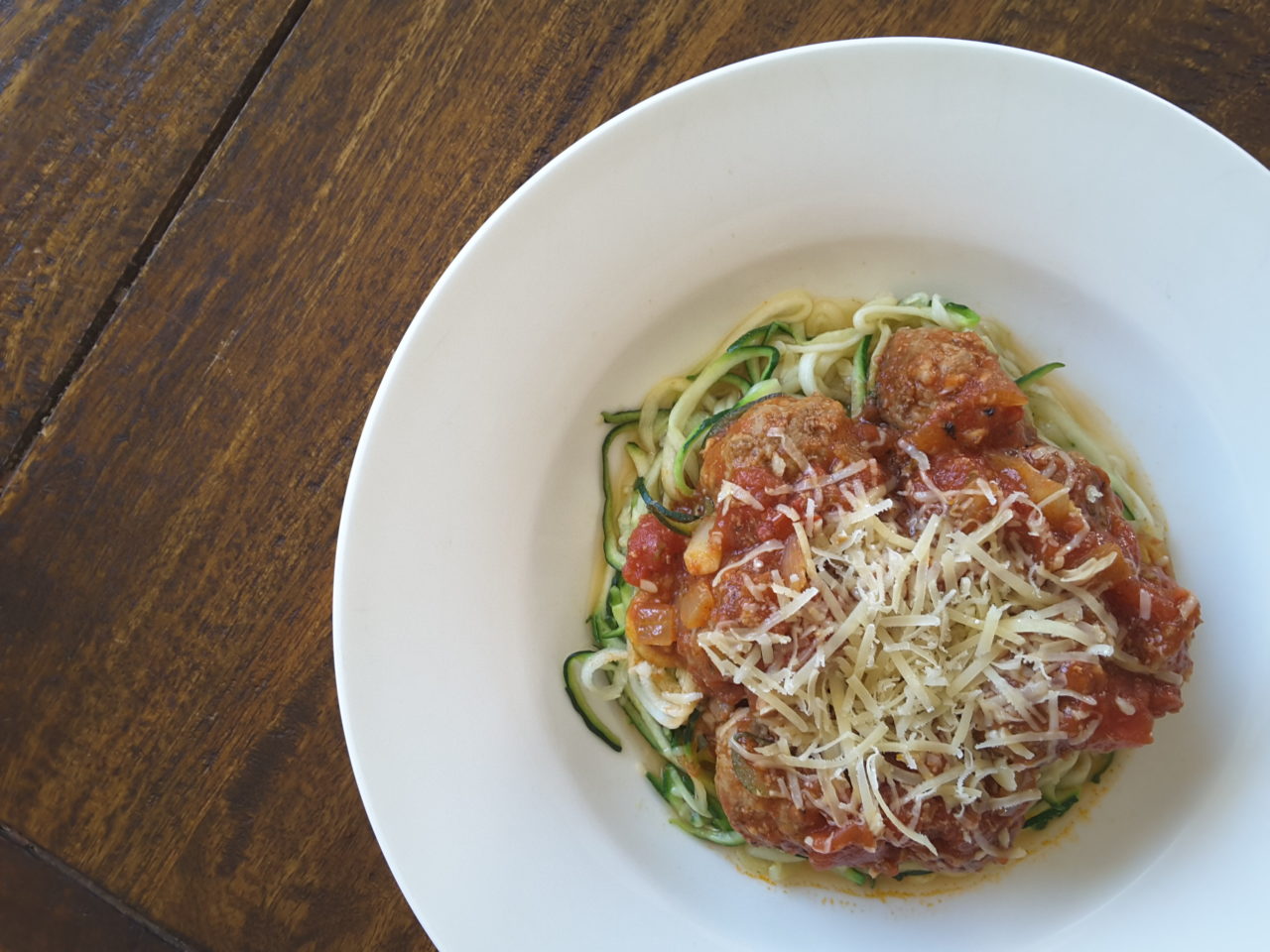 Ingredients
Meatball Ingredients
500

gms

/17.67 oz of a mix of minced beef and pork or meat of choice

1

small

onion very finely diced

1/2

cup

grated Parmesan cheese

1

teaspoon

oregano dried

1

teaspoon

parsley dried

3

teaspoons

minced garlic

1

egg

1

tablespoon

almond meal/almond flour

salt and pepper to taste

A spash of EVOO- extra virgin olive oil
Rich Italian Tomato Sauce Recipe
400

gms

/14 oz tinned tomatoes no added sugar

1

small

onion chopped

2

teaspoons

minced garlic

1/4

cup

red wine

or 1-2 tablespoons vinegar

1

tablespoon

chopped parsley/dried parsley

1

teaspoon

chopped oregano/dried oregano

salt and pepper to taste

A spash of EVOO- extra virgin olive oil
Additional Garnish Ingredients
100

gms

/3.5 oz Buffalo Mozzarella sliced and torn or grated mozzarella.

Basil leaves for garnish
Instructions
Meatballs Method
Mix all ingredients together and hand form firmly into 16 large (tablespoonful) meatballs.

Heat a splash of EVOO in a heavy based frying pan on medium and cook meatballs till till cooked through, taking care not to brown. Remove meatballs from pan and use the pan to make the tomato sauce.
Rich Italian Tomato Sauce Method
Heat a splash of EVOO in the frying pan and add the onion, sauteeing on medium till transluscent.

Add the garlic and saute for 1 minute. Add remaining ingredients and bring to the boil.

Turn the heat down to a simmer and continue cooking for 20 minutes.

Meanwhile heat oven to 180 C/350 F fan forced.
To Assemble Dish
Spoon a small amount of tomato sauce on the base of a baking dish that will fit your meatballs.

Place the meatballs evenly distributed into the pan on top of the sauce.

Spoon the remaining sauce on top of the meatballs.

Place a torn piece of buffalo mozzarella cheese on top of each meatball or sprinkle with grated mozzarella cheese. Place a basil leaf on top of each meatball.

Bake in the oven until the dish is hot and the cheese has melted, for 10 -15 minutes.
Serving Suggestions
Serve with hot zucchini zoodles.

Carb it up with pasta, rice or mashed potato.
Nutritional Information
Serving:
1
serve
|
Calories:
564
kcal
|
Carbohydrates:
9
g
|
Protein:
39
g
|
Fat:
42
g
|
Fiber:
2
g
Note that we calculate our own nutritional values so they may not be precise. Calculate your own if desired. Carb values exclude sugar alcohols such as Erythritol, as they generally have no impact on blood sugar levels. 50% of the carbs from Xylitol is added to nutritional values. This is consistent with industry practice.
Do you want to receive more recipes like this one? Subscribe to our newsletter now!