Low Carb Zoodles and Meatballs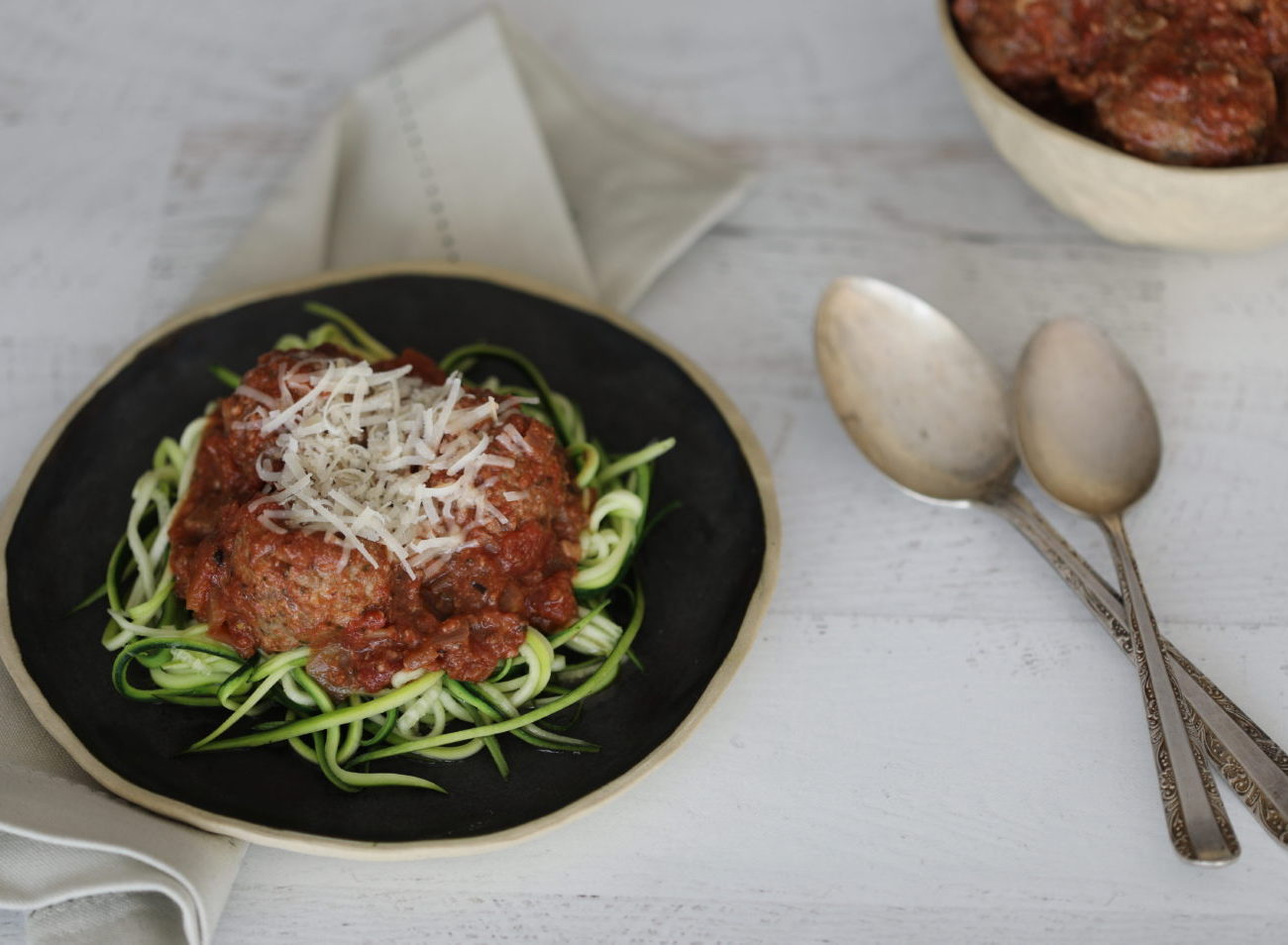 Low Carb Zoodles and Meatballs
Low Carb Zoodles and Meatballs
This recipe for Low Carb Zoodles and  Meatballs is a scrumptious and filling low carb version of the Italian classic. It's one of those meals that makes you realise just how good food low carb can be. Many people believe that when you eat low carb, you are compromising on food, and would rather be eating the real thing. Recipes like this are proof that this lifestyle does not have to be about compromise, as this dish is simply delicious.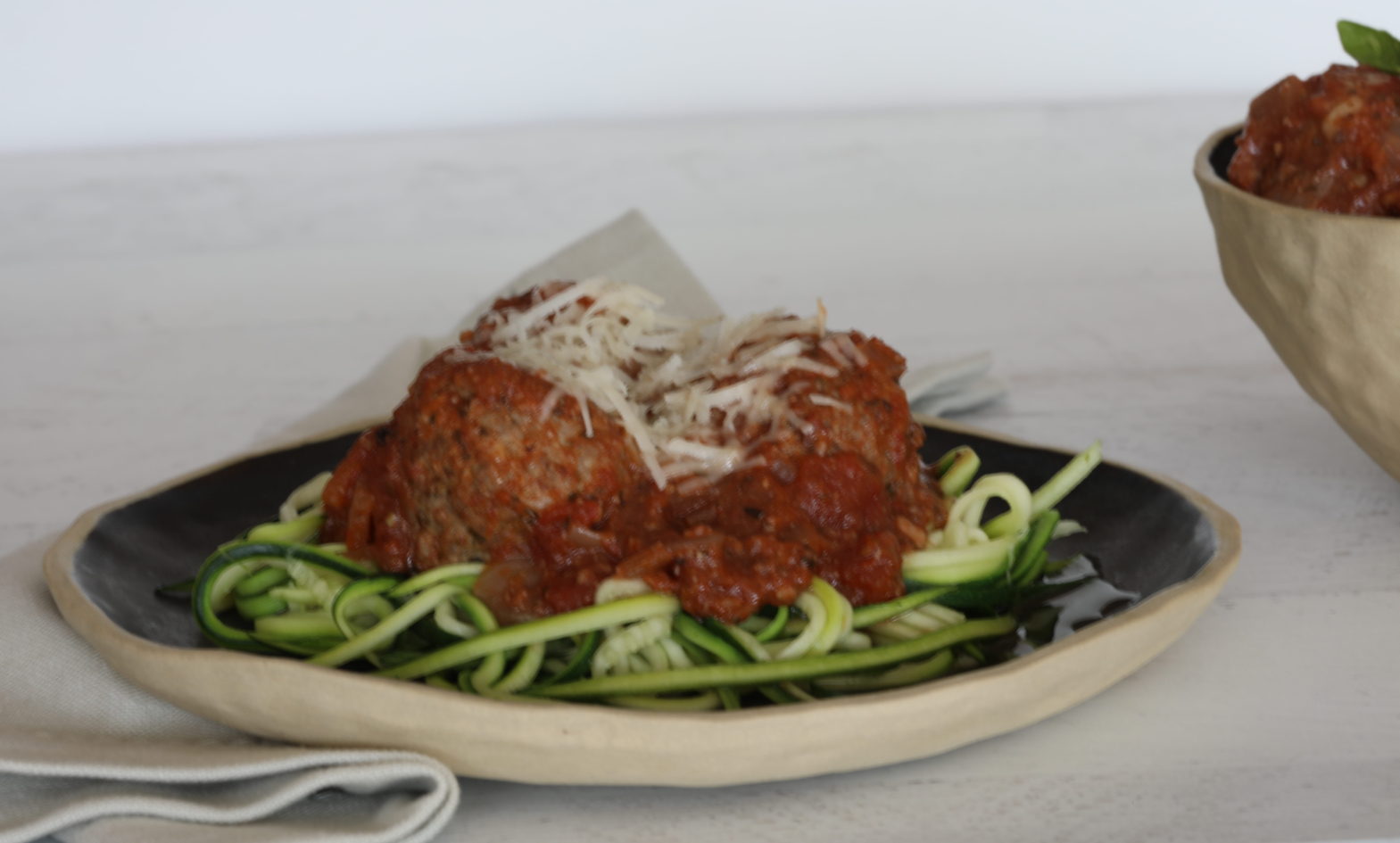 Meatballs Many Ways
Some other great ways to eat these meatballs is to serve them on a bed of cabbage sauteed in lots of butter with fresh green beans on the side. Try the meatballs served on Creamy Cauliflower Mash, for variation. The carb lovers in your house can eat them in the traditional way, with pasta or on top of mashed potato, while you enjoy them on cauliflower mash or with zucchini zoodles.
I made this dish for my husband and served his on mashed potato. He was surprised as he thought that I was eating potato as well (surprised because he knows I don't eat it.) I told him mine was cauliflower mash, which he tasted. He told me to just serve his on cauliflower mash next time as he couldn't really taste that much difference and really liked the taste of mine.
Variations
Feel free to use whatever mince/ground meat you like in these, even ground chicken or turkey mince goes well. You can omit the wine if you wish as well. I always have frozen left over wine in the freezer so what goes in this dish is dependent on what frozen wine I have at the time, hence either white or red wine. They both add a delicious aroma to the dish so I do recommend you add it if you can. My preference though (and my family's) is to use red wine when I can.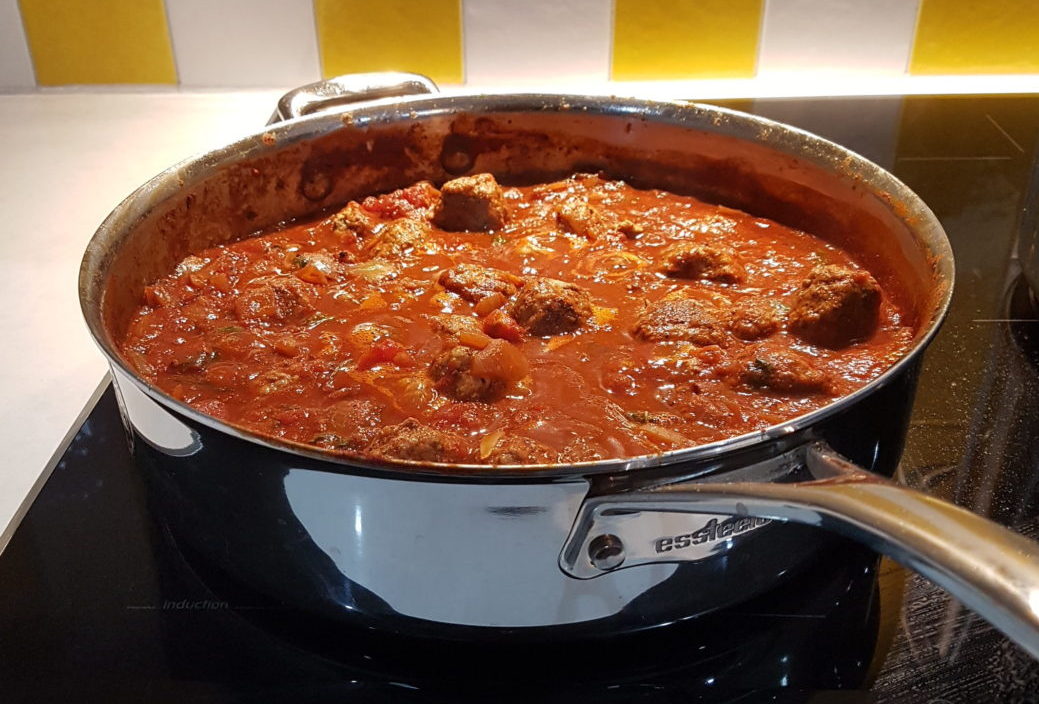 If you use pork or chicken mince to make the meatballs, you could switch the oregano or basil for sage, as it goes really well with white meat. Another lovely way to serve this dish is to make large meatballs and brown them off on the stove top. Make the marinara sauce and pour over the meatballs in an ovenproof dish. Sprinkle with a generous amount of mozzarella cheese and heat in a moderate oven until the cheese melts. You might also want to check out this recipe for delicious Low Carb Baked Italian Meatballs.
Marinara or Basic Tomato Pasta Sauce
The Sugar Free Marinara Sauce recipe is a great basic sauce recipe that I use as the base for many Italian dishes. It has been altered slightly to work with the serves required for this particular recipe. The Marinara sauce recipe does have slightly more tinned tomatoes in it (200 gms/ 7 oz.), You could this back to the recipe if you wanted more serves out of this dish.
Marinara sauce really is my go to sauce, and features in many recipes, such as Low Carb Eggplant Lasagna, Eggplant Pizza , Eggplant Parmigiana and this delicious Low Carb Chicken Parmigiana recipe. It also serves really well as a basic vegetarian pasta sauce. So many choices…..
Karen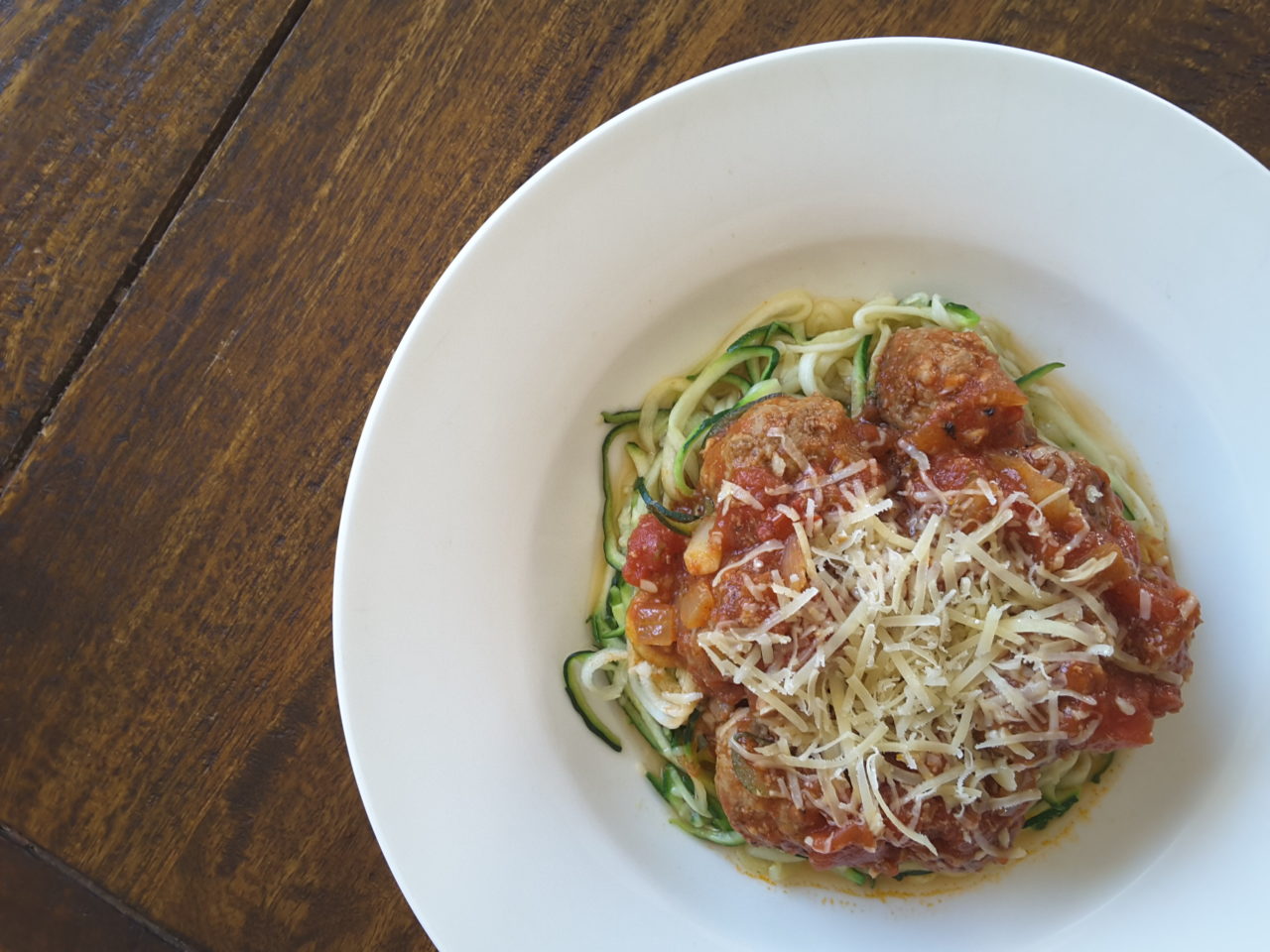 Ingredients
Meatballs Ingredients
500

gms

minced/ground meat-half beef and half pork or veal

or meat of choice

½

cup

Parmesan cheese grated

1

tablespoon

almond meal/almond flour

2

teaspoons

garlic minced

1

teaspoon

parsley chopped dried or fresh

1

teaspoon

oregano chopped dried or fresh

1

egg

1/2

teaspoon

salt and pepper to taste

a splash of EVOO- extra virgin olive oil
Marinara Sauce Ingredients
4

tspns

garlic minced

1

tablespoon

parsley chopped

2

teaspoons

oregano chopped

1

onion finely chopped

1/2

cup

red/white wine or 2 tablespoons vinegar

600

gms

crushed/diced tomatoes sugar free

salt and pepper to taste
Zoodles Ingredients
4

medium

zucchini spiralized
Instructions
To Make Meatballs
Mix together the ingredients for the meatballs, and using a heaped teaspoonful, shape into into about 25-30 small balls.

Pan fry the meatballs in a splash of olive oil for about 5 mins.

Add a splash of the wine if using, and continue to cook for a few minutes until the wine has evaporated.

Remove the meatballs from the pan leaving the juices in the pan.
To make the Marinara sauce
Heat a splash of olive oil on medium heat in the pan with the meatball juices, add the chopped onion and garlic, and cook until soft and translucent.

Add the wine and continue to simmer for a few minutes.

Add the tomatoes and simmer for about 20 minutes until the sauce thickens. Season with salt and pepper.

Add the meatballs and simmer gently for about another 10 minutes.

Serve with zoodles (or pasta for carb lovers.)
To Make The Zoodles
Spiralize approximately 1 medium zucchini per serve (dependent on the size of zucchini) so you have enough for 4 serves of zoodles.

Add a splash of olive oil to a hot frying pan and saute the zoodles for 1-2 minutes until 'al dente', taking care not to overcook.

Season with salt and pepper.

To serve, divide the zoodles amongst 4 bowls and top them with the meatballs and sauce. Season with grated Parmesan cheese to taste.
Recipe Notes
You can also simply add the zoodles to the pan and toss through the meatballs until cooked before serving, topped with parmesan cheese.
Nutritional Information
Serving:
1
serve
|
Calories:
519
kcal
|
Carbohydrates:
14.1
g
|
Protein:
36.3
g
|
Fat:
35.1
g
|
Fiber:
4.5
g
Note that we calculate our own nutritional values so they may not be precise. Calculate your own if desired. Carb values exclude sugar alcohols such as Erythritol, as they generally have no impact on blood sugar levels. 50% of the carbs from Xylitol is added to nutritional values. This is consistent with industry practice.
Do you want to receive more recipes like this one? Subscribe to our newsletter now!