Low Carb Eggplant Lasagna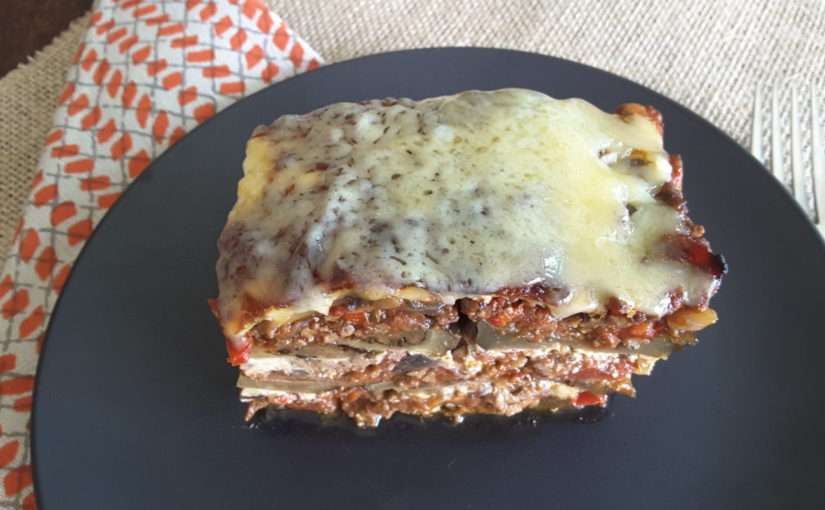 Low Carb Eggplant Lasagna
Low Carb Eggplant Lasagna does an amazing job filling in for lasagna made with lasagna sheets. This is another one of those dishes where you realise that low carb eating isn't a compromise, and in this case, it's just an amazing tasting version of traditional lasagna.
In preparing the eggplant for this dish, there is no need to salt your eggplant these days, so you can simply slice them and use them straight away. You can either oven bake the eggplant slices basted with a little extra virgin olive oil-EVOO, in a moderate to hot oven for about 10-15 minutes, or you can zap them for 3-4 minutes in the microwave or, simply steam or boil them for a few minutes.
The recipe for the meat filling is based on the same recipe that I have for a low carb classic, Italian Marinara sauce, so if you happen to have any on hand that you may have made earlier, you could simply add that to the browned mince instead and cook it off for about 30 minutes. It doesn't take any more effort though, to just follow the recipe below, making your Marinara sauce as you go.
I love to make this recipe near the end of the week as I always have mushrooms, tomato, zucchini, eggplant and peppers etc., that need using up in the fridge. I add them to the sauce so minimize waste, as well as adding a nutritional boost to the recipe. If it is clear out the fridge day and I don't want to make the whole dish, I often just saute the vegetables in some oil till cooked and freeze them for use next time I want to make this dish, or a vegetarian or pasta sauce. Note that I added some additional red peppers and mushrooms to the sauce in the recipe featured and used beef mince/ground, while the recipe below features chicken.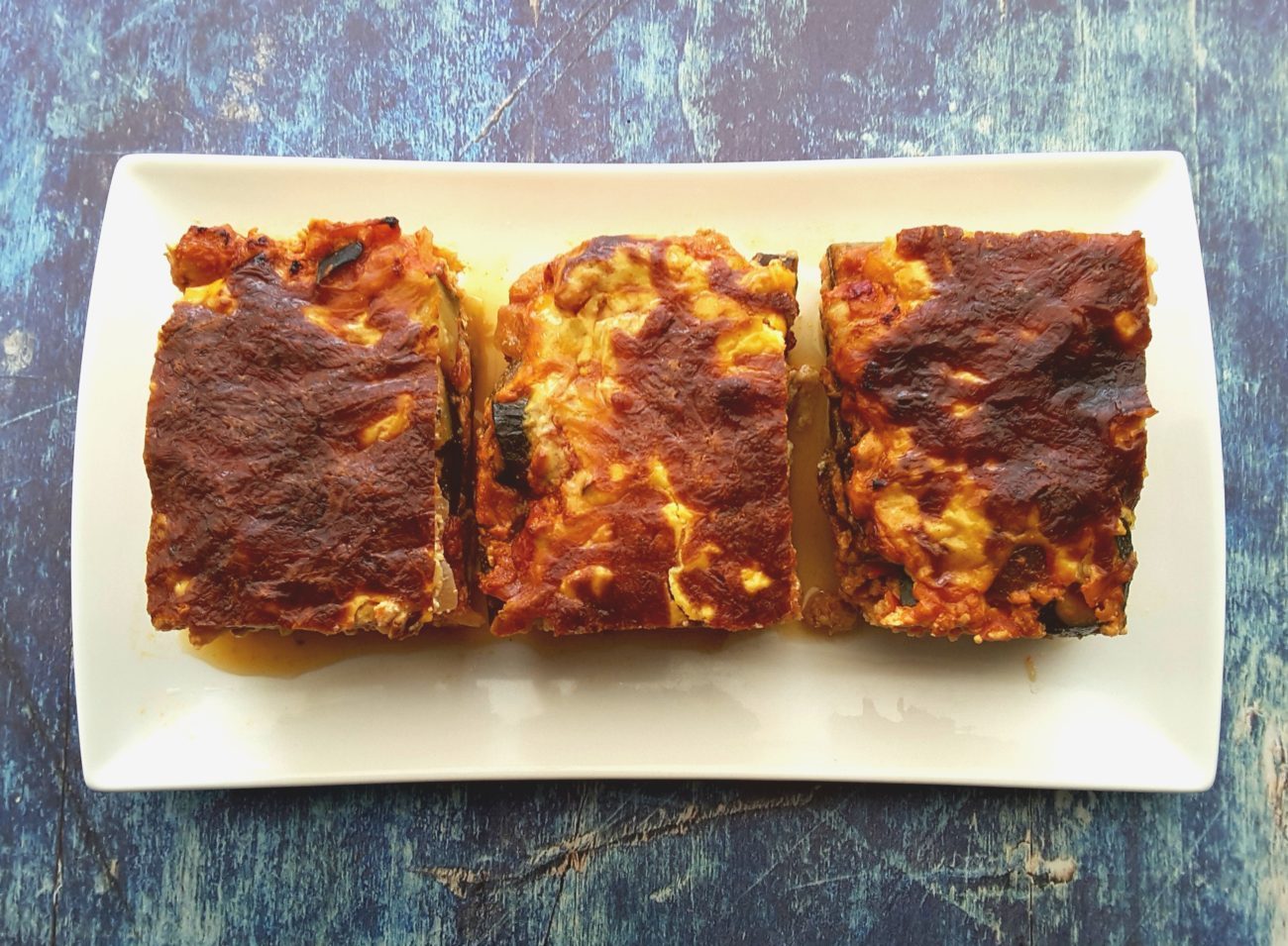 The low carb white sauce that goes with this recipe is so quick and easy to make. Even if I was to make a traditional lasagna, I would still use this recipe, as it can be made in an instant. The ricotta cheese is a great addition to the white sauce but you could also make the sauce without it. Simply omit the ricotta and add a 1/4-1/2 cup cream in it's place. Add the eggs and cheese, and the sauce will still taste amazing.
Feel free to switch the meat for any other minced meat, such as turkey, pork and veal. You could also make this vegetarian by simply omitting the meat and boosting it with lots of vegetables such as eggplant, zucchini, mushrooms, celery, olives etc.
This is a truly delicious recipe.
Kxx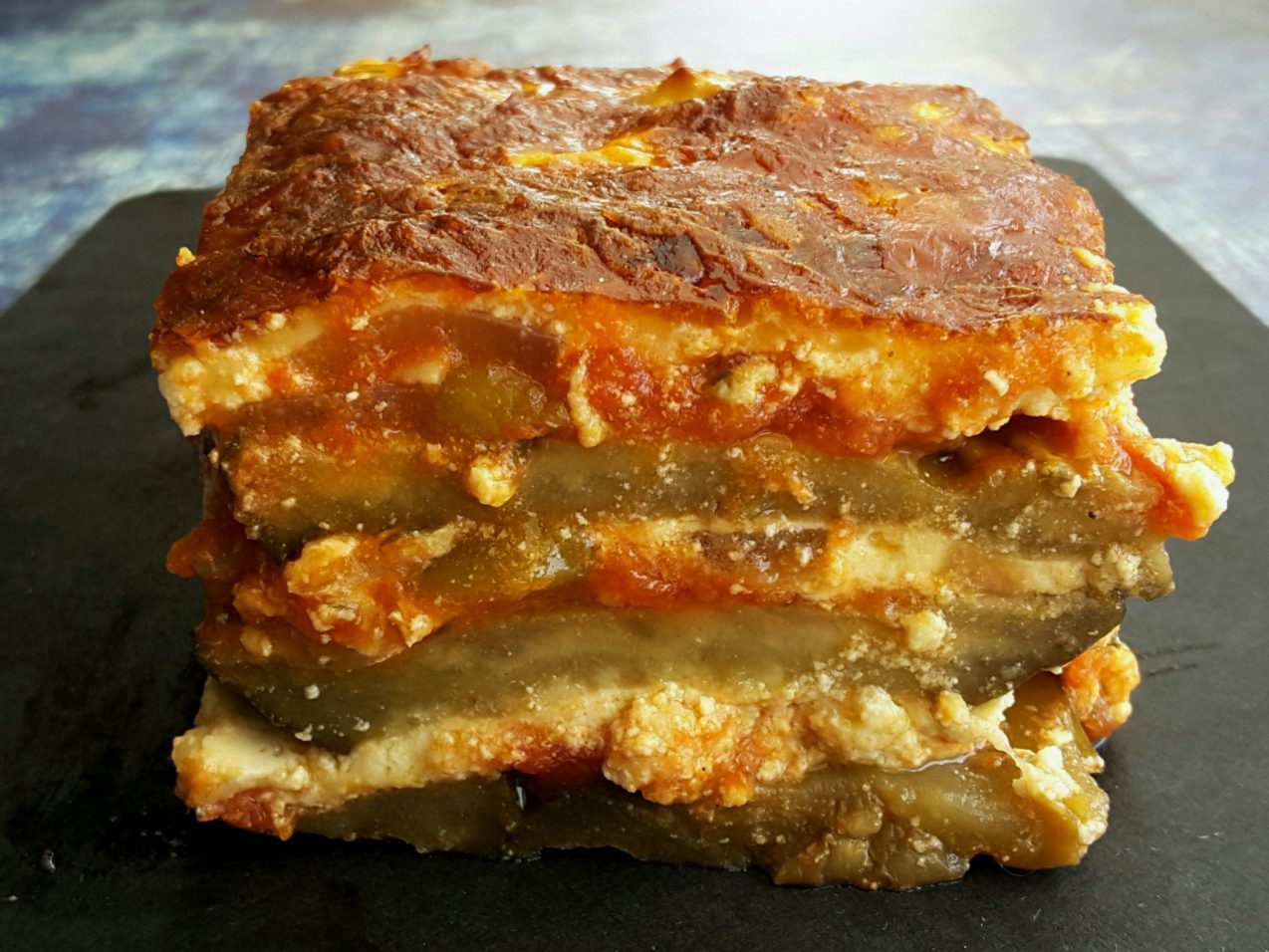 Ingredients
Prepare Eggplant Slices
2

Large

eggplant sliced 1 cm (1/3 inch) thick- rubbed with extra virgin olive oil (EVOO) and oven baked in a hot oven for 10-15 minutes or microwaved for 3-4 minutes.
Filling
500

gms

/18 oz minced/ground beef

800

gms

28 oz tinned tomatoes diced sugar free

½

cup

red wine or white wine

1

large

onion finely chopped

2

tablespoons

Tbspns chopped garlic

2

tablespoons

Tbspns chopped parsley

2

teaspoons

tspns dried oregano

A dash of extra virgin olive oil

EVOO

Salt and pepper to taste
White Sauce
1- 1 ½

cups

ricotta cheese

½

cup

cream- full fat pouring/pure cream

2

eggs

½

cup

tasty/mozzarella cheese grated
Topping
½

cup

tasty cheese/mozzarella to top your lasagna
Instructions
To Prepare the Meat Filling
Cook off the minced meat until brown.

Add the garlic and onion and continue cooking for a further 5 minutes.

Add the red wine and continue cooking for a further few minutes until the wine reduces slightly.

Add any additional vegetables that you desire (including the ends of the eggplant that have too much skin on them) and cook for another 5 minutes.

Add tomato and herbs and simmer for approximately 20 minutes.
To Prepare the White Sauce
Beat the eggs in a small bowl.

Beat in the cream and ricotta and season with salt and pepper.

Fold in the grated cheese.
To Assemble the Lasagna
Using a 20 cm x 25 cm (8 x 10 inch) or slightly larger lasagna pan, place a layer of eggplant on the bottom of the pan.

Spoon on about 1/3 of the meat and top with about 1/4 of the white sauce.

Repeat the layers 2 more times finishing with a slightly more generous layer of white sauce.

Sprinkle with ½ cup mozzarella cheese to finish.

Bake in a moderately hot oven approximately 170 C /350 F for 40-50 minutes. If you want it browned more, simply up the temperature for the last 10 minutes of baking. If it is browning too quickly, cover with foil.

Allow to rest for approximately 15 minutes before serving. Tastes amazing the next day and holds its shape really well. Ideal for freezing.
Recipe Notes
Make a vegetarian filling by omitting the meat and boosting with vegetables.
Use any type of minced meat in place of the beef.
Use white wine instead of red if there isn't any red available (although red wine is preferred in my family!) or omit wine and add 2 tablespoons of vinegar.
I specified between 1- 1 ½ cups of ricotta cheese as it depends on the size of the container you can buy.
If you don't have any ricotta cheese you can add an additional 1/2 cup of cream to the white sauce recipe instead.
Clean out your fridge Lasagna- add red or green peppers, olives, spinach leaves, additional eggplant, zucchini, mushrooms or celery, to boost the nutritional value.
Nutritional Information
Serving:
1
Serve
|
Calories:
333
kcal
|
Carbohydrates:
7
g
|
Protein:
18
g
|
Fat:
25
g
|
Fiber:
0.5
g
Note that we calculate our own nutritional values so they may not be precise. Calculate your own if desired. Carb values exclude sugar alcohols such as Erythritol, as they generally have no impact on blood sugar levels. 50% of the carbs from Xylitol is added to nutritional values. This is consistent with industry practice.
Do you want to receive more recipes like this one? Subscribe to our newsletter now!