Low Carb Cabbage Rolls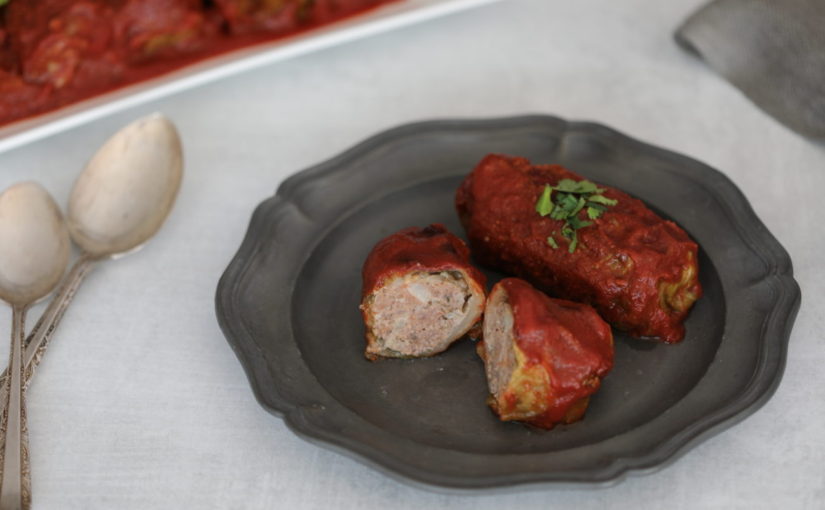 This delicious, healthy Low Carb Cabbage Rolls recipe is sure to become a favorite in your house. A wonderful, hearty dish that tastes amazing served simply with cauliflower mash and a simple serve of greens on the side such as beans or broccoli. This recipe is ideal for anyone trying to cut back on sugar and carbs in their life. It suits low carb, keto and LCHF ways of eating. It is perfect as well for diabetics, celiacs and those with gluten intolerances.
This is a wonderful way to use up that cheap cabbage that you bought from the supermarket and it's a dish that the whole family will love. You can serve this with low carb sides to keep it low carb kosher, but even the carb lovers in your house are going to love it and they will never guess that it is low carb. It's a wonderful versatile dish that can cater for the different requirements in your household, which is why I love making this recipe.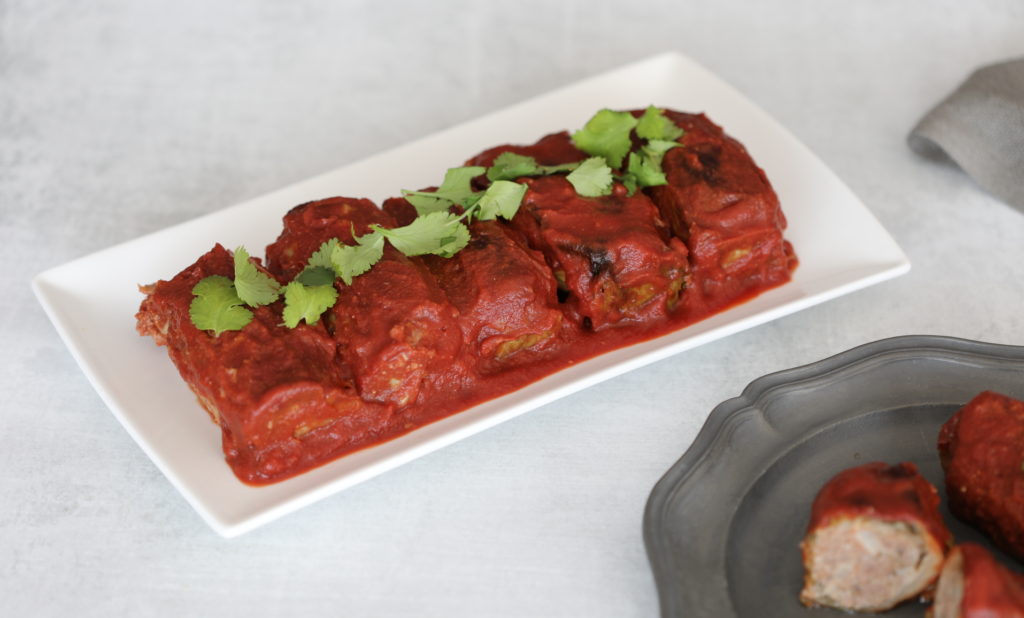 Tips for Making Low Carb Cabbage Rolls
A few tips to help you create these delicious rolls. You need to steam or boil large cabbage leaves before you use them to create your rolls in this recipe.
Make sure you boil the cabbage leaves, or steam them, until they are soft enough to roll up. I boil mine for between 10 to 15 minutes. Allow them to cool enough so you don't burn your fingers. You may also need to cut out the thick stalky part of the cabbage leaf to make it easier to roll it up. I generally do this after I have cooked them so they retain their shape. Drain the cabbage leaves as quite a bit of moisture comes off them when they cook. You may need to do some patch work as you make these Low Carb Cabbage Rolls if your leaves have holes in them. I simply tear some of the leaf off a larger leaf and lay it over the hole I want to patch.
Creating your  Low Carb Cabbage Rolls
I have given you a couple of options for the tomato based Marinara sauce in the recipe below. You can follow the recipe below for an instant recipe, or you can follow my recipe for Low Carb Marinara Sauce, or you could even use a store bought one if you really wanted to. Just check the ingredients listed on the label if you do buy a processed one to make sure there are no added sugars or preservatives. I do recommend that even if pushed for time, you do make your own sauce as my quick recipe for Marinara sauce is really simple to make and it tastes delicious, and of course, it is perfect for anyone following a keto or LCHF way of eating.
I hope you enjoy these if you get around to making them.
Kxx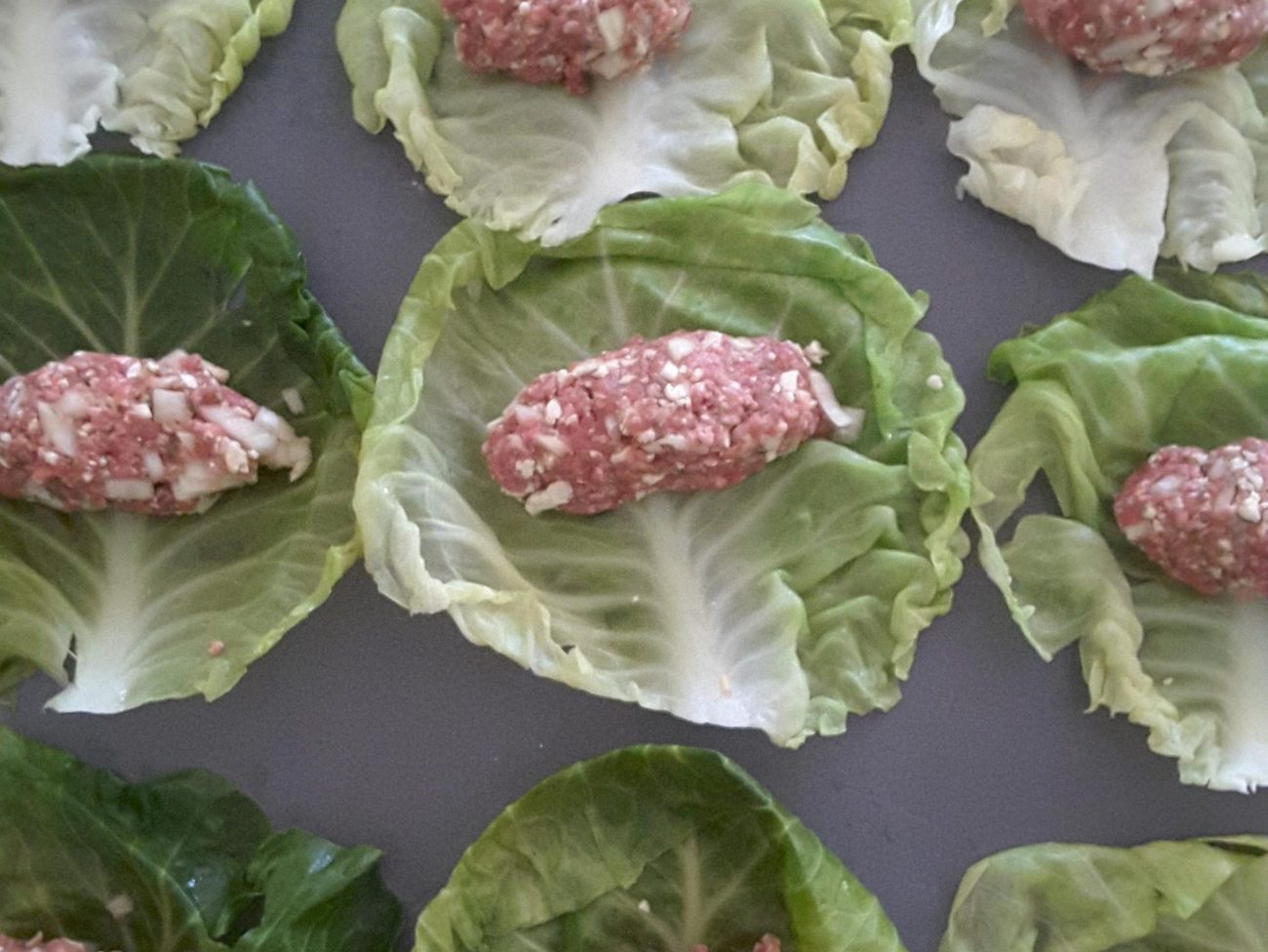 Ingredients
12 large outer leaves of a cabbage steamed or boiled till soft
Meat Filling Ingredients
500

gms

16 oz minced/ground beef

1

small onion finely chopped

3

teaspoons

minced garlic

1

tablespoon

chopped parsley

2

eggs

1 ½

cups

cauliflower rice

Salt and pepper to taste
Quick Marinara Sauce Ingredients
500

gms

/16 oz sugar free diced tomatoes

2

tablespoons

chopped parsley

1

tablespoon

onion powder

3

teaspoons

minced garlic

1

tablespoon

ACV- Apple Cider Vinegar

Optional -1 teaspoon oregano and/or 1 teaspoon thyme

Or alternatively use approximately 500 gms/16 ozs of homemade or store bought Sugar Free Marinara Sauce
Instructions
To Make The Cabbage Rolls
Tear off the larger outer leaves of the cabbage and boil or steam for about 10 minutes until soft enough to roll. Drain and allow to cool so you can handle them. Spread out on a bench top ready to be filled.

Mix the minced/ground meat with the remaining ingredients and divide into 12 portions.

Shape the meat into rolls and place a roll in the center of each cabbage leaf.

Fold the bottom half of the cabbage leaf over the meat, and fold the edges in from the sides to cover the ends of the meat roll. Finally, fold the roll over onto the top part of the cabbage leaf and ensure that the seam of the cabbage roll is on the bottom.
To Assemble The Dish
Mix all ingredients together to create your quick Marinara sauce, or use your premade Marinara Sauce.

Spoon a small amount of the Marinara sauce to slightly cover the bottom of a baking dish measuring 20cm x 28 cm/8" x 11".

Lay the cabbage rolls evenly in the tray and spoon over the remaining sauce.

Bake in the oven for approximately 1 hour at 180 C/ 350 F or until cooked through.
Recipe Notes
Switch minced beef for other minced meat such as chicken, pork, turkey or veal. Store bought cauliflower rice or cauliflower and broccoli rice is suitable for the recipe. The stalky part of the cauliflower, riced, is ideal for this recipe as it creates a bit of "crunch". I have subbed sugar free Passata for the diced tomato with success Add a dash of red wine to the recipe for some additional flavor if desired instead of the ACV-vinegar Recipe is suitable for freezing Delicious served with Cauliflower Mash
Nutritional Information
Serving:
1
roll
|
Calories:
200
kcal
Note that we calculate our own nutritional values so they may not be precise. Calculate your own if desired. Carb values exclude sugar alcohols such as Erythritol, as they generally have no impact on blood sugar levels. 50% of the carbs from Xylitol is added to nutritional values. This is consistent with industry practice.
Do you want to receive more recipes like this one? Subscribe to our newsletter now!