Creamy Mushroom Soup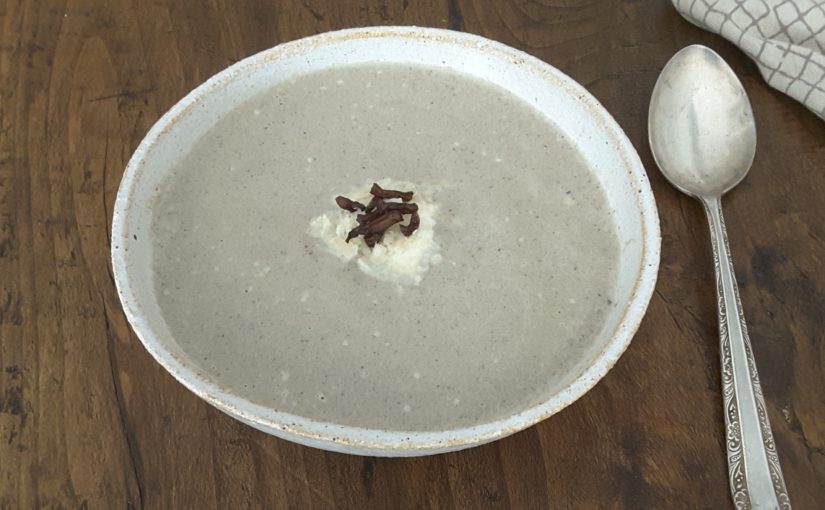 This low carb Creamy Mushroom Soup takes less than 30 minutes to make and tastes divine. For all of you mushroom lovers out there, this recipe is sure to become a favourite of yours.
Fresh button, field or Portobello mushrooms are sauteed with onion and a little garlic. A delicious creamy consistency is achieved by adding cream and sour cream. Serve it garnished simply with some crispy fried mushrooms and grated cheese or crumbled goats cheese and enjoy this delightful soup as a simple lunch or dinner dish. It would also be ideal served as a starter for a dinner party.
If you are looking for some other fabulous low carb soup recipes, I suggest you try Low Carb Cauliflower Soup and Low Carb Dutch Meatball Soup. All of these recipes are simple to make and taste delicious.
This recipe shows that when it comes to cooking, simplicity can bring with it amazing results.
Creamy Mushroom Soup
Serves 4

500 gms/ 18 oz sliced Field, Portabello or Button mushrooms
1/2 brown onion thinly sliced
2 1/2 cups/ 300 ml vegetable stock
1 cup/ 200 ml pure cream
1/2 cup/ 100 ml sour cream
Additonal sour cream for garnish
2 Tbspns of mushrooms thinly sliced into strips and browned in butter for garnish- make these in the pan before making the soup.

Method
1. Heat the butter in a medium saucepan and add the mushrooms, garlic and onion. Saute without browning for approximately 5 minutes.
2. Add the vegetable stock and simmer gently without a lid for a further 20 minutes and then remove from heat. It may reduce slightly.
3. Using a stick blender, blitz the soup until it is very smooth and remove all lumps from the soup.
4. Blend in the cream and sour cream until smooth and creamy. Season with salt and cracked black pepper
5. Return to a gentle heat and heat the soup up ready to serve without boiling. Thin with additional stock if too thick.

To Serve- Garnish with a dollop of sour cream, some crispy mushroom strips and a teaspoon of grated cheese or crumbled Chevre/goats cheese.

Calories- 307
Total Carbs -5.6 gms
Fat- 26.9 gms
Protein- 4.1 gms
Dietary Fibre-1.4 gms

A KETohh Creation
www.ketohh.com