Healthy Chicken Zoodle Soup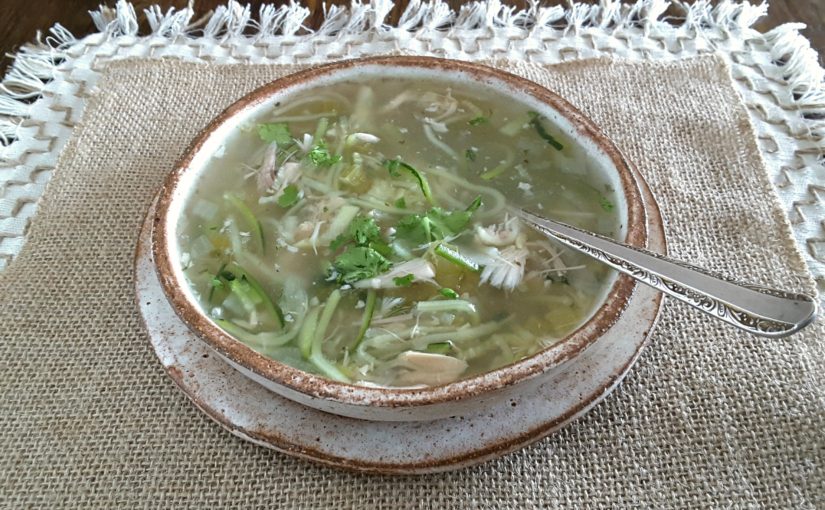 Healthy Chicken Zoodle Soup
There are certain times when you really appreciate a big bowl of home made chicken soup and this recipe for Healthy Chicken Zoodle Soup gives you an amazing tasting, low carb and truly nutritious bowl of chicken soup, made with your own home made chicken broth. Now I like good food, but I am often lazy, so it is not often that I buy a whole raw chicken to use in cooking, but when I want to make this soup, the broth is amazing when made with a whole chicken.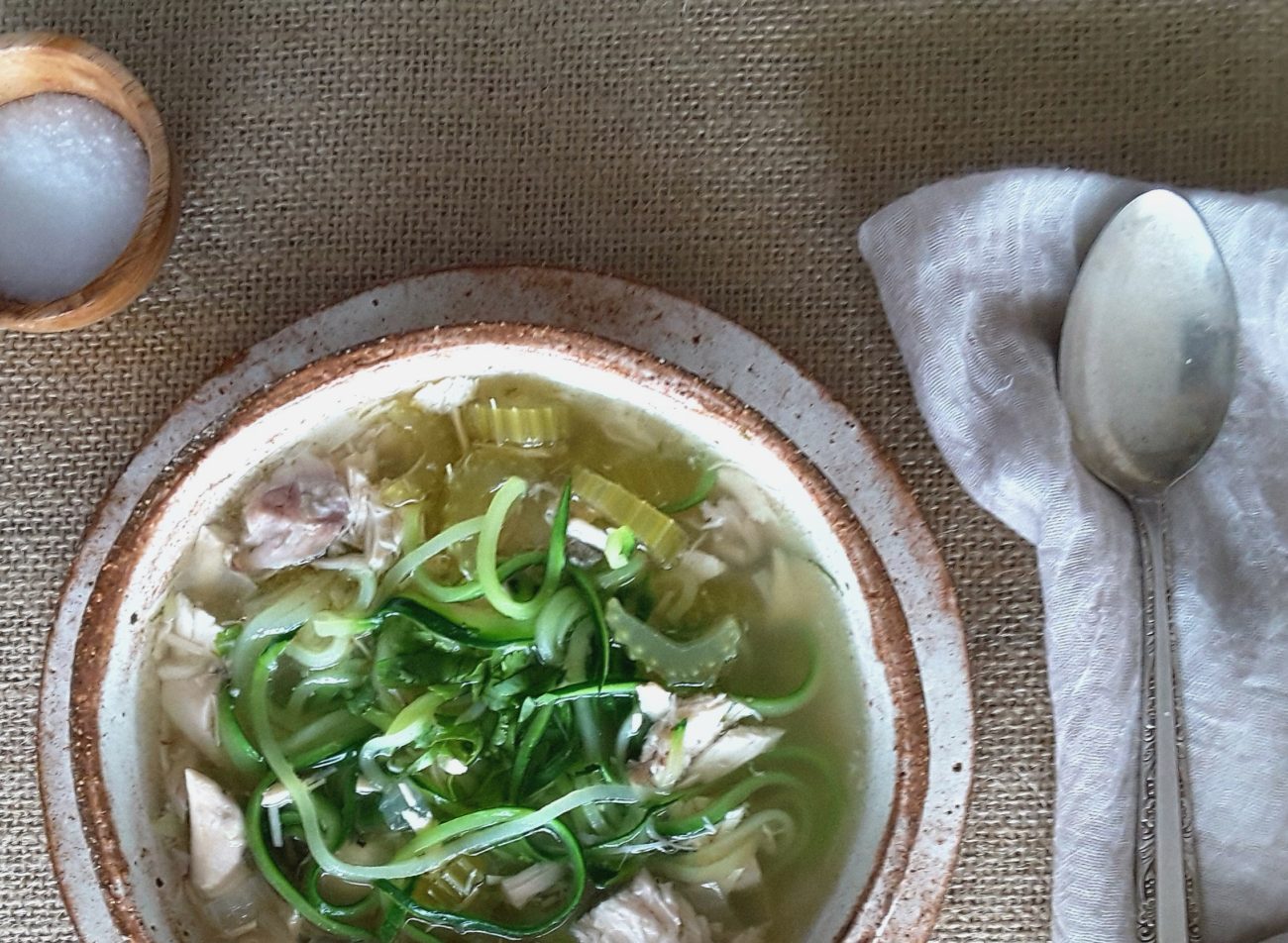 Making The Chicken Broth
The key to this amazing recipe is simmering a whole chicken for about 4 hours so you get an amazing nutritious chicken broth. You then strip the cooked chicken off the bones and discard the bones, with any leftovers for the dogs. Set the chicken aside in the fridge while you prepare the remainder of the soup. Now this sounds like it is fairly labor intensive but it is actually really simple to do. I often make the broth in the evening the day before I want it to make the soup. I then strip the chicken and leave the broth and the chicken in the fridge overnight.
Prepare The Soup Base
To prepare the base of the soup, simply add a couple of diced onions, 1/4 celery finely chopped/or 300 gms/10 oz thinly sliced celery stalks, 1 Tablespoon of minced garlic and a tablespoon of dried or fresh parsley, salt and pepper. You then boil this in the chicken broth until the vegetables are cooked through. Then simply add your diced chicken back to pot along with your zoodles. Once the zoodles and chicken have heated up, your soup is ready to serve.
So, it is really a simple recipe. You could of course make it with chicken stock from the store and that is fine but the difference in taste between broth and chicken stock is quite different. If I was making this soup for someone who wasn't well or needs some nutritional boosting, then I would definitely make the recipe using broth.
Adding The Zoodles
There are 2 options with the zoodles, one is to leave them long so you have to slurp them up out of your bowl, which I like to do sometimes, but my favorite way is to cut the zoodles into shorter length about 1″/2 cms long, so they are a bit more like the vermicelli that they often use in a traditional Chicken Noodle soup. Once you've added the chicken and the zoodles and they have heated up, I would remove the soup from the heat.
More Delicious Low Carb Soup Recipes
I hope you get to make this recipe so you can compare the difference in stock and broth, and also to see how amazing chicken zoodle soup can taste. If you are looking for another lovely soup that is a little bit similar to this recipe, check out the recipe for Low Carb Dutch Meatball Soup as it's a really lovely dish. There is also a lovely simple recipe for Cauliflower Soup and a Moroccan Pumpkin Soup.
Chicken soup for the soul!
Kx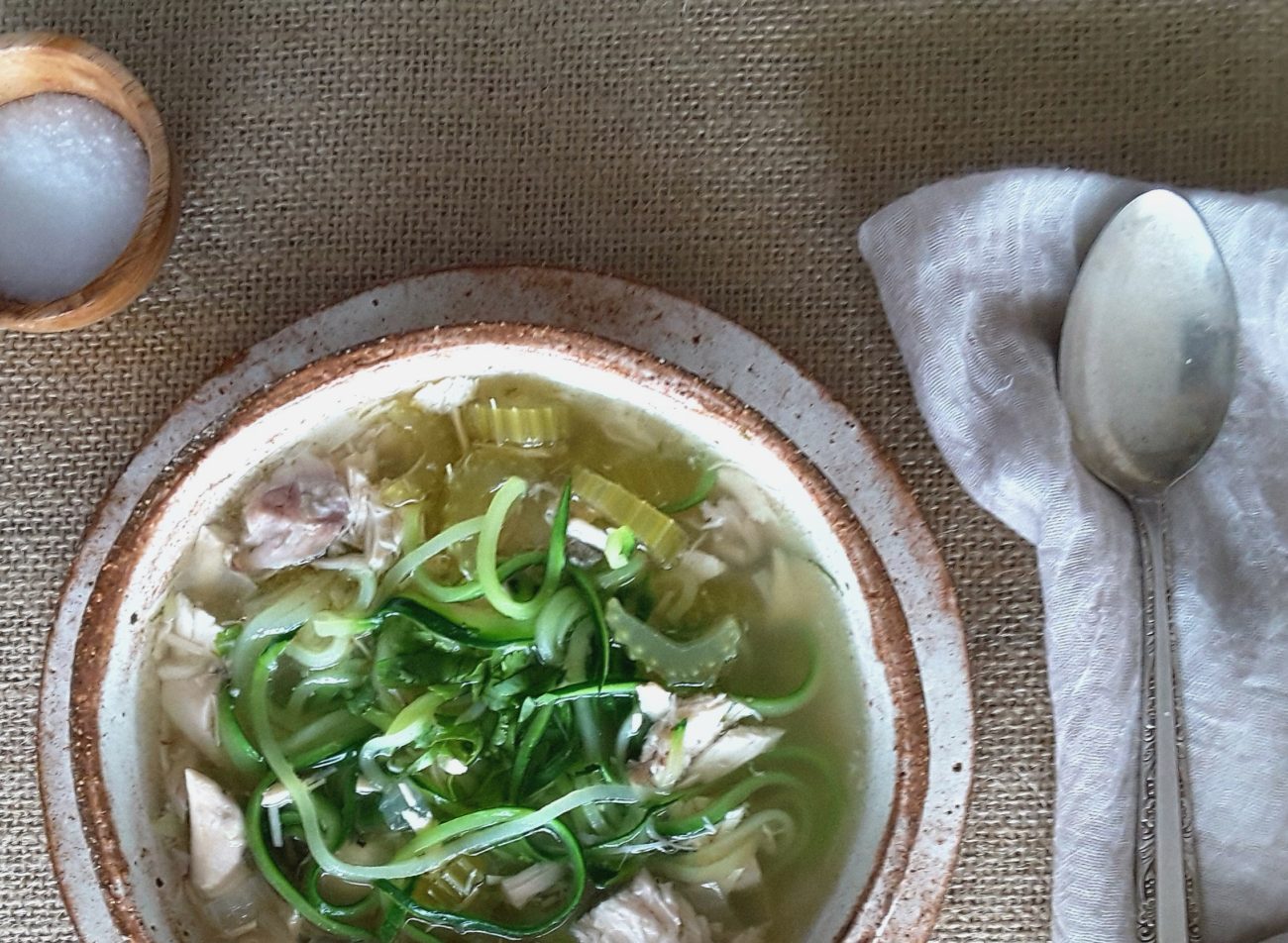 Total Time:
4
hours
10
minutes
Ingredients
1

whole chicken in a large soup pot topped with water so it covers the chicken to make the broth

8

cups

of homemade chicken broth

see full instructions below or chicken stock

2

onions finely diced

1/4

whole celery finely chopped leaves and all

2

tablespoons

of minced garlic

1

tablespoon

dried/fresh chopped parsley

1

teaspoon

dried/fresh chopped thyme

3

large zucchini cut into zoodles

Salt and pepper to taste.
Instructions
Boil the chicken in a large soup pot filled with water. Keep it simmering for 4 or more hours. You may need to occasionally top up the water, so that it is just covering the chicken.

Remove the chicken from the broth and allow to it cool enough so you can handle it. Strip the chicken and dice it so that it is ready to add back to your soup later.

Remove any undesirables such a bones and bits you don't want from your broth. Note that some people strain their soup, but it's generally not necessary. Store your broth in the fridge until you want to make your soup if you aren't using it straight away.

When you are ready to make your soup, top up your broth if you need to ,so that you have approximately 8 cups of stock, or adjust to suit your family size. You can always add more stock if required.

Add the onion, celery, parsley and garlic and salt and pepper and simmer your soup for approximately 45 minutes,or until the vegetables have cooked.

Once your vegetables have cooked, it is time to add the chopped chicken back into the broth, as well as your zoodles. Continue heating until chicken and zoodles have heated up and then remove from heat.

Season well with salt and pepper and serve.
Recipe Notes
Make the broth with other parts of the chicken, ie thighs, legs etc or any part of the chicken that has bones in it, but a whole chicken is still advisable if possible.
You can add other vegetables to your soup such a cauliflower, chopped stalks of broccoli and cauliflower, as well as any other low carb vegetable that you wish to use. If you aren't worried about the carbs, you could also add higher carb vegetables such as carrot and peas to this dish.
Boost the amount of chicken in this dish for a larger family by adding minced chicken meat balls. Simply season chicken mince with salt and pepper and roll into balls. Really gently add to a really slowly simmering pot so they don't break up on entry. Keep the heat down very low until the balls are cooked through. Add meat balls at a minimum of about 30 minute prior to serving the soup. Add the chopped chicken and the zoodles as specified in the recipe.
Left over broth can be frozen.
Nutritional Information
Serving:
1
serve
|
Calories:
191
kcal
|
Carbohydrates:
4
g
|
Protein:
25
g
|
Fat:
6
g
|
Fiber:
2
g
Note that we calculate our own nutritional values so they may not be precise. Calculate your own if desired. Carb values exclude sugar alcohols such as Erythritol, as they generally have no impact on blood sugar levels. 50% of the carbs from Xylitol is added to nutritional values. This is consistent with industry practice.
Do you want to receive more recipes like this one? Subscribe to our newsletter now!