Low Carb Seed Crackers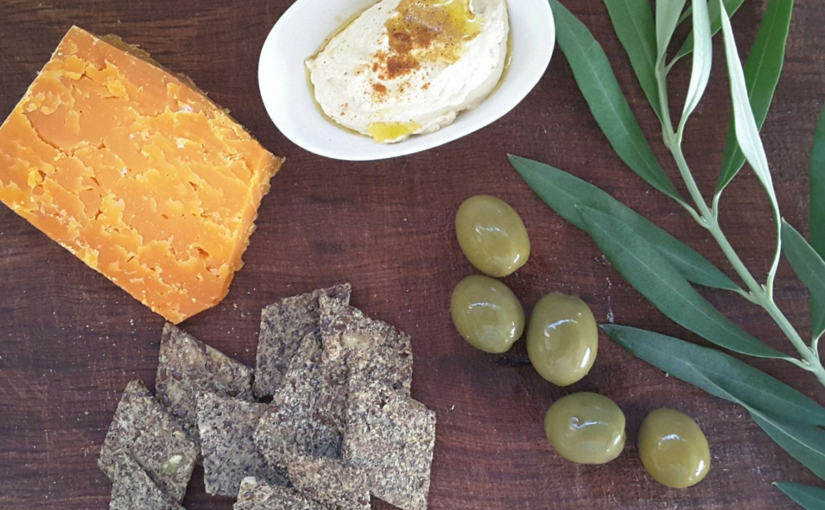 Trying to find a way to eat cheese, dips and pate without consuming overly processed, high carbohydrate biscuits can be a struggle. I am a cheese fiend; I even called one of my children Bree, who is probably an even bigger fiend than I am. She didn't have wedding cake at her recent wedding but opted for a cheese tower instead….genetics. Given my addiction, these nut free and egg free Low Carb Seed Crackers have been a godsend for me.
How To Serve Low Carb Seed Crackers
Serve these crackers with a cheese platter, use them for dips and pate. Try them served with a chunky guacamole for a lovely treat. I have even made nacho's out of them by sprinkling them with grated cheese, sliced jalapeno's and zapping them quickly in the microwave. Top with a dollop of sour cream and salsa and you have a delicious snack or light meal. Spread them with a little peanut butter as the flavor goes so well with these crackers.
Health Benefits
Filled with lots of vitamins, minerals and lots of healthy Omega-3 fats, your body is going to love these. Low Carb Seed Crackers are so full of fibre that if you calculate your net carbs, the amount of fibre probably just about negates the carbohydrates in them. Basically, net carbs are calculated by calculating the amount of carbohydrate in a food and then deducting the amount of dietary fibre from that amount.
Your digestive system will get an amazing clean out with these crackers. Include these crackers in your diet, not only because they taste so good and are so nutritious, but these would also be great for anyone with any constipation issues.
Variations
You can vary the taste of these Low Carb Seed Crackers by adding some paprika powder, onion powder, cayenne powder or turmeric. You could also add some dried herbs for additional flavor or try adding a blend of rosemary and some grated fresh Parmesan cheese, which go together extremely well.
If you don't have one of the seeds listed in your cupboard, you can vary the  amount of the whole seeds that you do have but just try to keep the total quantities about the same. For example if you don't add ¼ cup poppy seeds, add an extra ¼ cup of flax, pepita or sunflower seeds. Do however, always add ½ cup of ground flax seed for binding. Note that if you add any additional psyllium or chia seeds, then you may have to add a little extra water as these 2 items absorb water.
Caution with Linseed
Linseed doesn't have a long shelf life so always try to buy as fresh as you can, as the taste of the crackers will change if the linseed goes off. Trust me…it is not a good taste. Never buy ground linseed for this reason and always buy smaller amounts of whole seeds more frequently, and grind the seeds yourself if you need linseed/flax powder. I highly recommend you use a reasonably strong processor to grind your seeds. I have a Nutri-Bullet at home which does a brilliant job grinding nuts and seeds if I ever need them.
How To Roll Out Low Carb Seed Crackers
There is a bit of an art to rolling out many low carb mixtures as they don't tend to hold together as well as higher in carb gluten rich mixtures that are a bit easier to handle. These pictures below will be very helpful for when you come to roll out your seed crackers.
This baking method makes a dry cracker that should last for 2-3 weeks if stored correctly. Store them in an airtight container in the cupboard.
More Delicious Low Carb Cracker Recipes
For a couple of other delicious low carb cracker options, check out these recipes for Low Carb Almond Seed Crackers, which are slightly less seedy than these crackers but contain almonds and egg. There is also a superb recipe for Low Carb Cheese Almond Crackers. Perhaps one of the easiest recipes you could ever make is for these Sesame Chia Parmesan Crisp Crackers. So many great tasting crackers to choose from. You can't go wrong with any of them as they are all fabulous recipes.
Cheese be with you!
Kxx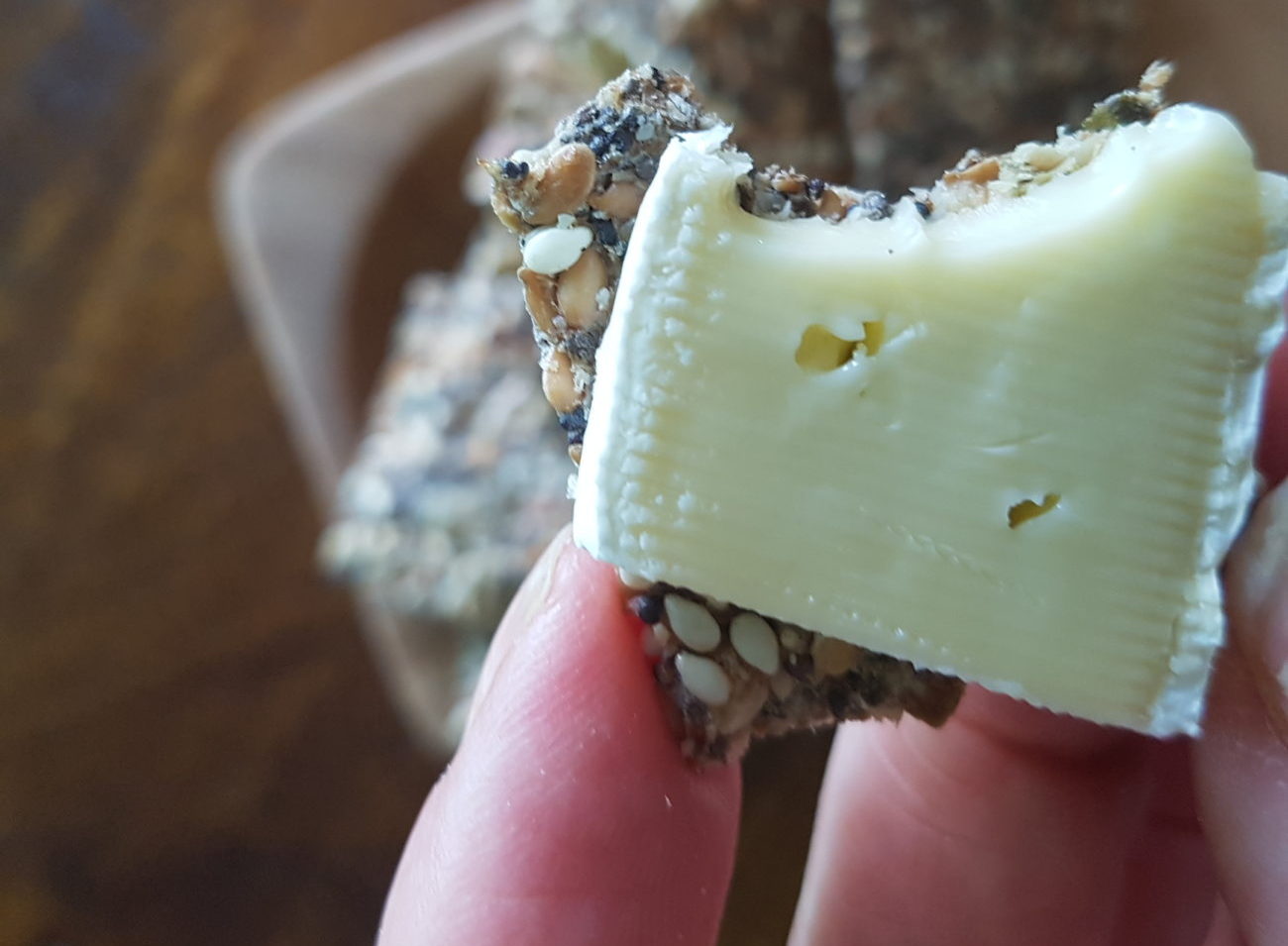 Servings:
28
serves of 10 crackers
Instructions
Preheat oven to 155 C/310 F fan-forced

Grind the linseed and psyllium husks till smooth for binding.

Combine all of the dry ingredients in a bowl. Add the water and mix until combined. Leave to rest for approximately 15-20 mins so it binds.

Lay 1 piece of quality baking paper the size of a large baking tray on the bench.

Place about half of the mix in the centre of the paper and place another piece of baking paper the same size on top. Push the mix out towards the sides of the paper and using a rolling pin, roll it out until it is quite thin. You may have to trim edges and fill gaps with excess mix.

Peel the top layer of paper off the seed mix and using the longest knife you have, score the sheet of mix into shapes that suit you. Don't slice back and forth with the knife or you will create messy edges. Just press the knife into the mix, lift knife and repeat. A good size is about 2 x 2 cm /1" square.

Slide the baking paper onto your oven tray and bake for approximately 18-25 mins.

Take the tray out of the oven and peel the crackers off the paper, breaking them up along score lines. Turn them over onto the baking tray and continue to cook for a further 18-25 mins.
Recipe Notes
Move the crackers around on the baking tray if they are cooking unevenly.
The crackers should be very dry, if not, leave them in the oven while it is cooling down to dry out further. They will last longer if dry so make sure there is no moisture.
Simply halve the mixture if you want a smaller batch.
Cool before storing in an airtight container.
These are ideal to replace high carb biscuits and crackers and go really well with dips, cheese, pate and even simply spread with peanut butter.
Nutritional Information
Serving:
10
crackers
|
Calories:
103
kcal
|
Carbohydrates:
1.9
g
|
Protein:
4.6
g
|
Fat:
8.3
g
|
Potassium:
4.3
mg
Note that we calculate our own nutritional values so they may not be precise. Calculate your own if desired. Carb values exclude sugar alcohols such as Erythritol, as they generally have no impact on blood sugar levels. 50% of the carbs from Xylitol is added to nutritional values. This is consistent with industry practice.
Do you want to receive more recipes like this one? Subscribe to our newsletter now!