Low Carb Cheese Almond Crackers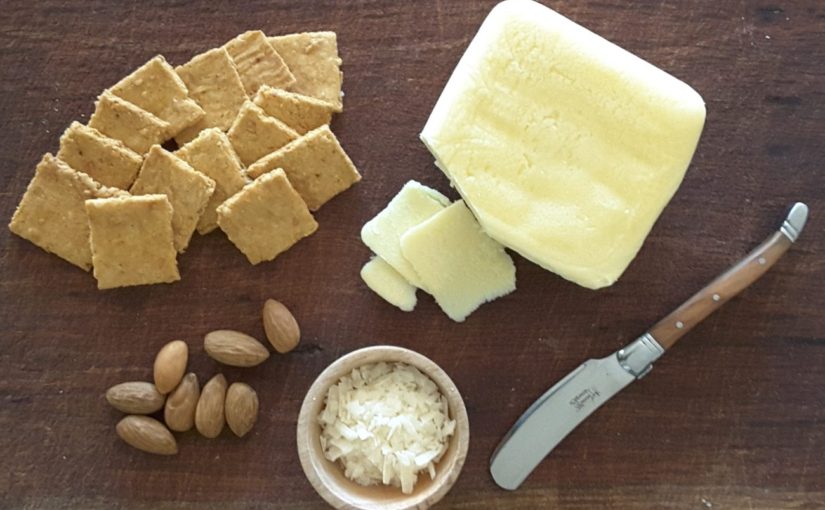 Low Carb Cheese Almond Crackers
Warning..control needed when eating these Low Carb Cheese Almond Crackers, as they are very moreish. I was experimenting with crackers and was trying to come up with a way to use some Parmesan cheese that was about to go out of date by making cheese crackers. The first time I made this recipe I thought that I had overcooked the crackers that they were a failure…but then I tasted them. These taste absolutely divine. I can't remember what the taste reminds me of- perhaps a biscuit that used to be on the market called Cheds but regardless, the flavour is spot on.
The feature photo has the crackers served with cheese but really, these biscuits stand up on their own by themselves, and this is why you need to make sure you don't overeat them.
Making these crackers follows my usual method for seed or almond crackers, by using baking paper and a rolling pin to prevent sticking and to get the mixture thin.
I usually cook crackers on one side and then break them up to cook on the other side. With these crackers, it is hard to break them up until the cheese has melted, so I turn them after 10 minutes but simply break off the more cooked parts along the cut lines near the edges, so they don't burn. I then turn these parts around to face the middle of the tray, so the less cooked sides are along the edge of the tray. After they have cooked on both sides for about 10-12 minutes, break them up entirely and put back in the oven for about another few minutes or until the crackers are cooked through. They may appear to be slightly overcooked but they aren't.
Enjoy!
Kxx
LOW CARB CHEESE ALMOND CRACKERS

2 cups almond meal/almond flour
1 cup fresh grated parmesan cheese
1 large egg
1/4 cup water
1 tspn paprika
1 tspn onion powder
1/2 tspn garlic powder
1/2 tspn mustard powder
1/2 tspn salt

Preheat oven to 160 C/320 F fan forced

Method
1. Mix all of the dry ingredients together till well combined.
2. Beat the egg and add the water, mixing well.
3. Add the wet ingredients and cheese to the dry ingredients and mix till combined. Allow mix to sit for 10 minutes in fridge.
4. Roll out the mixture in 2 batches between 2 pieces of quality baking paper as per images above until 3-5 mm thick.
5. Use a knife and cut the mix into desired shapes by lifting and pressing the knife into the mix- no back and forward movements or you will tear the dough.
6. Bake on the baking paper in the oven for 10-12 minutes. Turn the mixture over to bake on the other side for a further 10- 12 minutes. During baking you may need to break off the well cooked biscuits along the edges and turn the biscuits so the less cooked side is closer to the edge of the pan to prevent any biscuits over cooking.
7. After baking on both sides, break the biscuits along the cut lines and bake for a further 3-5 minutes in the oven with the well cooked biscuits toward the centre of the pan until cooked through.
4. Allow to cool.

Store in an airtight container for up to 2 weeks- if they last that long.

A KETohh creation
www.ketohh.com