Low Carb Cheese Almond Crackers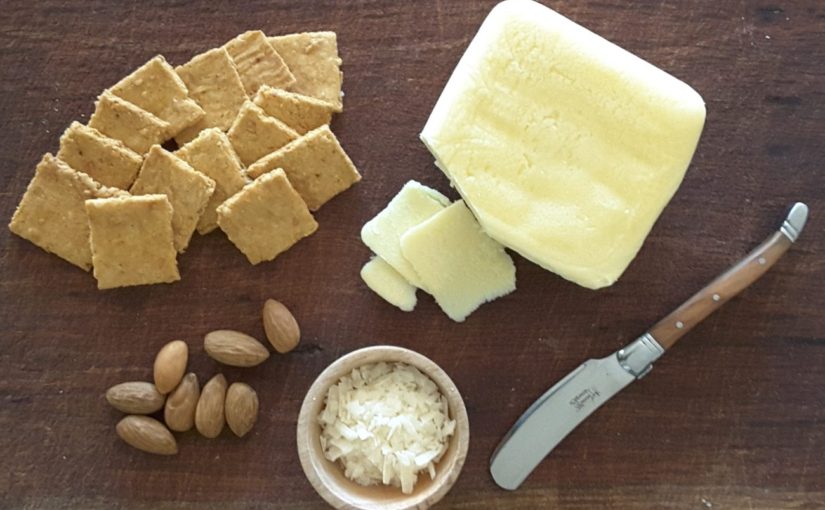 Low Carb Cheese Almond Crackers
Warning…..control needed when eating these Low Carb Cheese Almond Crackers, as they are very moreish. I was experimenting with crackers and was trying to come up with a way to use some Parmesan cheese that was about to go out of date by making cheese crackers. The first time I made this recipe I thought that I had overcooked the crackers and that they were a failure…but then I tasted them. These taste absolutely divine. I can't remember what the taste reminds me of- perhaps a biscuit that used to be on the market called Cheds but regardless, the flavor is spot on.
The feature photo has the crackers served with cheese but actually, these crackers are delicious served simply on their own, and this is why you need to make sure you don't overeat them. Although the recipe specifies grated Parmesan cheese, I sometimes use a mix of cheeses, depending on what I have in the fridge. You are better off to use finer grated cheese to avoid lumps in the dough but the crackers will still cook up fine, but may be a bit more jagged on the edges.
Making these crackers follows my usual method for seed or almond crackers, by using quality baking paper and a rolling pin, to prevent sticking and to get the mixture thin.
Baking Tips
You will have to watch these in the oven as they do cook quicker on the outside edges than in the centre of the tray. You may find that as they are cooking, you may have to break off the more cooked parts along the cut lines near the edges, so they don't overcook. I then turn these parts around to face the middle of the tray, so the less cooked sides are along the edge of the tray, and at times you may have to remove them earlier from the oven than the less cooked crackers.
After the crackers have cooked on for about 10-12 minutes on one side I try to break them up and then put them back in the oven for about 2-3 minutes or until the crackers are cooked through and dry in the centre. They may appear to be slightly overcooked but they aren't, and, the crispy crackers taste amazing when cool. If you are after a less cooked cracker then simply drop your oven temperature a little and leave the crackers to cook for a little bit longer.
One other thing I have noticed with these crackers is that the flavor of these actually develops over time as well. For some reason, they taste even better the day after they are cooked, not that they don't straight from the oven.
More Delicious Low Carb Cracker Recipes
If you are after some other gluten free, low carb cracker recipes, have a look at this recipe for Low Carb Almond Seed Crackers and there is also another seed cracker recipe that is nut free, Low Carb Seed Crackers. Both are equally delicious and I struggle to pick my favorite out of these two but I do like to have the Low Carb Seed Crackers if I ever I feel like I have been eating too many nuts as they are nut free as well as egg free. There is also a lovely recipe for a really plain cracker, that is brilliant with food with lots of flavor, Low Carb Health Crackers.  I've recently added another recipe for a really simple cracker recipe that I recommend you try, that uses just 3 ingredients and bakes in just 10 minutes. Sesame Chia Parmesan Crackers are so easy to make.
I suggest you make these and see what you think of this delicious cracker recipe.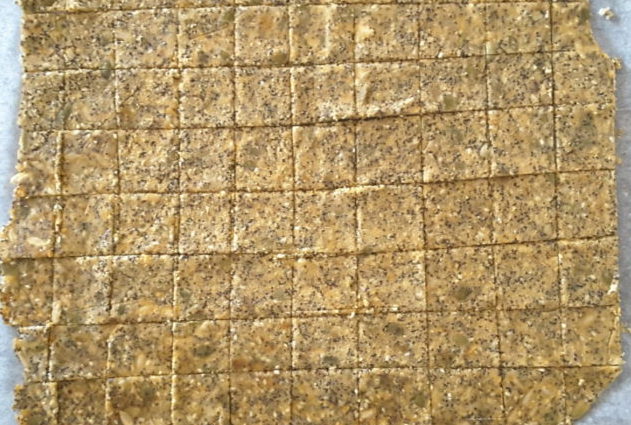 Ingredients
2

cups

almond meal/almond flour

1

cup

fresh grated Parmesan cheese or a mix of Parmesan and finely grated tasty cheese.

1

large egg

2

tablespoons

hot water

1

tablespoon

extra virgin olive oil- EVOO

1

teaspoon

paprika

1

teaspoon

onion powder

1/2

teaspoon

garlic powder

1/2

teaspoon

mustard powder

1/2

teaspoon

salt
Instructions
Preheat oven to 170 C/340 F fan forced

Mix all of the dry ingredients together till well combined.

Mix in the egg, water and EVOO, mixing well. Add the grated cheese and mix till combined.

Allow mix to sit for 10 minutes in the fridge or on the bench to firm up a little.

Shape the dough into 2 balls, smoothing the edges of the dough. Roll out each ball of mixture in between 2 pieces of quality baking paper as per images above, until approximately 3-5 mm thick.

Using a knife, cut the dough into desired shapes using a lift and cut motion. Lift and cut, lift and cut- no see sawing motion or you will tear the edges of the dough. You may need to wipe the knife down in between to prevent sticking as well.

Bake on the baking paper in the oven for 10-12 minutes. Leave the tray on the bench for a couple of minutes to allow the cheese to firm up a little and then break up the crackers separating them if you can, removing from the tray any that are cooked through and starting to brown.

Move the less cooked crackers in the middle of the tray to the hot spots in your oven, in my case this is along the edges of the tray. Return the tray to the oven and bake for another 3-5 minutes or until all of the crackers are cooked through.

Leave crackers to cool before breaking up any remaining crackers.

Allow to cool before storing in an airtight container.
Recipe Notes
Note that during baking you may need to break off the well cooked biscuits along the edges and turn the biscuits so the less cooked side is closer to the edge of the pan. This is to prevent any biscuits over cooking along the edges. You may also need to remove some of these from the oven during cooking if the crackers are over cooking. *If your crackers are thicker they may need more time and perhaps a lower temperature to cook. These crackers may not have a perfect cut edge because the cheese can prevent them from breaking off cleanly. I just think of them as home made Artisan biscuits. Besides, if they look too perfect, no-one is going to ask if you made them. *Dry crackers will last longer in storage than soft crackers so make sure they are cooked through. Store in an airtight container for up to 2 weeks- if they last that long.
Nutritional Information
Serving:
1
serve
|
Calories:
100
kcal
|
Carbohydrates:
1
g
Note that we calculate our own nutritional values so they may not be precise. Calculate your own if desired. Carb values exclude sugar alcohols such as Erythritol, as they generally have no impact on blood sugar levels. 50% of the carbs from Xylitol is added to nutritional values. This is consistent with industry practice.
Do you want to receive more recipes like this one? Subscribe to our newsletter now!
They are certainly a favorite of mine.
Enjoy!
Kxx