Low Carb Healthy Crackers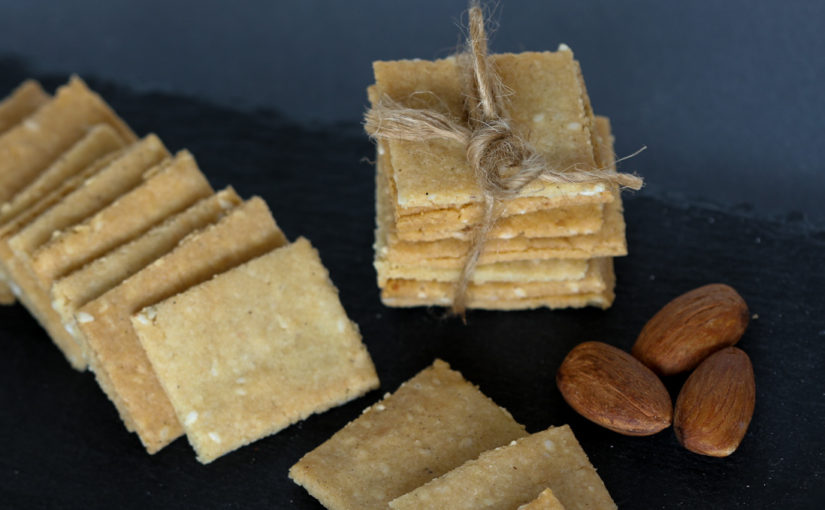 Low Carb Healthy Crackers
These delicious crackers are absolutely perfect for when you want a plain tasting cracker, a little like a water cracker or Lavosh crackers. Ideal to use in a cheese platter, pate, for a healthy snack, or to have with your favorite dip. Made very simply from almond flour/meal, an egg, olive oil and salt, these are so easy to make and will become a favorite recipe of yours, especially if you are a cheese fiend like I am. I have given you the option of adding sesame seeds or poppy seeds to create more of a Lavosh style cracker. You could also cut the crackers in longer, slimmer rectangles, to emulate Lavosh crackers as well.
Instructions For Rolling Out The Dough
Make sure you follow my usual instructions for rolling out a gluten free dough like this out, to prevent the dough from sticking to everything, including the rolling pin. It will also help you get a lovely even surface which will also help you to cut the crackers out evenly. The oil in this recipe does make it a little easier to handle but I would still roll the dough out between 2 sheets of quality baking paper.
How to Roll out your Cracker Dough
It's funny how I would never have thought of making my own crackers in the past. It is only through making big changes to the way that I eat and trying to avoid processed foods, sugar etc, that I now make a lot of things like this myself. There is definitely no compromise with the replacement home made cracker and these crackers are better and healthier than store bought crackers. Even my non low carb friends who come over to our house, eat all of the variations of my low carb crackers over any thing else that might be on offer. These Low Carb Healthy Crackers are simply healthy, nutritious, preservative free 'artisan' crackers that many people would pay a lot of money to buy. This is pure, good unadulterated food at it's best and I will never go back to buying processed crackers again.
More Delicious Low Carb Cracker Recipes
If you like this recipe, you should also check out some of my other cracker recipes such as Low Carb Seed Crackers, all of which suit a low carb, sugar free, gluten free and wheat free lifestyle. Try these Low Carb Almond Seed Crackers for another fairly plain flavored cracker that is also ideal for cheese platters, dips etc. There is also a fantastic Low Carb Cheese Almond Cracker recipe, which creates wonderful Parmesan flavored crackers which go great served with food but are equally fantastic eaten just on their own. All of these are fantastic recipes that are really healthy cracker options that you are going to love and will come in very handy for entertaining and healthy snacking.
Kx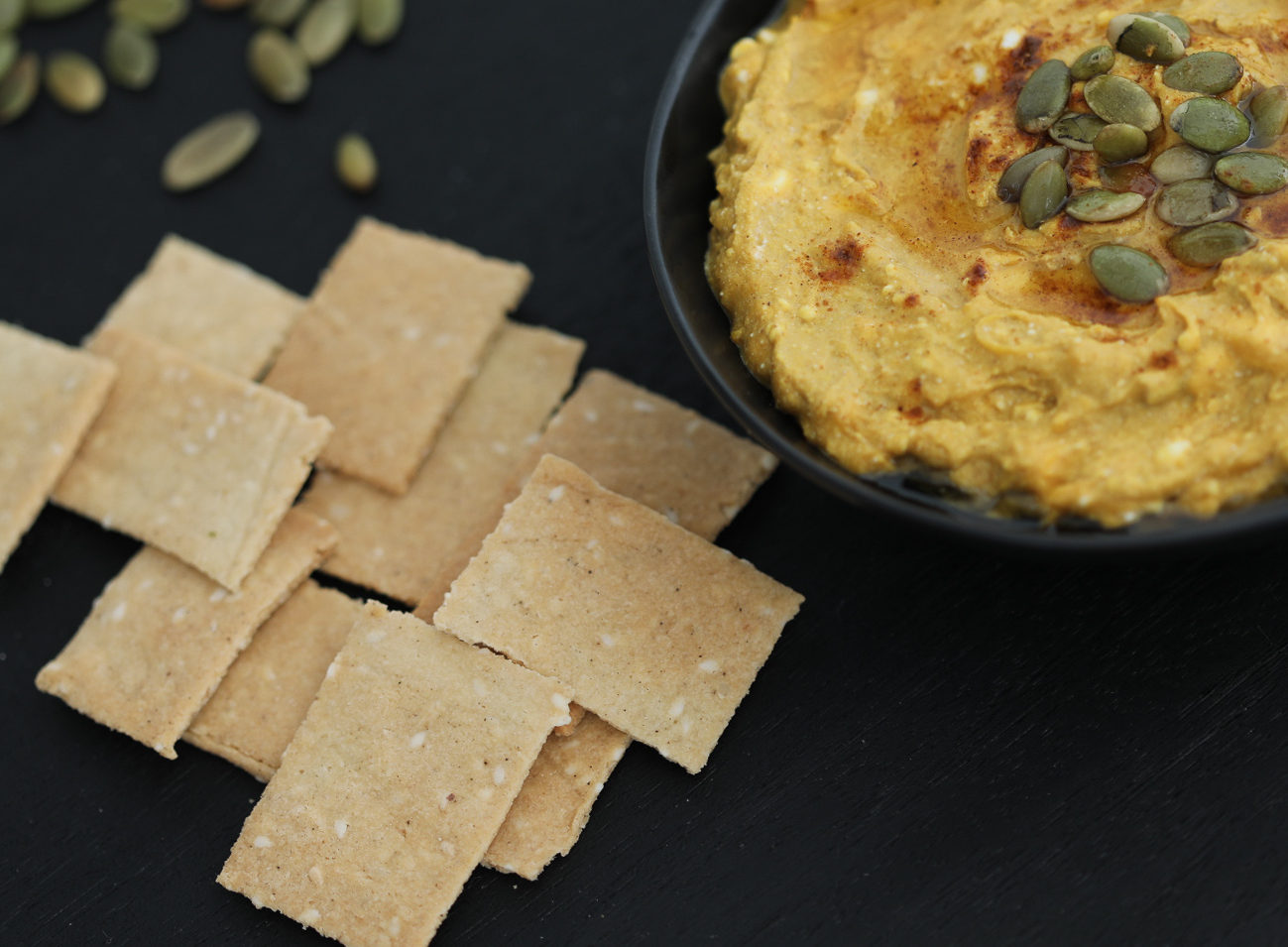 Ingredients
200

gms

/7 oz almond meal

1

egg

2

tablespoons

EVOO- extra virgin Olive Oil

2

tablespoons

water

½

teaspoon

salt

2 tablespoons poppy seeds or sesame seeds

optional
Instructions
Preheat oven to 170 C/ 340 F fan forced

Mix all ingredients together until well combined. Divide the mixture in to 2 balls and let the mixture sit for 10 minutes.

Roll one of the balls into a longer cigar shape and place in the centre of a baking tray sized piece of baking paper. Place another piece of baking paper the same size on top of the dough and roll out the mix using a rolling pin till about 3-4 mm thick.

Using a knife, cut into desired shapes, taking care to just press the knife into the mix, not moving the knife back and forth through the dough (or it will tear.) Repeat the process with the other dough ball.

Bake at 170 C/340 F fan forced for approx 10-15 minutes. Turn over and break along cut lines and return to the oven for a further 3-5 minutes or until baked through and thoroughly dried out.

Allow to cool before storing in an airtight container for approximately 2 weeks.
Nutritional Information
Serving:
1
serve
|
Calories:
154
kcal
|
Carbohydrates:
1
g
|
Protein:
5
g
|
Fat:
14
g
|
Fiber:
2
g
Note that we calculate our own nutritional values so they may not be precise. Calculate your own if desired. Carb values exclude sugar alcohols such as Erythritol, as they generally have no impact on blood sugar levels. 50% of the carbs from Xylitol is added to nutritional values. This is consistent with industry practice.
Do you want to receive more recipes like this one? Subscribe to our newsletter now!