Sesame Chia Parmesan Crackers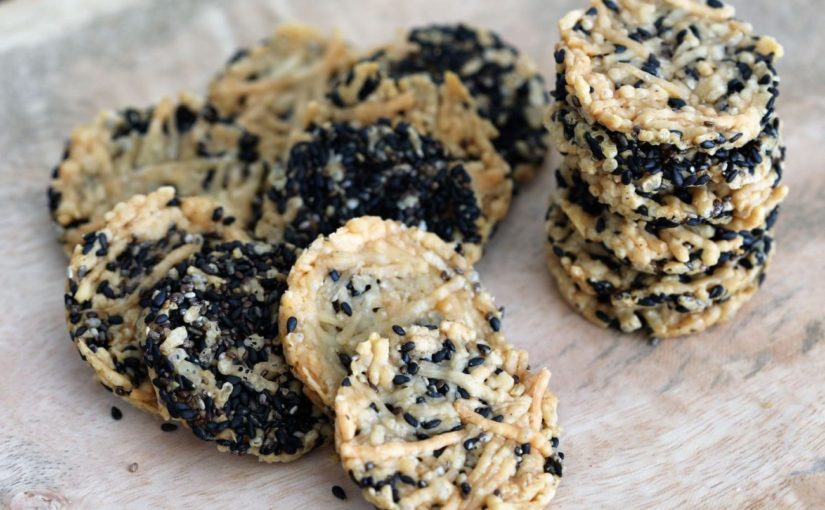 Sesame Chia Parmesan Crackers
Sesame Chia Parmesan Crackers
If you are trying to cut back on your carbs and overly processed foods, then buying low carb crackers from the supermarket is often not possible. I was inspired to make these delicious and really simple to make Sesame Chia Parmesan Crackers after I found a packet in my local supermarket. They looked great but were going to cost nearly $10 for just a few crackers. Now that's a lot of money to spend on crackers!  I decided to try to replicate the recipe, which I did with great success.
This recipe not only tastes brilliant but is also healthier than the original cracker, as I added chia seeds and increased the amount of sesame seeds.  By increasing the ratio of seeds to cheese, I've upped the nutritional value of these crackers. 
Just 3 ingredients required
Aside from the amazing taste of these Sesame Chia Parmesan Crackers, they only require 3 ingredients to make and literally only take 10 minutes to cook. So, these are cheap to make, they taste amazing and they are really simple to cook and in very little time. What is not to love about that? I also love the contrast of the top to the bottom of these crackers. The seeds tend to settle more on the bottom so the crackers are darker underneath and lighter on top. They look really good.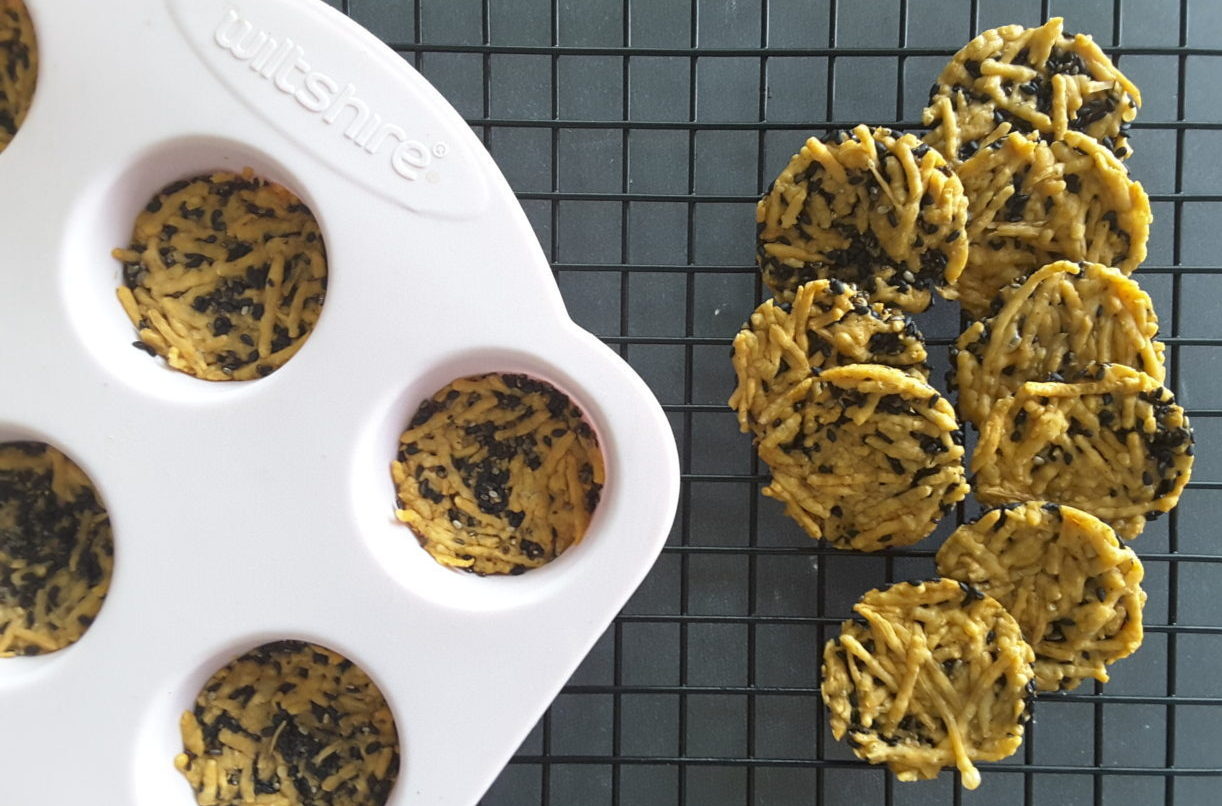 Mix it up
These crackers taste great using black sesame seeds and chia seeds but you could easily switch the seeds for poppy seeds or your regular sesame seeds. Make sure you mix the seeds through with the cheese so they are evenly distributed. You may end up with a few wasted seeds at the bottom of the pan, if they haven't been taken up by the cheese. Try to make sure the cheese does cover the base of whatever mini cup cake pan you use, otherwise you will end up with holes in your crackers. Not that it really matters as these are artisan biscuits and will look fantastic regardless.
There is no need to add any salt or additional flavorings such as onion or garlic powder, to this recipe. There is plenty of salt and flavor in the cheese and they would end up being overpowering in taste. An alternative way to bake these is to create mounds with the grated Parmesan cheese and sprinkle the seeds on top of each mound before baking. I personally prefer the look of the premixed crackers as I love how they cook with the seeds on the back.
More delicious keto cracker recipes
If you are interested in some other fantastic low carb cracker recipes, I highly recommend you try making Low Carb Almond Seed Crackers, Low Carb Healthy Crackers (which are bit plainer,) or this recipe for a really nutty seedy cracker, Low Carb Seed Crackers.
I hope you love this simple to make recipe as much as I do. If you like it, please leave some feedback below or share it on facebook, pinterest and/or instagram if you can. If you tag it with #ketohh or #alowcarblowsugarlifestyle, I will find it.
Thanks Kxx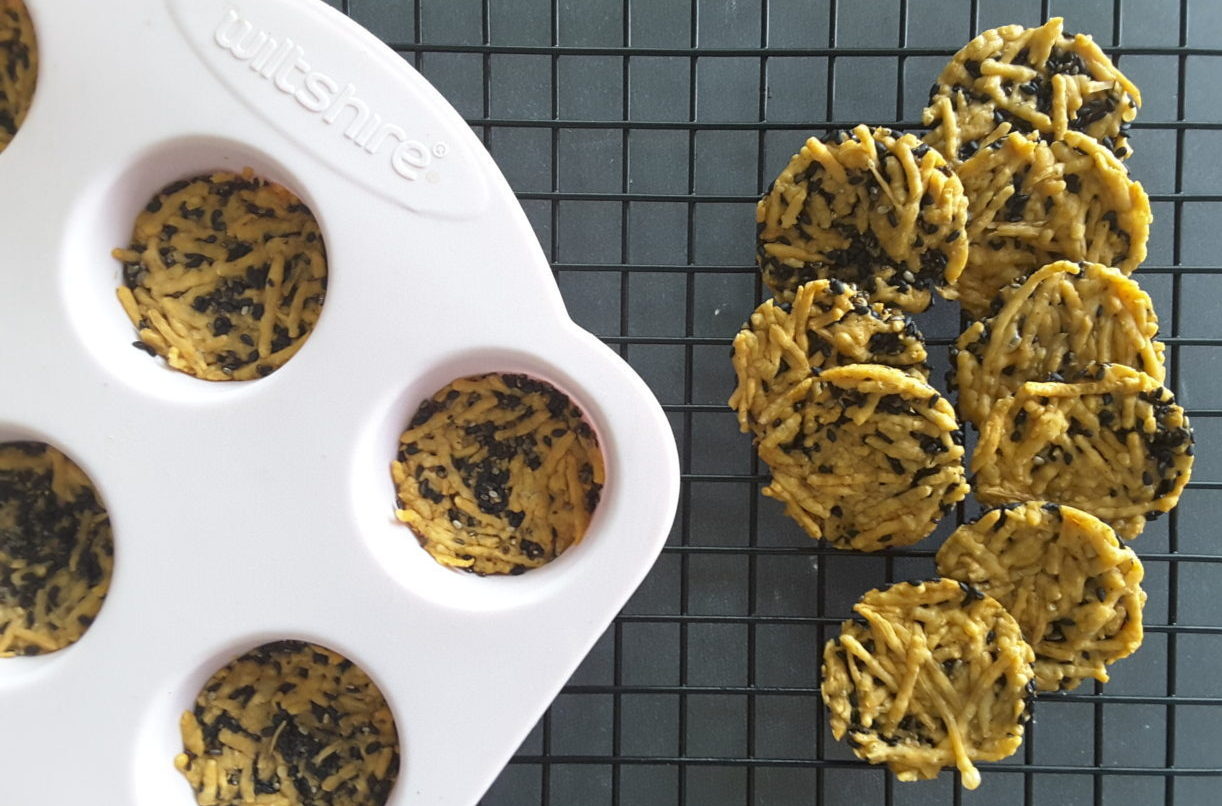 Instructions
Preheat oven to 190 C/374 F fan forced

Mix all ingredients together.

Place teaspoonfuls of mix in the base of a small silicon cupcake pan. You could also place in piles on a piece of quality baking paper on a large tray, but may have to shape them a little.

Cook for 10- 12 minutes or until the cheese melts into crackers, taking care not to overcook. If you under cook them they will be soft. The trick is to cook them till they brown but not too much or they will taste burnt. You want them crispy.

Allow to cool slightly before tipping out onto a rack to cool completely. Store in an airtight container for up to a week.
Recipe Notes
You can use herbs, nuts, spice mixes and other flavorings to vary the taste of these crackers. They also taste amazing made just with cheese.
Vary the cheese that you use. I like to buy tasty cheese slices and cut them into quarters and cook them exactly the same way.
Nutritional Information
Serving:
1
serve of 10
|
Calories:
48
kcal
|
Carbohydrates:
1
g
|
Protein:
3
g
|
Fat:
3
g
|
Fiber:
1
g
Note that we calculate our own nutritional values so they may not be precise. Calculate your own if desired. Carb values exclude sugar alcohols such as Erythritol, as they generally have no impact on blood sugar levels. 50% of the carbs from Xylitol is added to nutritional values. This is consistent with industry practice.
Do you want to receive more recipes like this one? Subscribe to our newsletter now!