Low Carb Eggplant Hummus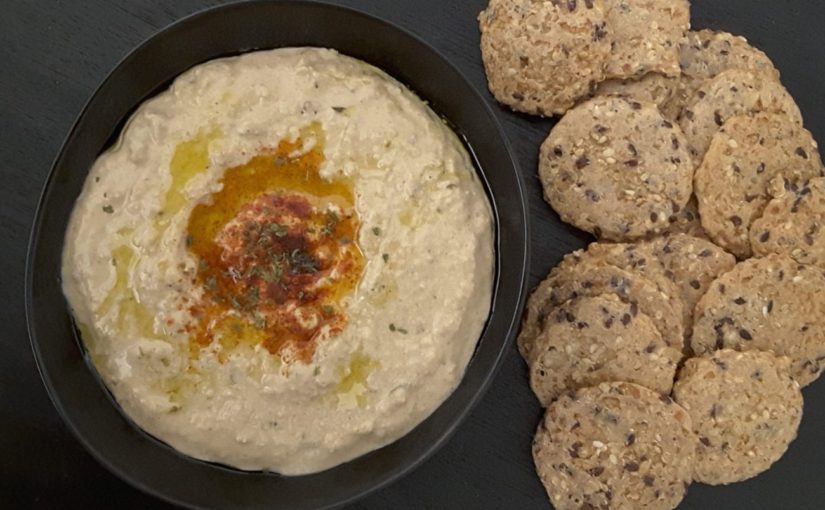 Low Carb Eggplant Hummus is a delicious way to eat hummus without the carbs. It's simple to make, and tastes divine. Use it as a dip, or as a tasty addition to food bowls, eggs, salads and anywhere else you would use traditional hummus. Try this sprinkled with some home-made Dukkah for a great combination of textures and tastes, particularly if you serve it with eggs for breakfast..delish!!
This dip is ideal for any body subscribing to a low carb, keto or LCHF way of eating or if you are looking for a healthy dip recipe. It is also the perfect recipe for any one trying to avoid processed foods and added sugars, although it does have tahini in it, which is processed sesame paste. If I buy tahini, I always try to buy the healthiest, least processed jar that I can and always try to buy unhulled, for the added fibre and nutritional value. It also pays to read the label on the jar so that you know exactly what has been added to the tahini, and so you can avoid preservatives and additives.
I love the fact that this recipe uses the entire eggplant, yet still achieves a little smokiness in flavor because it has been oven roasted. Feel free to blend till smooth or leave it a little chunkier if you prefer. This dish is slightly similar to Baba Ganoush albeit a low carb version.
I love to use this Low Carb Eggplant Hummus recipe as a smear on plates for decorative purposes, as well as flavor, when I make dishes such as oven roasted cauliflower or Moroccan Oven Roasted Pumpkin. It's a lovely way to be creative with your food and how you present it.
This dip is extremely versatile and can be made to suit any lifestyle. To make this dip vegan, paleo or dairy free, simply omit the yogurt and replace it with some additional water.
Enjoy
Kxx
Low Carb Eggplant Dip
1 large eggplant diced
1/2 onion finely chopped
A dash of extra virgin olive oil-EVOO
2 tspns minced garlic
4 Tbspns Tahini
4 Tbspns natural Greek yoghurt unsweetened
4 Tbspns water
2-4 Tbspns lemon juice- or to taste, more for a tarter taste, less for more subtlety.
1/2 tspn smoked paprika
Salt and Pepper to season

Method
1. Drizzle the eggplant and onion with some extra virgin olive oil-EVOO and bake at 200C/400 F for 35-40 minutes. Cover with a lid and allow to steam and soften a little while cooling.
2. Blitz the onion and egg plant mixture, along with the water, garlic and paprika until smooth and creamy (or a little textured if desired.)
3. Add remaining ingredients and blitz or blend until well combined. Season with salt and pepper.
4. Serve drizzled with a little EVOO on top and sprinkle with some additional paprika and fresh parsley.

Variations
To make this vegan/dairy free, simply omit the yoghurt and add some additional water.
Egg plant can be replaced with zucchini.

To Serve
Use as a dip or spread and serve with your favourite low carb crackers or vegetable crudites.
It's delicious when combined with Middle Eastern flavours such as Dukkah, flatbreads, etc.
Use in poke bowls, food bowls and breakfast bowls or as an accompaniment to vegetables such as Moroccan Roasted Cauliflower.

A KETohh creation
www.ketohh.com