Healthy Pumpkin Bread Recipe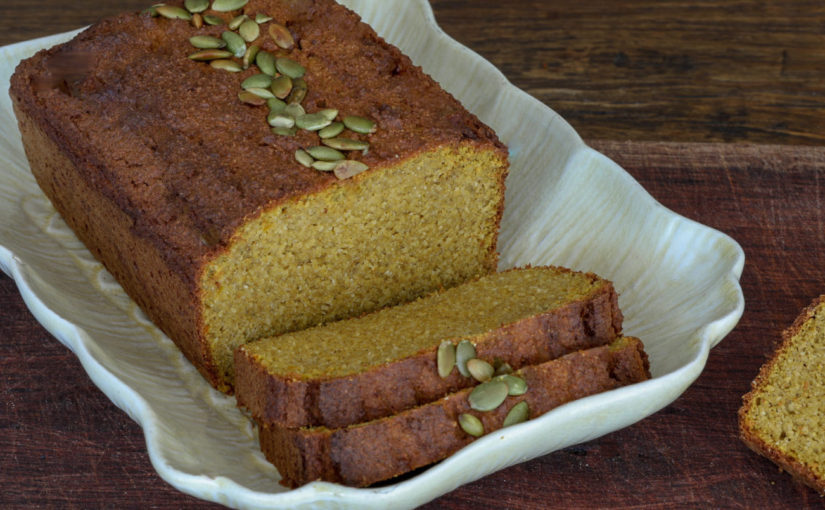 Healthy Pumpkin Bread Recipe
Healthy Pumpkin Bread Recipe
This delicious, simple to make Healthy Pumpkin Bread Recipe is sugar free, low carb and gluten free and it tastes divine. Everything is made from scratch, including the pumpkin puree and spices and you can tell. The natural flavors of the pumpkin and the spices tastes simply amazing. This is real unadulterated food at it's best.
This recipe was made with a monk fruit erythritol blend but it can also be made using a stevia erythritol blend, erythritol or xylitol. If you use xylitol or erythritol then you will need to increase the sweetener amount to between 1/2-3/4 cup. This recipe is ideal for anyone generally trying to reduce the carbs and sugar in their life. It's a great recipe for celiacs, those with a gluten intolerance, and for anyone following a low carb, keto or LCHF way of eating. Even though it uses sweeteners in the recipe, there is an absolute minimal impact on blood sugar levels, which makes the recipe perfect for diabetics as well.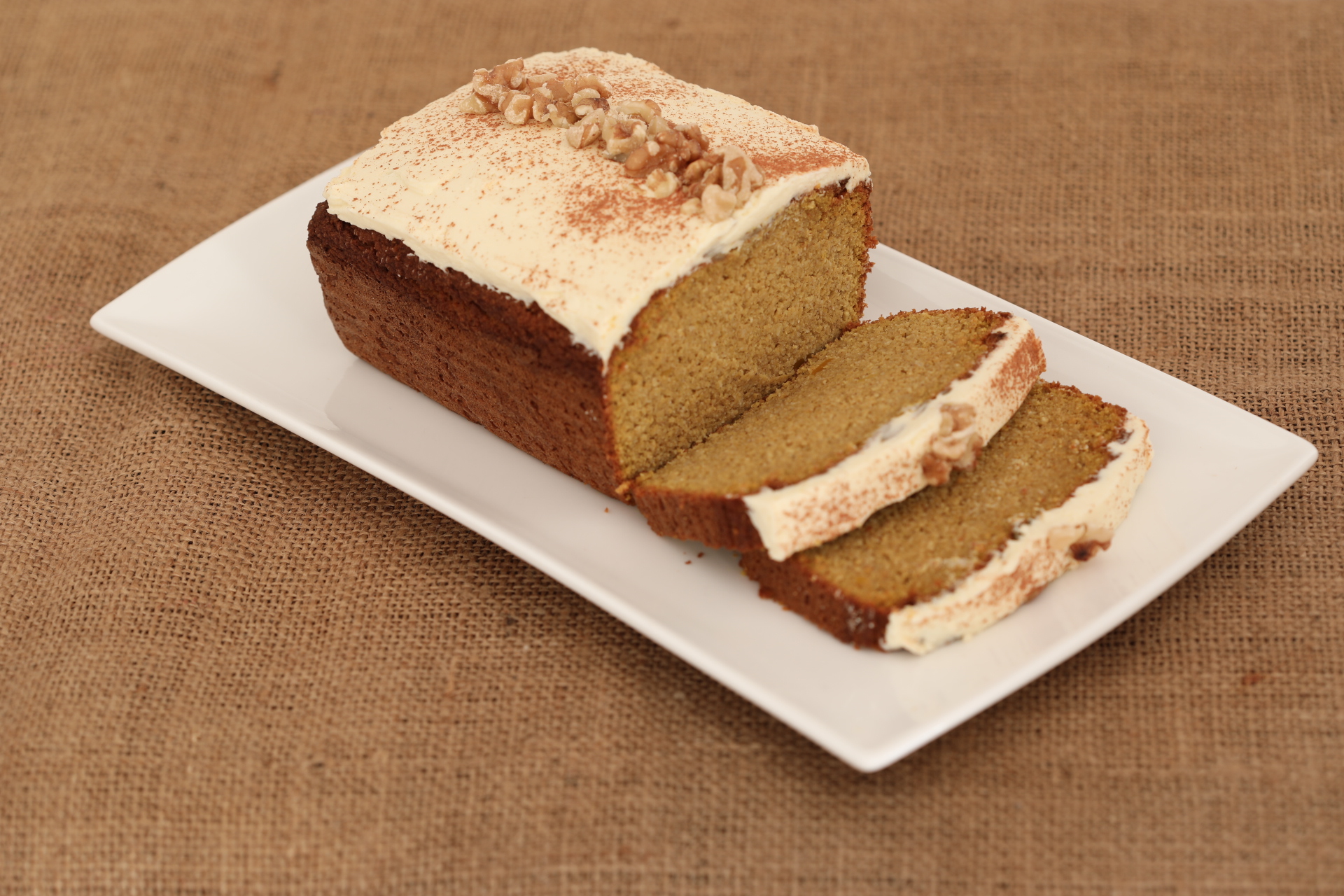 Perfect for a healthy snack, morning or afternoon tea. Try it with a little (or a lot of) butter or eat it simply on it's own. I made my pumpkin puree by steaming the pumpkin and then mashing it. You could boil it or cook it in the microwave as well. If you need to buy processed pumpkin in a can, just make sure there is no sugar added. I'd suggest making extra pumpkin and freezing it so you have it on hand for next time. And trust me…there will be a next time as this recipe is delicious.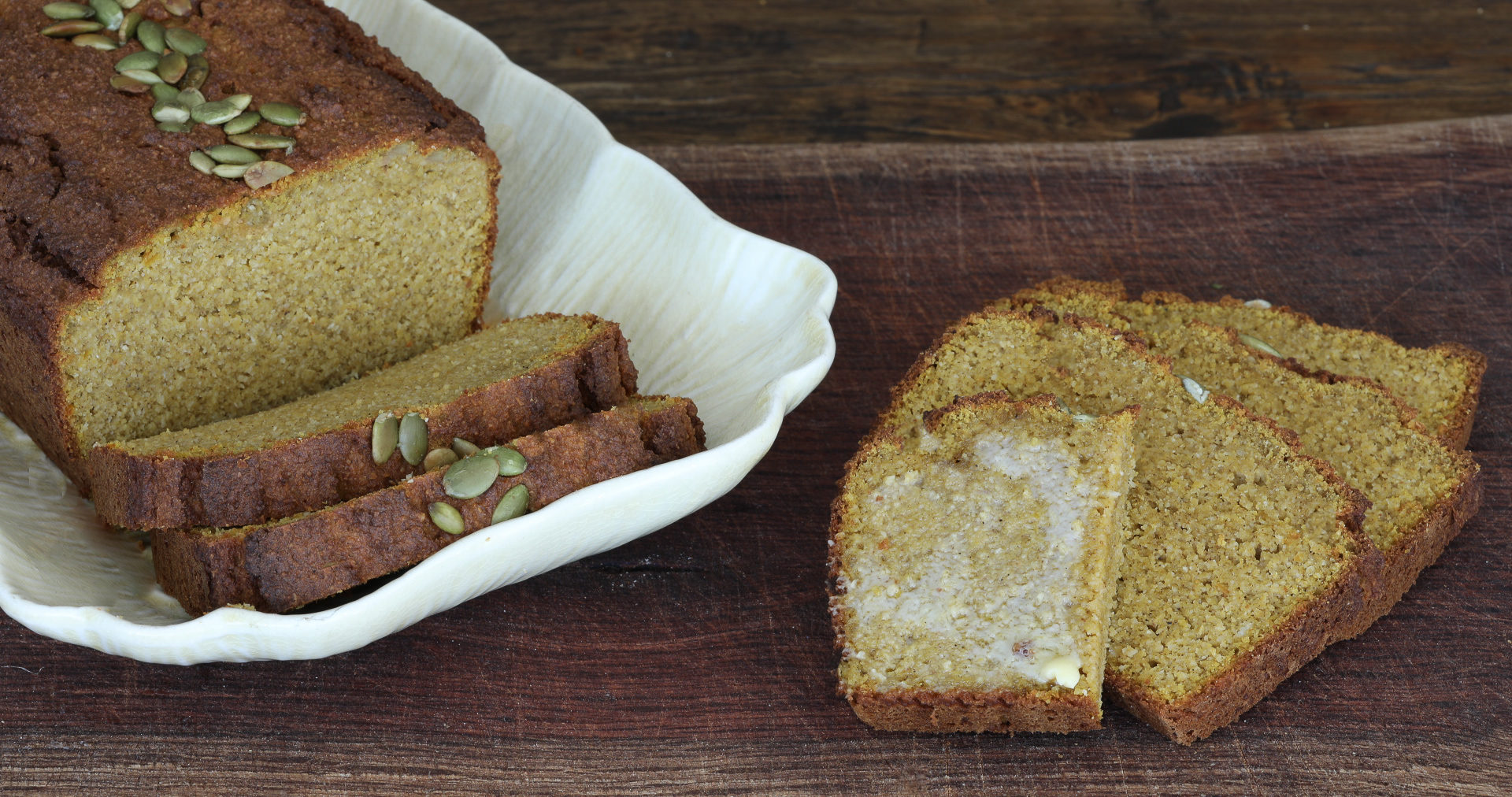 Some extreme low carbers don't eat pumpkin at all so won't even be clicking on this recipe, but for those of you who are watching your carb intake, this recipe has 3/4 cup pumpkin puree in it. By the time you divide that into 18-20 serves, there not many carbs per serve. Note also to use Kent/Kabucha or Japanese pumpkin as it has less carbs in it than butternut pumpkin.
For a delicious alternative, try frosting this delicious pumpkin bread with Low Carb Cream Cheese Frosting. It's a delicious flavor combination and is a great way to serve it. This cake keeps really well and stays moist for days. It also freezes well, even with cream cheese frosting on it.
Happy Baking
Kxx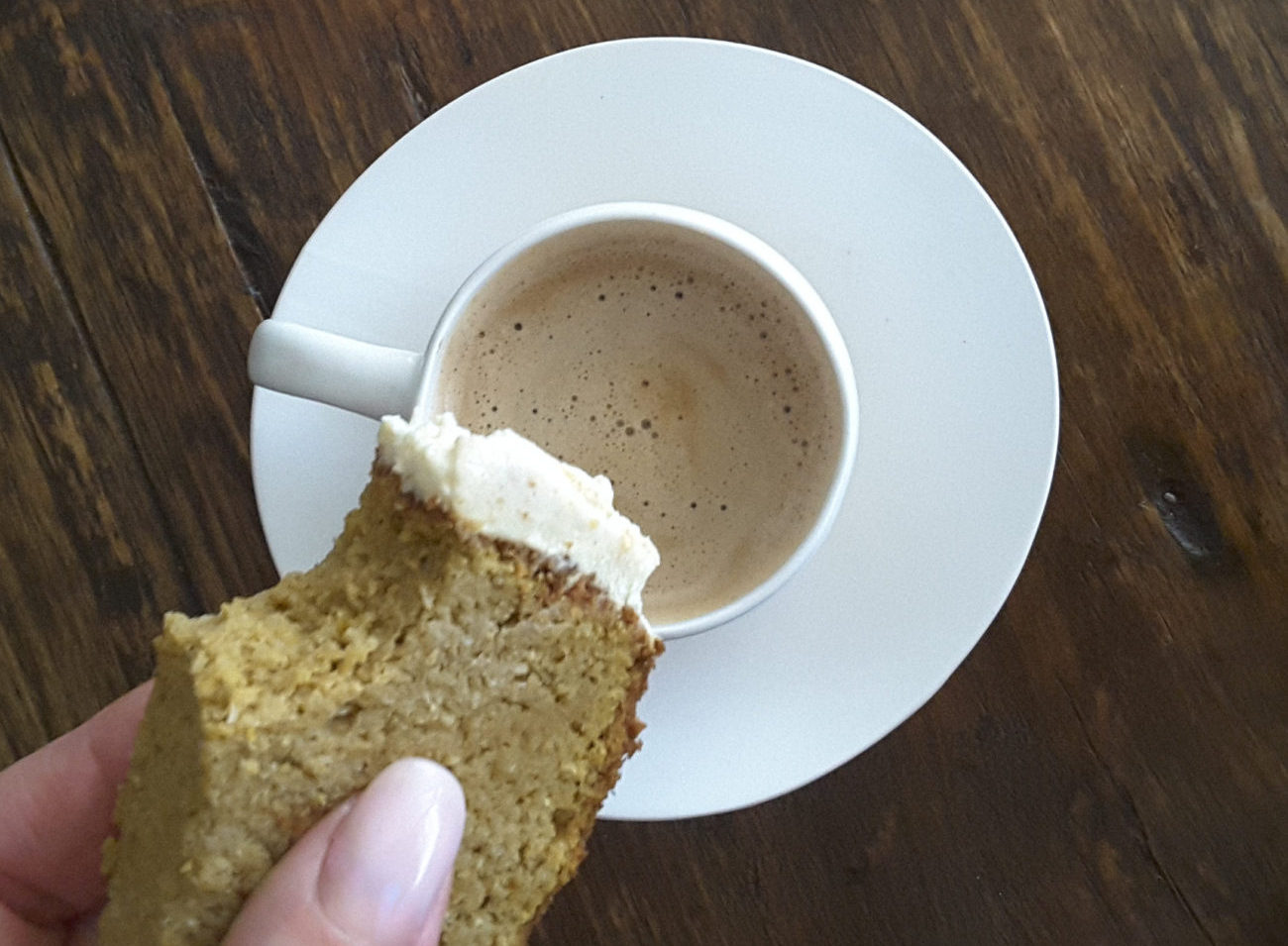 Ingredients
¾

cup

pumpkin puree- steamed or boiled pumpkin mashed

2

cups

almond meal/almond flour

½

cup

coconut flour

4

large eggs

½

cup

EVOO- extra virgin olive oil light in flavor

⅓

cup

sour cream or Greek yoghurt

½

cup

erythritol

or alternative sweetener

1

teaspoon

vanilla extract

2

teaspoons

baking powder

½

teaspoon

baking soda

1 ½

teaspoons

cinnamon powder

¼

teaspoon

nutmeg

¼

teaspoon

cloves

¼

teaspoon

cardamom powder

¼

teaspoon

allspice

¼

teaspoon

ginger powder

A pinch salt
Cream Cheese Frosting
150

gms

cream cheese at room temperature

½

cup

confectioners sweetener

or granulated sweetener that's been processed

1

teaspoon

vanilla extract

50

gms

butter
Instructions
Cake Method
Preheat oven to 165 C/330 F fan forced.

Mix all wet ingredients together in a large bowl and hand mix till combined.

Mix dry ingredients in a bowl till well combined and add to the wet mixture, mix until well combined.

Pour mixture into a prepared 9"x 5"/23 x 13 cm loaf pan and level off the top of the mixture.

Garnish with 2 tablespoons of pecans, walnuts or pepita seeds if you aren't going to frost the cake. Press in down the centre of the cake if desired.

Bake in the centre of the oven for 55-60 minutes or until a skewer comes out clean from the centre of the cake.

Leave cake to cool in pan for 10 minutes and then turn out onto cooling rack.

Delicious fresh served with butter or try it pan fried in butter on each side until golden. Also ideal to be frosted with Cream Cheese Frosting-recipe below.

Store in the fridge in an airtight container for up to 5 days. Recipe is also suitable for freezing.
Low Carb Cream Cheese Frosting Recipe Option
Beat the cream cheese and butter together until smooth and creamy.

Add the vanilla extract and sweetener of choice and beat until well combined and smooth and creamy or for approximately 2-3 minutes. Make sure the sweetener has lost any grainy texture.

Spread on top of cool cake and top with a sprinkling of cinnamon and/or pumpkin seeds/walnuts or pecans.

You can add 1-2 tablespoons of full fat/whipping cream to create a slightly softer frosting, simply add it when you add the vanilla extract.
Recipe Notes
Try adding 1/4 cup of chopped walnuts or pecans to the cake mix for variation.
Frosting Notes- You can add 1-2 tablespoons of full fat dairy cream to create a slightly softer frosting, simply add it when you add the vanilla extract. Any left over frosting can be frozen.
Ensure the sweetener is in powder form for best results in the icing/frosting otherwise it will have a grainy texture. You can process general sweeteners in a food processor to powder.
Any left over frosting/icing can be frozen.
The cake freezes well.
If cakes cooks to quickly please adjust your oven temperature. 
Nutritional Information
Serving:
1
slice
|
Calories:
208
kcal
|
Carbohydrates:
3
g
|
Protein:
5
g
|
Fat:
20
g
|
Fiber:
2
g
Note that we calculate our own nutritional values so they may not be precise. Calculate your own if desired. Carb values exclude sugar alcohols such as Erythritol, as they generally have no impact on blood sugar levels. 50% of the carbs from Xylitol is added to nutritional values. This is consistent with industry practice.
Do you want to receive more recipes like this one? Subscribe to our newsletter now!