Healthy Banana Bread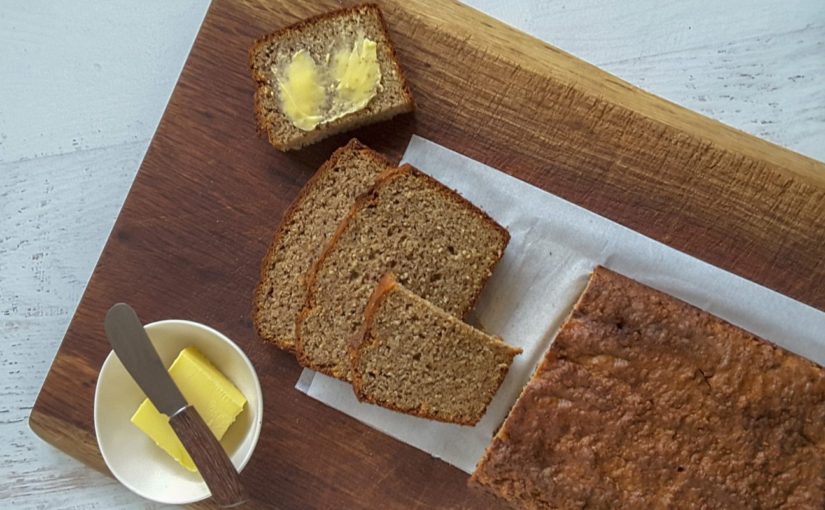 This delicious Healthy Banana Bread recipe is perfect served as cake to have as a healthy snack on it's own, or served topped with a little butter. My favorite way to serve it is to pan fry in butter on the stove top for a delicious treat. This recipe is ideal for anyone generally trying to reduce the carbs and sugar in their life. It's also a great recipe for diabetics, coeliacs, those with gluten intolerance,and for anyone following a low carb, keto or lchf way of eating.
You may have tried my other Low Carb Banana Bread Recipe which is equally as delicious as this one, but it does have the addition of nuts and seeds. This recipe is simply banana with the addition of cinnamon and nutmeg with no added nuts or seeds, aside from the almond flour/meal that is used as a base for the recipe. It is a really moist recipe that keeps really well and is also ideal for freezing.
As my intention is to keep this as low carb as possible, I have only used medium sized bananas in this recipe. You could increase that amount if you wish to give it a more intense banana flavor. Note that 2 banana's divided into 18 serves does not equate to many carbs. You could also make this recipe without any added sweetener as well, as the banana could be adequate in sweetness for you- adding an additional banana may add a bit more sweetness if desired. This recipe is still suitable for someone following a very low carb, keto or lchf diet if you don't add any additional banana and if you watch your intake.
If you like this recipe, you should try my Healthy Pumpkin Bread Recipe as well, which inspired me to make this recipe with banana, as it is a fantastic good base recipe.
Happy baking!
Kxx
Healthy Banana Bread Recipe
Serves approximately 18

Ingredients
2 medium bananas mashed
2 cups almond meal/almond flour
1/2 cup coconut flour
4 large eggs
1/2 cup EVOO- extra virgin olive oil light in flavor
1/3 cup sour cream or Greek yoghurt
1-2 Tbspns Stevia Erythritol Mix or 1/4-1/2 cup Erythritol or Monkfruit Levanto- adjust sweetness to your taste. Tastes great without added sugar as well.
1 tspn vanilla extract
2 tspns baking powder
1/2 tspn baking soda
1 1/2 tspns cinnamon
1/4 tspn nutmeg

Preheat oven to 150 C/300 F fan forced.

Method
1. Mix all wet ingredients together in a large bowl and hand mix till combined.
2. Mix dry ingredients in a bowl till well combined and add to the wet mixture, mix until well combined.
3. Pour mixture into a prepared 9"x 5"/23 x 13 cm loaf pan and level off the top of the mixture.
4. Bake in the centre of the oven for 55-60 minutes or until a skewer comes out clean from the centre of the cake.
5. Leave cake to cool in pan for 10 minutes and then turn out onto cooling rack.

Recipe Notes
Try adding 1/4 cup of chopped walnuts or pecans for variation.
Delicious fresh served with butter or try it pan fried in butter on each side until golden.
Store in the fridge in an airtight container for up to 5 days. Recipe is also suitable for freezing.

A KETohh creation
www.ketohh.com