Low Carb Chocolate Zucchini Cake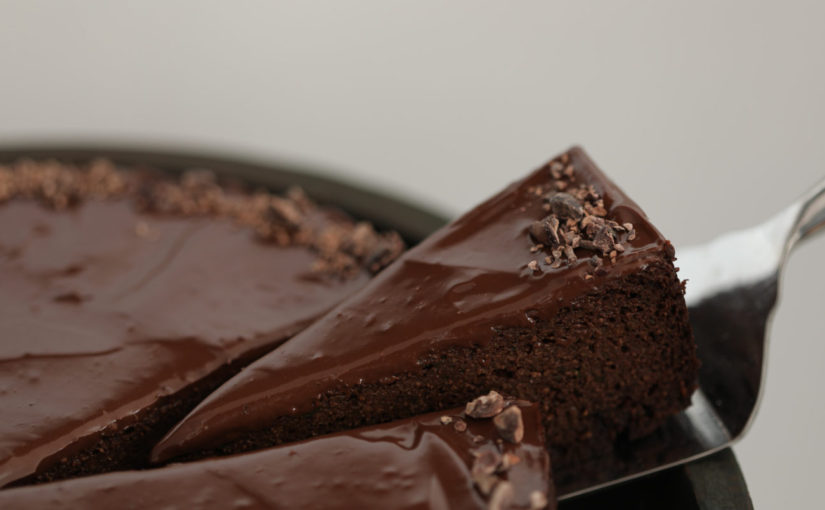 Low Carb Chocolate Zucchini Cake
A Low Carb Chocolate Zucchini Cake that is healthy and nutritious but tastes divine. You are never going to feel guilty serving this cake to your family and friends. They are would never guess that it has the goodness of zucchini added to it or that it is both sugar and gluten free.
Lovely chocolate flavors combined with slightly fudgy centre that is reminiscent of cakes that feature EVOO- evoo. This is a decadent cake that can be served for afternoon tea. It also makes a delicious dessert served with a dollop of cream or low carb ice cream.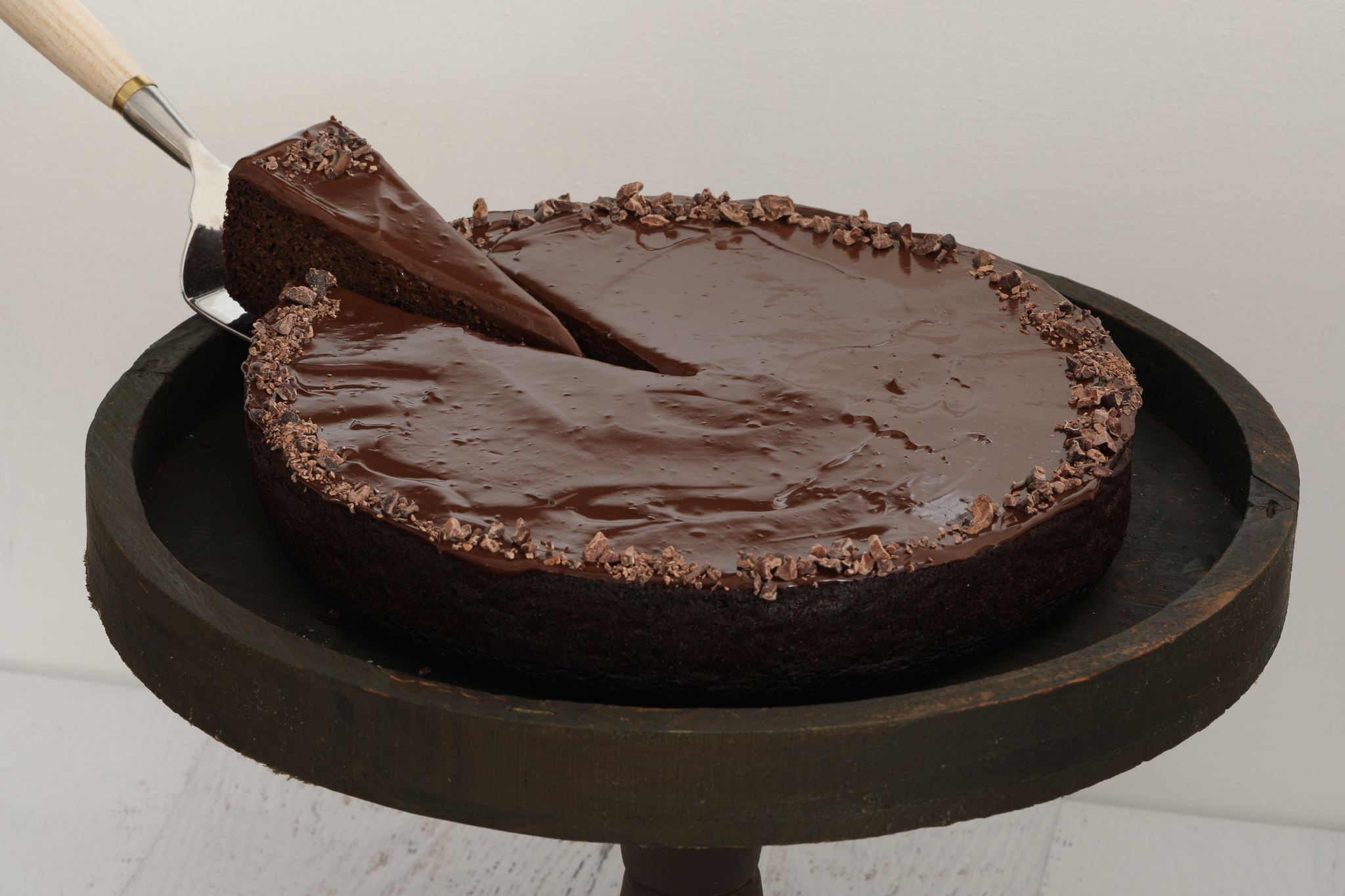 A Versatile Recipe
This cake is ideal for a celebration cake, to be made into cup cakes or for a slab cake. You will have to vary the cooking times for different cake pan sizes.It makes the perfect cake for birthday or celebration cake, as it is quite dense and would layer really well.
Icing and Frosting Options
There are a couple of options for icing/frosting this cake. My personal favorite is a very simple dark chocolate ganache which is made from cream and dark chocolate. You can make it a runnier ganache, or thicker, depending on the ratio of cream to chocolate that you use. You could also try using my recipes for a Low Carb Cream Cheese Frosting or a Low Carb Buttercream Frosting.
This is a lovely moist cake, that isn't quiet as rich as a couple of my other chocolate cake recipes which have much stronger dark chocolate flavors.  I really enjoy a slice of this with a coffee and it is also fabulous as a dessert, simply zapped in the microwave for a few seconds and served with some whipped cream. If you want to up the chocolate flavors in this recipe, add an additional 1/4 cup of cocoa and use Dutch processed cocoa powder. Chocolate chips could also be added to the recipe.
Olive Oil
As with any cake recipe that features olive oil, make sure you use a light flavored extra virgin olive oil. Make sure that you don't use a processed "Light Olive Oil", or you are going to be very disappointed with the flavors.
My favorite oil to use in Australia is the Cobram Estate Extra Virgin Olive Oil in the mildest flavor. It works perfectly in baking cakes like this one because it is so mild in flavor. If you struggle to find a mild tasting olive oil, you can also switch the oil for melted butter.
More Fabulous Chocolate Cake Recipes
If you are after a richer chocolate cake, try this recipe for Dark Chocolate Zucchini Muffins. If you are after another milder chocolate flavored cake a little bit similar to this one but without the zucchini, I also recommend you try making this simple Chocolate Olive Oil Cake. Don't let the olive oil turn you off making this cake as you cannot taste it at all. This recipe is really versatile as well and is absolutely delicious both as a cake and even as a pudding, especially when served with whipped cream or a low carb ice-cream.
If you are after a really decadent Chocolate Cake then make sure you have a look at this recipe for a Low Carb Chocolate Fudge Cake, the piece de resistance of chocolate cakes. The recipe is a bit of a copy cat of one of Ottolenghi's most famous chocolate cakes and is truly divine.
If you are after some other great cake recipes, you might want to look at these recipes as well.
Low Carb Orange and Almond Cake
Sugar Free Mandarin Macadamia Cake
Low Carb Lemon Syrup Cake
Low Carb Carrot Cake
Healthy Banana Bread
Low Carb Banana Loaf-a denser loaf with lots of nuts and seeds
Healthy Pumpkin Bread
You are going to want to bookmark this recipe as it is sure to become a favorite of yours. I'm building up quite a repertoire of chocolate cakes now so there is literally one for every occasion.
Kxx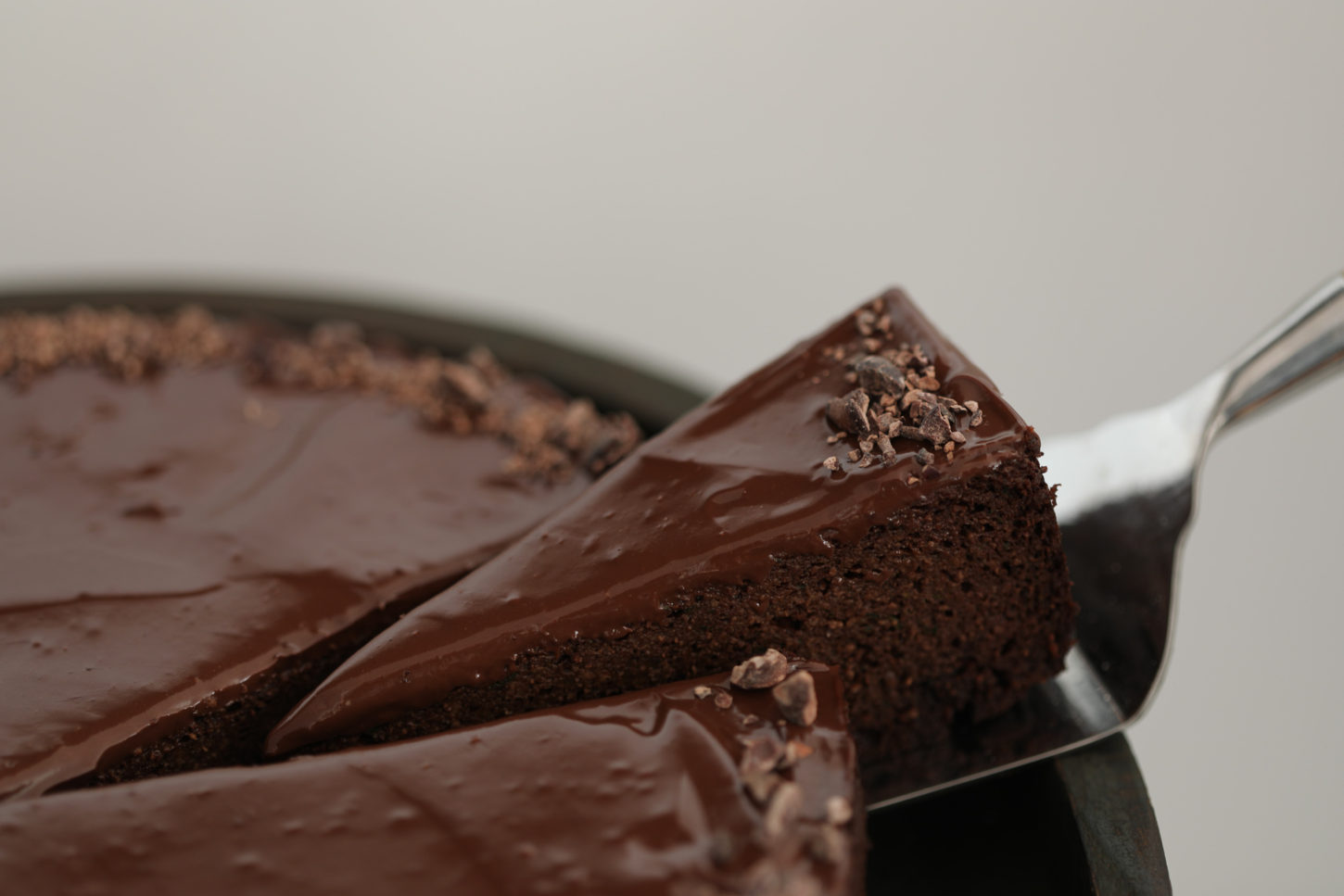 Ingredients
Cake Ingredients
2

small

zucchini/courgette approximately 300 gms /10 oz

squeeze out excess water if required

3

large

eggs

2

teaspoons

vanilla extract

175

ml

EVOO- extra virgin olive oil

light in flavour (not light olive oil)

2

tablespoons

boiling water

2

teaspoons

instant coffee

coffee helps lift the chocolate flavors

250

gms

almond meal/almond flour

2

tablespoons

coconut flour

75

gms

cocoa powder unsweetened

or cacao powder/Dutch processed powder

4

tablespoons

Stevia Blend

or alternative sweetener such as monkfruit

2

teaspoons

cinnamon ground

½

teaspoon

allspice powder

1½

teaspoons

baking powder

1

teaspoon

baking soda

Pinch

of salt
Chocolate Ganache Ingredients
100

mls

full fat pure/heavy cream

75

gms

dark chocolate 80% couveture or more
Instructions
To Make the Cake
Preheat the oven to 170 C/ 340 F fan forced oven

Grate the zucchini/courgette. If there is too much moisture in the zucchini, squeeze some of the juice out. See notes for further details.

Beat eggs with a hand mixer for 3 minutes in a medium bowl until light and fluffy. Dissolve the instant coffee in the boiling water and allow to cool slightly.

Mix all the dry ingredients in a large mixing bowl until well combined, ensuring there are no lumps and the baking powder and soda are well distributed.

Add the EVOO-oil, vanilla extract, dissolved coffee and zucchini to the eggs and beat with the hand mixer until combined.

Add the liquid ingredients to the dry ingredients and mix until really well combined.

Pour into a greased and lined 8" or 9" baking pan and smooth out the top ensuring there aren't any air bubbles.

Bake for 50-55 minutes or until the cake is cooked in the centre.

Leave to cool in tin for 10 minutes then leave to cool on a cooling rack. Top the cake with ganache when it has completely cooled down.
To Make the Ganache
Heat up the cream just to below the boil (don't boil or you will have lumps in your gananche) and remove from heat (or microwave) and add the chocolate. Stir until the chocolate has blended with the cream, and allow to cool before using.


Drizzle the ganache on before it thickens for a drizzle finish or allow ganache to cool in the fridge to a slightly thicker consistency before icing the cake. This is enough ganache for a thin coating on top of the cake.

Note that you can make a stiffer ganache by increasing the amount of chocolate you add, ie., make it 1 :1 cream to chocolate (2.5 oz/75 gms of each) for a stiffer ganache or make it 2 parts chocolate to 1 part cream (3.5 oz/100 gms chocolate to 1.8 oz/50gms cream) for a much stiffer and pipeable ganache. You can also make it thinner and more like a pourable chocolate sauce by using 1 part cream to .5 amount chocolate (ie, 3.5 oz/100 gms cream to 1.8 oz/50 gms chocolate.)
To Serve
This cake tastes lovely served as it is fresh from the oven, or when iced or frosted.

Try serving it simply with a dollop of cream, marscapone or some icecream.

For a delicious hot dessert, simply zap in the microwave for a few seconds to warm it up and serve with whipped cream. If you haven't ganached it, pour some of the pourable chocolate sauce over the top to serve.
Recipe Notes
If young firm zucchini are used in this recipe and don't have much moisture, there is no need to squeeze the liquid out of them. If there is a lot of moisture present after you have grated yours, give it a squeeze over a colander or in a muslin bag to remove the excess liquid before adding to the recipe.
 If using erythritol or xylitol as the sweetener, add 3/4 cup.
Add 1/2 cup of dark choc chips for variation. You can make your own by cutting up a dark chocolate bar.
For a richer chocolate taste, increase the cocoa to 1 cup or 100 grams/3.5 oz. Dutch processed cocoa will you give richer chocolate flavors and is the queen of cocoa powder.
Nutritional Information
Serving:
1
serve
|
Calories:
185
kcal
|
Carbohydrates:
3.5
g
|
Protein:
4.4
g
|
Fat:
17.8
g
|
Fiber:
2.5
g
Note that we calculate our own nutritional values so they may not be precise. Calculate your own if desired. Carb values exclude sugar alcohols such as Erythritol, as they generally have no impact on blood sugar levels. 50% of the carbs from Xylitol is added to nutritional values. This is consistent with industry practice.
Do you want to receive more recipes like this one? Subscribe to our newsletter now!