Low Carb Lemon Syrup Cake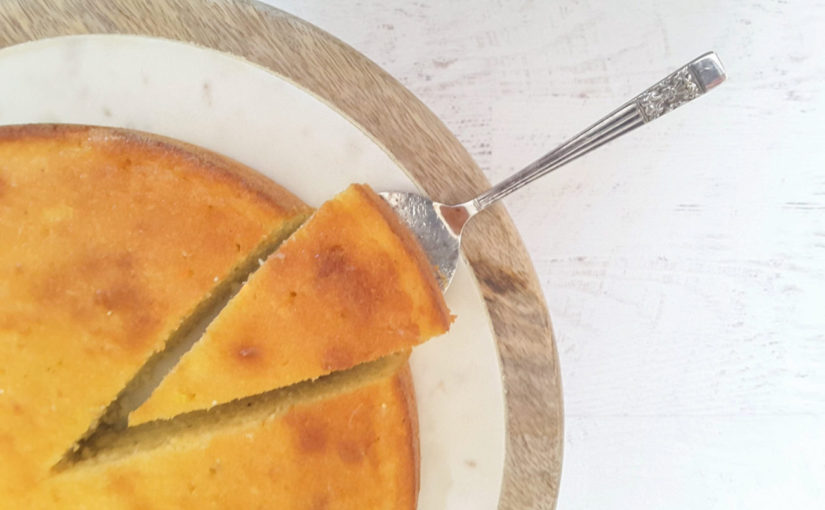 Low Carb Lemon Syrup Cake
I love syrup cakes and have been trying to come up with a Low Carb Lemon Syrup Cake that lives up to my taste expectations. This recipe is flavored with real lemon juice and that combined with the sour cream and butter ensures that this cake is moist but it's still very light. The syrup finishes the cake off perfectly. This cake tastes delicious served with a dollop of Greek yogurt, marscarpone or cream.
Using Fresh Lemon Juice
Some don't like to use real lemon juice in cake recipes as it can curdle dairy products. I personally don't have a problem with this and you will find that the cake mix will come back with the addition of almond meal, flour etc. I have never found that this impacts on any finished cakes that I have made at all. Many cake recipes actually call for butter milk, which can be made with lemon juice, so please don't worry about using it. You could use an extract if you wanted to but I personally prefer to to use the real thing rather than flavoring if I can.
Make sure you taste the batter and the lemon syrup and adjust it to your own taste. You can add additional juice and zest to the batter and also boost the tang in the syrup by adding more lemon juice. I personally love a really lemony cake with a tarter syrup so I like to add additional lemon juice to the syrup.
If you do use flavorings try to buy organic extracts. In Australia these can be very expensive to buy so I tend to buy them on iHerb. In particular I find it very worthwhile buying items such as their organic vanilla extracts. Brands such as Frontier and Simply Organic have some great natural and organic extracts. I tend to use vanilla extract a lot so buy large bottles at a fraction of what I would pay for them here in Australia. Real lemon juice is the best ingredient to use if you can but if you don't have any on hand then an extract is the second best option.
Sweeteners
Please feel free to use the low carb sweetener of your choice in this if you wish. The aim is to not have this too sweet though so keep it to a minimum if you can. I know some struggle with the taste of stevia however I use so little of it in this recipe (in fact, in all of my recipes) that there really is no after taste. The feedback has been amazing on the taste of this cake with no comments about aftertaste etc. Note that I use a stevia erythritol blend, which is why there is so little sweetener in the recipe. If you use Erythitol or Xylitol you will need to increase the amount of sweetener used to the equivalent of about 3/4 cup of table sugar.
Variance in Cooking Times with Different Ovens
I've had to make adjustments to many of my recipes because my new oven cooks a lot hotter in comparison to my old one. Please use temperatures I indicate as a guide and get to know your oven, particularly if you find it cooks higher or lower than a recipe specifies. I've had to drop the temperature by at least 10 C/ 50 F as some of my usual recipes were so overcooked that it ruined what has always been a fail safe recipe.
More Delicious Low Carb Cake Options
If you are after some other great low carb cake recipes, there are a lot more on this website. Just do a search for cake in the search bar and they will all come up. They include recipes for-
Low Carb Orange and Almond Cake- another syrup cake option
Sugar Free Mandarin Macadamia Cake-another syrup cake option
Low Carb Banana Loaf-a denser loaf with lots of nuts and seeds
I hope you find the time to make this delicious cake.
Kxx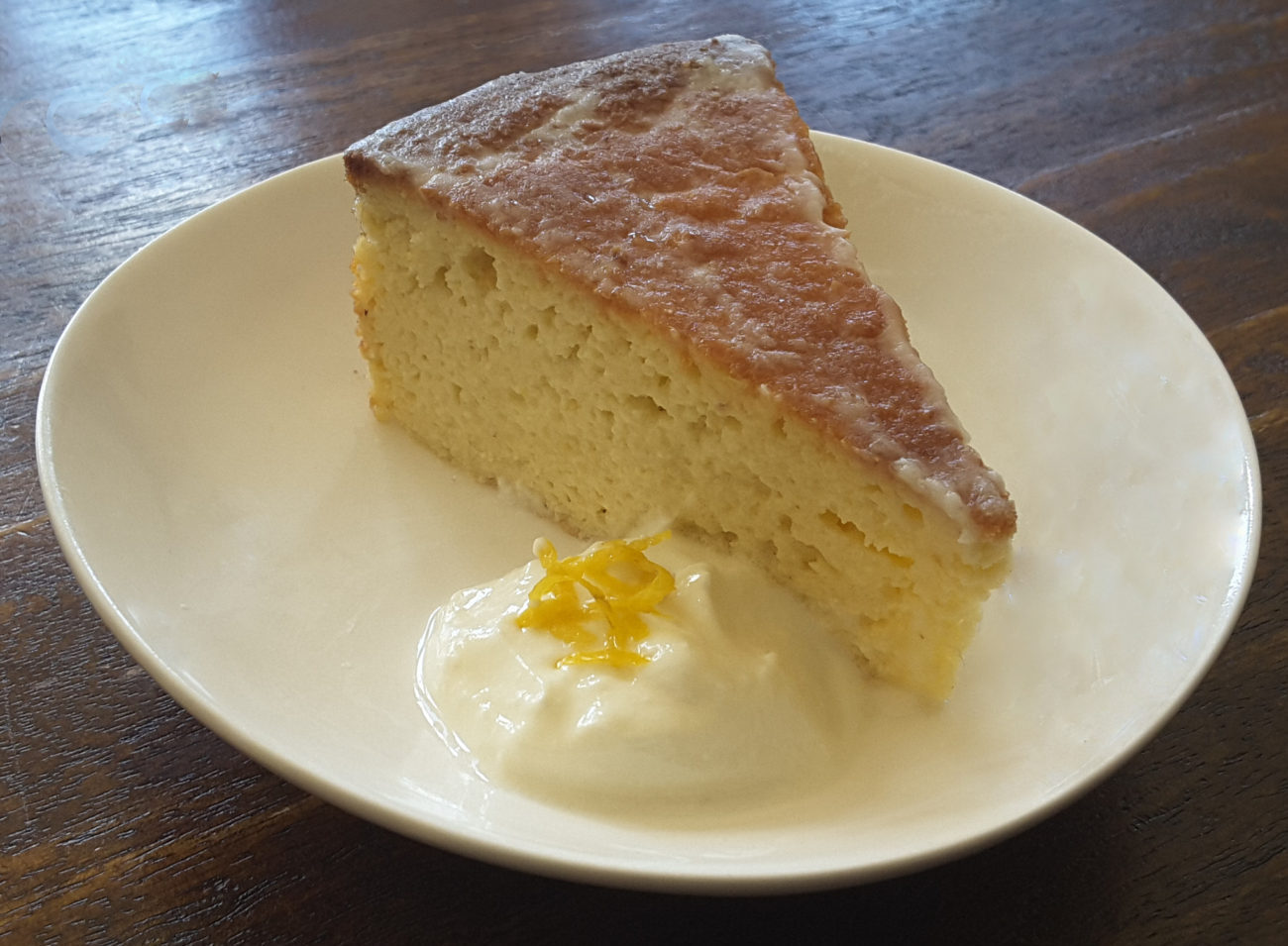 Ingredients
Cake Ingredients
125

gms

almond meal/almond flour

50

gms

coconut flour

4

eggs

300

gms

sour cream

125

gms

butter melted

2

tablespoons

Stevia Organic

a blend of stevia and erythritol or sweetener of choice-see recipe note

1

teaspoon

baking powder

½

teaspoon

baking soda

1

teaspoon

organic vanilla extract

Juice and rind of 1 lemon
Syrup Ingredients
Juice of 1 lemon

or adjust to taste

1

tablespoon

Stevia Erythritol Blend

a blend of stevia and erythritol or 2 Tbspns Swerve Confectioners Sweetener
Instructions
Cake Method
Preheat oven to 160 C/320 F and grease and line an 8" pan.

Beat the eggs for approximately 3 minutes until creamy. Mix through the dry ingredients.

Add the vanilla extract, lemon rind and juice and mix through.

Add the sour cream and cool melted butter and mix through until blended taking care not to over mix.

Pour the batter into the prepared pan.

Cook at approximately 160 C/320 F for 40-45 minutes or until a skewer comes out clean.
Adding the Syrup
Allow the cake to sit in the tin for 10 minutes before using a skewer to gently poke holes in the top of the cake. Mix the lemon juice and sweetener together to create the lemon syrup and slowly spoon over the cake. Allow to cool in cake pan before serving. Serve at room temperature as cake firms in the fridge.
To Serve
Make additional syrup and pour over individual slices for a more syrupy cake if you wish.

Serve with a dollop of cream, mascarpone or Greek yogurt.
Variations
Add ½ cup desiccated coconut with dry ingredients for lemon coconut cake.

Use Greek yogurt in place of sour cream in the recipe.
Recipe Notes
Store cake in the fridge but serve it at room temperature so it softens.
Sweeteners Note that I tend to minimize the amount of sweetener I use in my recipes to reduce my sweet tooth, so you may wish to increase the amount to your taste. Taste the batter after you have mixed it and it will give you an idea of whether it will be sweet enough for you. The sweetener I use is a stevia and erythritol blend, which is far more sweeter than erythritol or xylitol on it's own. So if you use pure erythritol or xylitol in this recipe I would recommend that you use 3/4 cup to 1 cup to replace the stevia/erythritol blend specified in the recipe.. Your sweetener should be the equivalent of approximately 3/4 to 1 cup of common table sugar or to taste.
Nutritional Information
Serving:
1
serve
|
Calories:
192
kcal
|
Carbohydrates:
3.2
g
|
Protein:
4
g
|
Fat:
17.9
g
|
Fiber:
1.8
g
Note that we calculate our own nutritional values so they may not be precise. Calculate your own if desired. Carb values exclude sugar alcohols such as Erythritol, as they generally have no impact on blood sugar levels. 50% of the carbs from Xylitol is added to nutritional values. This is consistent with industry practice.
Do you want to receive more recipes like this one? Subscribe to our newsletter now!