Low Carb Carrot Cake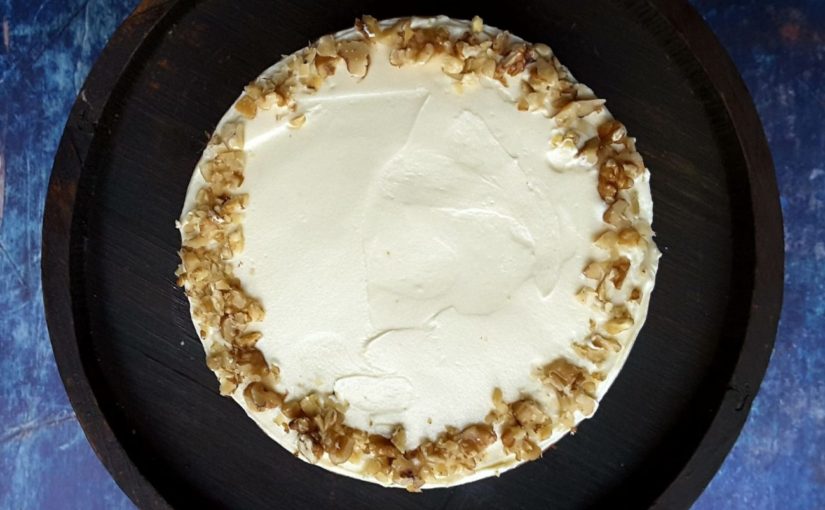 Deliciously moist Low Carb Carrot Cake is absolutely delicious and tastes just like a great carrot cake should. Top it with the Low Carb Cream Cheese Frosting in the recipe below, as it tastes amazing. Inspiration for this cake came from Belinda Jeffrey, who makes the most amazing carrot cake, that unfortunately doesn't fit in with my lifestyle anymore. Recipes that reduce carbs and sugars does not mean there has to be a compromise at all on flavors, such as with this cake. No one will ever guess that it isn't a sugar laden, gluten based carrot cake.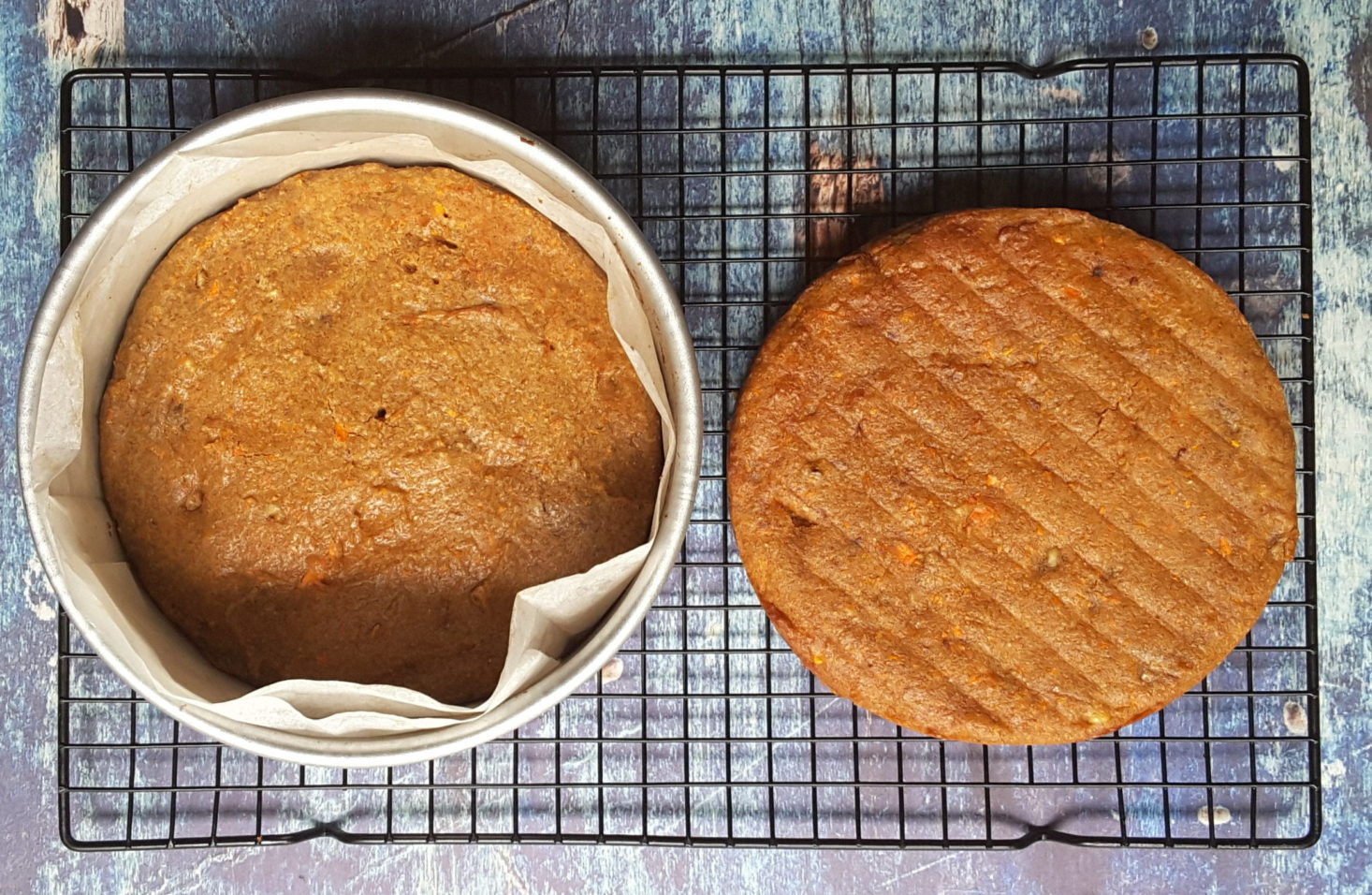 Divide the batter between 2 cake pans, or reuse the one pan and cook 2 batches for best results. If you bake it as one cake, you could potentially end up with an uncooked centre. Low Carb Carrot Cake is a dense cake, so you are probably better off to just not take a risk with it.
Halve the Recipe
If you want just a smaller single layer cake then I recommend you just half the recipe and bake the cake in an 7, 8 or 9 inch pan. This would work for a sheet cake as well. For convenience sake, you could also make the whole recipe, bake the 2 cakes and freeze one for another time. Dress this recipe up or down. It would be a wonderful celebration cake but works equally well as a more casual cake or slab cake. Freeze the cake, frosting and all….if there is any left over to freeze as it defrosts really well.
For many low carbers, carrots are generally off limits. Eating foods like this cake as a treat every now and then, even for someone seriously watching their carbs, can still work. Divide the number of carbs from the carrots, by the number of serves, and this is still a great low carb and Keto cake option.
Cake Pans and Serving Sizes
Oven temperatures, cooking times and cake pan size will all impact on baking this cake. Times will vary if you make changes to the size of the baking pan, so make sure you take that into account when baking this cake. As a 8″ or 9″ cake this serves approximately 20 people. Note that I am conservative with the size of my serves, as my intention is to have sweet cakes such as this as a treat. Please watch your serving sizes especially if you are watching your carb intake.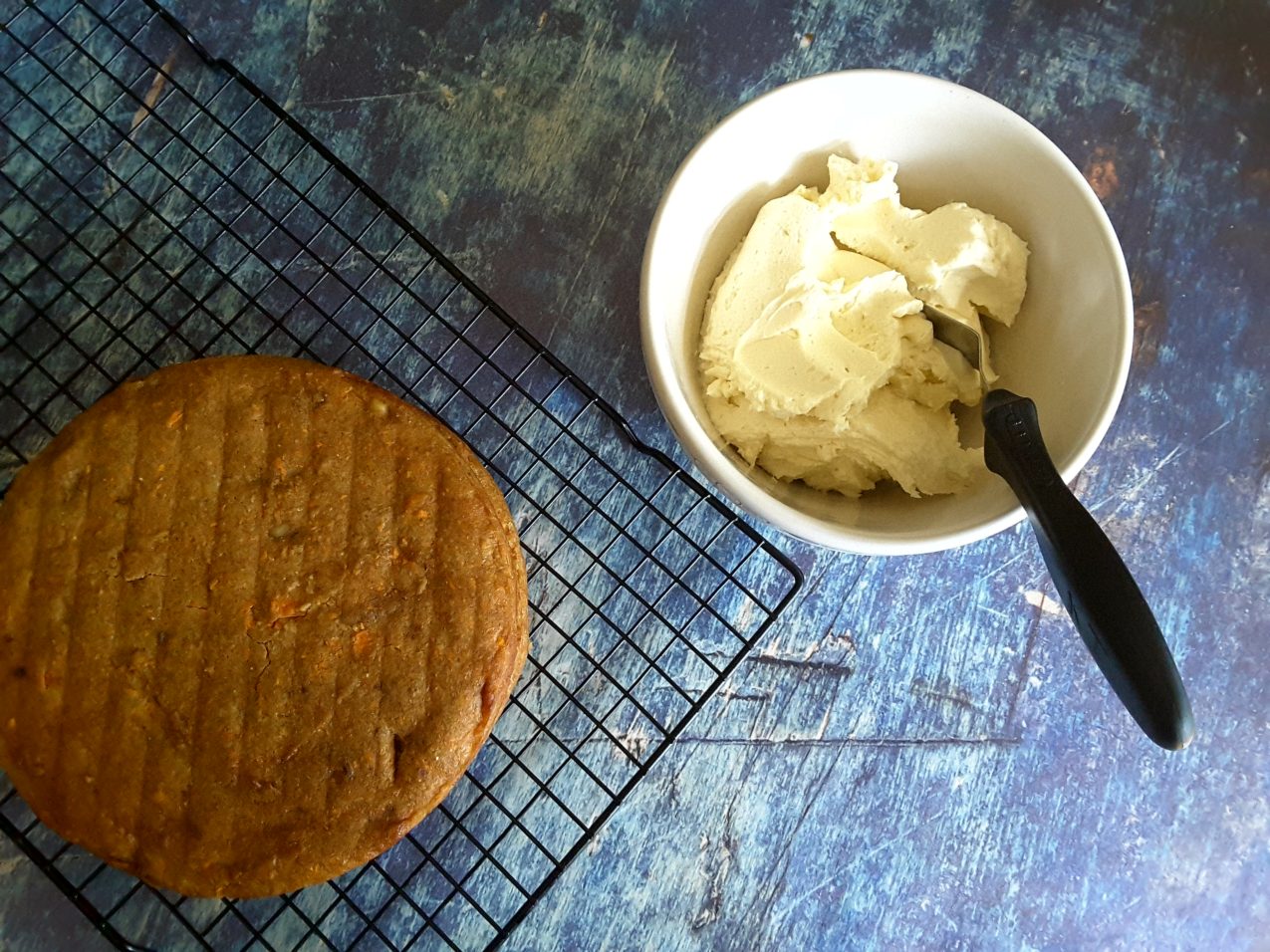 Foods that can React to High PH Levels
Certain foods can react when exposed to high ph levels. Nuts and seeds, and even carrots, can sometimes react when exposed to ph levels in products such as baking powder and baking soda. Green carrots and black nuts and seeds might not look the best, but there don't be concerned as the flavors aren't impacted at all. Try preventing this reaction by tossing the nuts and/or seeds in some of the flour that is used in the recipe.
For some general tips on cake baking, you might be interested in reading the information below. Feel free to skip ahead to the cake recipe by scrolling down the page. Tips include how to bake a better cake, how to prevent doming and also how to get a more moist cake.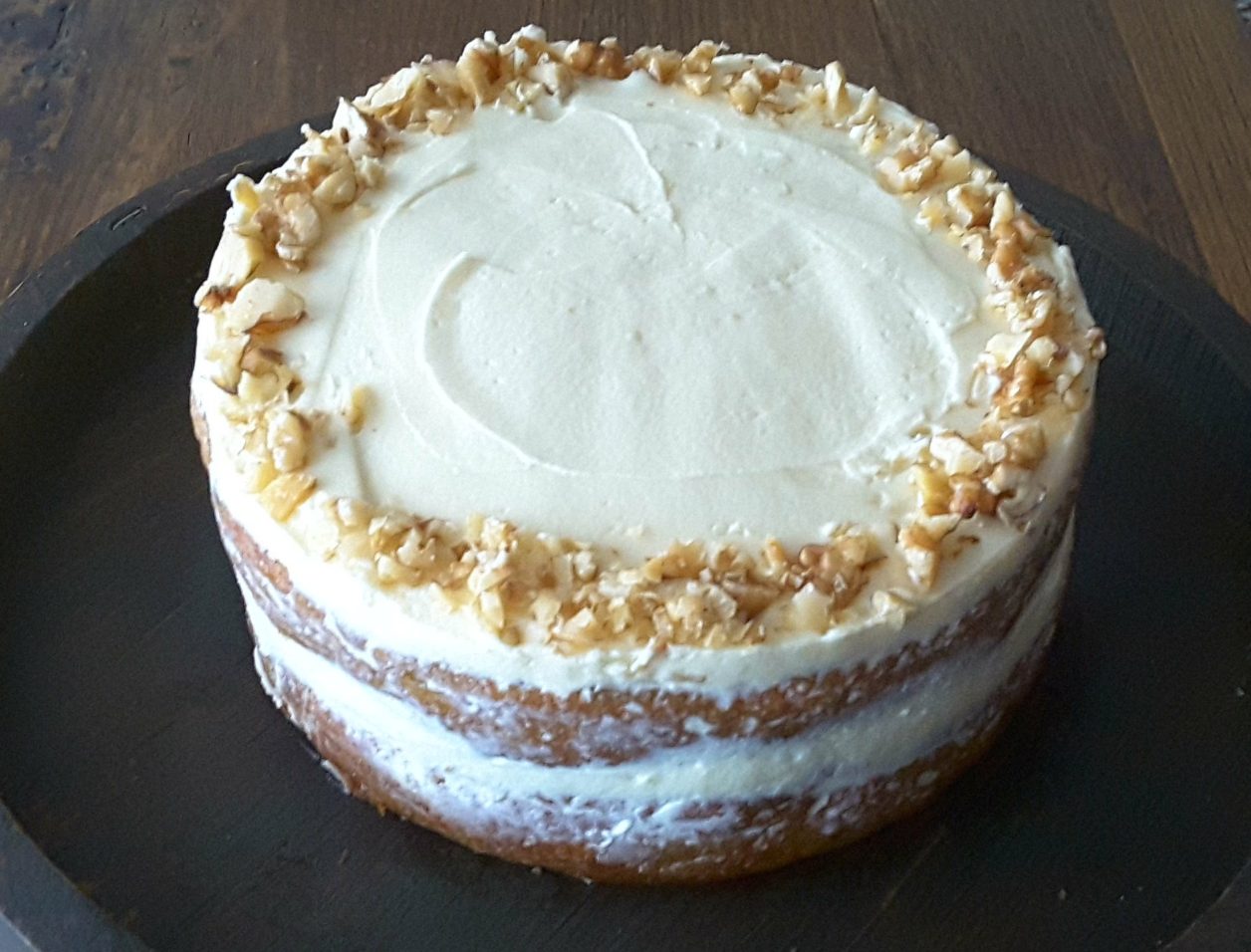 Cake Baking Tips
Do your cakes often dome and crack on the top? Often this happens because your oven temperature is too high. Doming can also happen if you have too much batter in a baking pan or too much rising agent. Even the color of your pan can impact on doming, as dark colored pans cook more quickly. Always try to bake your cakes in the middle of your oven. Sometimes, baking your cakes at a lower temperature for slightly longer can prevent this. Watch your cake though if you change the pan size, temperature etc, so that you don't over or under cook it.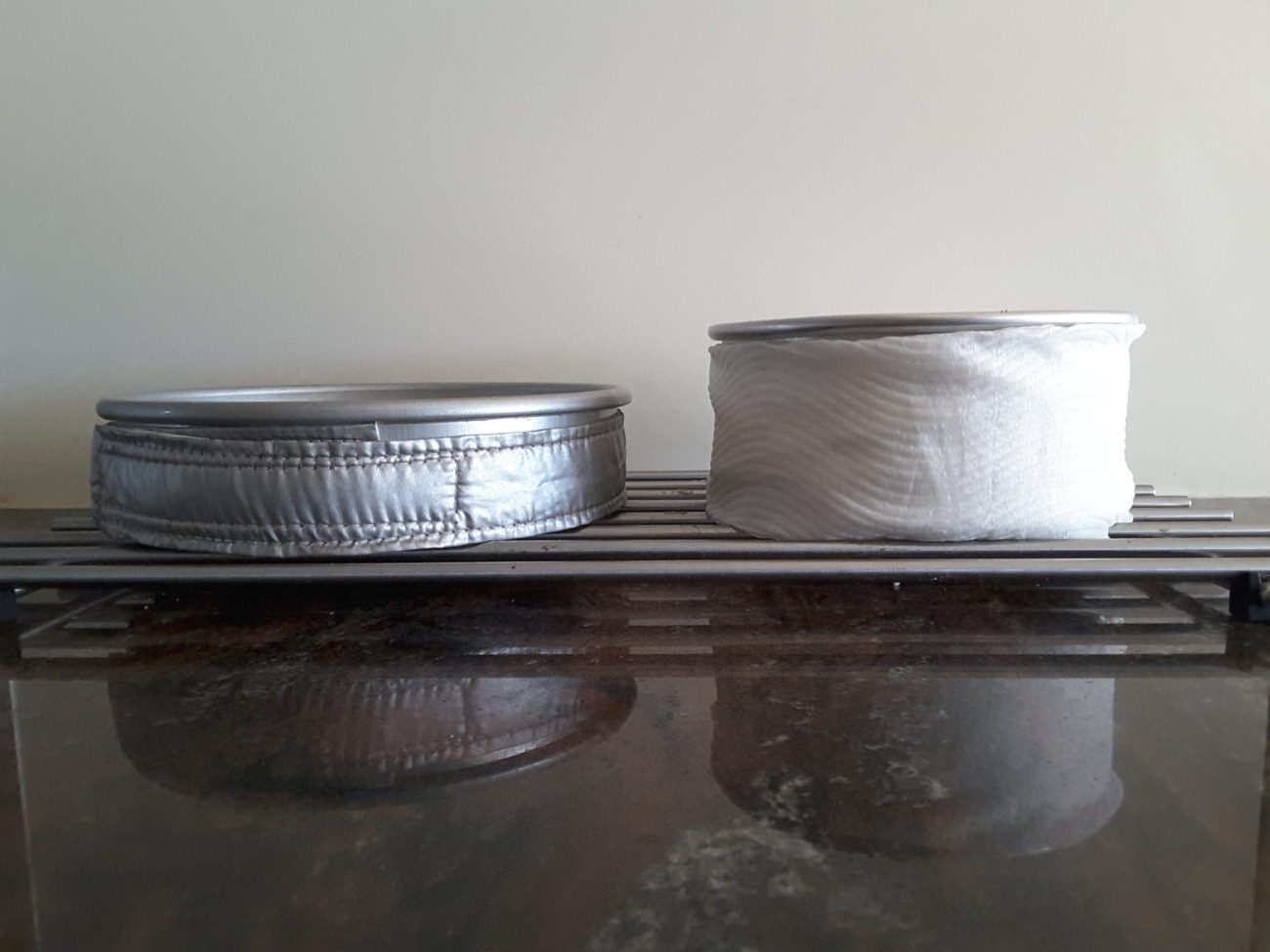 Baking Strips To Prevent Doming
Another way to stop doming is by using strips around your cake pan. Proper baking strips designed for this purpose can be bought in kitchen stores and on line. Simply soak them in water and then wrap around the sides of a cake pan. Doing this can even out the heating process in the cake pan. Baking strips can come in really handy if you are trying to get a really flat cake for a naked cake, etc.
Paper Toweling Baking Strips
Alternatively, you can use paper toweling that has been wet and is folded over to match the height of your cake pan, to do the same thing. Make sure the width of your toweling strip is wider than the circumference of your pan.  Tie the paper towel off or tuck it in so it doesn't come away from your cake pan.
Don't be afraid to weight your cake down slightly, immediately after cooking. Flipping a cake over, domed side down onto a cooling rack, can also flatten a slightly domed top.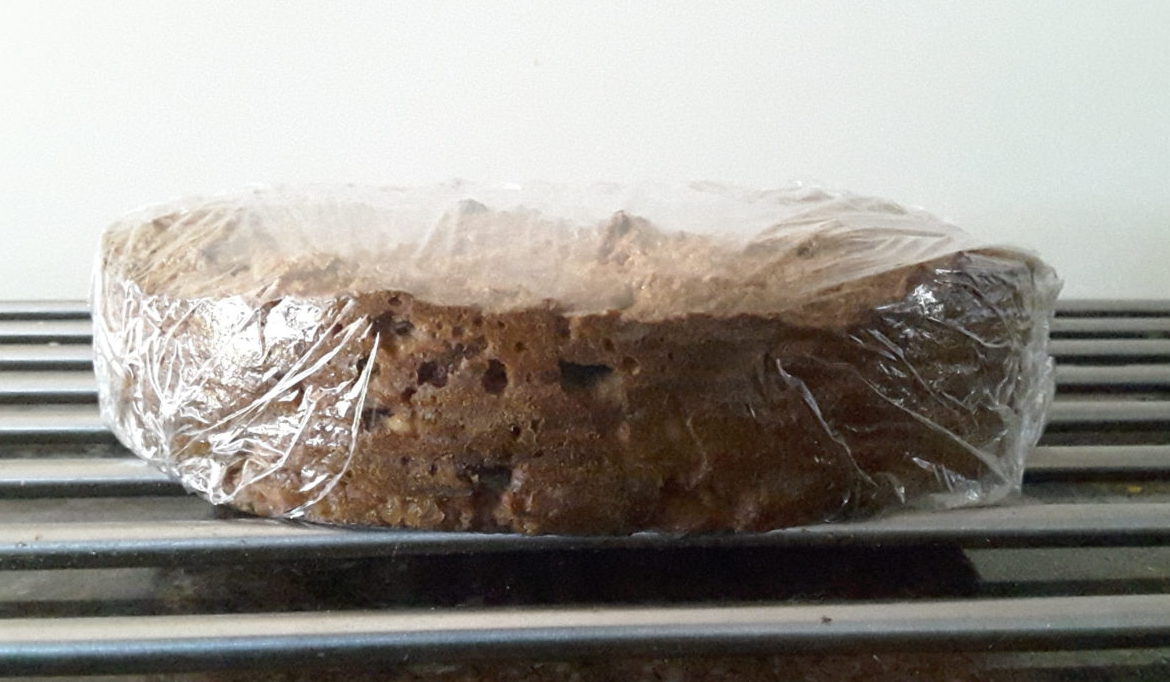 How To Keep A Cake Moist
Wrap the cake after baking it in cling wrap while it is still warm to hot and allow it to cool sealed in the cling wrap. Try to  leave the cake in the tin for approximately 10-15 minutes and then wrap it up straight away. This is a fantastic tip that I use when I make decorative cakes.
More Delicious Low Carb Cake Recipes
Check out these great low carb cake recipes and there are a lot more on this website. Just do a search for cake in the search bar and they will all come up.
Low Carb Dark Chocolate and Zucchini Cake
Low Carb Orange and Almond Cake
Sugar Free Mandarin Macadamia Cake
Low Carb Lemon Syrup Cake
Low Carb Chocolate Fudge Cake
Low Carb Chocolate Olive Oil Cake
Healthy Banana Bread
Low Carb Banana Loaf-a denser loaf with lots of nuts and seeds
Healthy Pumpkin Bread
Meanwhile, happy cake making!
Kxx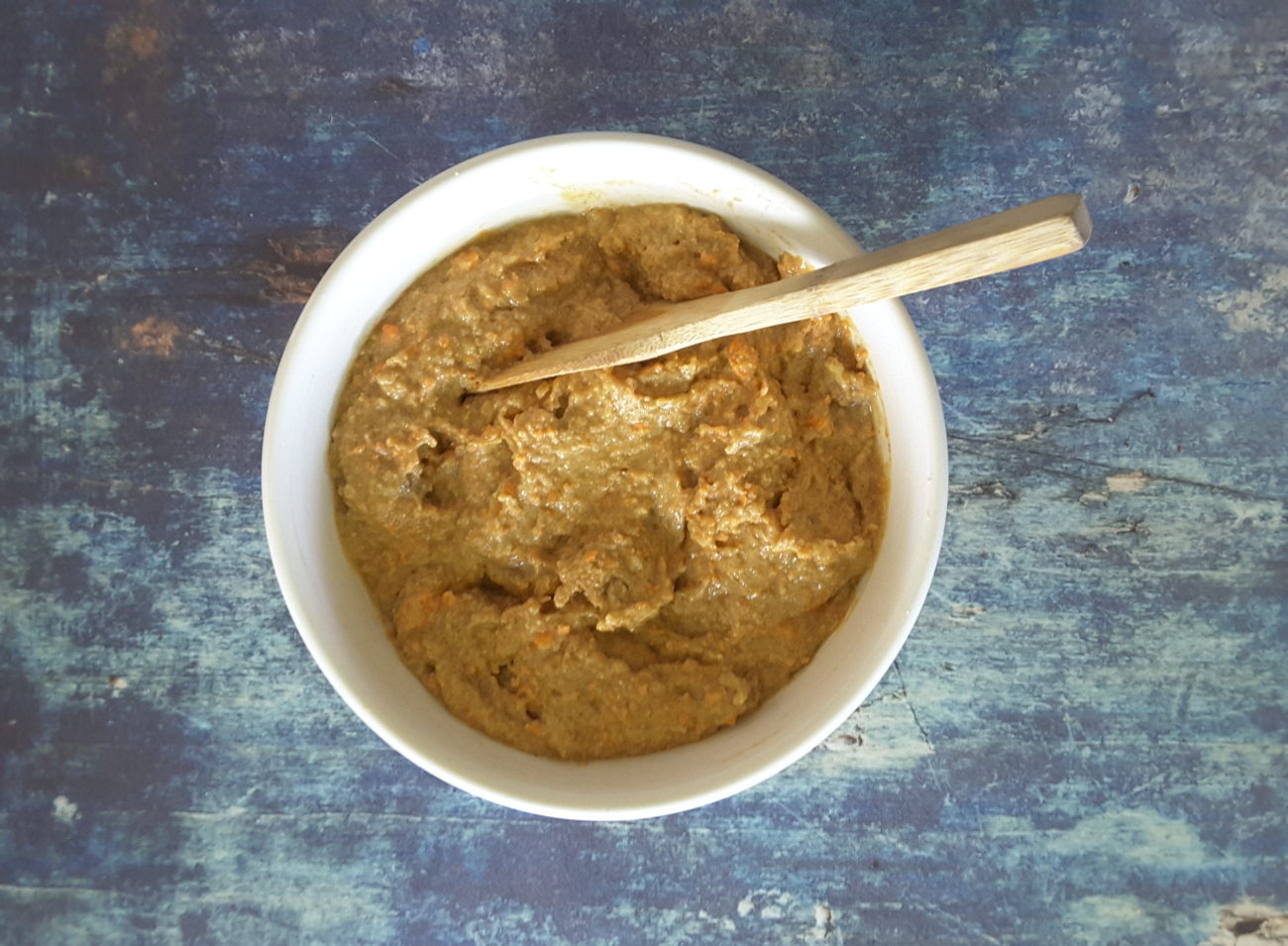 Ingredients
2 1/2

cups

almond meal/almond flour

1/2

cup

coconut flour

250

gms

carrots grated/shredded

about 2 medium carrots

1/2

cup

walnuts chopped

pecans or macadamias chopped-optional

1/2

cup

desiccated coconut unsweetened

3/4

cup

almond milk or alternative such as 2 tablespoons Greek yogurt in water

4

medium eggs

3/4

cup

Extra Virgin Olive Oil (EVOO) light tasting or switch for melted butter

100

gms

butter melted

3/4

cup

Erythritol or 4 tablespoons of a Stevia and Erythritol blend

2

teaspoons

vanilla extract

3

teaspoons

ground cinnamon

1.5

teaspoons

mixed spice

1

teaspoon

ginger ground

optional

2

teaspoons

baking powder

1/2

teaspooon

baking soda

Pinch

salt
Instructions
Cake Method
Preheat a fan forced oven 160 C/320 F

Mix all of the dry ingredients together really well ensuring there aren't any lumps of baking powder or soda.

Meanwhile, beat the eggs for approximately 2 minutes. Add the sweetener, melted butter, oil, almond milk and vanilla, and mix well.

Add the dry ingredients to the egg mixture and mix well. Finally stir through the grated carrot, coconut and walnuts, and mix till combined. .

Divide batter into evenly into 2 greased and lined 8 or 9 inch pans and bake for approximately 40 minutes at 160 C/ 320 F.

Cake is cooked when skewer pulled from centre of cake pulls out clean but is still moist.

Allow the cakes to cool for approximately 10 minutes in the tin. For the ultimate moist cake, wrap the cakes in cling wrap while still warm and allow to cool sealed in the wrap.

Once the cake has completely cooled, spread a layer of cream cheese frosting between the 2 cakes and top with remaining Cream Cheese Frosting.
To Make the Cream Cheese Frosting
Beat the cream cheese and butter together until smooth and creamy.

Add the vanilla extract and sweetener and beat until well combined and smooth and creamy. For approximately 2-3 minutes or until the sweetener has lost any grainy texture.

You can add 1-2 tablespoons of full fat pure cream/ whipping cream to create a slightly softer frosting, simply add it when you add the vanilla extract.

This recipe creates enough topping and filling for a 9" cake and is also suitable for a 7 or 8" cake as topping and filling.

Any left over frosting can be frozen.

Note- ensure the sweetener is in powder form for best results otherwise the frosting will have a grainy texture.
Recipe Notes
Cake is best eaten within a few days for ultimate freshness. Store in an airtight container in the fridge, allowing to come to room temperature to serve.
Carrot cake with frosting is ideal to freeze in an airtight bag/container.
Nutritional Information
Serving:
1
slice
|
Calories:
291
kcal
|
Carbohydrates:
4
g
|
Protein:
5.7
g
|
Fat:
27.4
g
|
Fiber:
2.7
g
Note that we calculate our own nutritional values so they may not be precise. Calculate your own if desired. Carb values exclude sugar alcohols such as Erythritol, as they generally have no impact on blood sugar levels. 50% of the carbs from Xylitol is added to nutritional values. This is consistent with industry practice.
Do you want to receive more recipes like this one? Subscribe to our newsletter now!