Sugar Free Carrot Mug Cake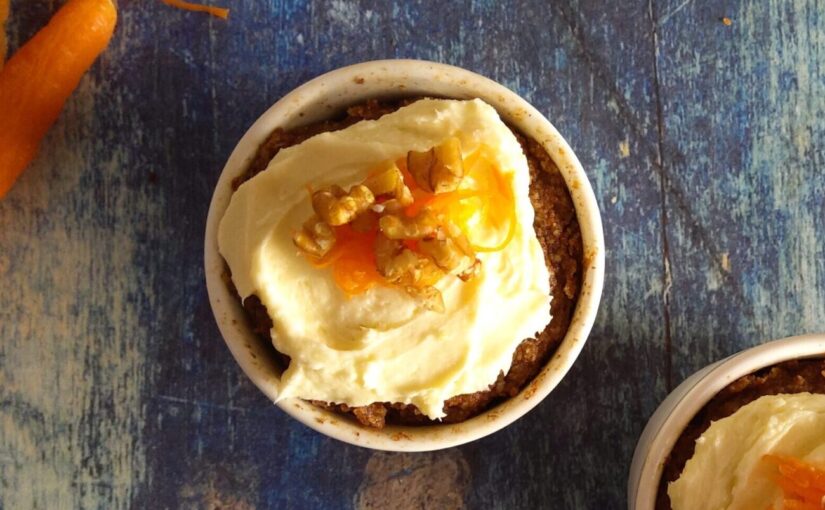 Sugar Free Carrot Mug Cake
Deliciously moist, this fabulous recipe for sugar free carrot mug cake is a definite keeper. Serve it for dessert or simply to go with a cup of tea or coffee for a fabulous low carb treat. Enjoy it straight from the ramekin/mug or be a little bit fancy and transfer it onto a plate to serve. The recipe makes 2 serves so you can share (or not) or leave one aside to enjoy another day.
There is no compromise at all on flavour with this great tasting low carb, keto, diabetic friendly recipe. It tastes just like carrot cake should and can be whipped up in just minutes. Even the carb eaters in your house will love this recipe and they'll never guess that it's low carb or sugar free. If you are after a more traditional whole cake recipe for carrot cake, make sure you check out this recipe for Low Carb Carrot Cake.
CARROTS ON A LOW CARB DIET
For many low carbers, carrots are generally off limits. Eating foods like this cake as a treat every now and then, even for someone seriously watching their carbs can still work. Indulging in recipes like this occasionally even when they contain carrot, can work even on a strict keto diet. Just make sure that it fits in with your macros and use as an occasional treat. The other great thing about this recipe is that temptation is removed because the recipe only makes 2 serves. It's also fairly rich and dense so I think you would be hard pressed eating 2 serves.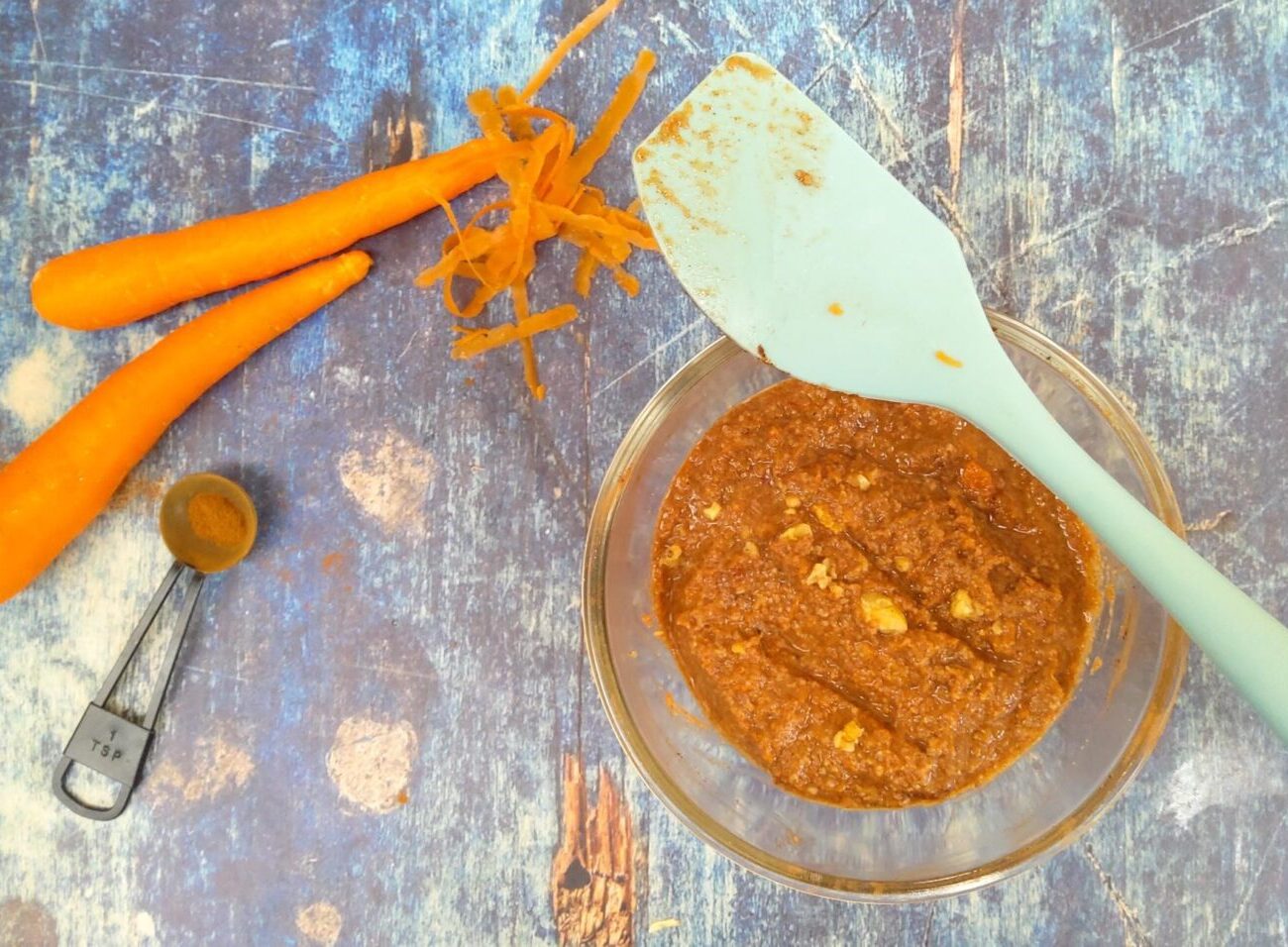 WHY TWO CAKES
Having made a lot of mug cakes, one thing that I have struggled with in many recipes is the eggy taste. The issue is that you need egg in the recipe and it is difficult to divide one egg in half. My solution to this problem is a bonus for you as you get 2 cakes using the one egg. The added moisture comes from using olive oil, which you will discover is absolutely awesome in this recipe.
EXTRA VIRGIN OLIVE OIL
For those of you who have made my recipe for Low Carb Chocolate Olive Oil Cake  you will understand how amazing olive oil can be in cake recipes. If you can use extra virgin olive oil (EVOO) in the cake, it is my preferred choice but butter can also be used. While butter tastes great the recipe is at it's best when made with EVOO as it makes the cake wonderfully moist. As for tasting the oil- make sure you use a light tasting/flavoured oil (not light olive oil!!) and you would never guess that olive oil featured in the recipe.
RATION CONTROL BAKING
There's no excuse for making bad decisions to enjoy a treat when you have recipes that can be made quickly and in small batches. Recipes like this are perfect for people who can't stop at one when it comes to sweet treats. You can prevent temptation by making just one or two serves at a time, and this is why mug cakes are so wonderful.
MICROWAVE METHOD OR OVEN METHOD
I'd recommend you cook these mug cakes at about 800-900W in your microwave. Slightly slower cooking means the carrot gets to cook through more. You might have to play around with your microwave settings to get it perfect as all microwaves cook differently even on the same temperature. If you don't have a microwave you can also bake your cakes in a conventional oven at about 165 C / 330 F for around 12-15 minutes or until cooked through in the middle. If you cook individual cakes one at a time, they will cook in about half the time in the microwave.
TIPS AND TRICKS FOR PERFECT SUGAR FREE CARROT CAKE
Grease your ramekin/mug if you wish to tip your cake out upside down. This is not necessary if you are eating your cake straight from the mug/ramekin. Make sure that you wait until the cake is has cooled before frosting/icing. Eat your cake straight from a ramekin/mug topped with cream cheese icing/frosting, or turn it upside down onto a plate before topping. Be sure to use a powdered sweetener in the cream cheese frosting to avoid any grittiness.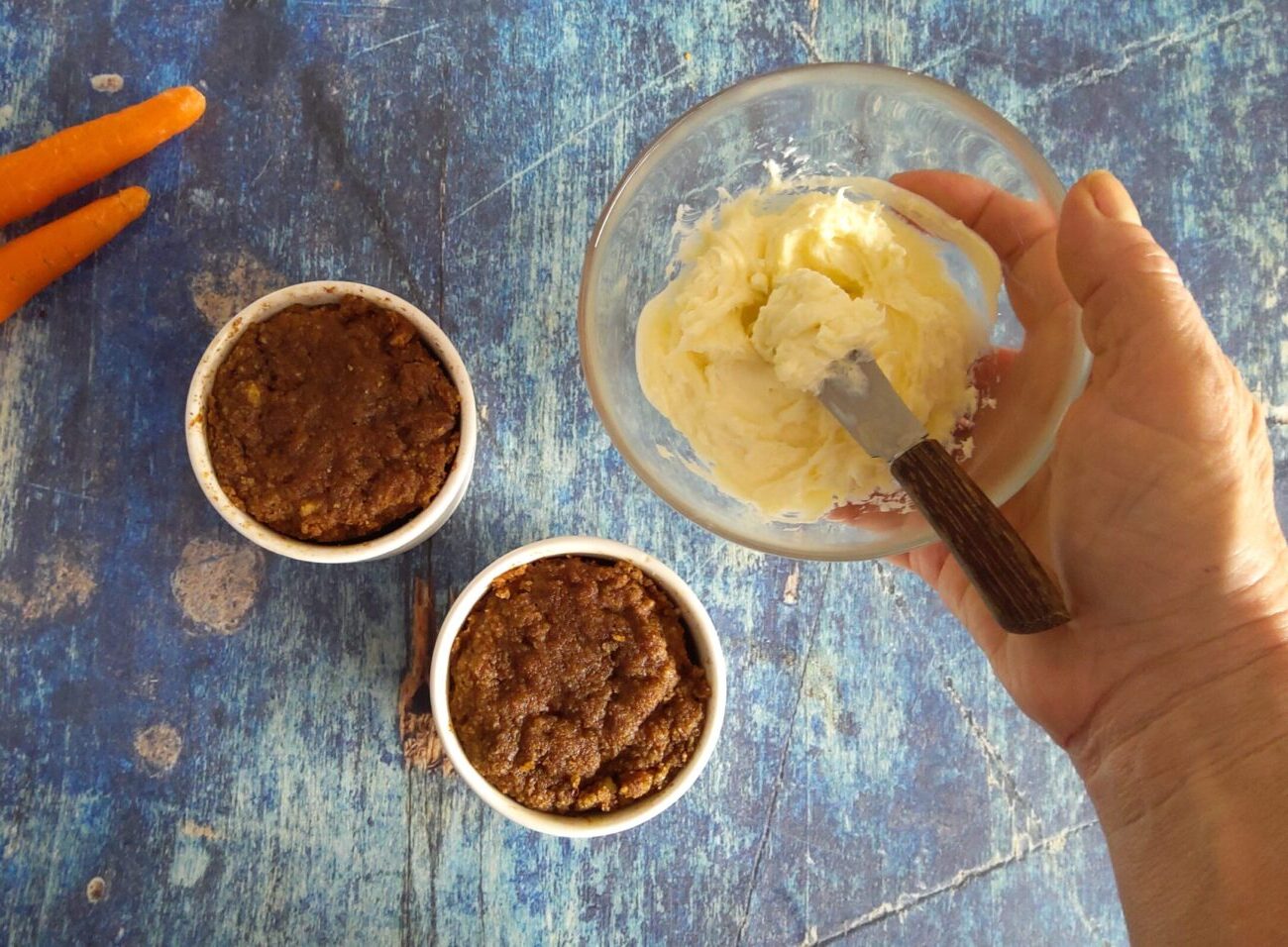 WHICH SWEETENER IS BEST
Use any powdered or granular sweetener in the cake and I suggest varying amounts to suit your taste. Be more particular when making the cream cheese frosting/icing as a granular sweetener will leave a grainy texture. If you don't use a confectioners sweetener in the frosting/icing, make sure that you powder the sweetener in a processor before using. Feel free to use erythritol, xylitol, a stevia or monkfruit blend in this recipe but if it is a concentrated sweetener, make sure you reduce the amount that you use.
MORE KETO MUG CAKE AND BREAD RECIPES
Make sure you check out these other fabulous low carb, sugar free mug cake and 90 second recipes. They are all really quick and easy to make. Every recipe is gluten free, diabetic friendly and ideal for keto and low carb ways of eating.
90 Second Spiced Fruit Loaf
Keto Mug Microwave Cheesecake
90 Second Grain Seeded BreadSugar Free Keto Chocolate Mug Cake
Sugar Free Lemon Mug Cake
90 Second English Muffin/White Bread
If you have tried this recipe make sure you leave a star rating below! Please make sure you stay in touch to see more fab recipes like this one by following me on Facebook, Instagram and Pinterest.
Enjoy!
Kx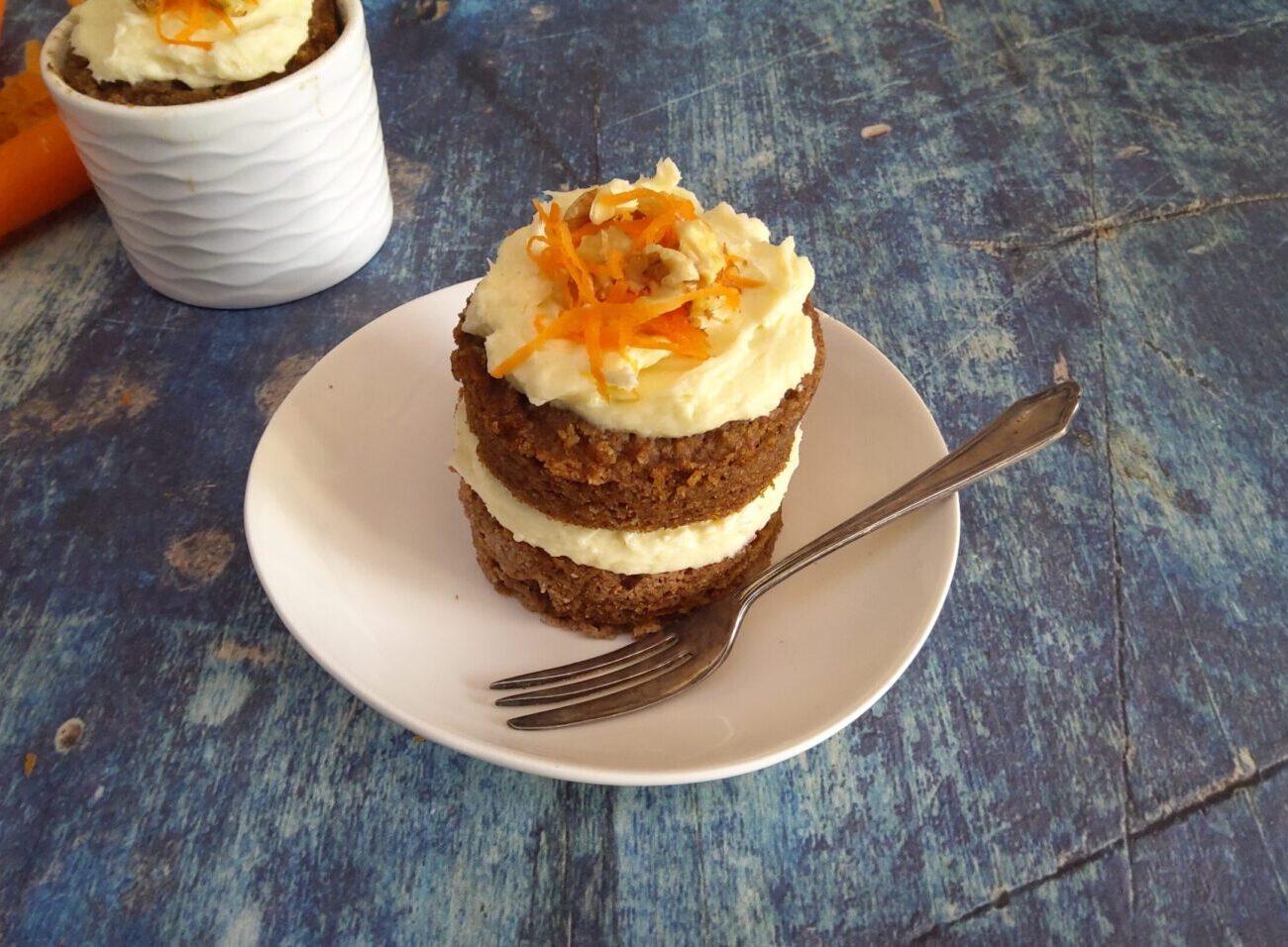 Ingredients
Cake Ingredients
1

large

egg

½

cup

carrot grated

45

mls

EVOO-extra virgin olive oil

1

tablespoon

almond milk

or milk of choice

A dash of vanilla extract

75

grams

almond flour or almond meal

1-2

tablespoons

walnuts chopped

to taste

2

tablespoons

granular/powdered monkfruit/sweetener

1½

teaspoons

cinnamon ground or to taste

1

teaspoon

Mixed spice

or pumpkin spice. Make your own- add a pinch of nutmeg, ½ teaspoon ground ginger and ½ teaspoon cinnamon.

¾

teaspoon

Baking powder

Add 1 tablespoon sultanas/raisons for a carb splurge

not counted in nutritional values
Cream Cheese Frosting Ingredients
2

tablespoons

cream Cheese

full fat at room temperature

2

tablespoons

erythritol powdered/confectioners sweetener or alternative sweetener

A couple of drops of vanilla extract
Instructions
Make your mug cakes by adding the egg, olive oil, almond milk and vanilla extract into a small bowl and whisk until combined. Add the carrot and mix in. Finally add the almond flour/meal, walnuts, sweetener, cinnamon, mixed spice and baking powder and fold through until well combined.

Pour the carrot cake batter into 2 large greased ramekins (approximately 10cm/4") or mugs and microwave on 800-900 W (high) for about 4-5 minutes or until cooked through but still moist inside (note your cake will continue to cook when removed from microwave so don't overcook.) Reduce time down to about 2 minutes if baking one at a time.

Allow cakes to cool before topping with cream cheese frosting/icing. Either serve in the ramekin/mug or turn upside down onto a plate and serve topped with the frosting/icing. Decorate with walnuts and grated carrot or coconut.

To bake the cake in the oven, heat to 165 C / 330 for around 12-15 minutes. If you make one larger cake you will have to extend the cooking time for both the microwave and oven.

To make your cream cheese icing/frosting, cream the cream cheese (hint-zap in microwave quickly to soften), blend in the sweetener and vanilla extract and mix until smooth.
Recipe Notes
You can make 3-4 smaller cakes out of the batter but will need to reduce the cooking time. You can also make one larger cake but it may take longer to cook. 
Bake in individual serves in the oven at 165 C/ 330 F for about 10-15 minutes or until cooked through.
Cakes cooked in the microwave continue to cook on the bench so take care not to overcook or you will dry the base of your cakes.
If mixture is too thick (different brands of almond meal/almond flour can absorb different amounts of liquid) add a little additional almond milk or milk substitute.
If your microwave wattage is different to what's specified you will need to vary cooking times. To ensure your cakes don't overcook, check them as they are cooking and stop cooking when cooked sufficiently.
Note that recipe uses Australian tablespoon measurements- 20ml.
Nutritional Information
Serving:
1
serve
|
Calories:
552
kcal
|
Carbohydrates:
9
g
|
Protein:
22
g
|
Fat:
52
g
|
Fiber:
4
g
Note that we calculate our own nutritional values so they may not be precise. Calculate your own if desired. Carb values exclude sugar alcohols such as Erythritol, as they generally have no impact on blood sugar levels. 50% of the carbs from Xylitol is added to nutritional values. This is consistent with industry practice.
Do you want to receive more recipes like this one? Subscribe to our newsletter now!