Keto Lemon Mug Cake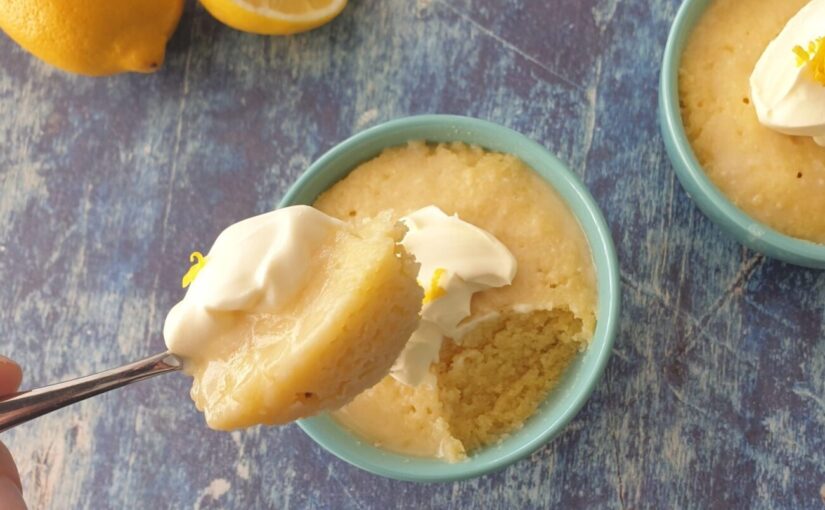 Wait until you see how easy this keto lemon mug cake is to make. Not only is it ready in just minutes but the flavors are simply amazing. Perfect for when you want a delicious treat to go with coffee, for breakfast or for a dessert. These would also make a great treat to throw in your lunch bag to take to school or work.
SERVING KETO LEMON MUG CAKE
Enjoy one of these cakes on it's own with a dollop of fresh whipped cream or Greek yogurt, or serve it with the lemon glaze as per the recipe and fresh whipped cream or yoghurt. To switch it up, you can also frost them with some icing/frosting mix, such as this fabulous Low Carb Cream Cheese Icing/frosting. Be sure to try the glaze first though as it is a lovely way to finish these cakes off.
I love to eat my mug cakes straight from the mug/ramekin that it is cooked in. If you want to flip your mug cake out, you may need to extend the cooking time just a little to ensure the cake is cooked all the way through. To flip your cake, leave it to cool in the container it is cooked in. Run a knife around the edges to help release it from the container and flip out onto a flat plate.
Another fabulous way to serve these is warm topped with a low carb custard. If you are looking for a ridiculously easy custard to make, make sure you check out this recipe for Low Carb Custard From Scratch. I'd tip the cake out of the mug/ramekin and pour the custard over the top to serve.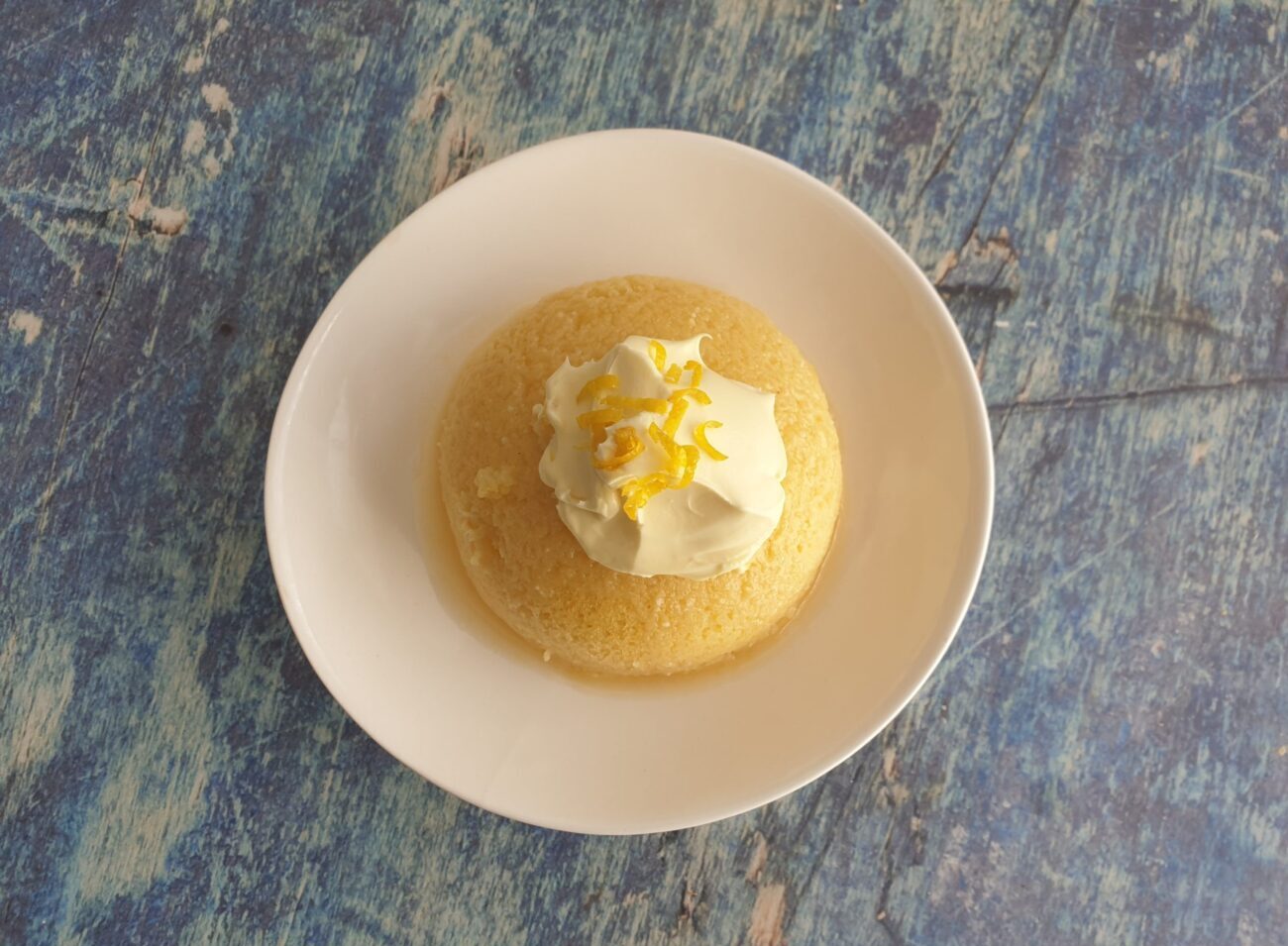 QUICK AND EASY TO MAKE
To make this deliciously healthy treat, simply mix all of the dry ingredients together. Whisk the egg with the remaining wet ingredients in with the dry ingredients. Stir really well, zap and voila…your keto lemon mug vake is ready. You have the option of glazing it with a simple lemon glaze if you wish, or enjoy your cake straight from the microwave with a dollop of cream or Greek yogurt.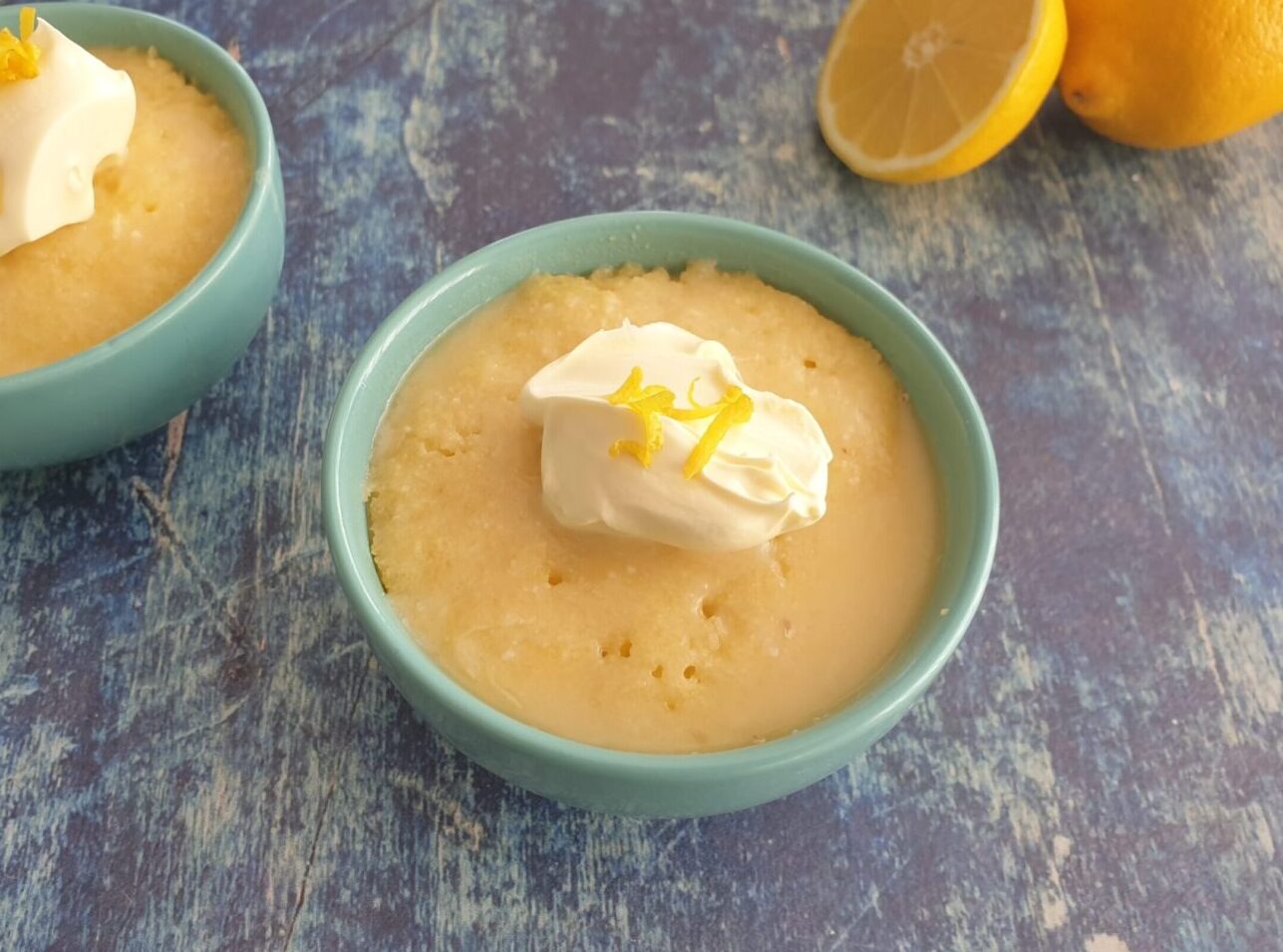 This recipe was meant to make one mug cake but as it requires 1 egg, I decided to push the ingredients out to make 2 cakes to avoid too much of an eggy flavor. This makes these cakes perfect for sharing (if you want to) or simply put one aside for tomorrow.
SIMPLE VARIATIONS
Make sure you check out the simple tweaks that can be made to this recipe in the recipe notes. It's such a versatile recipe, that with a couple of simple additions you can create lemon poppy seed, lemon blueberry or lemon coconut mug cakes.
PALEO VERSION
Use EVOO- extra virgin olive oil instead of butter in the batter and your favourite paleo sweetener, such as coconut sugar where specified in the recipe. Wherever pure or heavy cream is specified such as in the lemon syrup, it can be switched for coconut cream. Top your mug cakes with whipped coconut cream or coconut yogurt.
RATION CONTROL BAKING – IDEAL FOR PREVENTING TEMPTATION
There's no excuse for making bad decisions for a sweet treat when you have recipes that can be thrown together in an instant. What I love about mug cake recipes is that you remove temptation by only making small batches. This is perfect for people who can't stop at one if they have made a batch of muffins or cakes. Prevent temptation by making just one or two cakes at a time. This is one of the reasons I love mug cakes so much, especially a keto lemon mug cake.
MORE DELICIOUS CUPCAKES, MUFFIN AND MUG CAKE RECIPES
For a fabulous decadent chocolate mug cake recipe make sure you check out this fabulous recipe for Keto Chocolate Mug Cake.
For cakes baked with a conventional oven you may like these recipes!
Keto White Chocolate Raspberry Muffins
Low Carb Macadamia Raspberry Muffins
No Bake Sugar Free Lemon Slice
Sugar Free No Bake Chocolate Slice
Sugar Free Lemon Poppy Seed Muffins
Low Carb Double Chocolate Muffins
Sugar Free Blueberry Cream Cheese Muffins
The Best Keto Chocolate Cupcakes
The Best Keto Vanilla Cupcakes
Low Carb Dark Chocolate Zucchini Muffins
Happy Baking!
Kxx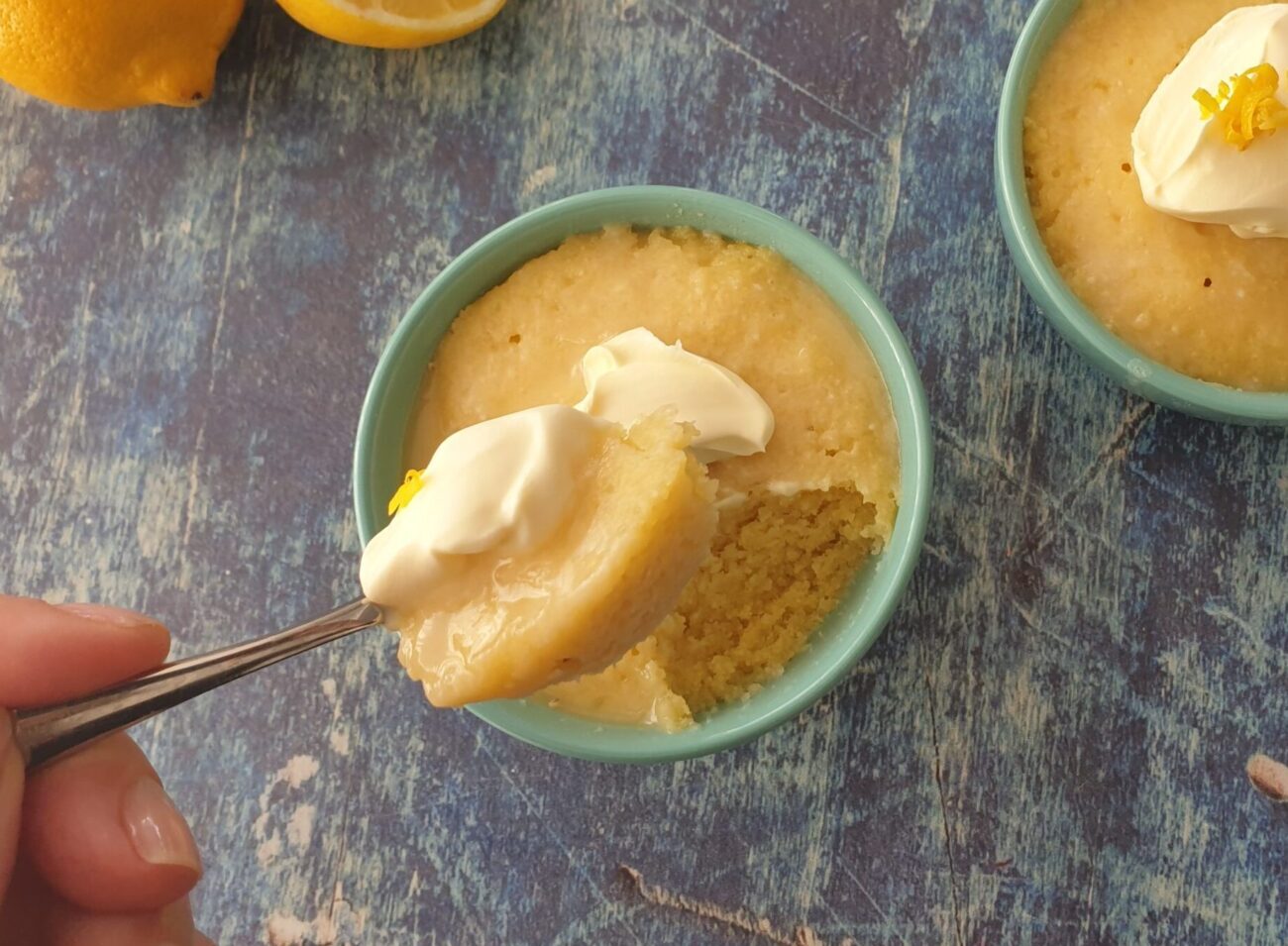 Ingredients
Mug Cake Ingredients
4

tablespoons

/40 gms almond flour

1

tablespoon

/10 gms coconut flour

2

tablespoons

erythritol

or alternative sweetener- or to taste

½

teaspoon

baking powder

½

teaspoon

lemon zest

optional and to taste

1 ½

tablespoons

lemon juice

or to taste

2

tablespoons

melted butter at room temperature

or EVOO- extra virgin olive oil light in flavor

1

egg

A dash of vanilla extract
Lemon Syrup Ingredients
1

tablespoon

erythritol

powdered or alternative confectioners sweetener

½

tablespoon

lemon juice

A dash of pure/ heavy cream
Instructions
Mix the almond flour, coconut flour, sweetener, baking powder and lemon zest together in a small bowl. Add the egg, butter (or oil) and lemon juice to the dry ingredients mixing until well combined.

Grease the inside of 2 mugs/ramekins and evenly distribute the batter. Smooth out the tops of the batter.

Microwave for 2 minutes on high or until cakes have cooked inside but are still moist. Allow the cakes to sit on the bench for a few minutes as they will continue to cook out of the microwave oven.

If you wish to flip your mug cakes out of the mug onto a plate, you may need to cook them for a few seconds longer to ensure the batter has cooked all over. If flipping, leave cakes to cool before running a knife around the edges and tipping out onto a plate.

If pouring on the syrup you can poke holes with a skewer into the cake and pour the syrup onto the cakes, after sitting for about 5 minutes at room temperature. If you want to frost/ice the cakes, allow to cool before frosting to prevent the mixture from melting.

In a small bowl mix the powdered erythritol, heavy cream, and lemon juice until smooth. Pour over lemon cakes when hot or cold. You can poke holes in your cakes with a skewer so it oozes into the cake more.
Recipe Notes
If you use a stevia or monkfruit blend you may want to use less sweetener as it is more concentrated in sweetness. If you reduce the amount of sweetener used you may have to add a bit more almond flour/almond meal to replace the dry ingredients in the batter.
If you want more subtle lemon flavors, reduce the amount of lemon juice to suit your taste and omit or reduce the lemon zest if desired.
Omit the lemon syrup and top simply with whipped cream, Greek yogurt or a low carb custard. Turn your mug cake out if pouring custard over it.
For a paleo version use the EVOO-extra virgin olive oil instead of  butter and your favorite paleo friendly sweetener such as coconut flour. Switch any heavy/pure cream in the recipe with coconut cream and top your mug cake with whipped coconut cream or coconut yogurt.
Note that the recipe is based on Australian tablespoons (20 gms) that are larger than other tablespoon measures (15 gms). Click on US customary for the smaller tablespoon conversion.
SIMPLE VARIATIONS
Lemon Blueberry- add 10 fresh or frozen blueberries to the batter
Lemon Poppy Seed- add 1 teaspoon poppy seeds to the batter
Lemon Coconut- switch 1/2 of the coconut flour for 1 tablespoon of desiccated coconut
Nutritional Information
Calories:
236
kcal
|
Carbohydrates:
6
g
|
Protein:
6.5
g
|
Fat:
26
g
|
Fiber:
2.8
g
Note that we calculate our own nutritional values so they may not be precise. Calculate your own if desired. Carb values exclude sugar alcohols such as Erythritol, as they generally have no impact on blood sugar levels. 50% of the carbs from Xylitol is added to nutritional values. This is consistent with industry practice.
Do you want to receive more recipes like this one? Subscribe to our newsletter now!