Low Carb Custard From Scratch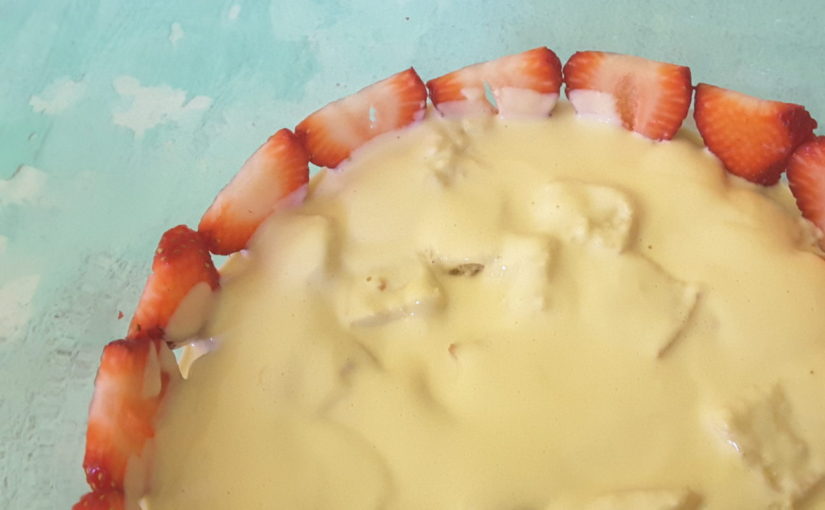 Low Carb Custard From Scratch
This deliciously rich and creamy recipe for a low carb custard from scratch is so simple to make, and all you need to make it is cream, eggs, vanilla extract and some sweetener.  Many of us tend to have in the fridge and pantry most of the the time which is convenient. This recipe has been a saviour for me many times, and as it is so quick to make, that you can throw it together at the last minute. It also means you don't have to buy the fake custard loaded with sugar, colorings and flavorings from the supermarket.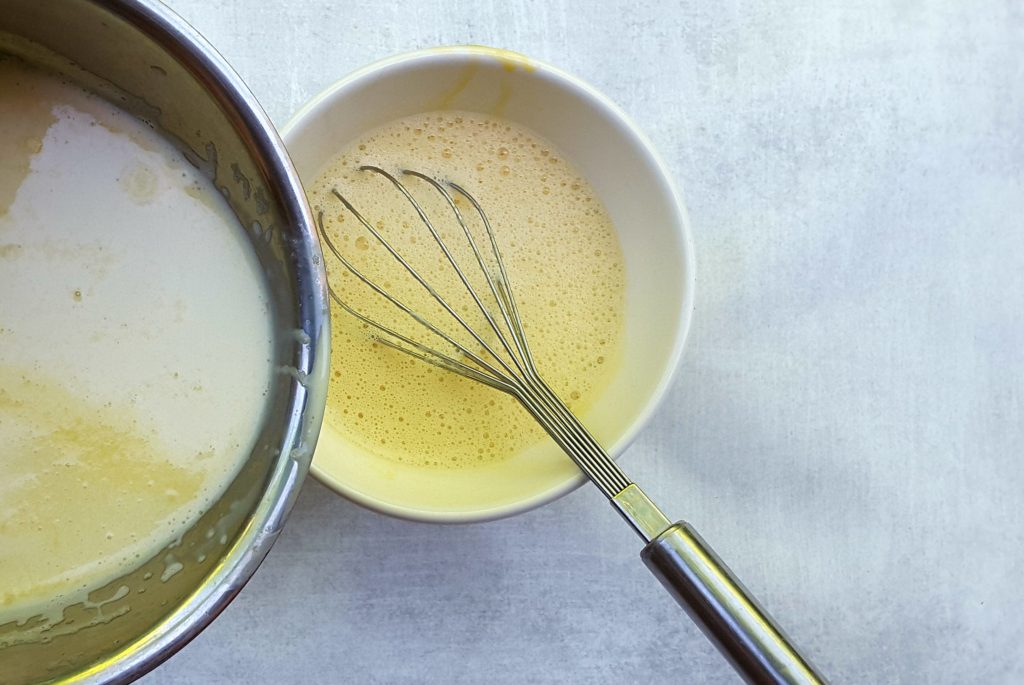 To make this custard you are going to have to focus on making it for about 10 minutes. Don't leave the pot on the stove alone, or you will be at risk of having your custard separate. A couple of tips that are really important for this recipe are don't allow the cream to boil at the start. Bring it just to the boil but don't let it bubble up or it will separate. The second tip is to make sure you wipe out your sauce pan when you pour the custard back into it after you have mixed the hot cream into the eggs, otherwise you will be at risk of having spots where the egg will cook more, and once again you will be at risk of having your custard separate or be lumpy. The third tip is to keep whisking your custard until it thickens over an extremely low temperature so that your custard doesn't boil or stick in places in the saucepan.
Don't let these tips turn you off though, as you can always blitz a separated custard with a stick blender and you will bring it back together. I have never had a failure with this recipe, and have had to rescue my custard a few times by using my stick blender.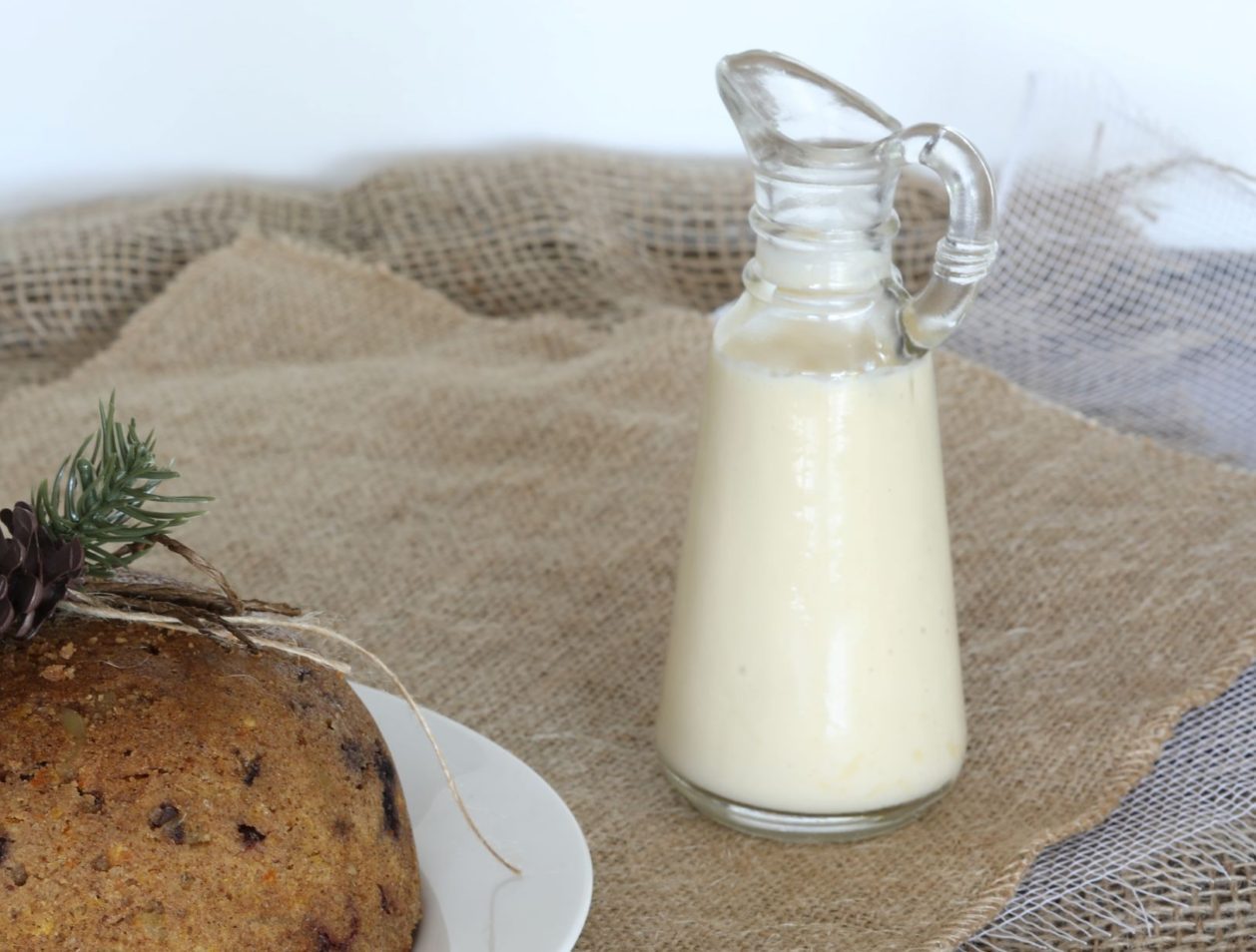 If you wanted to reduce the amount of cream in this recipe, you can switch 1/4 of the recipe with either water or almond milk, ie use 450 mls/15 oz of cream to 150 mls/5 oz of water or almond milk. Note that the end result will not be as creamy though. Do try it made with cream alone though as it is the most delicious creamy custard recipe.
This low carb custard from scratch recipe will continue to thicken once it has cooled. If you were to pour it into some small serving bowls, it would thicken up enough to make creamy pots of custard that you could top with some berries for a really simple dessert.
This recipe is perfect to serve with puddings and desserts. It thickens up beautifully so is ideal to use in desserts such as trifle. To reheat this custard, heat very slowly on the stove top or in the microwave. If you need to thin it out you can add a little more cream and whisk it in. To make a brandy custard perfect to use for Christmas puddings, simply stir in your desired amount of brandy once you have made the custard.
Try serving this custard with the delicious recipe for a Low Carb Christmas Pudding. as well for the recipe for a delicious Low Carb Trifle.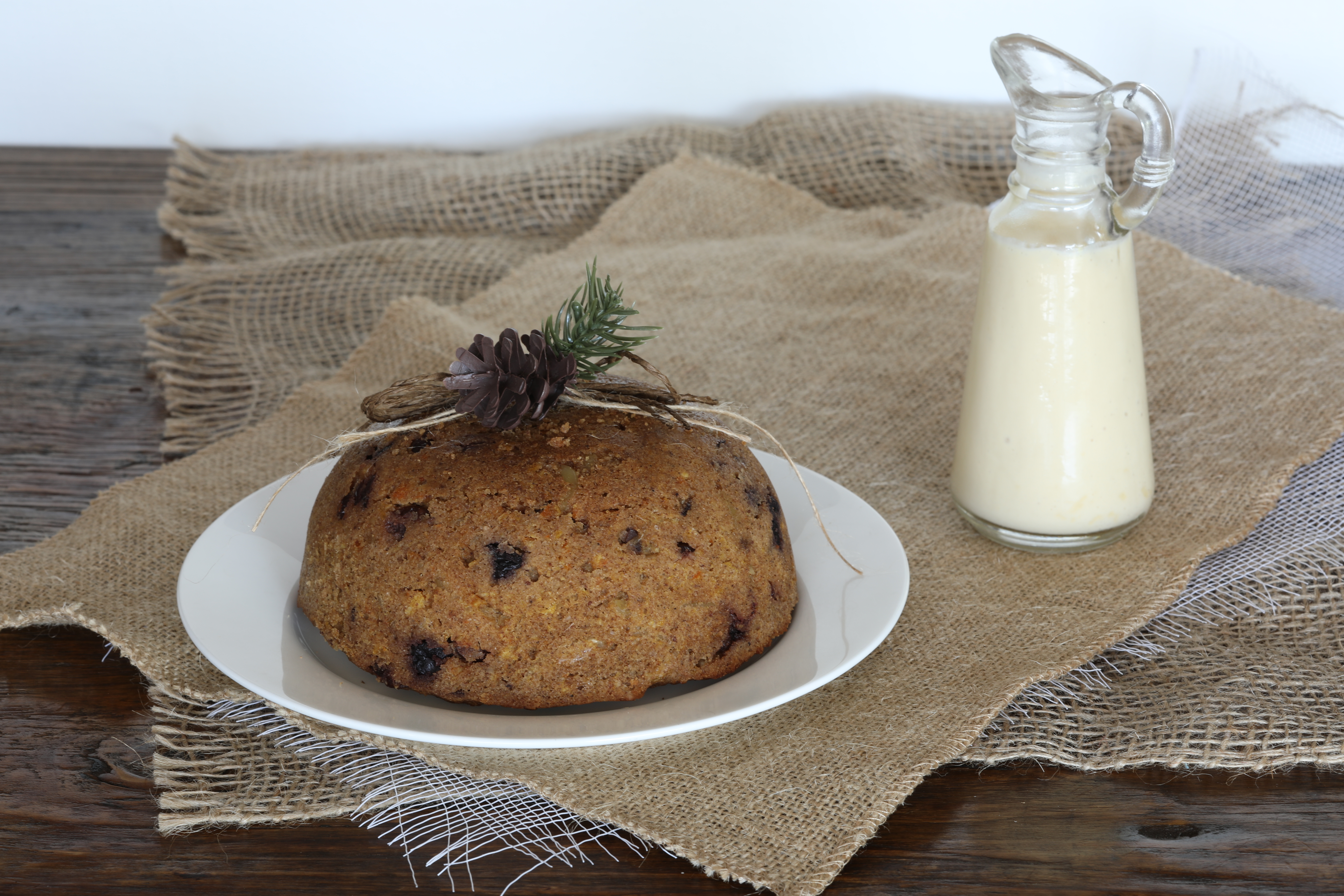 Ingredients
600

mls

heavy cream or pure cream

6

egg yolks

2

tablespoons

Stevia and Erythritol blend or alternative sweetener

2

teaspoons

organic vanilla extract

A pinch of salt
Instructions
Heat the cream to just below boiling- do not allow to boil.

Whisk egg yolks in a large mixing bowl.

Very slowly mix all of the hot cream into the eggs in the mixing bowl (not in the saucepan) to temper the eggs.

Wipe out your sauce pan so it is clean. Pour the custard back into the saucepan.

Return the saucepan to the lowest possible heat and continually whisk you custard until it thickens enough to coat the back of a spoon. Note that your custard will continue to thicken as it cools.

Strain custard if you need to and serve.
Variations
Brandy Custard- blend in 50-100 ml of brandy once you have made the custard.




To reduce calories- omit 150 ml/5 oz of cream and use almond milk or water in it's place to reduce amount of cream used. This at your own risk! You will end up with a less creamy custard!
Recipe Notes
Do not boil the cream mix and continually whisk your custard to prevent separating and lumps forming.
Ensure your pan is perfectly clean when you pour the custard mix back into it to prevent sticking and lumps forming.
If you have lumps in your custard you can strain it.
Using too high temperature when whisking your custard in step 5 will result in a separated custard.
Halve the recipe to make a smaller amount.
If your custard separates, simply blitz with a stick blender till smooth.
Nutritional Information
Serving:
1
g
|
Calories:
146
kcal
|
Carbohydrates:
1.4
g
|
Protein:
1.9
g
|
Fat:
14.8
g
Note that we calculate our own nutritional values so they may not be precise. Calculate your own if desired. Carb values exclude sugar alcohols such as Erythritol, as they generally have no impact on blood sugar levels. 50% of the carbs from Xylitol is added to nutritional values. This is consistent with industry practice.
Do you want to receive more recipes like this one? Subscribe to our newsletter now!