Low Carb Christmas Pudding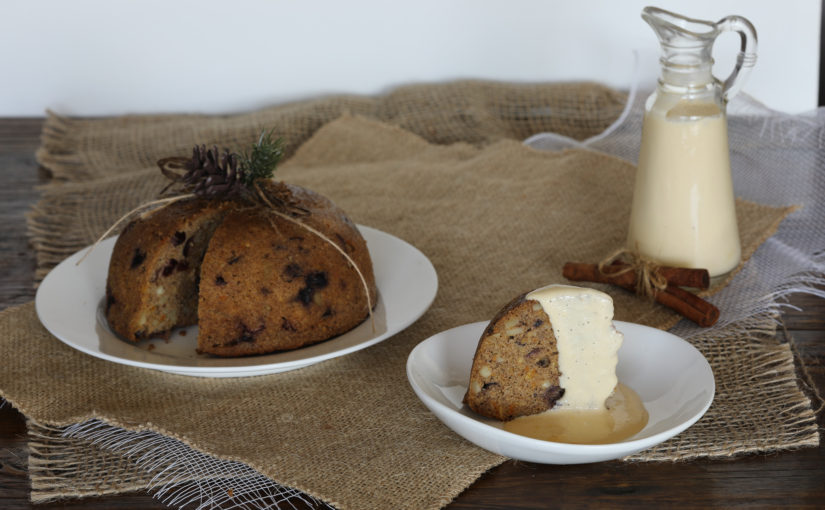 Low Carb Christmas Pudding
This is a truly amazing recipe for a Low Carb Christmas Pudding. Whilst it might not have the gluten to hold it together nor the sugar laden fruit that is in a traditional recipe, this recipe works so well! It has hints of Christmas written all over it; delicate spices, brandy soaked cranberries and blueberries, slivered almonds, and a rich and moist steamed pudding texture, that slices beautifully and is just begging to be served with some warm custard.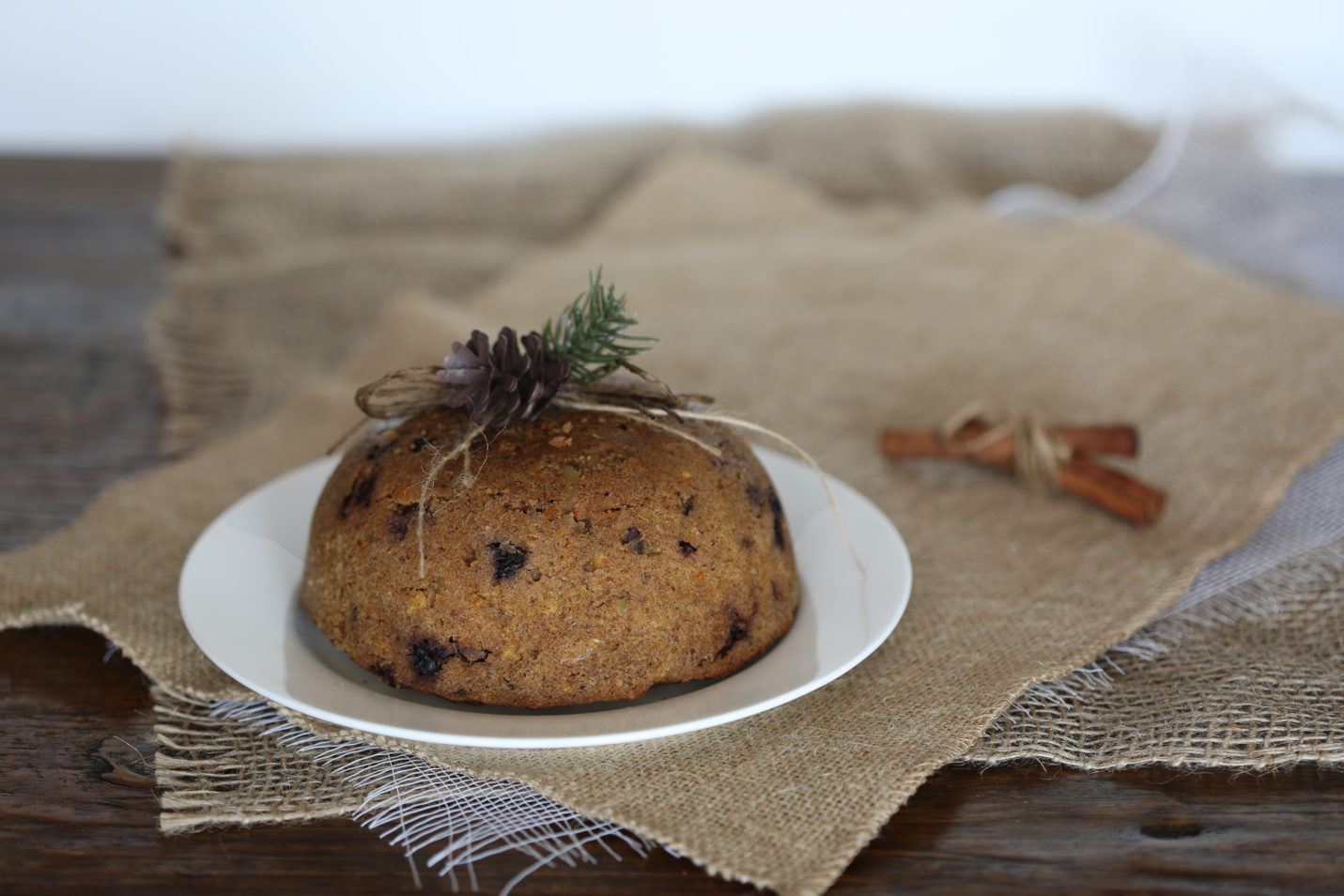 This recipe is really quite easy to make and I steamed it in the oven in a simple Bain Marie, which is part of the reason the texture is so wonderful. Don't be scared off by using this method to cook, as it is actually very easy. I just used one of my ceramic mixing bowls to cook the pudding in, topped it with oiled baking paper and then put 2 layers of aluminium foil on top and tied it off with string. I then placed the bowl in a slightly bigger bowl, poured boiling water up to about 3/4's of the way up the side of the bowl, and baked it for 1 1/2 hours. Note that you might have to leave your pudding in for longer if your stove isn't baking at the same temperature as mine, so check the pudding with a skewer first to see whether it needs more time or not. I have specified between 1 1/2 to 2 hours in the recipe for this reason.
If you do find your pudding is not cooked enough on the inside, simply put it back to cook for longer in the bain marie.  Just make sure you check the centre of the cake with a skewer, to make sure it's cooked enough. The centre should still be moist but cooked through and can leave a few crumbs on the skewer. The top can still be a little moist but obviously not like uncooked batter. 
Reheating Your Low Christmas Pudding
Leave your pudding to cool on the bench sealed before storing in the fridge as it is, if you don't want to eat it straight away.  When it comes time to inverting your pudding, you may need to run a knife around the edges to help ease it out.  I just reheat the pudding in the microwave in portions. I spray a tiny amount of water on top of it and cover it before microwaving to ensure it doesn't dry out. Make sure you don't over heat it. You could also reheat the whole pudding by leaving it in the bowl it was cooked in with the paper and aluminium foil on top, ensuring it's water tight. Simmer gently in a saucepan, with water coming up about 3/4 of the way up the side of the pudding bowl. It will take roughly 3/4 hour to reheat the whole pudding this way.
I have used Xanthan Gum in this recipe to give the pudding a bit more of a binding texture but if you don't want to use it, don't be concerned as I have made it without adding it and the pudding is still divine. In regards to using Xanthan Gum, I always minimize my use of processed foods and additives and will only ever use this product if it is vital to the recipe succeeding. Now Xanthan Gum is not an unnatural food, but it has been processed and many don't like to use it because of this reason. It also doesn't agree with some people for some reason so if you're one of them, simply don't use it in this recipe. I generally try to avoid using Xanthan Gum, but not because of any health reasons associated with it. It's just that I like to try to keep my recipes true to being 'real food', and pretty much unadulterated. Note that you can buy Xanthan Gum in most supermarkets and specialty stores and also online if you are trying to buy some.
What is Xanthan Gum?
Xanthan gum is basically a food thickener that has been made from bacteria that infects numerous plants and causes fermentation. Xanthomonas campestris infects a wide range of cruciferous plants such as cabbage, cauliflower, and brussels sprouts, causing them to wilt and rot. Xanthan gum is used in a wide variety of processed foods as well as products such as toothpaste. It does offer a few health benefits but it is actually used to change the texture of food and products, not for any specific health purposes. Xanthan gum is detracted bacteria from the plants, but the finished product does not contain any of the initial bacteria, so there is no risk of Xanthan Gum causing infections. To read more on Xanthan Gum check out this link. 
If you are after a delicious creamy home made custard recipe to go with this recipe, have a look at Low Carb Creamy Custard from Scratch recipe I also have a brandy butter recipe that is delicious with this and is really simple to make. The recipe is below.
Please share photos of your efforts as I would love to see them. If you make this recipe and love it, could you please also rate the recipe below,  and/or share it on Facebook, Instagram and Pinterest. It is a worthy recipe and I'm really excited about it, so you can help me by putting it out there. 
Thanks
Karen xx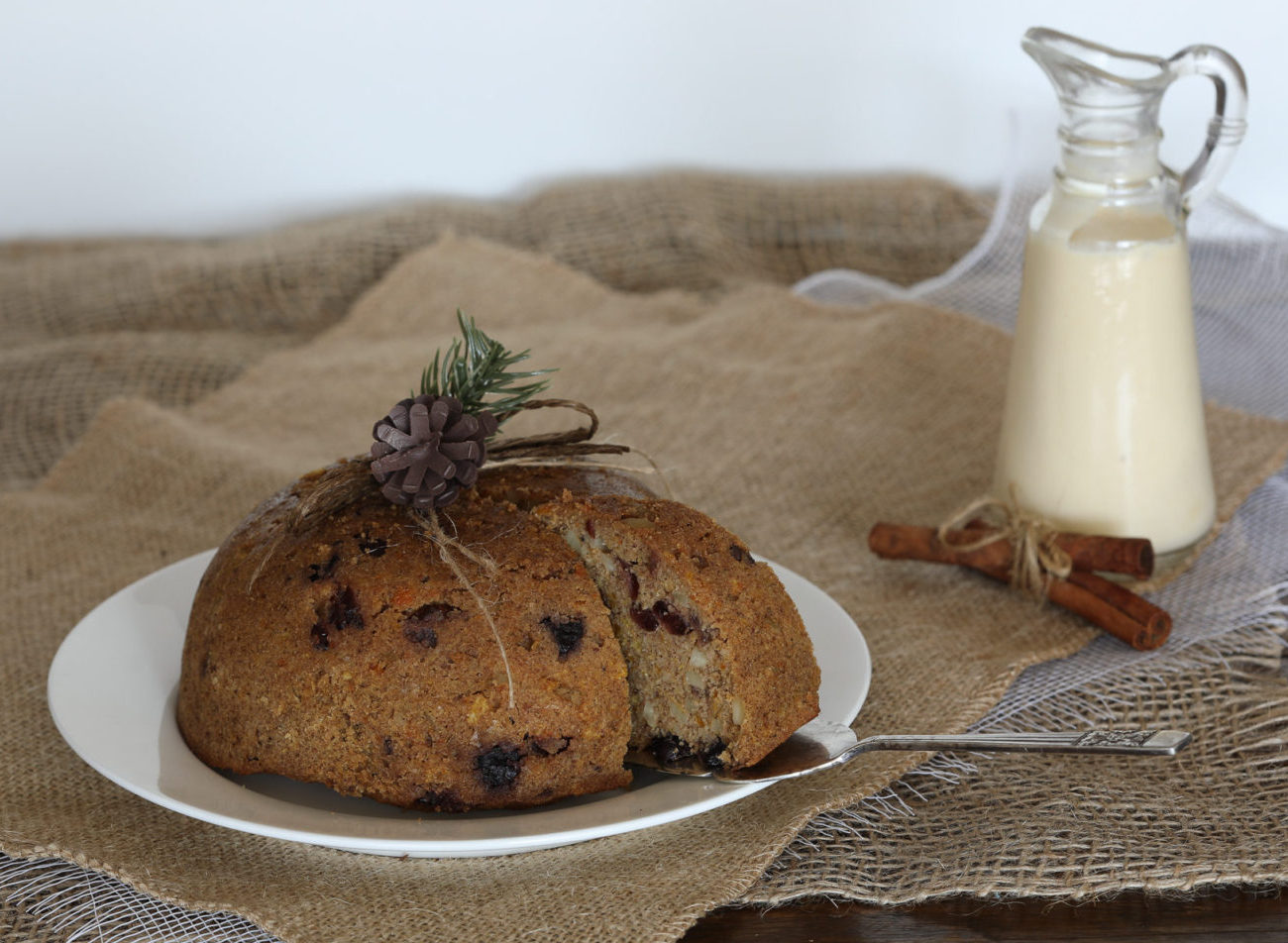 Ingredients
150

gms

gms almond meal/almond flour

1

whole thin skinned orange boiled skin and all for 3/4 hour-see note below

2

eggs

70

gms

frozen/fresh blueberries

50

gms

dried cranberries reduced sugar- I used Ocean Spray 50% less sugar

50

gms

slivered almonds

50

mls

brandy

1/4

cup

EVOO-extra virgin olive oil

1

teaspoon

baking powder

1

teaspoon

Xanthan Gum

optional

2

teaspoons

organic vanilla extract

3

tablespoons

Stevia and Erythritol blend sweetener -see note on sweetener below.

2

teaspoons

cinnamon ground

1

teaspoon

mixed spice powder

1/2

teaspoon

ginger powder

1/4

teaspoon

nutmeg ground

1/4

teaspoon

cardamom ground

A pinch of salt

A pinch of cloves
Instructions
Preheat the oven to 180 C/355 F fan forced.

Chop the blueberries roughly in half and soak with the cranberries in brandy, overnight or for as long as you can. This is not vital but tastes great.

Blitz the whole boiled orange, skin and all, in a food processor until smooth.

Blend the dry ingredients together in a mixing bowl, ensuring the baking powder is well combined.

Hand beat the eggs, EVOO (oil) and the vanilla extract roughly in a small bowl.

Add the wet mix to the dry ingredients and mix till well combined.

Wipe a small (about 15-20 cm wide ) pudding tin/ceramic bowl liberally with oil so the pudding won't stick.

Pour the pudding mix into the bowl and smooth off the top.

Cover the pudding with a piece of quality baking paper that has been wiped liberally with oil. Then fold 2 pieces of aluminium foil over the top of the baking paper and press into the bowl to seal it the bowl off and ensure water will not get inside. Tie the cover off with a piece of string.

Place the pudding in a high edged baking tray, a little bit bigger than the pudding bowl. Fill with boiling water up to about 3/4's of the way up the bowl.

10. Bake in the oven at about 180 C/355 F for about 1 1/2 -2 hours, or until pudding is cooked in the centre. Note that it should still be moist so don't overcook it.

11. Leave the pudding to cool with the wrapping on it.
To Serve
If you don't serve it straight away and want to reheat the pudding, I suggest microwaving it in portions or as a whole pudding. To steam it in the microwave and prevent drying out, sprinkle or spray with a tiny amount of water and cover the pudding with a lid or cling wrap,taking care not to over heat it. You could also steam it again in a saucepan on the stove top for about 30-40 minutes.




Serve with Low Carb Creamy Custard , brandy butter and/or ice cream.

You could also drizzle with a little brandy and set it alight before serving-do with caution though!
Brandy Butter Recipe
Beat 150 gms/5.29 oz of butter in a small mixing bowl until creamy. Add 100 gms/3.5 oz of Swerve Confectioners Sweetener/alternative sweetener and continue to mix until the sugar has blended into the butter.

Add 1/4 cup of brandy and whip until combined.

Add a dollop to the top of your hot pudding and serve with cream and/or custard.
Recipe Notes
Increase the amount of brandy to taste as it is subtle in flavor.
The Xanthan Gum is optional. It will give the pudding a different texture but I make it without it and it still tastes amazing. As there is no gluten in this pudding, the Xanthan Gum acts as a bit of a binding agent.
Using Sweeteners-
Note that my recipes will never be overly sweet as I am conservative with using sweeteners. Pay attention to the specific type of sweetener listed and use it as a reference point if you use a different type or blend, or else the recipe will not taste the same. Always taste the batter for sweetness and adjust to your liking. Note that a blend of Stevia or Monk Fruit with Erythritol is much sweeter than using Erythritol or Xylitol on their own. In this recipe I have used a blend, which is why a small amount is specified in this particular recipe.
Boiling Oranges-
Boil the orange on the stove top in simmering water for 3/4 hour. You may need to top up the water and make sure it doesn't boil dry. I do this in bulk with old oranges and store them in the freezer to use in recipes like this one.
The Whole Orange Does Not Make This Recipe Biter At all-
Using a whole orange in this recipe will not result in a bitter taste at all and the orange flavor in the cake is actually very subtle. You cannot taste the pips or the skin of the orange. It simply adds a hint of flavor and moisture to the recipe.
Using 100 % Fresh/Frozen Fruit In The Recipe-
I used dried cranberries in this recipe which can be problematic for some of you as they generally are sweetened with apple juice. The ones I selected were reduced sugar but they still have had fructose added. This is because it is near on impossible to source fresh cranberries in Australia. As this pudding serves 18 people, the sugar/carbs in each slice is still minimal. You could use fresh or frozen cranberries (or more blueberries) in place of the dried cranberries but I recommend you follow the instructions below to the recipe, to make sure the batter isn't too wet.
If using 100% Fresh/Frozen Berries In The Recipe-
Cut the blueberries or cranberries roughly in to half. Add to a saucepan with a 1/2 tablespoon of water and simmer on a low-medium until the fruit softens. Continue simmering until the water content in the fruit reduces and the mix is a little drier. There is no need to break the fruit up, as you want chunks of fruit in the pudding. Keep an eye on it so it doesn't burn. Add the brandy to the fruit and soak as per the recipe for as long as you can before making your pudding.
Nutritional Information
Serving:
1
g
|
Calories:
140
kcal
|
Carbohydrates:
5
g
|
Protein:
3.5
g
|
Fat:
11.1
g
|
Fiber:
2.2
g
Note that we calculate our own nutritional values so they may not be precise. Calculate your own if desired. Carb values exclude sugar alcohols such as Erythritol, as they generally have no impact on blood sugar levels. 50% of the carbs from Xylitol is added to nutritional values. This is consistent with industry practice.
Do you want to receive more recipes like this one? Subscribe to our newsletter now!