Sugar Free Keto Mince Pies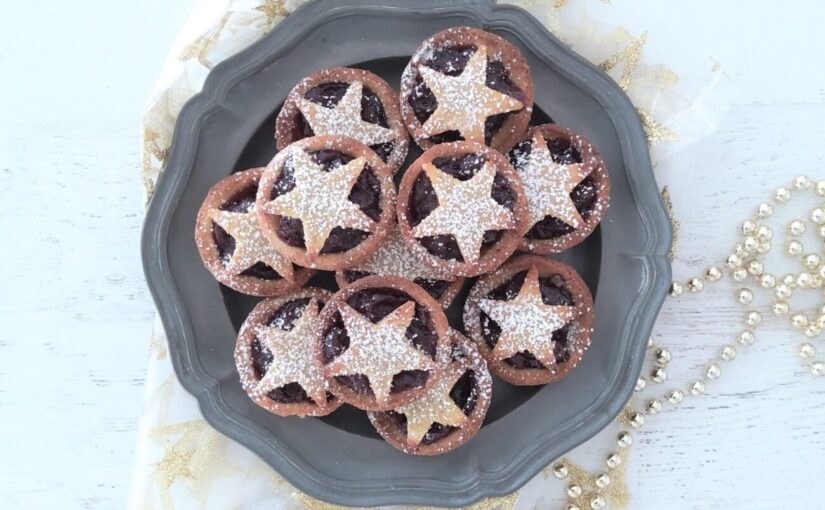 Sugar Free Keto Mince Pies
Sugar Free Keto Mince Pies feature a delicious buttery short crust pastry base that's filled with a low carb mincemeat filling. This fabulous recipe means you still get to enjoy some of those traditional foods that feature at this time of the year.
Come Christmas time, when you are following a low carb way of eating there can be a fair amount of food envy. Traditional foods are part of what makes Christmas special, and let's face it……it really is all about the food.
Mince pies are one of those foods that you can never find a low carb version of in the stores. Your only option if you want to indulge in one, is to make them yourself. The good news is that this recipe is easy to make with ingredients that are easy to source. The bad news is, how do you stop at eating just one? The combination of the buttery pastry with the low carb Christmas spice sticky dried fruit is absolutely delicious. While the texture of the mince is slightly different to one made with sultana's etc, the flavor combination of these mince pies is spot on.

TRADITIONAL MINCE PIE NUTRITION INFORMATION
Mince pies and a low carb diet do not work at all. One small mince pie can easily blow 50 grams of carbs. Just the amount of sugar used in traditional mince pies means they are off limits. Add in the dried sultanas etc and you understand why they are so high in carbs. This recipe has just 5 grams of carbs or 3 of net carbs, so you can enjoy one or two and easily stick to your carb limit for the day.
SUGAR FREE KETO MINCE PIES
So how do you come up with a recipe without all of the carbs and sugar? It took a bit of testing to try to find the right combination and in the end used sugar free (or reduced sugar) cranberries and rhubarb. Of course the flavor is the same as a traditional mince pie. By simmering the ingredients to reduce the moisture, I managed to recreate a sticky fruit mince that works wonderfully in this recipe. If you find it hard to source rhubarb, you can also use diced apple or diced zucchini in it's place.
HOW TO STORE SUGAR FREE MINCE PIES
Store your sugar free keto mince pies in a sealed container in the fridge for up to 4 days. They could also be stored at room temperature for a couple of day. I don't know if you can freeze them as there are never any left.
MAKE SURE YOU CHECK OUT THESE DELICIOUS LOW CARB CHRISTMAS RECIPES
Sugar Free Celebration Christmas Cake
There are some fabulous recipes here so you can truly enjoy Christmas without missing out on enjoying wonderful festive food.
Enjoy!!
Kxx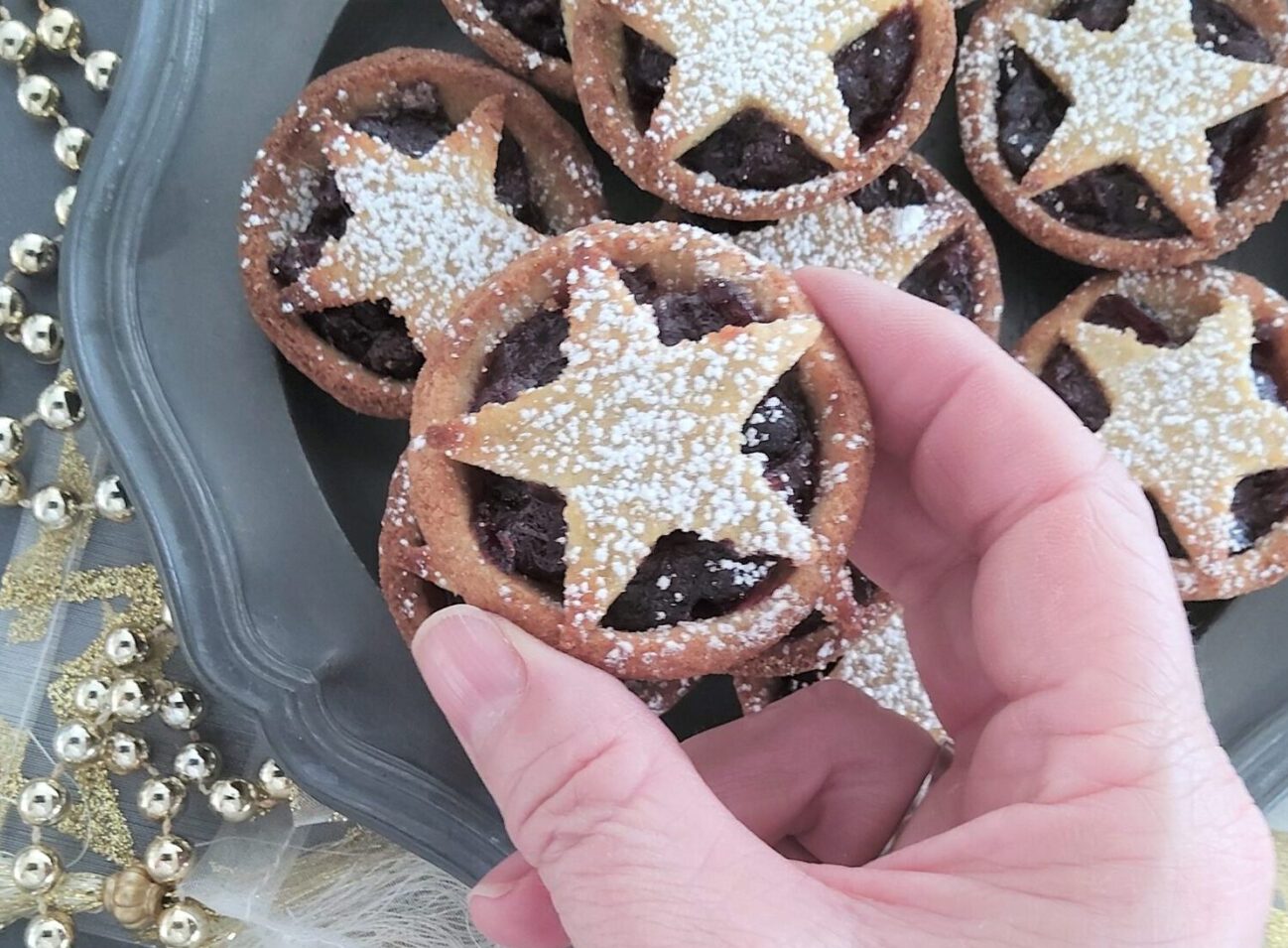 Ingredients
Pastry Ingredients
100

grams

butter

1

tablespoon

cream cheese

1

cup

/ 115grams almond flour

35

grams

coconut flour

3

tablespoons

erythritol

1

tablespoon

ground linseed/flaxseed powder

½

teaspoon

xanthan gum

A Pinch of salt

1

large egg

plus one for an egg wash
Filling Ingredients
2

stalks

rhubarb finely diced

or 150 grams/5.3 oz Granny Smith apple or zucchini peeled and finely diced

⅓

cup

sugar free dried cranberries

make your own or buy reduced sugar cranberries

1

tablespoon

butter

1

tablespoon

water

A squeeze of lemon juice

4

tablespoons

xylitol

or sweetener of choice

1

tablespoon

lemon zest

or to taste

1

tablespoon

orange zest

or to taste

2

teaspoons

mixed spice

1

teaspoon

ginger powder

1

teaspoon

cinnamon powder

A pinch of nutmeg

A pinch of salt

1-2

tablespoons

brandy - optional
Instructions
To make the Filling
Place all ingredients into a small saucepan and simmer on a low heat for about 10 minutes or until the 'fruit' is soft.

Turn the temperature up slightly and stir occasionally for a couple of minutes until the mixture dries out and thickens. Watch carefully so it doesn't burn. Allow to cool and set aside. The mixture should be reasonably thick.
To make the Pastry
Combine the butter and the cream cheese in a microwave mixing bowl. Zap in the microwave until just soft enough to blend. Add the dry ingredients and the egg to the butter mixture and stir well to combine. Shape into a ball.

The mixture may be ok to roll out straight away, if too soft, cover the bowl with clingwrap and place in the fridge or freezer until it firms up slightly- 10-15 minutes.

Preheat oven to 175 C / 350 F.

Roll ⅔'s of the dough out between two sheets of quality baking paper to about 3mm thick. Use a 7cm/2 ½" cookie cutter to cut out about 18 bases. Be gentle lifting them off the paper to avoid tearing. Use a metal spatula if need be to lift them.

Place the bases into your greased Yorkshire pudding tin/rounded base small quiche pan (a rounded based pan makes it so much easier to remove your pies once baked) and gently press into the base of the pan.

Roll out the leftover dough and use a cookie cutter to press out 18 stars (use a star cutter that fits across top of your bases to the edge of the pastry.)

Whisk your additional egg.

Place about 1 tablespoon of filling into each base and place one star on top of each pie, pressing gently on the seams.

Brush each star with the egg wash.

Bake for between 15-20 minutes or until lightly golden and pastry is cooked through. If your pies are browning too quickly, turn down the heat and/or cover your pies with an aluminium tent.

Leave mince pies to cool in the pan before removing. If you used erythritol in your pastry, the pies will continue to crisp up over a couple of hours
Recipe Notes
If the dough becomes too warm to cut you can place it back in the freezer for a few minutes to firm up.
If you use zucchini for the filling, make sure you taste the mixture for sweetness as you may need to add more sweetener.
The filling will last for up to 1 week stored in a sealed container in the fridge.
Nutritional Information
Serving:
1
serve
|
Calories:
127
kcal
|
Carbohydrates:
5
g
|
Protein:
1
g
|
Fat:
10
g
|
Fiber:
2
g
Note that we calculate our own nutritional values so they may not be precise. Calculate your own if desired. Carb values exclude sugar alcohols such as Erythritol, as they generally have no impact on blood sugar levels. 50% of the carbs from Xylitol is added to nutritional values. This is consistent with industry practice.
Do you want to receive more recipes like this one? Subscribe to our newsletter now!