Low Carb Berry Trifle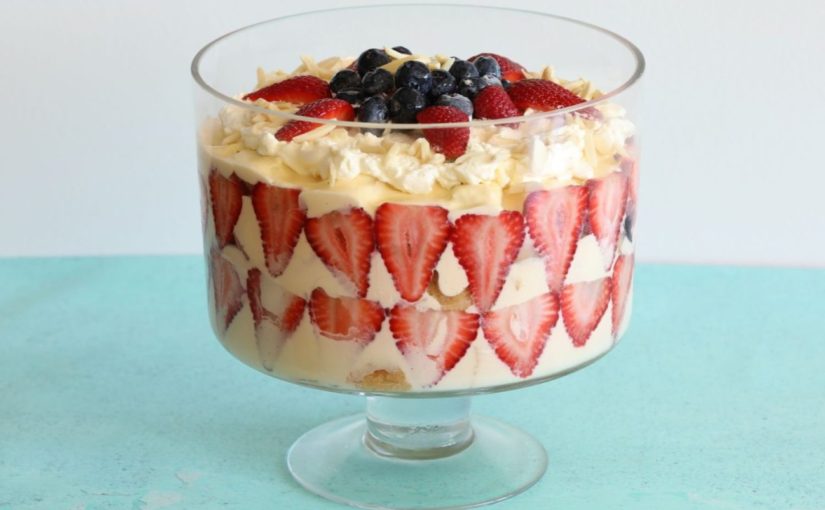 This delicious version of a trifle but without the carbs and added sugars will have you baffled. You see it tastes just like a traditional trifle, so there is absolutely no compromise on flavor at all. My husband was extremely surprised when I told him it was a low carb version and sugar free. You know you have a winning recipe when this is the case. Low Carb Berry Trifle is fitting to serve at any occasion, from a family get together, to a delicious way to end a special occasion meal, such as Christmas time.
This recipe isn't difficult to make, although you will have to make a sponge cake to use in it, unless you manage to buy a low carb cake, which is highly unlikely. It isn't a problem though, as I have made the sponge recipe really simple to make with little effort so you will be able to make it in no time. You could also make it in advance and freeze it, to pull out when you want to make the trifle. Note that this sponge cake recipe is specific to this recipe. I have kept it simple as the cake is soaked in sherry, fruit and custard, so it really doesn't need to be a complicated recipe.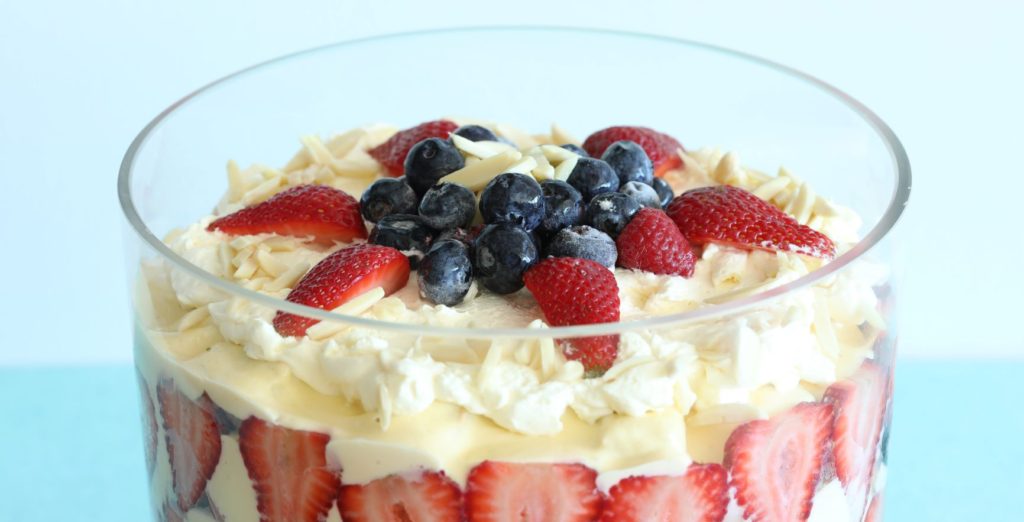 A couple of things will need to be done ahead for this recipe, such as making the custard and allowing it to cool, making the sponge cake and allowing it to cool, as well as preparing the jelly, so that it sets in time, but these tasks won't take long to prepare. You could actually make all of these a day or so in advance, so then it's just a matter of assembling the trifle. I also recommend that you can make this at least 4 hours (or a day) in advance, so that all of the flavors meld together and the sherry well and truly soaks into the trifle.
Get creative with decorating this. You could simply use fresh cream, fresh berries and nuts as I have in the pictured trifle, or you could top it with whipped cream, cream rosettes, a little of the diced jelly, berries and nuts. Edible rose petals would look beautiful on this as well. This is the fun part. Google pictures of trifles if you are looking for some inspiration.
Just watch your portion sizes with this recipe.It's definitely a moreish recipe and if you are watching your carb intake, you will want to keep a check on how much you eat. This recipe does serve around 16 people so if you aren't catering for such a large crowd, you could simply halve the recipe. Freeze half of the cake for the next trifle and only make up half the jelly and the custard. I generally use about an 8″/20 cm trifle bowl for the whole recipe so you will need a lot smaller bowl if you half the recipe.
I bet you never thought you could do low carb and low sugar and still eat trifle…and a damn fine one at that!
Enjoy!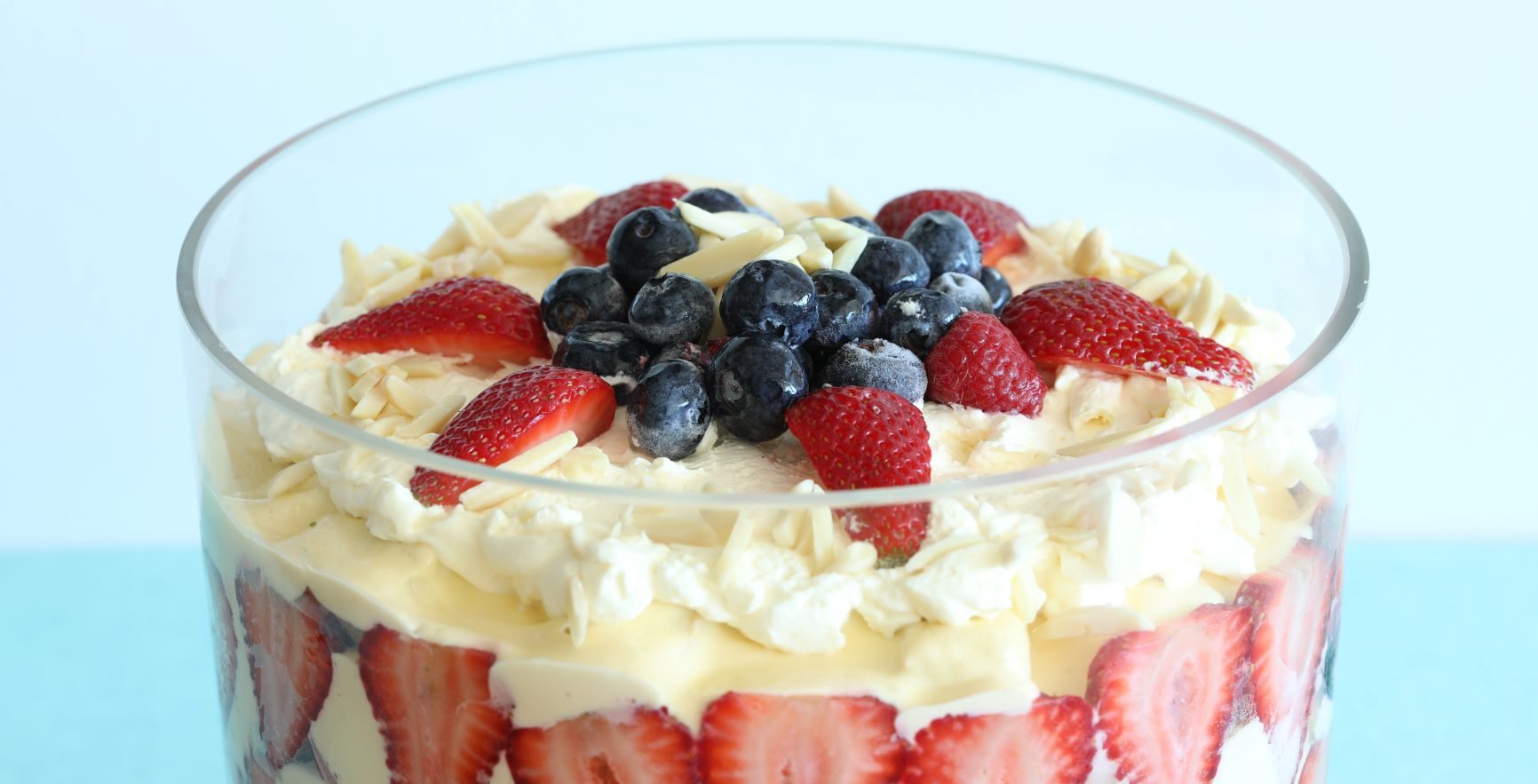 Ingredients
Ingredients
2

sachets of lite jelly/sugar free jello berry flavored.

Make it with a little less water to make a lightly firmer jelly

3/4

cup

pure cream/heavy cream for the topping

1

teaspoon

Stevia/Erythritol mix or sweetener of choice

1/4

teaspoon

Organic vanilla extract

2

cups

mixed berries of choice

strawberries, blueberries, raspberries including at least 6 large strawberries to decorate the side of the bowl.

100

ml

Sweet Sherry or to taste

A Simple Low Carb Sponge Cake made in advance-see recipe below.

Chopped blanched almonds/slivered almonds

mint leaves etc to garnish as desire
A Simple Low Carb Sponge Cake Ingredients
4

large

eggs separated

175

gms

almond meal or almond flour

1

teaspoon

baking powder

1

teaspoon

organic vanilla extract

1/3

cup

Erythritol

or alternative sweetener

A pinch of salt
Instructions
Preparation in Advance
Make the jelly/jello up according to instructions on the packet in advance, so it sets well before you use it. Set it in a large container so that the jelly is not too deep. Dice it into squares when ready to assemble the trifle.

Make the custard as per the recipe and allow to cool.

Make the Simple Sponge Cake as per instructions.

Whip the cream with the sweetener and vanilla extract.
A Simple Low Carb Sponge Cake Method
Preheat the oven to 175 C/350 F Fan Forced and prepare the baking pan with oil/butter and baking paper.

Beat the egg whites until light and fluffy and set aside.

Beat the egg yolks with the sugar and vanilla extract

Whisk the dry ingredients to make sure the baking powder is well dispersed.

Pour the egg whites and the egg yolk mixture over the dry ingredients and gently fold in, using minimal stirring but ensuring the batter is well combined.

Pour the batter into the prepared baking pan and smooth out the top.

Bake in the oven until for about 20-27 minutes or until the cake is cooked in the centre.

Allow the cake to cool slightly before inverting. Wrap in cling wrap and allow to cool until ready to assemble the trifle.

Just prior to assembling the trifle, cut the cake in half and with the crumb side up, sprinkle half the Sherry onto each side. Cut the cake into small 2.5 cm/ 1"cubes.
To Assemble the Trifle
Slice 6 large strawberries into thin slices (approximately 6 slices per strawberry) and stick a row of them around the bottom edge of the trifle bowl, facing outwards.

Lay half of the cake pieces on the bottom of the trifle bowl and then add another row of strawberry segments around the side of the bowl, just above the first row of strawberries.

Sprinkle 3/4 cup of berries on top of the cake and then top the berries with half of the cubed jelly. Pour half of the custard over the jelly (not warm or it will melt the jelly.)

Repeat the layers 1 more time starting with the other half of the cubed cake, then top with 3/4 cup of berries and finally add the remaining half of the jelly.

Finish off with a layer of the remaining custard. Smooth off the top. Top the custard with whipped cream, and decorate with remaining berries, chopped/slivered almonds, mint leaves etc.

Store in the fridge for a minimum of 3 hours before serving.
Recipe Notes
This will keep for 3 to four days in the fridge.
If you make the trifle in advance, you may wish to top it with cream and decorate it just before you serve it so the topping is fresh.
Nutritional Information
Serving:
1
g
|
Calories:
261
kcal
|
Carbohydrates:
4.2
g
|
Protein:
6
g
|
Fat:
24.3
g
|
Fiber:
1.1
g
Note that we calculate our own nutritional values so they may not be precise. Calculate your own if desired. Carb values exclude sugar alcohols such as Erythritol, as they generally have no impact on blood sugar levels. 50% of the carbs from Xylitol is added to nutritional values. This is consistent with industry practice.
Do you want to receive more recipes like this one? Subscribe to our newsletter now!