Roast Chicken with Low Carb Stuffing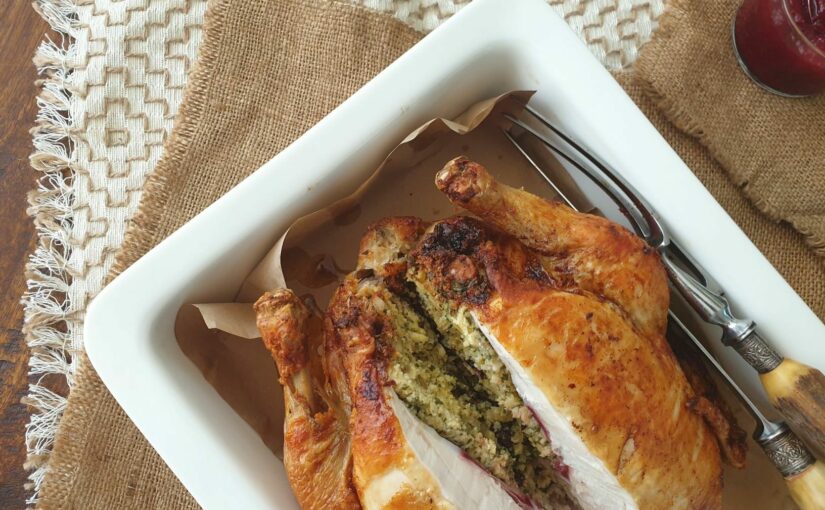 Roast Chicken with Low Carb Stuffing
If you are looking for a roast chicken with low carb stuffing recipe that is simple to make and tastes amazing, you're going to love this recipe. I've been playing around with stuffing recipes which is difficult when you are low carb, as bread is the base of stuffing mixtures. Without a bread base your low carb options would be nuts, but it wasn't what I wanted to use. I wanted an option where everyone could access all ingredients, therefore the 90 second bread recipe is the base to this recipe.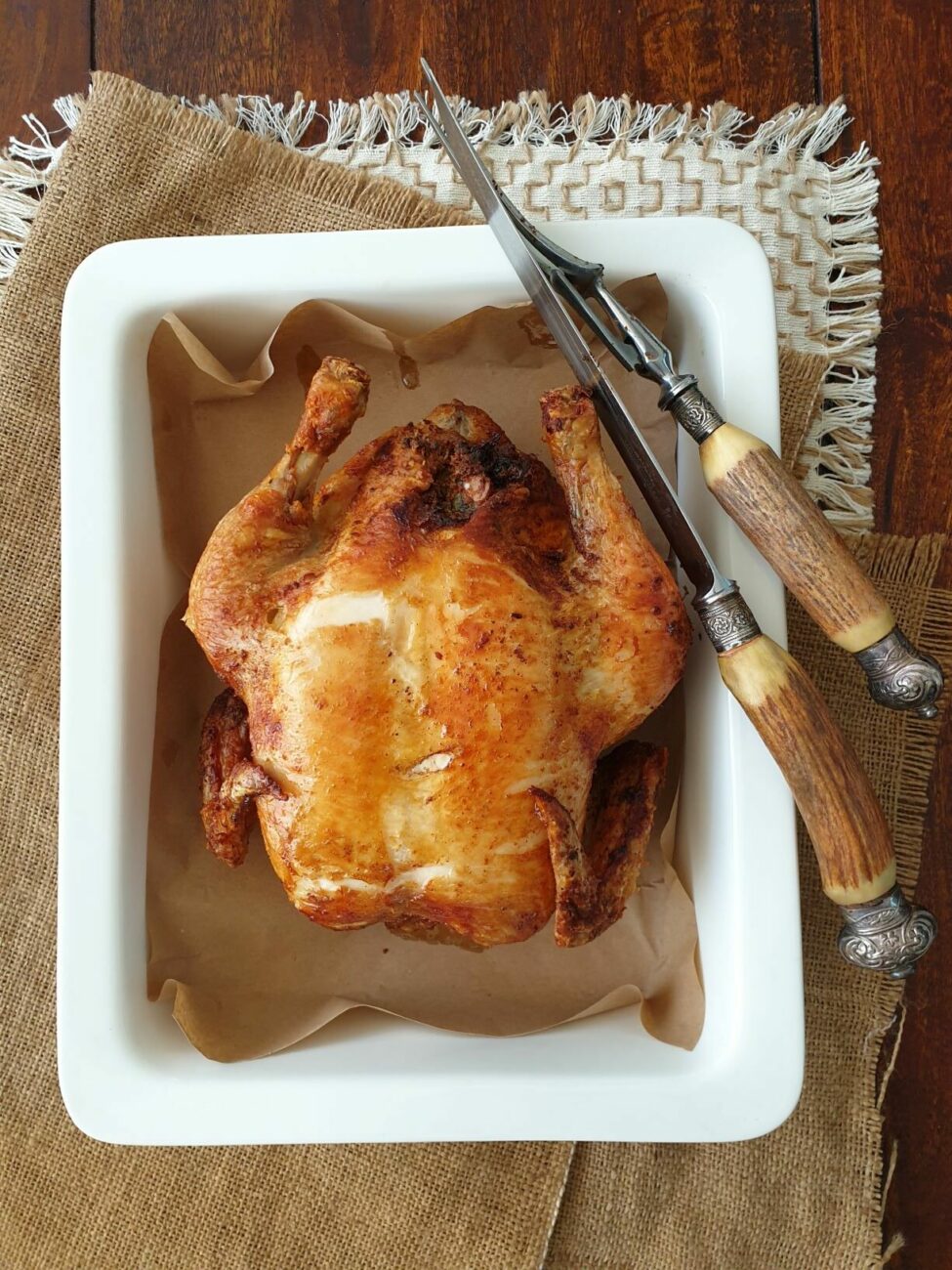 90 Second Bread
Just in case you haven't heard of 90 Second Bread, it's an instant bread/english muffin recipe. You combine an egg, butter or oil, baking powder and either almond meal/flour or coconut flour in a ramekin. Zap it for 90 seconds and you have bread ready to eat, or use in stuffing. Choose either a coconut flour or almond meal based 90 Second Bread/Muffin recipe, as both work well in this recipe. Alternatively, if you have any low carb bread on hand, you could use that instead of the 90 second bread.
90 Second Bread acts as the filler for this Roast Chicken with Low Carb Stuffing, while the remaining ingredients add the flavor. While this recipe is a little festive and has cranberries and macadamia's in it, you could switch these for onion and celery to make your more everyday stuffing. Full details for altenative flavors are in the recipe below.

Air Fryer and Conventional Oven Instructions
Roast Chicken with Low Carb Stuffing includes instructions for both the air fryer and a conventional oven. Whichever method you use you will find they are both very easy recipes to follow. If you have an air fryer and have never cooked a chicken in it before you are in for a real treat. Air fryer's produce the most amazing crispy skinned chicken. You will possibly never buy another BBQ chicken from the store once you have tried one. The one tip I do recommend for the air fryer is make sure you buy a chicken that will fit into your air fryer. Mine's a Phillips XL and I only just managed to get a 2 kg/4.4 lb chicken into mine.
How To Tell When Your Chicken is Cooked
Regardless of how you cook your chicken you can check the internal temperature to see if it has cooked through. Insert a thermometer deep into the flesh of the carcass, and if it is 75 C or 165 F, it is cooked.
I hope you enjoy this recipe. The flavors are sensational and I wouldn't hesitate to serve this for a special occasion meal. It would hold up very well for a quick to make, 'easy on your purse' Christmas meal, especially if served with some lovely trimmings and vegetables on the side. Note that you can also use this recipe to make a simple roast chicken without any stuffing.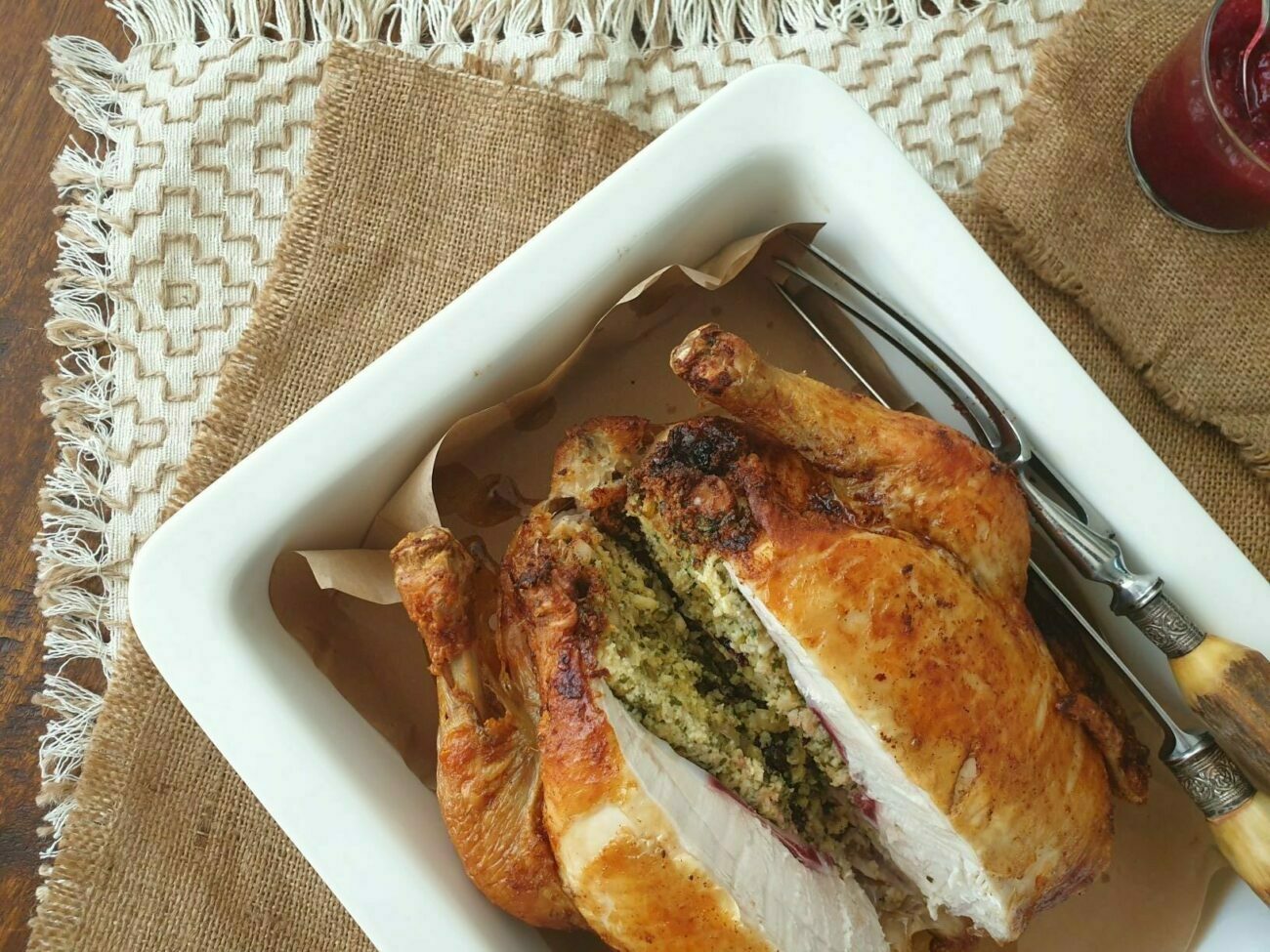 Ingredients
1

large chicken, giblets removed, washed and dried

1

tablespoon

extra virgin olive oil (EVOO)

1

teaspoon

paprika powder

½

teaspoon

garlic salt
Stuffing Ingredients
1

serve

90 Second Bread/English Muffin

almond or coconut flour based

4

tablespoons

melted butter or olive oil

3

tablespoons

almond meal/almond flour

1

teaspoon

minced garlic

1

teaspoon

onion powder

2

tablespoons

parsley flakes

1

teaspoon

dried sage

1

teaspoon

dried thyme

¼

cup

macadamia

or pistachio

¼

teaspoon

salt

or to taste

A dash of pepper
Instructions
Dry the chicken with paper towelling, rub with oil and sprinkle the paprika and garlic salt all over the chicken.

To make the stuffing, tear the 90 second bread into small chunks and combine with remaining stuffing ingredients in a mixing bowl. Stuff into the chicken cavity. You may need to close the skin over the cavity by using a skewer.
Air Fryer Method
Preheat your air fryer to 180 C/360 F. Spray or wipe your basket with oil to prevent sticking.

Place the chicken in the basket breast side down and cook for 40 minutes. Turn the chicken over and continue to cook for approximately 20 minutes or until your chicken reaches 75 C/165 F in the centre fleshy part of the chicken. Note that the size of your chicken will vary the cooking time.
Conventional Oven Method
Preheat your oven to 200 C/ 392 F fan forced. Transfer your chicken breast side up to the oven in a medium sized baking dish. You can roast your chicken on a rack if desired. Cook on for 10 minutes, then turn the oven down to 160-170 C/320 F-340-F fan forced.

Continue to cook for a further 70 minutes or until the internal temperature is 75 C or 165 F .
Alternatively, if the juices run clear when you pierce the chicken in the joint between the drumstick and the body, your chicken is ready.

You can baste the chicken by spooning the pan juices over the skin a couple of times during cooking. Allow to stand for about 15 minutes covered, prior to serving.

By weight, for each 500 gm/17 oz of chicken bake for about 20 minutes, hence about 80 minutes for a 2 kg/4.4 lb chicken.
Recipe Notes
For a traditional stuffing recipe, follow the recipe but switch the cranberries and almonds for 1/2 diced onion and 2 stalks of celery finely chopped. Pan fry the onion and celery in a dob of  butter for about 5 minutes before adding to the stuffing mix. 
The stuffing is suitable for 1 small to medium chicken. It fits perfectly into a 2 kg chicken. If you want to use this recipe for a turkey, you may need to double the recipe to fit the cavity.
Feel free to use your own blend of herbs in the stuffing mix including rosemary and oregano.
The cooking times are based on a 2kg/ 4.4 lbs chicken. If your chicken weighs less, you may need to reduce the cooking time slightly. Remember you can always use the internal temperature as a guide to when the chicken is cooked of 75 C or 165 F.
Nutritional Information
Serving:
1
serve
|
Calories:
278
kcal
|
Carbohydrates:
1.8
g
|
Protein:
9.6
g
|
Fat:
1.8
g
|
Fiber:
0.9
g
Note that we calculate our own nutritional values so they may not be precise. Calculate your own if desired. Carb values exclude sugar alcohols such as Erythritol, as they generally have no impact on blood sugar levels. 50% of the carbs from Xylitol is added to nutritional values. This is consistent with industry practice.
Do you want to receive more recipes like this one? Subscribe to our newsletter now!