Low Carb Stuffed Turkey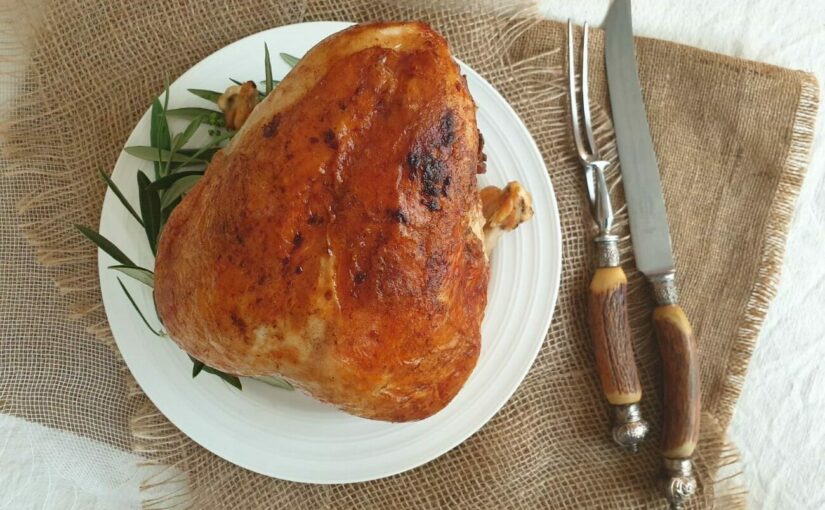 I have never been a big fan of stuffing. I think that's because my body has never dealt well with bread so it was safer to just avoid it.. I'm not sure if you can imagine my delight when I tasted this Low Carb Stuffed Turkey when it came out of the oven. It was absolutely delicious. It has texture, it has flavor and the stuffing actually enhances the flavor of the turkey. Best of all, it's low carb, gluten free and pretty darn healthy as well.
The Secret Ingredient
So what has been used as the base for this delicious stuffing recipe? It's based on my 90 second bread/muffin recipe. How genius is that? This means that you can select one of my 90 Second Bread recipes and use them in recipe. Your choices include a 90 Second Seed bread, or the basic 90 Second Muffin/Bread Recipe, which can be made with either almond or coconut flour.
How To Work Out How Long Your Low Carb Stuffed Roast Turkey Will Take To Bake
While the picture for this recipe features a turkey buffe that has been stuffed, you can use it on other turkey cuts as well.  The stuffing can be used in a whole turkey or it can also be used as pocket stuffing or a roll stuffing for turkey breast. If using it for a breast you may want to reduce the recipe by half.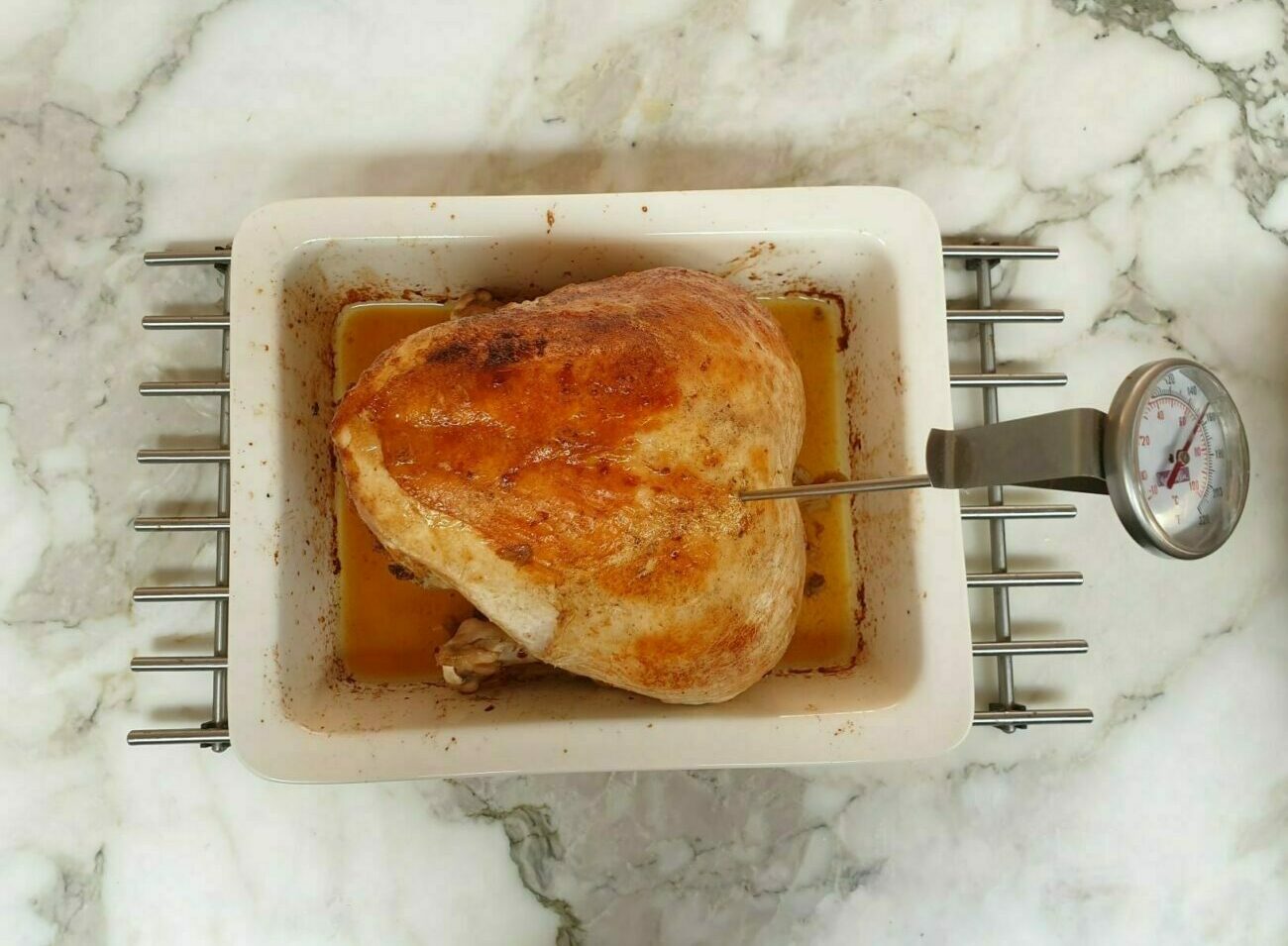 My turkey buffe weighed about 3 kgs/6.6 lbs and it took about 3 hours to cook. The general cooking rule is that turkey takes about 40 minutes to bake per 500 gm/17 oz so try to use this rule of thumb to cook your turkey. For more accuracy you can also check the inside temperature of your turkey and ensure that it is 75 C/ 165 F before removing it from the oven. The pictured turkey should have been ready after 2 hours 40 minutes according to guidelines but the inside temperature wasn't hot enough. I kept baking it until the centre was cooked and had reached 75 C/ 165 F. From a food hygiene stance, I would always use a thermometer to check whether the turkey has cooked through properly.
Excess Stuffing
If you find there is too much stuffing for your turkey, place the excess in a suitable baking dish and bake along side the turkey for about 1 hour. You can pour a little chicken/ turkey broth over your stuffing if you do this. To keep it soft, cover it with aluminium foil while it is cooking. For a crunchier stuffing, remove the foil towards the end of cooking for about 15 minutes, or longer to make it crunchier.
Make sure you don't overstuff your turkey with stuffing as it can lead to problems with cooking times. It might also mean that your turkey or your stuffing is not cooked properly and may lead to food hygiene problems. This is not what you want to be dealing with at celebratory occasions.
Using Stuffing Recipe In Other Poultry
Use this stuffing in chicken and duck as well. While the chicken isn't as gamey in flavor, the flavors still go well together. Stuffing a chicken with this recipe would create a lovely budget special occasion meal. You could halve the recipe to use in a duck or chicken. You will want to halve the recipe for smaller poultry.
I hope you find the time to make this recipe.
I'm looking forward to hearing your thoughts on this recipe.
Kxx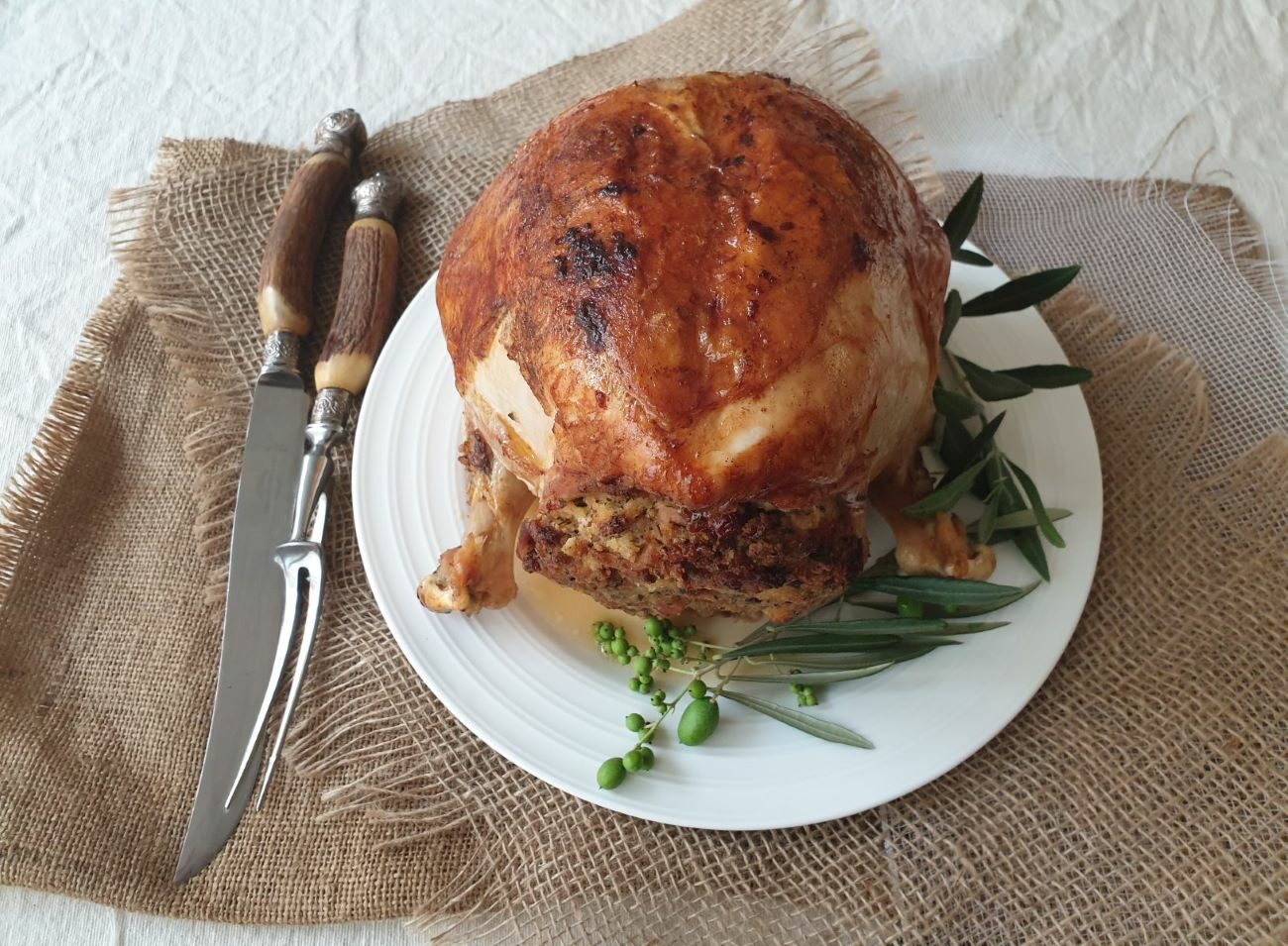 Ingredients
Stuffing Ingredients
2

batches

90 Second Bread Recipe

½

onion finely chopped

4

rashers

bacon or pancetta finely diced

4

tablespoons

butter at room temperature

250

gms

minced/ground pork

3

teapoons

chopped parsley/dried parsley

1

teaspoon

chopped sage

1

teaspoon

thyme or rosemary

2

teaspoons

garlic

½

teaspoon

salt

½

teaspoon

salt and pepper to taste

1-2

large

eggs

add the additional egg for a firmer stuffing

3

tablespoons

almond meal/almond flour

¼

cup

macadamia nuts roughly chopped

or switch for slivered almonds/pistachio or chestnuts

¼

cup

Sugar Free Dried Cranberries

click on link to make your own
Turkey Preparation
1

turkey, turkey buffe or turkey breast

fresh or defrosted

1

tablespoon

extra virgin olive oil (EVOO)

or melted butter

salt and pepper to taste

1

cup

chicken broth
Instructions
Wash your turkey/buffe and wipe with a paper towel. Remove gizzards and pluck any feathers from the flesh with tweezers.

Rub your turkey with the olive oil, salt and pepper.
Make Stuffing
Make the 90 second bread according to instructions.

Pan fry the onion and bacon/pancetta in a tablespoon of butter in a large pan until onion is slightly transluscent. Add the minced pork and cook gently until it's soft and turns white. Do not brown and do not over cook. You just want to cook the pork off slightly. Add the remaining butter and heat until melted. Take the pan off the heat.

Add the almond meal/flour, herbs and spices and mix until combined. Tear the 90 second bread into small chunks and add to the pan. Season with salt and pepper and add the eggs. Stir gently until the mixture comes together.
Stuff Your Turkey
Fill the cavity of your turkey/turkey buffe with stuffing, do not cram it in or the stuffing or the turkey may not cook properly. If your turkey has legs you can truss them together.

If you have any excess stuffing- place it in a suitable sized oven proof dish You can add a little broth to moisten the stuffing and then cover it with aluminium foil. This can be baked with the turkey for about 1 hour. For a crunchier stuffing, remove the foil for the last 20 minutes of baking. Serve as a side dish.

Cover the wings and drum sticks with aluminium foil and bake at 200 C/ 392 F for 15 minutes.

Remove the turkey from the oven and cover the whole turkey/buffe with aluminium foil. Bake according to the weight of your turkey. Allow approximately 25-30 minutes for every 500 gms/ 1.1 lb. For the 3 kg/6.6 lb stuffed turkey pictured this took 3 hours.

Remove the turkey from the oven 30 minutes before it should be cooked though and remove the foil. Allow the turkey to brown for the remaining 30 minutes. If it hasn't browned enough, turn the temperature up higher for a few minutes to assist with browning.

Always check the inside temperature of your turkey to ensure it has cooked though. Using a thermometer, plunge it into the middle of the chicken and ensure it has reached 75 C/165 F before removing from the oven.

Always allow the turkey to sit for about 20 minutes prior to carving. Cover with a tent of foil and remove when ready to carve. Your turkey will not go cold and it will continue to cook during this time.
Recipe Notes
For a more conventional stuffing recipe, omit the bacon and add 2-3 stalks of finely diced celery. Pan fry with the onion when making the stuffing. You can also leave the cranberries and macadmia nuts out as well.
The stuffing is cooked slightly to prevent any part of the turkey being undercooked.  This is also the reason that you don't jam the stuffing in. Pack it slightly loosely to help it cook through.
Nutritional Information
Serving:
1
serve
|
Calories:
376
kcal
|
Carbohydrates:
3
g
|
Protein:
16
g
|
Fat:
9.4
g
|
Fiber:
1.3
g
Note that we calculate our own nutritional values so they may not be precise. Calculate your own if desired. Carb values exclude sugar alcohols such as Erythritol, as they generally have no impact on blood sugar levels. 50% of the carbs from Xylitol is added to nutritional values. This is consistent with industry practice.
Do you want to receive more recipes like this one? Subscribe to our newsletter now!