Keto Fruit Cake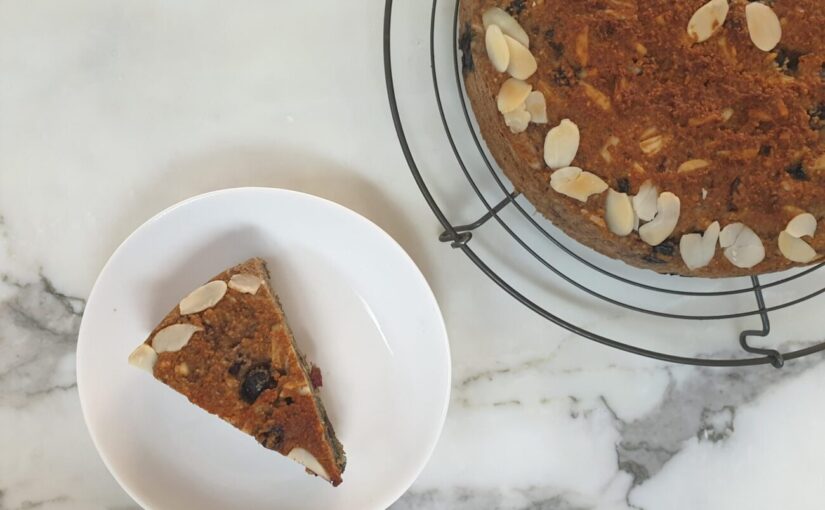 Did you know you can enjoy a slice of Keto Fruitcake without any guilt. This delicious healthy sugar free and gluten free cake tastes like a fruit cake should but without the carbs. It's fruity with a taste of spice and you also have the option of adding brandy or whisky to the recipe if desired. If you want to make this recipe for an everyday cake you can just switch out the rum or brandy. If you're wanting more of a celebration cake I would definitely include it in the recipe.
Low Carb Dried Fruit Siitable for keto fruit cake
Fruit cake has to have fruit in it or it just isn't fruit cake. You may have noticed that it's difficult to source sugar free dried low carb fruits, such as cranberries and blueberries. To make your own Sugar Free Dried Cranberries, follow this easy to make recipe that can be made from fresh or frozen cranberries. Also feel free to use any of the products that you can find in stores or online to make this recipe easier. Just make sure you read the labels so you know what has been added to store bought dried fruits
Make Your Own Dried Fruit
Blueberries that have been dried generally have added sugars or apple juice to them as well. I have found some dried blueberries from iherb, Karen's Dried Blueberries, which are sugar free. They're freeze dried and so aren't moist like other dried fruits. Because they are soaked in this recipe though it isn't a problem. Alternatively, dry your own Sugar Free Dried Blueberries by following this recipe.
It may seem like a big effort to make your own blueberries and cranberries, however they are easy to make as you just let them dry out in the oven. Should you have any excess, they go brilliantly in home made Low Carb Muesli or Sugar Free Granola. They'd be great in a trail mix and would also be perfect added to this Low Carb No Oat Meal recipe.

The Color Purple
When you make this delicious recipe for a Keto Fruit Cake, your batter can end up being quite purple. Once baked it turns a dark golden color a little like a golden fruit cake. It can still be a little purple on the inside once you cut it though. When a cake uses whole foods and natural products, I never despair over what the colors look like as it's natural. Blueberries tend to impart a lot of color into batters so it's unavoidable. Try to gently stir your fruit through the batter at the end to try to avoid over mixing. This might help prevent the colors being overly mixed in.
Storing Your Keto Fruit Cake
While a traditional fruit cake can have a really long life, this low carb version has a shelf life of about 5 days. The recipe freezes really well and defrosts beautifully. One of my favorite ways to eat this cake once it's been frozen, is to zap in the microwave to warm it slightly. Top it with home made Low Carb Custard From Scratch for a delicious pudding like dessert.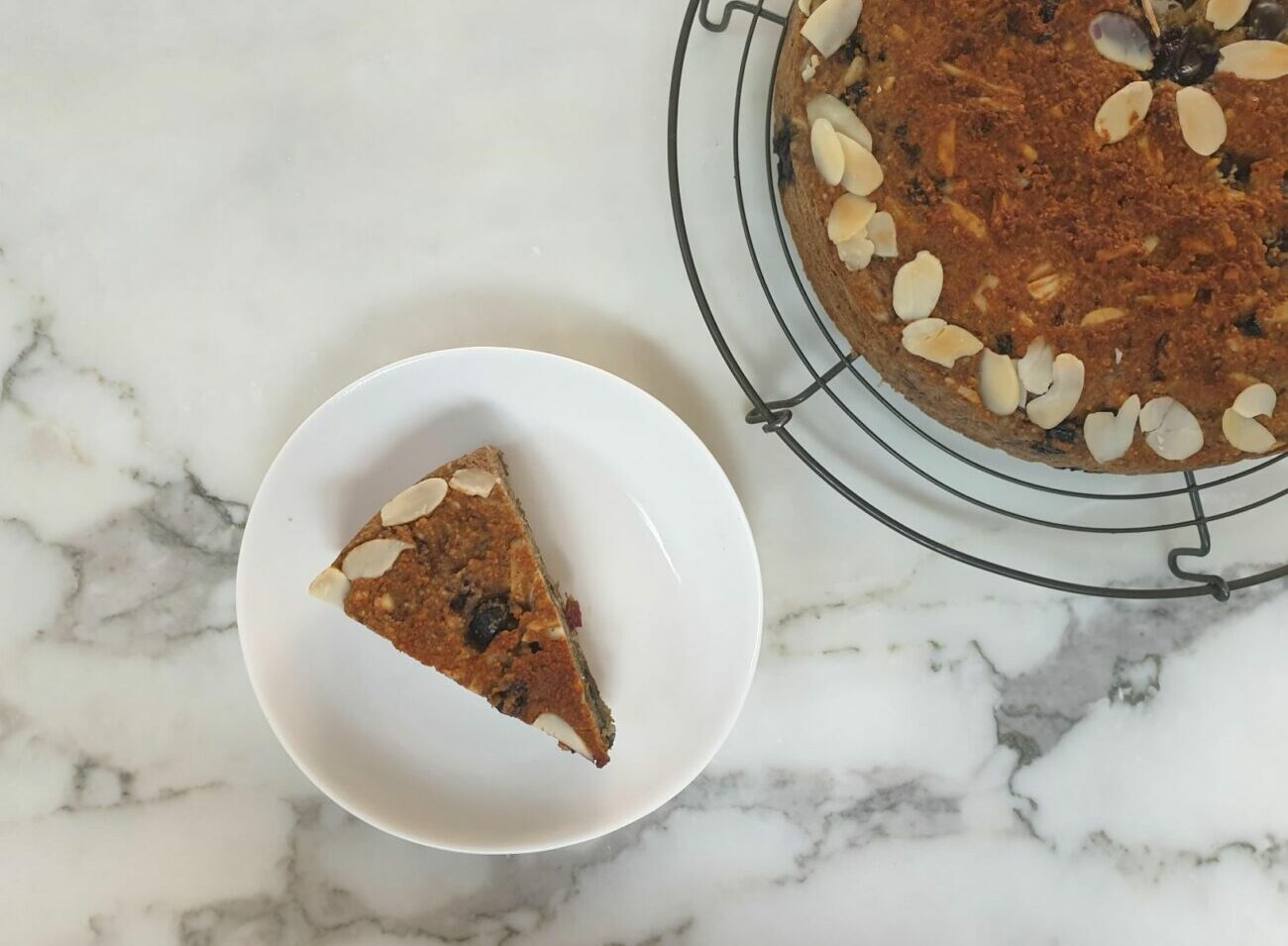 Ingredients
¼

cup

brewed tea/scented tea

- can also be switched for up to ¼ cup whisky or brandy

4

large

eggs

2

teaspoons

vanilla extract

100

gms

melted butter

or mild flavored extra virgin olive oil

¼

cup

nut milk of choice

2

tablespoons

of orange zest/and or lemon zest

220

gms

blanched almond meal/almond flour I like to use this blanched almond meal in Australia

¼

cup

coconut flour

¼

cup

stevia blend

/monkfruit blend or ½ cup erythritol or xylitol

1

cup

almond slivers

or blanched almonds

1

teaspoon

baking powder

3

teaspoons

mixed spice

or pumpkin spice mix

1

teaspoon

of cinnamon

A pinch of salt, a pinch of black pepper and a pinch of cardamom
Instructions
Soak the dried fruit in the tea for as long as possible. Overnight is ideal but not necessary.

Preheat your oven to 165 C/330 F fan forced

Prepare an 8"round baking pan with oil/butter all over and line the base with baking paper.

Beat the eggs in medium bowl with an electric mixer until light and frothy.

Add vanilla extract, oil or butter, nut milk and orange zest and mix until well blended.

Mix the dry ingredients together until combined and ensure the baking powder is well dispersed. Using a spatula, stir the dry ingredients into the egg mixture and mix until ingredients are well combined. Finally gently fold the dried fruit mixture through the batter with a spatula until well dispersed but without over mixing.

Pour the cake batter into the prepared cake tin and smooth off the top. Decorate with additional nuts if desired.

Bake on the middle rack for 35-40 minutes or until cake is cooked on the inside. Check with a skewer to see if it pulls out dry. Take care not to overcook. If cake is browning too quickly, drop the temperature or cover with an aluminium tent.

Allow cake to cool in the pan for about 10-15 minutes. Tip the cake out onto a cooling rack and wrap in cling wrap if you want a lovely moist centre.
Recipe Notes
Variations - Slivered almonds can be switched for blanched almonds, walnuts, pecans or macadamia nuts.
Switch the blueberries and cranberries for 1 cup of mixed fruit of choice, such as 1 cup of cranberries, mixed fruit, peel etc.
Low Carb Glaze - For a special occasion, you may want to glaze the cake with low carb glaze.
To make glaze, bring to boil 1 tablespoon of stevia/monk fruit blend with ¼ cup of water. You can also add 1-2 tablespoons of whiskey or brandy with the water but restrict the total liquid amount to ¼ cup. Once you have brought the mix to the boil, turn the temperature down and simmer for about 2-3 minutes. The liquid will be slightly syrupy.
Remove from heat and allow the mixture to cool slightly before brushing it onto your slightly warm or cool cake. If the mixture crystallizes, simply reheat, add a dash more water or alcohol and simmer until it liquidizes before using.
To Serve - cut the cake and serve as it comes with a cup of tea or coffee. Try warming the cake up slightly and serve it with low carb custard. The cake can also be drizzled with brandy or whiskey prior to heating up.
Handy Hint - if the cake has dried out slightly, serve it warm. Freshen it up by spraying lightly with water and microwave for a few seconds to warm it up. Alternatively moisten the cake, cover with foil and warm up in the oven for a few minutes.
Cake Pan Tips - when baking cakes, the cake will cook a lot slower and not dome as much if you use a light colored pan. While not vital, it is a great tip to consider when baking.
Storing Tips -  in cling wrap or baking paper, wrapped in foil in an airtight container for 3-4 days for ultimate freshness. The recipe  freezes really well.
Dried Cranberries - Nearly all dried cranberries are sweetened with apple juice, so buying them sugar free is difficult. If you don't want to make your own, use the apple sweetened ones if you don't mind the additional carbs. I have used the sugar reduced cranberries in recipes before, but they are still higher in sugar than I would probably prefer. By the time a cake or pudding is divided into about 20 serves, the carbs are still quite low though. See my recipe below for Low Carb Christmas Pudding where I used the reduced sugar cranberries and you will see that you can still end up with a low carb serve at the end (if you don't eat the whole cake!) 
Dried Blueberries - Dried blueberries are also normally sweetened. I like to buy these particular blueberries from iherb. They are dehydrated but don't have any added sugars. Once soaked, they swell and are wonderful in cakes and puddings. Note that this brand's dried raspberries and strawberries are divine as well.
Nutritional Information
Serving:
1
serve
|
Calories:
180
kcal
|
Carbohydrates:
6
g
|
Protein:
5
g
|
Fat:
14
g
|
Fiber:
3
g
Note that we calculate our own nutritional values so they may not be precise. Calculate your own if desired. Carb values exclude sugar alcohols such as Erythritol, as they generally have no impact on blood sugar levels. 50% of the carbs from Xylitol is added to nutritional values. This is consistent with industry practice.
Do you want to receive more recipes like this one? Subscribe to our newsletter now!