Keto Chocolate Mug Cake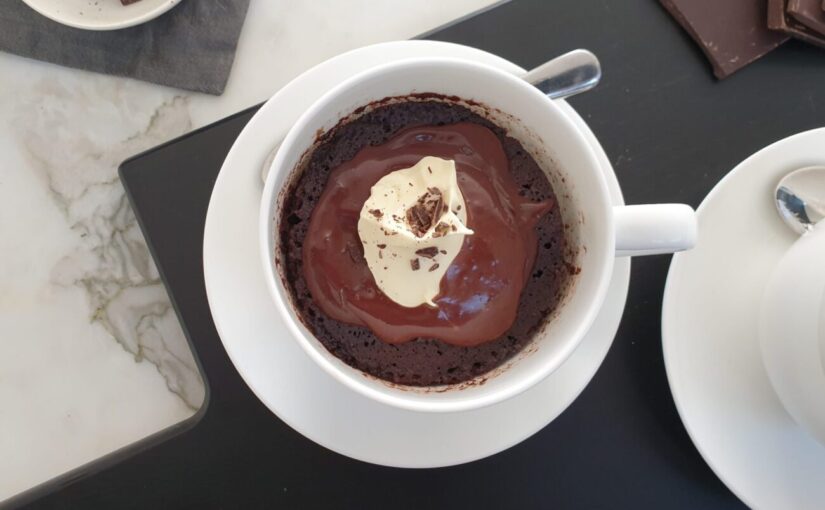 Rich and moist, this fabulous recipe for keto chocolate mug cake is a definite keeper. Although defined as cake because it's a mug cake, this recipe is wonderfully moist and would be fabulous served as a dessert. Don't hold back though, as this makes the perfect keto treat anytime you have a craving for chocolate. Chocolate lovers, you are going to be in heaven.
Enjoy this keto chocolate mug cake by eating straight from the mug. Be a little bit fancy and transfer it onto a plate to serve. Beware, as this cake is extremely morish. Because of how rich it is, perhaps you will be able to stop at just one serve.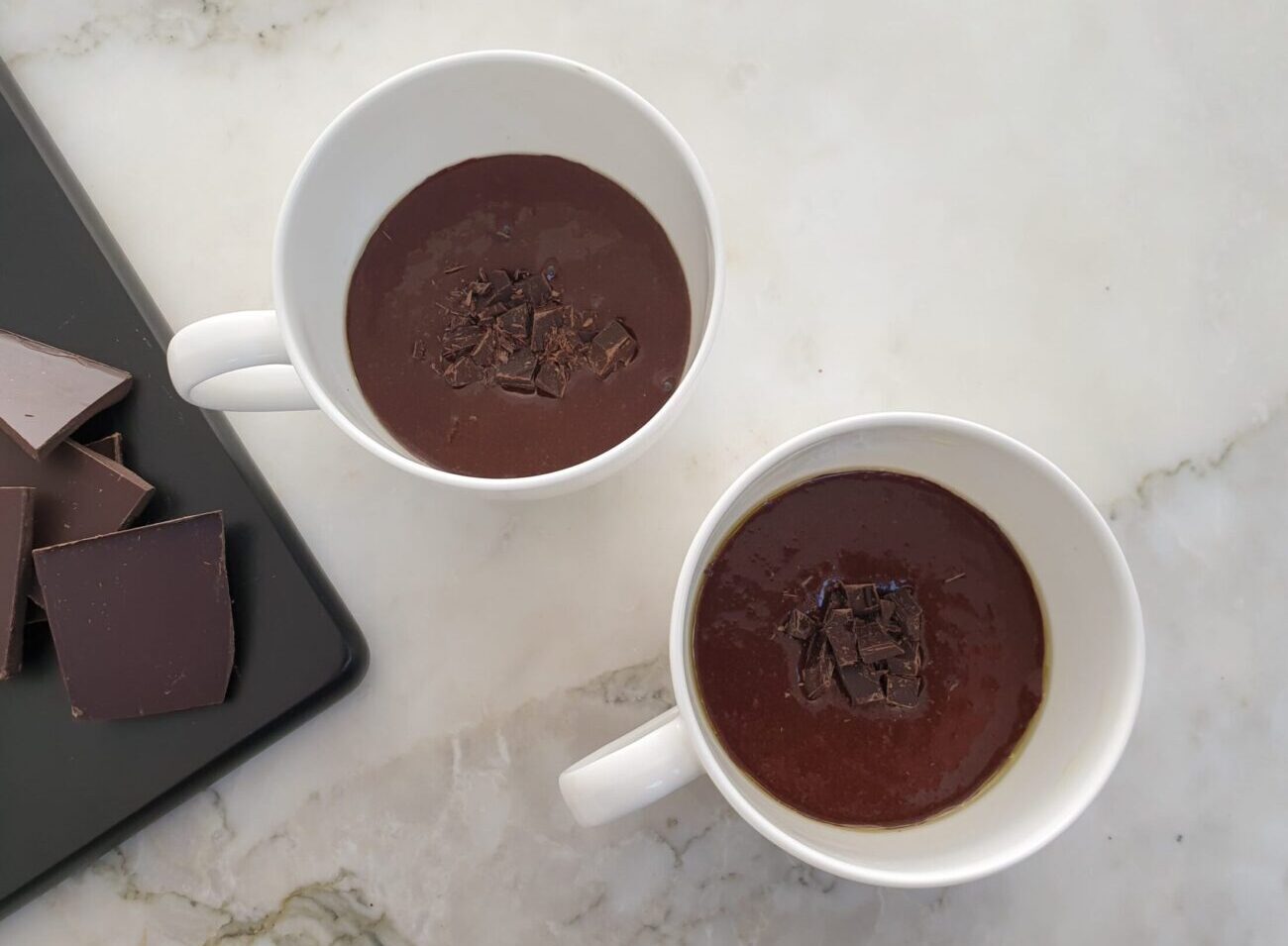 SEVING SUGGESTIONS
Serve topped simply with freshly whipped cream for a lovely sugar free, gluten free treat, low carb treat. If you are keen for full on chocolate immersion, try serving it with the chocolate sauce recipe featured. Oh my lordy….it's rich but absolutely divine! My favorite way to serve this is topped with fresh whipped cream and a few strawberry slices.
WHY TWO CAKES
Having made a lot of mug cakes, one thing that I have struggled with in many recipes is the eggy taste. The issue is that you need egg in the recipe and it is difficult to divide one egg in half. My solution to this problem is a bonus for you as you get 2 cakes using the one egg. The added moisture comes from using olive oil, which you will discover is absolutely awesome in this recipe.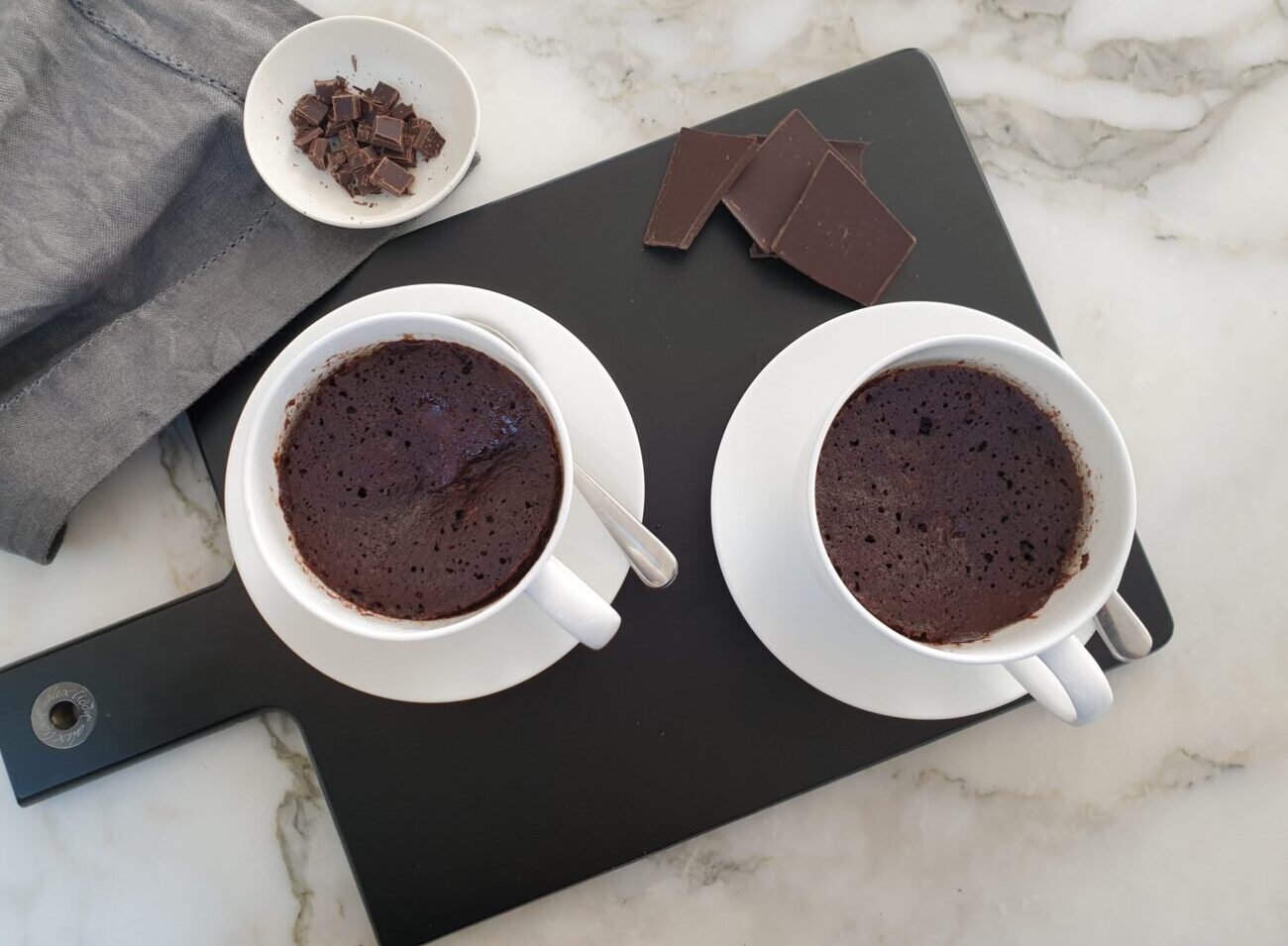 EXTRA VIRGIN OLIVE OIL
For those of you who have made my recipe for Low Carb Chocolate Olive Oil Cake  you will understand how amazing olive oil can be in a chocolate cake recipe. You have Nigella Lawson to thank for the inspo for both of these recipes, as they were based on her fabulous olive oil chocolate cake. If you can use extra virgin olive oil (EVOO) in the cake, please do. While butter tastes great the recipe is at it's best when made with EVOO. As for tasting the oil- make sure you use a light flavored oil and you would never guess that olive oil featured in the recipe.
WHAT CHOCOLATE SHOULD YOU USE IN KETO CHOCOLATE MUG CAKE
Try to use processed cocoa powder for the ultimate chocolate experience with this recipe for keto chocolate mug cake. Cacao powder or cocoa powder can also be used but the end result won't be as chocolaty as it is by using Dutch processed cocoa. If you use the cacao powder you may find the chocolate flavors are a little more subtle and perhaps a little bitter. The bonus is that you get the added health benefits such as antioxidants that raw cacao offers.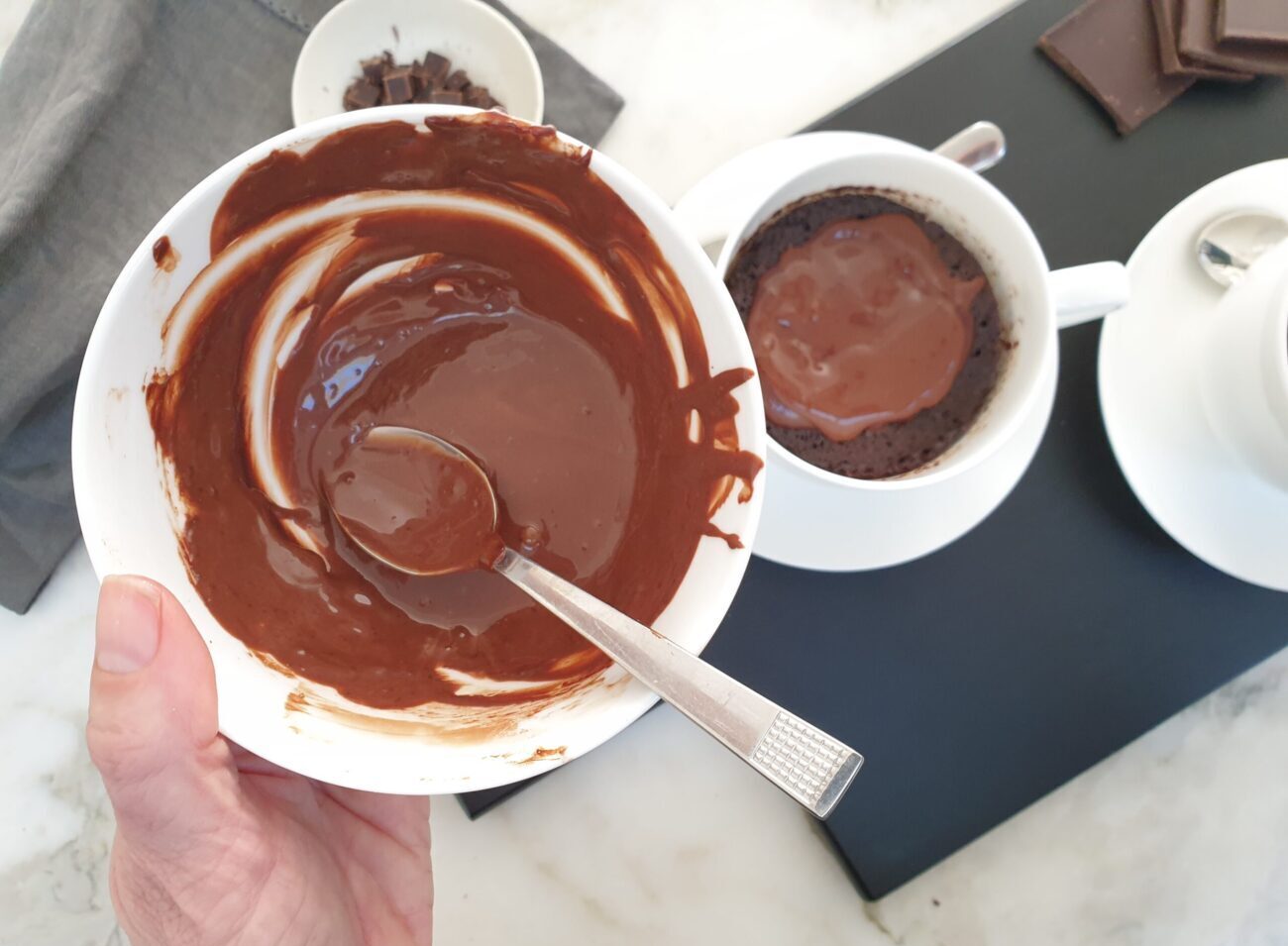 Triple the chocolate flavors by serving it with the optional richer than rich chocolate sauce. It's not necessary as the cake is fabulous on it's own, but chocoholics will love this option!
CHOCOLATE CHIPS
Trying to buy low sugar dark chocolate chips can be a real challenge, so I don't even bother looking for them now. My favorite chocolate chips to use in this recipe is Lindt dark chocolate simply cut into small chunks. Not only is it nice quality chocolate but it is also very low in sugar and doesn't contain malitol. Maltitol is used in many of the low carb chocolate products on the market. I don't like to use it for 3 reasons. Firstly it can impact on your blood sugar levels. Secondly it can cause havoc with your bowel and lastly, it is an inferior tasting product. The other fantastic deal with using Lindt chocolate is you can choose chocolate to suit your tastes. The price of the chocolate is also very reasonable in comparison. I like to use 85 percent wherever I can as it is lower in sugar but use what suits your taste.
WHY ADD COFFEE TO CHOCOLATE CAKE
Coffee enhances the flavor of chocolate. Adding some instant coffee or espresso to your batter is all that is required to bring out the richness of the chocolate flavors without imparting coffee flavors. You won't taste the coffee at all and if you don't want to add the coffee, simply leave it out.  If you are familiar with any of my other recipes that are chocolate based, you will notice that generally I try to add coffee wherever I can. The proof is in the tasting….so I recommend that you try it.
I can't wait to hear your feedback on this fabulous recipe. In my opinion, this is the best chocolate mud cake recipe around.
Enjoy
Kxx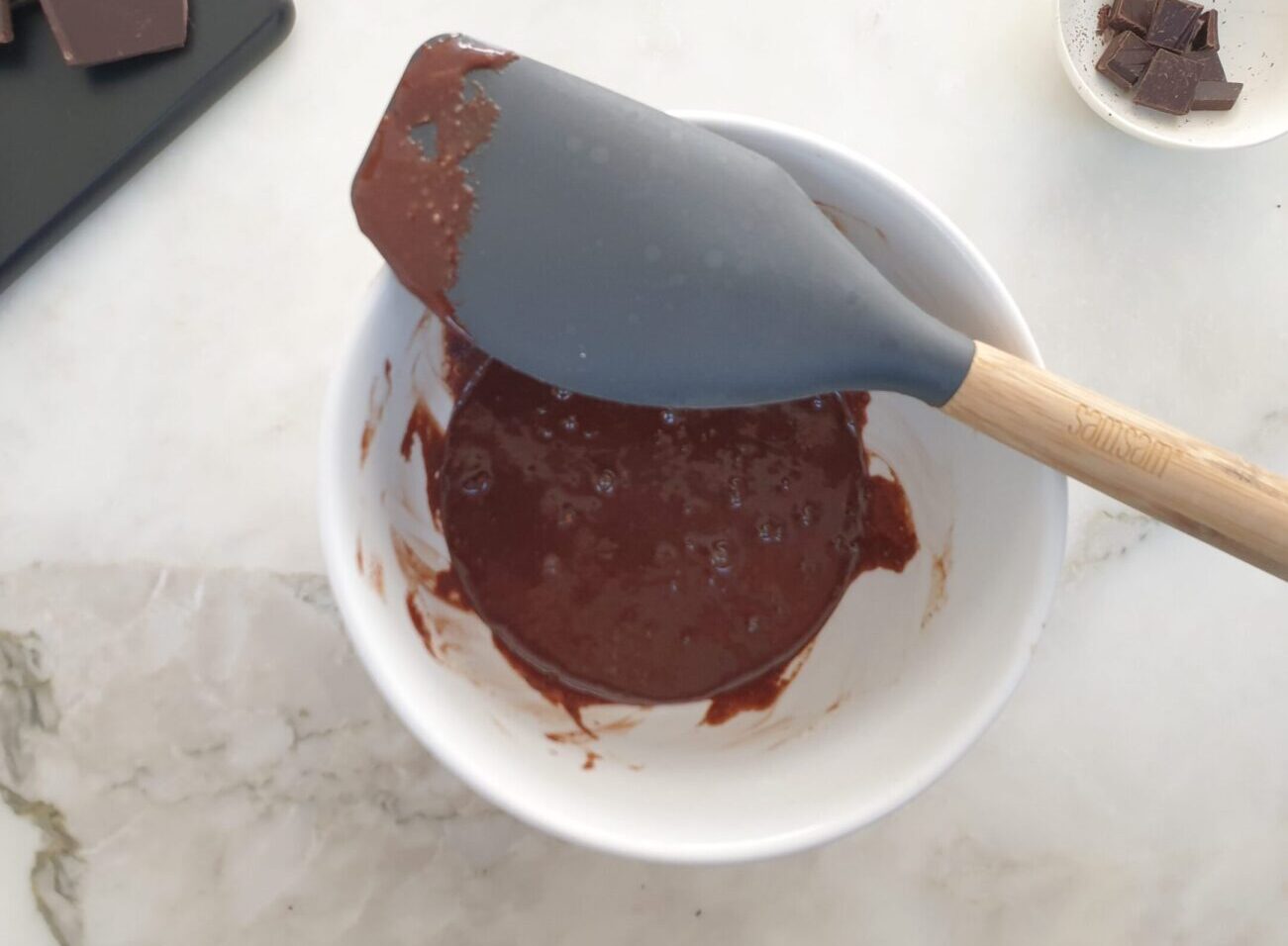 Servings:
2
mug cake/ ramekins
Ingredients
35

grams

Almond flour

3 Australian tablespoons

½

teaspoon

baking powder

15

grams

dutch processed cocoa/cocoa or cacao powder

1.5 Australian tablespoons

2

tablespoons

monk fruit sweetener or to taste

a pinch of salt

1

egg

½

teaspoon

coffee dissolved in 1 tablespoon hot water

optional but not really optional!

40

mls

Extra Virgin Olive Oil- EVOO

2 Australian tablespoons. Melted butter can be substituted.

2

tablespoons

choc chips or 2 squares of Lindt dark chocolate cut into chips-optional but not optional!

I like to to use 85% couverture because it's lower in sugar
Optional Richer than Rich Chocolate Sauce
2

tablespoons

pure/heavy cream heated to just below boiling point

½

teaspoon

sweetener of choice

or to taste

20

grams

dark chocolate chocolate cut in to chunks

2 squares of Lindt-I like to use 85% couverture

A dab/smidgen of butter
Instructions
To Make Mug Cakes
Mix the almond flour, baking powder, Dutch cocoa/cocoa/cacao, sweetener, salt and baking powder in a small bowl until well combined. Sift if necessary to remove lumps.

Dissolve the coffee in the hot water. Add the coffee mixture, EVOO-oil, vanilla extract and egg to the dry ingredients and stir until really well combined. Fold through the chocolate chips if you are want them stirred through the batter. Pour into 2 mugs or 2 ramekins (that hold at least 200 ml/7 oz) and smooth out the tops. Alternatively sprinkle choc chips on top of the smoothed out batter.

Microwave your cakes on high for about 90 seconds or until just firm, taking care not to overcook. The cakes should still be a moist and it will continue to cook once out of the microwave. If you overcook your cake it will dry out. Allow to sit for a couple of minutes in the cup/ramekin before serving. You can tip them out of the mug/ramekin or you can serve your cakes as they are, in the mug or ramekin.

Serve with whipped cream or whipped coconut cream for paleo. You can also drizzle with some additional richer than rich chocolate sauce (recipe below) to lux it up a little but the cake tastes fabulous on it's own as well.
OVEN INSTRUCTIONS
Preheat the oven to 350 F/180 C and bake for about 12-15 minutes, or until just firm.
OPTIONAL RICHER THAN RICH CHOCOLATE SAUCE
Gently heat the cream in the microwave to just below boiling point. Remove from heat and add the sweetener, butter and the dark chocolate chips stirring until the sauce emulsifies.

Stir until the chocolate melts and sauce is smooth. Add additional cream to thin the sauce out if desired. Pour over your mug cake and top with a dollop of freshly whipped cream.
Recipe Notes
Your cake should still be a little moist when it comes out of the microwave. Your cake will continue to cook when out of the microwave so resist the urge to cook for longer or you could dry your cake out.
If you want to turn your cake out onto a plate, allow it to cool a little so the cake doesn't fall apart and scrape down the sides of the mug/ramekin before tipping out. My preference is to eat it from the mug as you can serve the cake when it is more moist. If this recipe is slightly under cooked it still tastes fabulous but make sure you serve it in the mug/ramekin as it might not retain its shape.
As an alternative to choc chips if using Lindt/chocolate squares, you can just push a square of chocolate into each cake just below the surface of the batter and smooth off the top before baking. Be prepared for a little fudgy chocolate heaven. You can also sprinkle some or all of the chocolate chips on top of the batter once poured into the mug or ramekin, just before cooking, instead of stirring through. Note that one Lindt square is about 10 gms/1/3 oz
For a paleo option use a psyllium egg and coconut sugar for the sweetener. Top the cake with whipped coconut cream. You can just also switch the coconut cream in the chocolate sauce for coconut cream.
You can make a psyllium "egg" by combining 1 teaspoon of psyllium with 3 tablespoons water. Stir together really well and set aside for 10-15 minutes until the mix is thick and gelatinous. Use it to replace eggs as a binder in baking at a 1:1 ratio.
Note that an Australian tablespoon measures 20 mls and this is what is used for the metric measurements. A US tablespoon measures about 15 mls. Conversions have been done for US customary measures to suit the recipe and may be in tablespoons or oz.
Nutritional Information
Serving:
1
cake
|
Calories:
445
kcal
|
Carbohydrates:
6
g
|
Protein:
11
g
|
Fat:
42
g
|
Fiber:
5
g
|
Sugar:
1
g
Note that we calculate our own nutritional values so they may not be precise. Calculate your own if desired. Carb values exclude sugar alcohols such as Erythritol, as they generally have no impact on blood sugar levels. 50% of the carbs from Xylitol is added to nutritional values. This is consistent with industry practice.
Do you want to receive more recipes like this one? Subscribe to our newsletter now!