Low Carb Chocolate Olive Oil Cake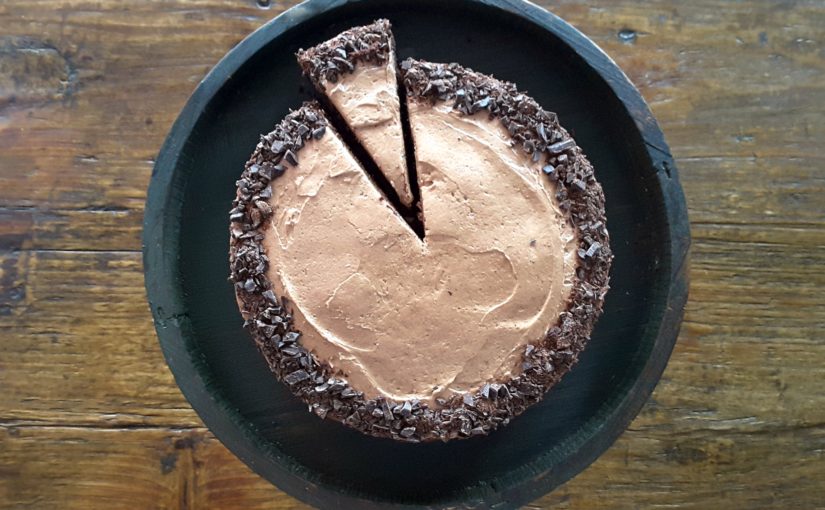 Low Carb Chocolate Olive Oil Cake
This divine recipe for a Low Carb Chocolate Olive Oil Cake is going to surprise you. Olive oil..in a chocolate cake?? This cake is wonderfully moist and is chocolatey, but not overly rich, and it doesn't taste at all like olive oil…truly. Try it served simply with a ganache icing and serve it for afternoon tea, or heat it up a little and serve it with cream and it tastes like a wonderful, moist chocolate pudding. Try not to overcook this cake, especially if you are more interested in serving it as a pudding. If you check it during cooking, a skewer should come out with a few moist crumbs on it.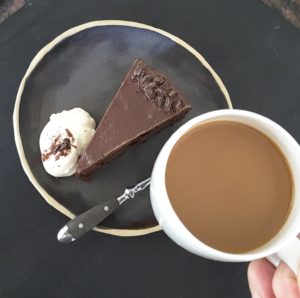 Because of how moist and dense This cake is, because of the olive oil, it would also be a great cake to use as a layer cake or celebration cake. Try it served with some Raspberry Chia Jam Spread and cream in between layers and frost it with chocolate ganache….it's so good!! You could also frost it with Chocolate Cream Cheese Frosting  (used on cake in featured picture) for variation, or even a plain Cream Cheese Frosting. Equally, it holds up brilliantly on its own with a simple  serve of whipped cream. I freeze it in individual serves (even when iced with ganache) and it defrosts really well either on the bench or in the microwave.
For a really simple dessert, heat individual serves of cake in the microwave for about 20 seconds (or the whole cake at once if catering for a crowd.) Serve drizzled with the ganache recipe featured below at a ratio of 2 parts cream to 1 part chocolate, ie., 100 ml/3.5 oz of cream to 50 gms/1.8 oz dark chocolate. Serve with fresh whipped cream (adding 1/4 tspn vanilla extract and 1/2 Tbspn of your favorite low carb sweetener prior to beating.) If the ganache thickens, you can simply reheat it gently to soften or make it pourable again.
Make sure you use a mild flavored olive oil in this cake. If you are in Australia, my favorite mild tasting extra virgin olive oil for cooking like this is Cobram Estate First Cold Pressed Light flavored EVOO. It is really mild in flavor so you really can't taste it in recipes like this.
For a delicious variation of this cake, try this recipe for Low Carb Chocolate Zucchini Cake. I can't choose between them both as to my favorite so both of these recipes feature often in my house.
Low Carb Chocolate Olive Oil Cake
Serves 16-20

2 cups almond meal/almond flour
1 cup extra virgin olive oil- EVOO
4 eggs
3/4 cup boiling water with 1-2 tspns instant coffee
3/4 cup cocoa
2 tspns vanilla extract
1 tspn baking powder
½ tspn baking soda
4 Tbspns Stevia Organic- a mix of Stevia with Erythritol or preferred sweetener
Pinch salt

Preheat a fan forced oven to 150 C/300 F
Prepare an 8" or 9" spring pan with butter and baking paper

Method
1. Combine almond meal, cocoa, baking powder and baking soda into a bowl and mix well.
2. Blend the coffee with the boiling water.
3. Beat the eggs, sweetener, vanilla extract and olive oil for 2 minutes.
4. Add the coffee mix and beat till blended. Add the dry ingredients and mix until combined. Mix well to form a smooth batter.
5. Spoon into the baking pan and bake for 40- 45 minutes or until just cooked through. The sides will look set but the centre can still be slightly moist and crumbs should stick slightly to a skewer placed in the centre of the cake.
6. Allow the cake to cool in the tin ( or you can serve it while it is still warm) and top with Chocolate Ganache if you want to ice/frost the cake.

*Note that I have also used 1/3 cup monk fruit sweetener in this cake with great results.

Chocolate Ganache Recipe
100 mls /3.5 oz full fat cream/heavy cream
75 gms/2.6 oz of dark chocolate 80% couveture or more

To make chocolate ganache, simply heat up the cream just to below the boil (don't boil or you will have lumps in your gananche) and remove from heat (or microwave) and add the chocolate. Stir until the chocolate has blended with the cream and allow to cool before using.

Drizzle the ganache on before it thickens for a drizzle finish or allow ganache to cool in the fridge to a slightly thicker consistency before icing the cake. This is enough ganache for a thin coating on top of the cake.
.
Note that you can make a stiffer ganache by increasing the amount of chocolate you add, ie., make it 1 :1 cream to chocolate (2.5 oz/75 gms of each) for a stiffer ganache, or make it 2 parts chocolate to 1 part cream (3.5 oz/100 gms chocolate to 1.8 oz/50gms cream) for a much stiffer and pipeable ganache. You can also make it thinner and more drizzly by using 1 part cream to 1/2 the amount of chocolate (3.5 oz/100 gms cream to 1.8 oz/50 gms chocolate.)

To Serve
This cake tastes lovely served as it is when iced or frosted.
Try serving with a dollop of cream or marscapone.
For a delicious hot dessert, simply zap it in the microwave for a few seconds to warm it up and serve with whipped cream.

A KETohh creation
www.ketohh.com