Low Carb Dark Chocolate Fudge Cake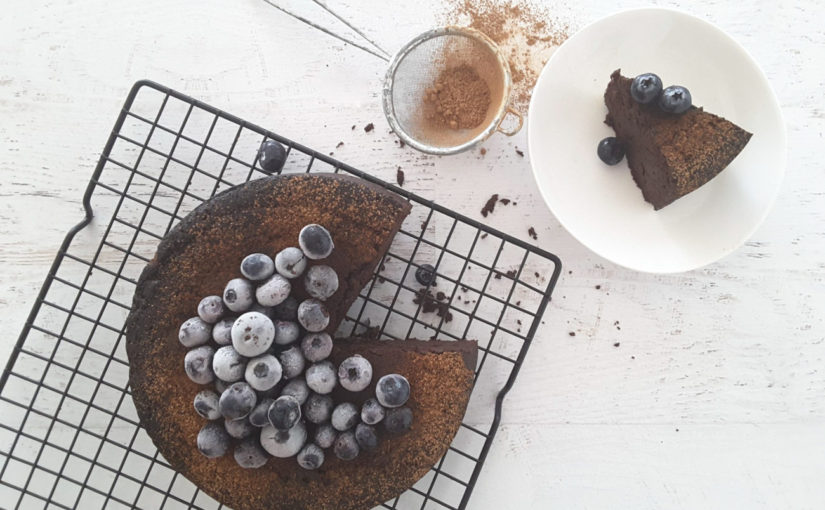 Low Carb Dark Chocolate Fudge Cake
If any of you are chocolate lovers, you will find plenty of recipes that feature chocolate, including cakes on my blog. I think that I have an amazing array of chocolate cakes to choose from, and they are all brilliant recipes, from the deliciously decadent but healthy Low Carb Chocolate Zucchini Cake which is a great cake for a celebration cake, through to the really simple recipe for a Low Carb Chocolate Olive Oil Cake that can act as a delicious cake or be served up as a delicious pudding. I also have a decadent Low Carb Flourless Chocolate Cake recipe which is a brilliant recipe as well, but it has certainly met it's match with this amazing recipe for a Low Carb Dark Chocolate Fudge Cake recipe, which was inspired by a Chocolate Fudge cake that Ottolenghi makes.
Now this cake is decadent, and rich and it's going to blow the calorie scale sky high, however, it is worth every single calorie, and besides…I count carbs not calories, haha.  It isn't the type of cake that you are going to have a huge slice off, so a small cake is going to go a long way. It will also keep really well. This recipe also freezes really well.
Follow the recipe step by step. Don't be concerned if the batter looks like it is separating slightly, as the fats in it are cooling at different times. Just smooth off the top of the cake prior to baking and put it in the oven . Watch this cake to ensure that it doesn't over cook. If you end up with a cracked top, it just a feature of the cake, and it also might sink a little in the middle, but that is also a feature.
Using Sweeteners
Make sure you use the correct type of sweetener in this recipe, and if you switch, make sure you use the correct amount of the alternative one you use., ie, Stevia blends tend to be mixed with Erythritol so can be a lot more concentrated in sweetness so you need a lot less. Erythritol is more like sugar in the amount that you use, so you will use a lot more of it in a recipe than a blend. I used Lokanto Golden in this recipe which is a monkfruit and Erythritol blend, but you can also just use a normal "white" sweetener in it's place. When you add the sweetener to the boiling water, make sure that you just dissolve the sweetener. Don't  leave it for too long though or you might end up crystalizing the sugar on the sides of the pan.
To serve this amazing cake, you could just dust it with cocoa powder and serve it with cream. You could also add some berries for a simple but beautiful garnish. There is no need at all to ice or frost this cake, as there is enough flavor in the cake, so try to keep it simple.
More Delicious Low Carb Cake Options
If you are after some other great low carb cake recipes, there are a lot more on this website. Just do a search for cake in the search bar and they will all come up. They include recipes for-
Low Carb Orange and Almond Cake
Sugar Free Mandarin Macadamia Cake
Low Carb Banana Loaf-a denser loaf with lots of nuts and seeds
I can't wait to hear what you think of this recipe. Thanks also to my daughter's friend Ange, who introduced me to this cake initially. It's her "party" cake, and it's always divine.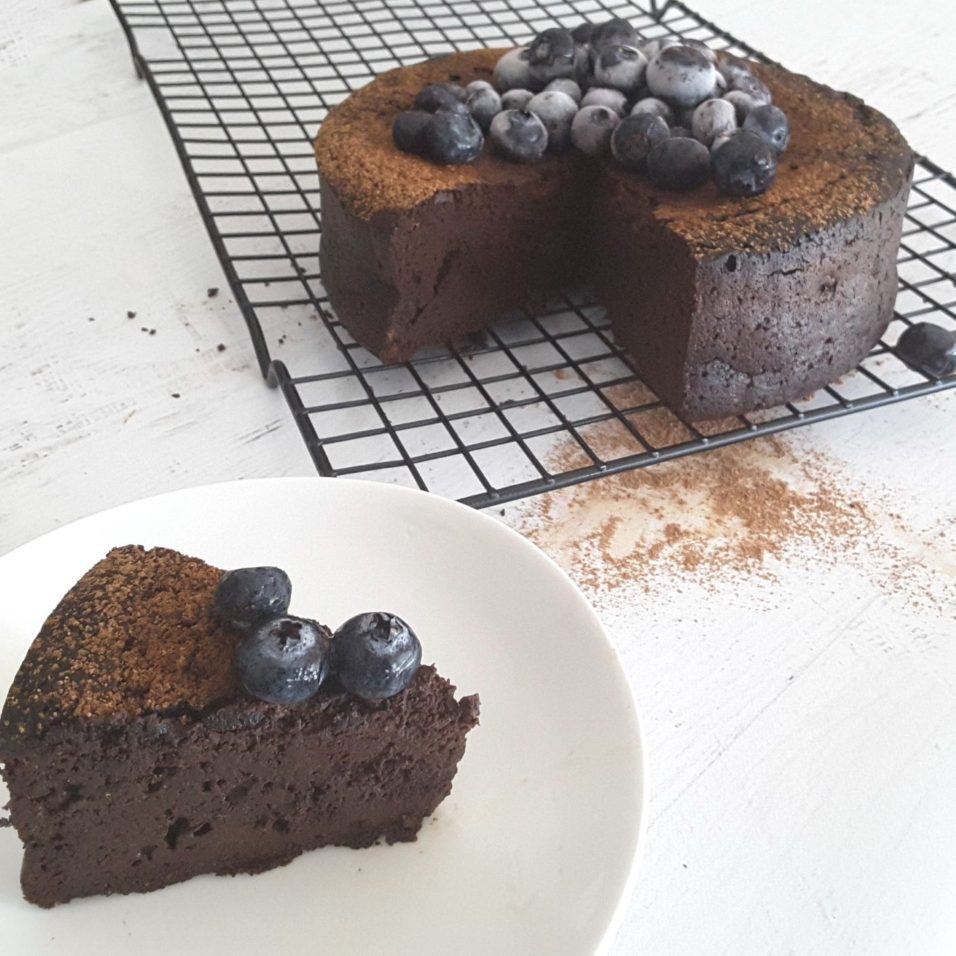 Ingredients
300

gms

/10.5 oz Dark Chocolate 80% couverture or more. I use 85% Lindt in this recipe

200

gms

/7 oz butter

3-4

tablespoons

boiling water

4

large eggs

3/4

cup

Monkfruit Lakanto Golden

/regular Lakanto or Erythritol

a pinch of salt

cocoa powder for dusting

Woolworths Cocoa Powder is a good option
Instructions
Preheat the oven to 160 C/ 320 F fan forced and prepare an 8"/20 cm cake pan and line with paper

Melt the chocolate and the butter in a large bowl in a Bain Marie on the stove top or in short 15 sec bursts in the microwave, till melted

Separate the eggs. Whisk the egg whites with a pinch of salt on high until light and fluffy and set aside.

Place the sweetener and the boiling water (yes only 3 Tbspns) in a saucepan and heat until the sweetener dissolves.

Whisk the water/sweetener mixture into the chocolate mix till blended.

Add the egg yolks one at a time to the chocolate mix and whisk till incorporated before adding the next yolk. Allow the mix to cool to room temperature before folding through the egg whites.

Using a rubber spatula, fold the egg whites gently through the chocolate mix until combined. A few little spots of egg white in the cake mix won't be a problem.

Pour into your prepared cake pan and smooth off the top.

Bake for 45 minutes or until cake is cooked. through. If the cake is browning too much on the top, turn the temperature down. The cake will still be moist on the inside when cooked, but drier on the outside. Allow to cool before removing from the cake pan.

Once cool, dust with cocoa and serve with fresh whipped cream.

Cake can be stored covered, at room temperature for 4 days.
Recipe Notes
Recipe can be frozen
This is a very rich cake so keep servings small.
Serve simply with a dollop of fresh whipped cream and/or some fresh berries.
Nutritional Information
Serving:
1
slice
|
Calories:
170
kcal
|
Carbohydrates:
3
g
|
Protein:
3
g
|
Fat:
15.9
g
Note that we calculate our own nutritional values so they may not be precise. Calculate your own if desired. Carb values exclude sugar alcohols such as Erythritol, as they generally have no impact on blood sugar levels. 50% of the carbs from Xylitol is added to nutritional values. This is consistent with industry practice.
Do you want to receive more recipes like this one? Subscribe to our newsletter now!