Low Carb Raspberry and Macadamia Muffins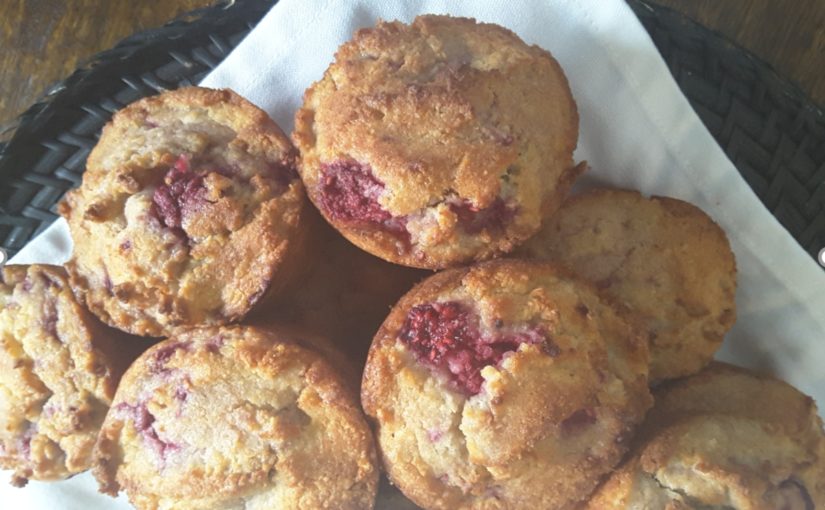 Low Carb Raspberry and Macadamia Muffins
Low Carb Raspberry and Macadamia Muffins make a terrific healthy snack. They're low in carbs and don't have any added processed sugars. Make them and pop some in the freezer, so that you have a healthy treat on hand. I simply defrost them in the microwave for about 15-20 seconds and they taste amazing. Take one to work for morning tea or put one in your handbag if you are out and about. Even though low carb products are becoming more popular, I still find it very hard to try to find a nice low carb sweet treat to buy when out.
Oven Temperatures
Having recently moved house, it is amazing how much difference there can be in oven temperatures. My recipes are tried and tested numerous times, but you might use the recommended oven temperature and find that you have to make adjustments to your recipe. Remember also that I baked these in a fan forced oven, so if you are using a conventional oven you will need to increase the temperature to around 180 C /350 F. As a general rule of thumb, if using a conventional oven and the temperatures are set by a fan forced oven, then simply reduce by about 10-20 C or 50-70 F, but more importantly, get to know your oven.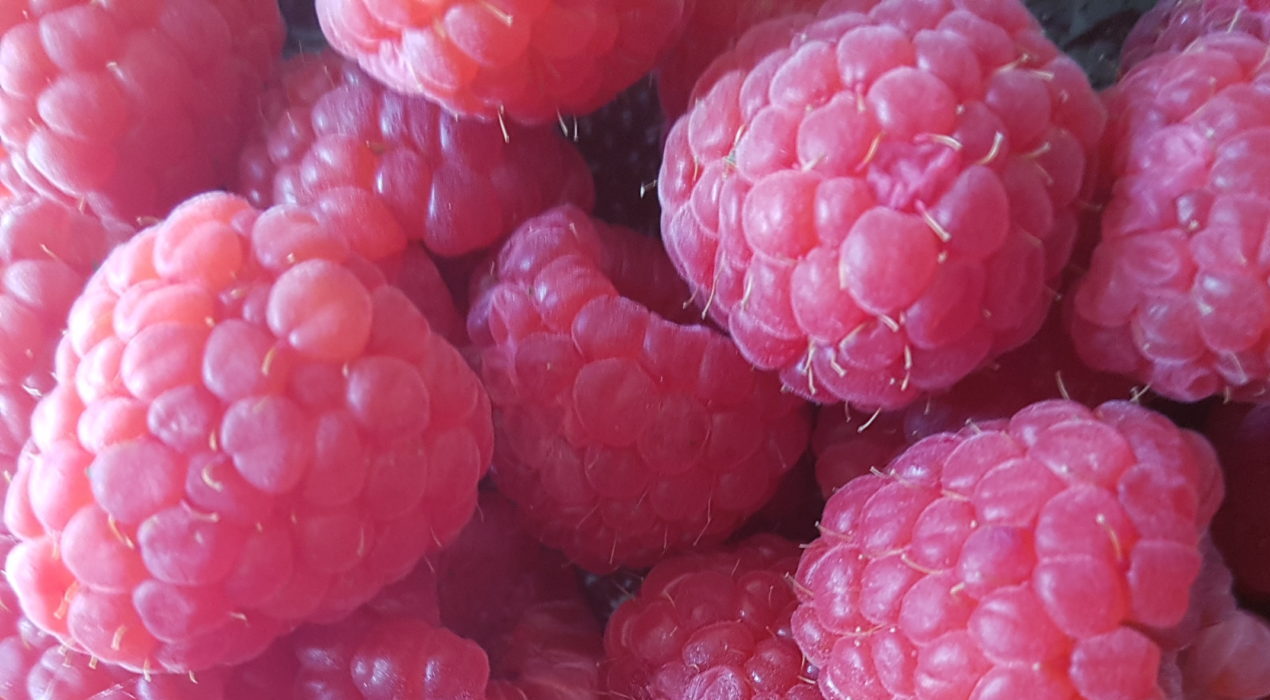 You can leave out the macadamia's in these if you wish but try the recipe first as it they go really well with the raspberry and vanilla flavors. I like to use a vanilla low carb protein powder such as Isopure vanilla protein powder, or Gold Standard's French Vanilla Crème in these, but you can omit if you wish to. You might want to slightly increase the amount of sweetener used if you do leave the protein powder out.
Tips on Using Sweeteners
My preferred natural sweetener is generally a Stevia based one that is mixed with Erythritol. Generally these blend mixes are very sweet which is why you use so little of it in recipes. Occasionally I also use pure Erythritol or even Xylitol, both sugar alcohols,  and the quantity used is much more similar to sugar, ie you generally use it as a 1:1 switch. This means the amount of sweetener added will be a larger amount.
Monk Fruit Lokanto has worked well as a sweetener in this recipe as well, but even this is mixed with Erythritol. Although I do like to indulge in a sweet treat every now and then, I am trying to wean myself off from eating overly sweet foods and don't want to indulge in 'sugar cravings' so you will find that my recipes are always sweet in a subtle way. If you want to add any additional sweetener, make sure you taste the recipe/batter first, before adding any extra.
I know that many people say they don't like the taste of Stevia but that is why these mixed sweeteners are good, as the flavor can be improved.  You will find that my recipes generally use only a very small amount of sweetener. When it is mixed through a batch of muffins or through a cake, you will find that can't really taste the flavor of the sweetener. Switch for an alternative sweetener if you wish to, but I suggest that you keep it to a minimum as well if you can. Make sure you are making adjustments for sweetness, if using a different sweetener to the one specified.
Using Extra Virgin Olive Oil in the Recipe
Please don't be afraid of using extra virgin olive oil (EVOO) as you won't taste the olive oil and it helps create a lovely moist muffin. I try to use a more subtle flavored oil though, such as Cobram Estate's light flavored EVOO. Note that this isn't 'light extra virgin olive oil', which generally means it has been processed and is to be avoided. It's means it's just a lighter flavored one.
What can I use to Switch for Almond Milk
You will notice that I sometimes use 'yogurt water' in recipes. Yogurt water is made by simply adding some Greek yogurt to water. This is something I have developed to use in place of almond milk and coconut water in recipes. I don't like to use almond milk often, as so many of my low carb recipes use almond flour which means I consume enough nuts as it is. I always have Greek yogurt in the fridge,  so I generally I can make yogurt water when I need it. To make yogurt water, simply add 2-4 heaped tablespoons of Greek full fat yogurt to approximately one cup of water. Put the yogurt in first and add the water last if you are measuring the liquid for accuracy. The weight of the yogurt should be included in the amount of liquid you need for a recipe.
Use yogurt water in cake recipes and also to make smoothies, acai bowls etc. This term is one I have just made up so don't try to google it- unless I've made the wiki pages with it. Note that if you are interested in making your own yogurt, have a look at this recipe for making Natural and Greek Yogurt.  There are also instructions on how to make  your own Labneh as well.
I hope you enjoy this recipe as much as I do. It's still up there as one of my favorites.
Karen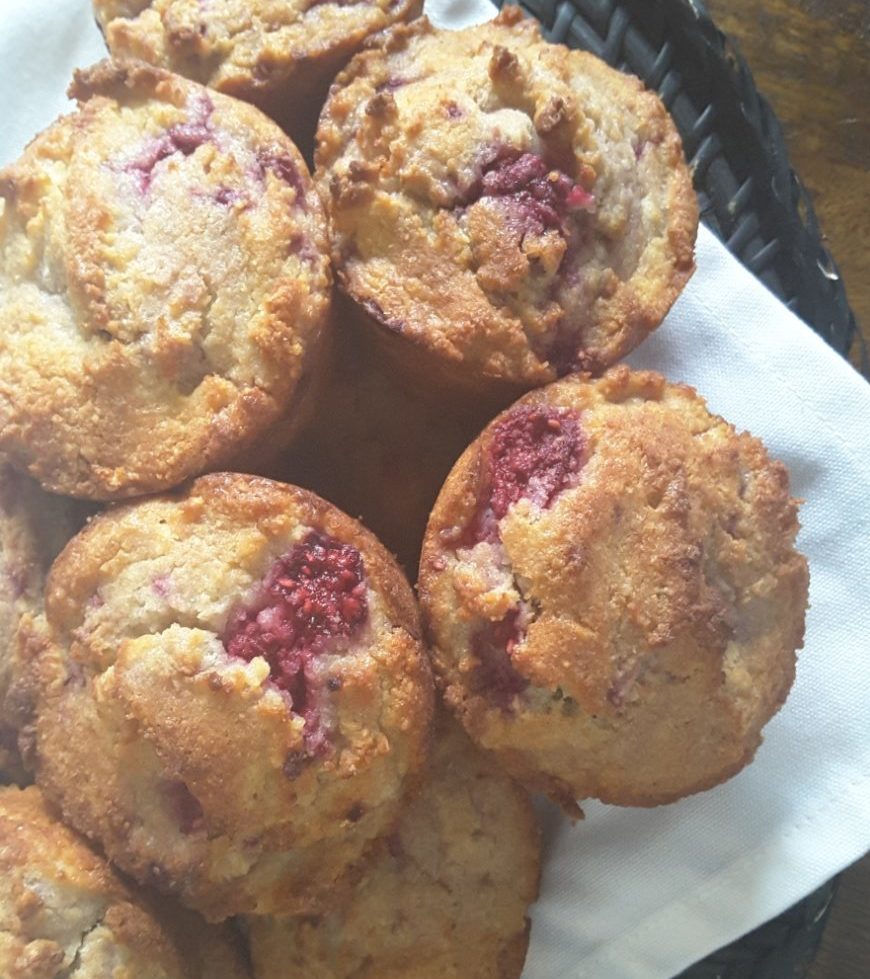 Ingredients
250

gms

almond meal/almond flour

50

gms

coconut flour

200

ml

almond milk/coconut milk or yogurt water-see note below

140

gms

raspberries fresh or frozen-smaller ones work best

3

large eggs

100

mls

neutral flavored extra virgin olive oil

EVOO

50

gms

melted butter

50

gms

Greek yogurt

50

gms

macadamia nuts roughly chopped

1

scoop

Isopure Vanilla Protein Powder

optional or use alternative

1

tablespoon

Organic Sugarless Stevia powder-a Stevia/Erythritol mix- or preferred sweetener

1

teaspoon

organic vanilla extract

1

teaspoon

baking powder

1/2

teaspoon

baking soda

A pinch of salt
Instructions
Preheat oven to 160 C/320 F fan forced.

Mix all dry ingredients together in a medium bowl including the macadamias, ensuring it is well combined and the baking powder is well blended.

Melt the butter and mix with the other wet ingredients. Stir into the dry ingredients until well incorporated. Fold raspberries gently through the batter.

Spoon the mixture into a prepared muffin tray. You can also poke about 4 raspberries into each muffin once spooned into the tray. This will prevent staining and ensure even distribution of the muffins. Smooth the top of the muffins off with a knife.

Bake for between 18-22 minutes or until the the centre of the muffins is cooked. Take care not to overcook them.
Variations
Omit macadamia nuts if you wish (at your own risk as they taste so good.) Almonds can be used in their place.

Add 1/4 cup desiccated coconut for coconut raspberry muffins.

Increase amount of sweetener, omit sweetener or use alternate sweetener.
Recipe Notes
Handy hint- make 'yogurt water' with 2-4 tablespoons of Greek yogurt dissolved in water as a great substitute for almond milk. Use it to replace a liquid such as almond milk, in equal amounts, as specified in a recipe.
Increase amount of protein powder to increase protein levels. Use a plain protein powder if you prefer but you may want to add some sweetener.
Eat muffins fresh within 2-3 days or freeze for convenience and defrost as you need. Microwave them to defrost for approximately 20 seconds, straight out of the freezer, and they are delicious.
Nutritional Information
Serving:
1
muffin
|
Calories:
253
kcal
|
Carbohydrates:
3.9
g
|
Protein:
8.3
g
|
Fat:
22.8
g
|
Fiber:
3
g
Note that we calculate our own nutritional values so they may not be precise. Calculate your own if desired. Carb values exclude sugar alcohols such as Erythritol, as they generally have no impact on blood sugar levels. 50% of the carbs from Xylitol is added to nutritional values. This is consistent with industry practice.
Do you want to receive more recipes like this one? Subscribe to our newsletter now!